Many customer experience (CX) advocates are already familiar with the basics of a Net Promoter System®.
At CustomerGauge, we saw that the traditional System and CX were lacking when it came to companies in the B2B space — where stakeholder hierarchies and varying account sizes make customer management complex.
We developed Account Experience™ to help bridge that gap. Filling the space between the capabilities of traditional CXM strategies and software and the dire need for companies to turn voice of customer (VoC) insights into something tangible that will actually help them grow faster.
Monetized Net Promoter is a core part of what makes Account Experience™ so effective for helping B2B companies to grow through customer experience.

With Monetized Net Promoter®, we take the Net Promoter System® one step further so that companies have a direct line to growth.
We divided the classic system into three distinct stages: Measure, Act, and Grow.
Measure. The process begins with the NPS® survey, where businesses can determine their score and identify room for improvement in their customer experience.
Act. Once the data is measured and analyzed, it is time to act on feedback. This step involves getting back to customers to close the loop while optimizing business processes.
Grow. Grow is the most critical stage for Monetized Net Promoter. Instead of making judgment calls on new CX initiatives, companies in the growth stage actively correlate their NPS program findings with revenue to identify the most profitable opportunities to pursue.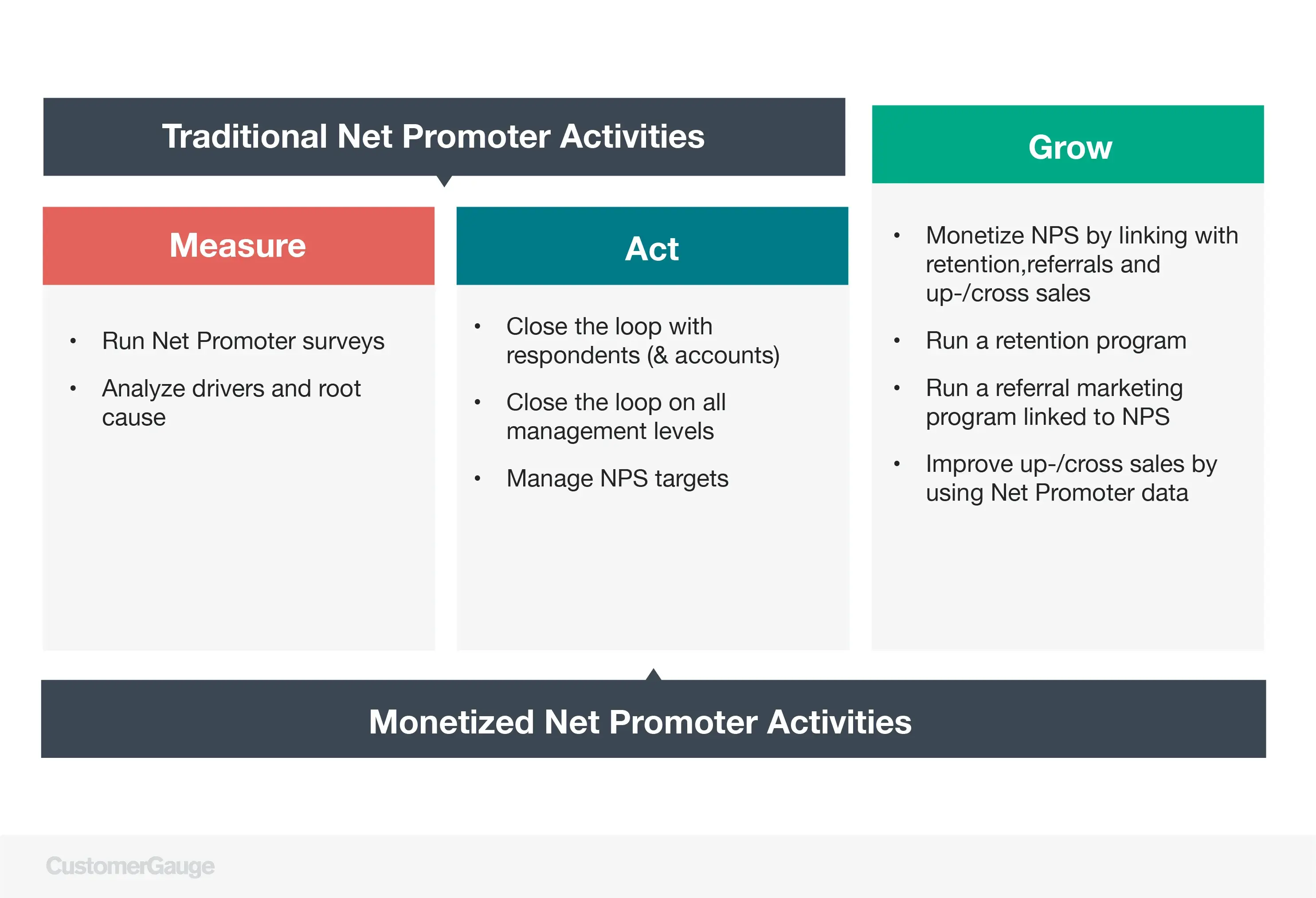 In the growth stage of Monetized NPS, companies now have access to the tools and insights to enable them to both reduce customer churn and accelerate sales performance.
It's easy to forget that customers classified by NPS as a 'Promoter' are ripe to refer the company to colleagues and friends, and are likely open to exploring ways they can buy more from you.
With Monetized NPS, your CXM program goes beyond tackling churn through CX initiatives and becomes a sales performance strategy — highly valued by account managers, sales ops, and other revenue teams.

About the Author