Many customer experience advocates are already familiar with the basics of a Net Promoter System®.
At CustomerGauge, we saw that the traditional System and CX in general was lacking when it came to companies in the B2B space—where stakeholder hierarchies and varying account sizes make customer management complex.
We developed Account Experience™ to help bridge that gap. Filling the space between the capabilities of traditional CXM strategies and softwares and the dire need for companies to turn voice of customer insights into something tangible that will actually help them grow faster.
Monetized Net Promoter is a core part of what makes Account Experience™ so effective for helping B2B companies to grow through customer experience.

With Monetized Net Promoter®, we take the Net Promoter System® one step further so that companies have a direct line to growth.
We divided the classic system into three distinct stages: Measure, Act, and Grow.

Measure. The process begins with the NPS® survey, where businesses can determine their score and identify room for improvement in their customer experience.
Act. Once the the data is measured and analyzed, it is time to act on feedback. This step involves getting back to customers to close the loop while optimizing business processes.
Grow. Grow is the most critical stage for Monetized Net Promoter. Instead of making judgement calls on new CX initiatives, companies in the grow stage actively correlate their NPS program findings with revenue to identify the most profitable opportunities to pursue.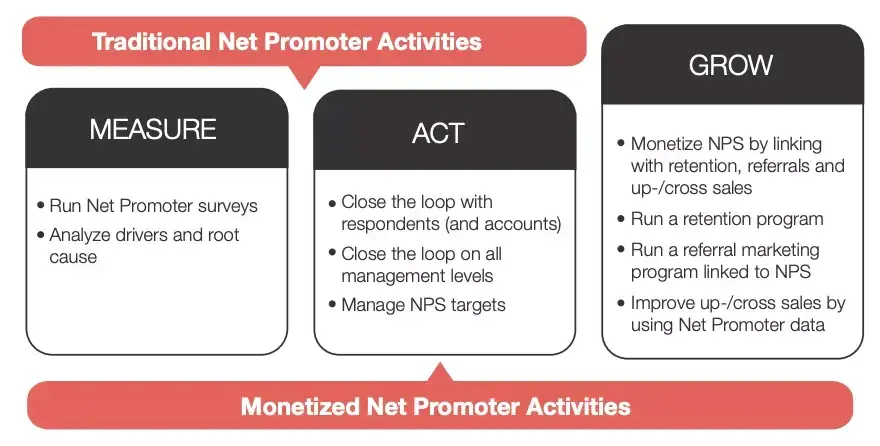 In the grow stage of Monetized NPS, companies now have access to the tools and insights to enable them to both reduce churn and accelerate sales performance.
It's easy to forget that customer's classified by NPS as a 'Promoter' are ripe to refer the company to colleagues and friends, and are likely open to exploring ways they can buy more from you.
With Monetized NPS, your CXM program goes beyond tackling churn through CX initiatives and becomes a sales performance strategy—highly valued by account managers, sales ops and other revenue teams.
What Does Monetize Mean?
To monetize is to "utilize (something of value) as a source of revenue." In this case, we are talking about generating revenue, growth, and strategy through your NPS and customer experience program.
As crucial as it is to measure customer feedback and close the loop, only doing so through monetization ties revenue values to NPS. It is the step that companies struggle with the most, so let's review the different ways companies can impact their bottom line and throw in a few best practices.
Adding and Correlating Revenue Figures to NPS
By examining their promoters, passives and detractors against financial data, companies are able to ascertain the following points:
The portion of revenue that is at risk
High-priority areas in customer experience to focus on
The opportunities that could lead to highest growth
Leveraging the link between Net Promoter Score® and revenue is the first step to building a S.M.A.R.T, growth-minded business strategy. Unfortunately, combining revenue figures with NPS is a challenging task for most companies. The main roadblocks of monetization are data access and data currency.

Data Access. Your company's NPS champion(s) needs to see and use financial data for the correlation step to succeed. If your company's data is off limits - and most are - to a CX employee, you should aim to make your NPS champion someone that already has data access, or perhaps, recruit someone who will.
Data Currency. The second challenge is the accuracy of the financial data at hand. Adding your Net Promoter program to your financial figures can only yield clean results if the data you have can be trusted.
It is important to note that NPS is a way of doing business, meaning that the process doesn't have a linear end-point. Instead, companies move through the Measure, Act, Grow stages in a continuous loop to stay up-to-date on their performance. The ultimate purpose of adding and correlating revenue figures is to get the most out of all three stages. Once you are able to link financial data with NPS, you are able to do so.
Drawing Conclusions with NPS Insights
Now that you are tracking both your NPS and financial data, you are ready to unlock the financial value in your Net Promoter program. Let's revisit the Measure and Act stages. Here, your company can find important insights regarding your main customer groups, their value in revenue, and the key drivers that impact their satisfaction with your business.
When your company makes informed decisions about prioritizing the most critical drivers or the needs of the highest value customer group, it will be strategically investing its resources.
Focus on understanding the financial impact of drivers along with the value of the customers that identified them. In other words, don't assume that all drivers will account for the same costs or ROI.

For example, imagine that 5% of your detractors are dissatisfied with the Onsite Assistance. Meanwhile, 10% of detractors claim that Speed of Support is the main driver behind their unwillingness to recommend. Instead of prioritizing the driver and detractor group with the largest population, look at the revenue share that each group contributes.

By closing the loop on the 5% detractor group, you take 24% of your company's revenue out of jeopardy and convert your high-value detractor group into high-value passives or promoters.
A great way to prioritize drivers for B2B companies is to use an NPS SWOT analysis. This will help you point out opportunities and at-risk accounts with high- and low-revenue generating clients, and act accordingly.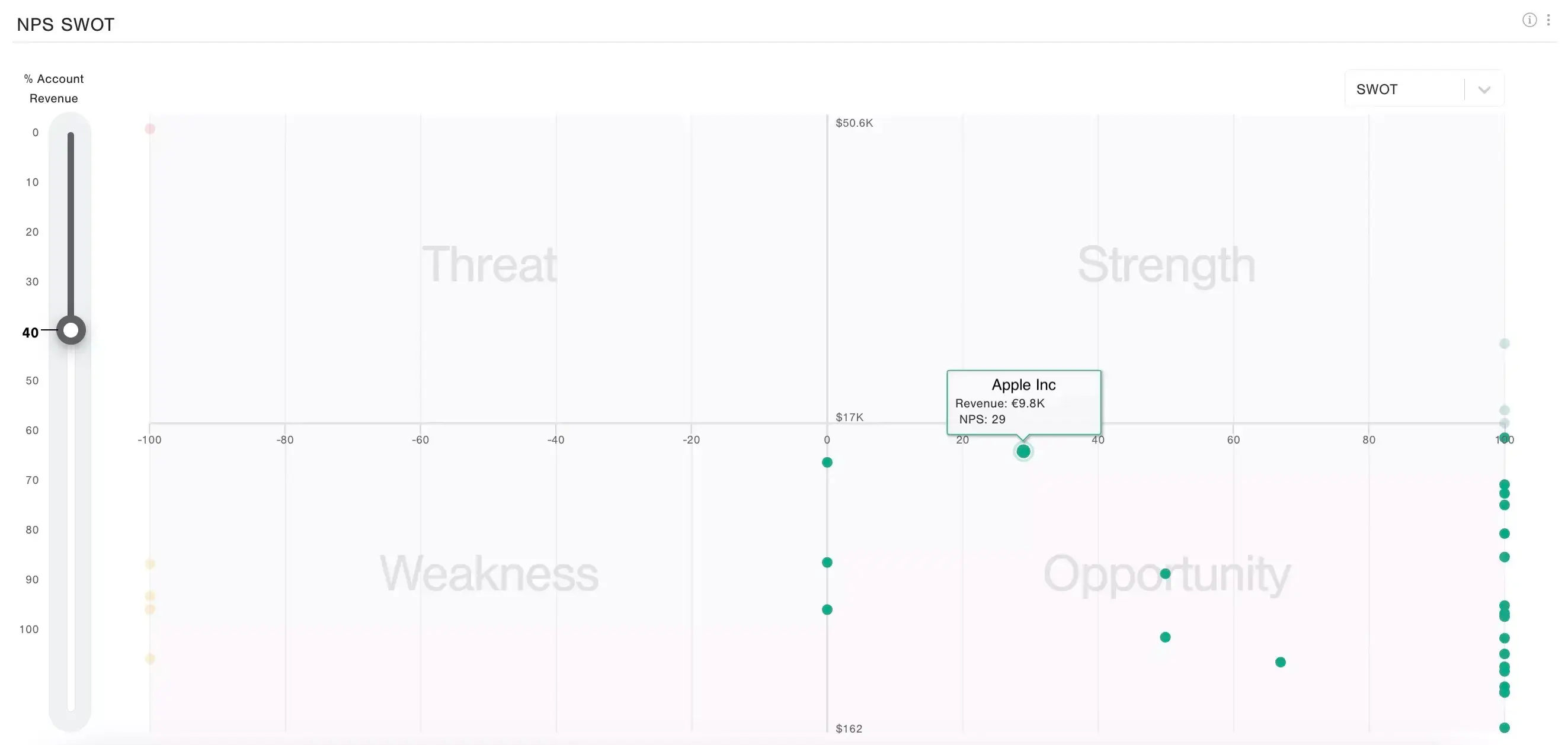 Reducing Customer Churn and Improving Retention Rates
Not knowing how much revenue is lost to churn is a poor business practice because it means companies can't fulfill the necessary steps to reduce that churn. To determine your customer churn rate, calculate the following: Churn rate = 100% - Retention Rate.
The retention rate is measured on a scale of 0% and 100% and looks at how many customers leave you at the end of a period of time. Businesses that aim to improve their bottom line must be aware of the ROI of improving their customer churn rate.
Just a 5% decrease in the churn rate will grow profits by 25-85%.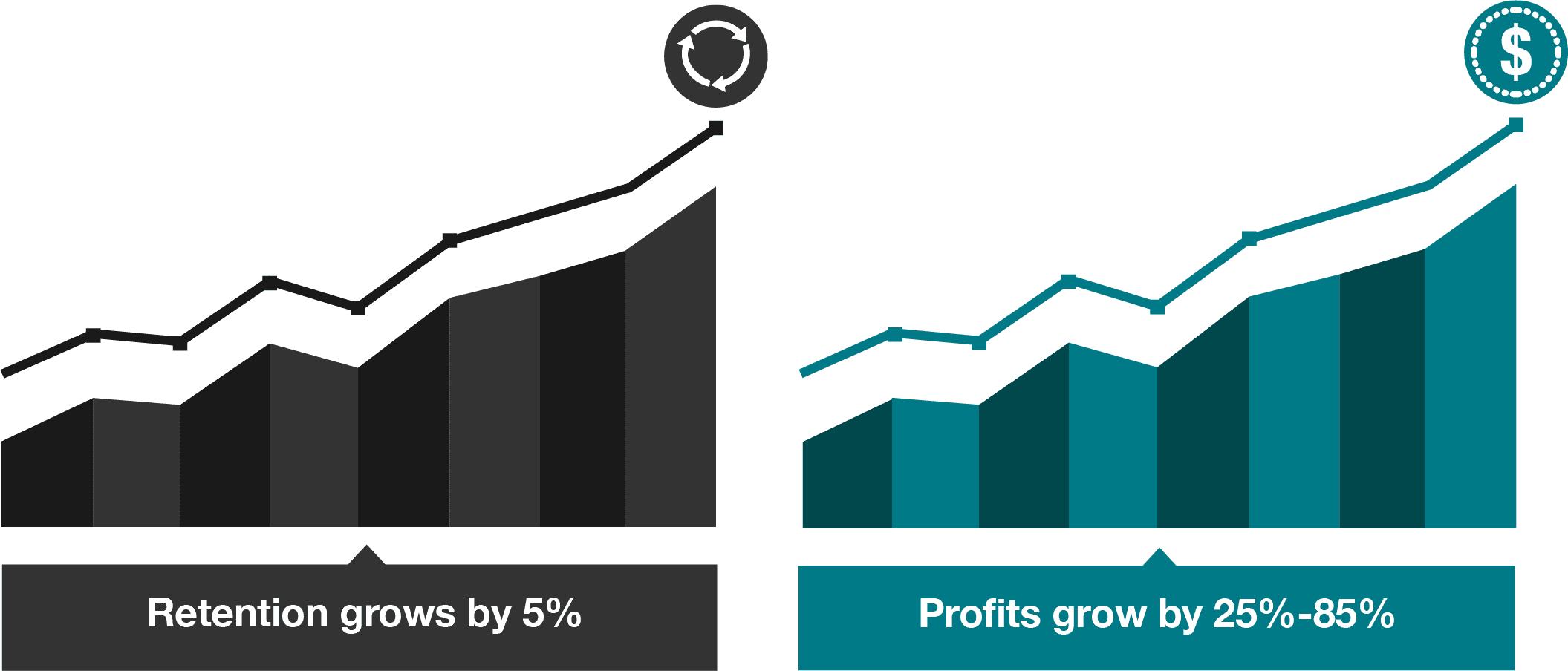 To understand why customers churn, a root cause, or driver analysis is a great place to start. Focus on the reasons that customers in the detractor and passive group are dissatisfied. For a detailed guide on conducting a root cause analysis, download the handbook by CustomerGauge.

When customers do leave your business, be sure to follow-up with a churn survey to understand why they are ending the relationship with your company. Remember to use the same prioritization tactics for the driver data that you collect. If you are losing both high- and low-value customers, focus on the drivers mentioned by the high-value group. This is further explained in our NPS 101: Retention Management to Combat Churn ebook.
Mastering Referral Marketing with a Strong NPS Program
A great way to increase revenue is through referral marketing, or spreading the word about a company's product or service using existing customers. According to a study done by Dimensional Research, a marketing research firm, 90% of consumers say positive online reviews influence their purchasing decisions.
However, not every loyal customer will automatically review or refer your business. In fact, 80% of reviews originate from follow-up emails by companies asking their passive or promoter customers to refer or review their services.
There are a few best practice tips we can offer to maximize the effectiveness of your referral campaign:
Provide simple, attractive incentives to refer for your promoters and the referring customer. This technique could also work for certain passives.
Identify the customers that are most likely to refer through a combination of referral and NPS data and target them with tailored referral campaigns.
Always ask the customer's permission to make their review public. This will generate new business and improve SEO while building your customers' trust.
Add referral marketing as the final stage of your closed loop process by training employees to ask if a customer will refer them at the end of a resolved issue.
Drawing Revenue from Up-Sells and Cross-Sells
Why are up- and cross-sells important to a business? For starters, 62% of B2B and 42% of B2C customers are happy to purchase more after a good customer service experience. This correlates with the fact that it is 5-25x cheaper to sell to existing customers, meaning that the return is higher due to a lower marketing and sales investment.
In order to understand which customers are most likely to purchase additional relevant products or invest in another service, use the NPS SWOT to help you.
Start by targeting high value promoters. They are already invested and loyal to the brand, so they are more likely to consider additional products you may offer them. At the same time, don't miss the opportunity that comes from targeting passive customers. They can be approached with products that are more suited to their needs than their first purchase.

Regardless of the targeted customer group, it is important to feature products and add-on suggestions that are relevant to the customer and their buyer's journey. Here are 5 great strategies for personalizing up- and cross-sales.
Up-selling and Cross-selling for B2B companies
B2B companies should consider reaching out to key account managers. That way, they can start a dialogue about how a certain service add-on or upgrade could solve a problem for their needs.
Up-selling and Cross-selling for B2C companies
B2C companies can target their high-value promoters through a variety of channels such as email, text, or social media. They also have the option of offering incentives to a select group of loyal customers. Puma, a sports apparel company, applies cross-selling marketing on their website when customers are ready to purchase. By throwing in a selection of similar products that a customer 'may also like', they increase their chances of a larger purchase.
Parting Words
More companies than ever are joining the NPS movement. Now, monetization adds an extra level of ROI.
Added to financial data, an NPS program has the ability to shape the direction of a business. Companies gain valuable insight regarding the impact of drivers for every detractor, passive, and promoter group. This, in turn, allows them to highlight opportunities and set up actionary campaigns to improve referrals and customer retention.
Likewise, measuring NPS alongside revenue allows companies to take the necessary steps to prevent dissatisfied customers from leaving, therefore decreasing the churn rates. While correlating NPS with financial data isn't always easy, it is an intrinsic step to gaining valuable insight and growing the bottom line of your company.
About the Author