When you think about the organizations that are leading the way in customer experience (CX), they've got one thing in common: they know their customers inside out.
They know what their customers like, don't like, and most importantly how to leverage this information to target all the right people with all the right things at the right time.
To achieve this, many use cutting-edge customer experience management (CXM) software, tools that can provide the right insights driven by high-quality data that are segmented and captured at all touch points.
However, there's little use being fed reams of data if you can't easily act on it.
That's why the very best CX tools include lots of high-level functionality: surveying features, including key metrics such as Net Promoter Score (NPS), detailed analytics and reporting functionality, and support for action.
You may already know this, though. You're ready to move forward with the right tool by your side, supporting your efforts to take your business to the next level. And if you don't, no sweat — just keep reading!
Here, we're going to compare Qualtrics vs Medallia vs CustomerGauge, three powerful options used by some of the biggest and best-known businesses around.
While all three are solid options, there are nuanced differences you need to be aware of.
Introducing Qualtrics, Medallia, and CustomerGauge
Qualtrics

Qualtrics is a cloud-based software platform for enterprise experience management. Launched in 2017, Qualtrics gives teams the tools that they need to tackle the experience design process, from market insights and needs assessments to concept testing and pricing research.
Qualtrics aims to provide a complete solution for brands looking to improve their CX. And they've made every effort to cement their position as leaders of the voice of customer (VoC) market thanks to acquisitions of other tools such as Clarabridge.
Medallia
Founded in 2002, Medallia is another software as a service (SaaS) platform that helps organizations understand, manage, and improve the experiences of their customers and employees.
Medallia is equipped with a comprehensive suite of features for capturing feedback and experience signals where customers interact with businesses, including email, social, digital web, in-app, conversational messaging, and connected devices.
Yet, unlike Qualtrics, whose emphasis is more on research, Medallia's focus is on helping employees act to improve CX whether in B2B or B2C contexts.
CustomerGauge
Where Medallia and Qualtrics offer support to all types of businesses, CustomerGauge focuses on the needs of B2B brands.
Launched in 2007, CustomerGauge has grown to become the number one voice of customer tool for B2B brands, according to Gartner. As a result, CustomerGauge is designed specifically to manage the challenges of multifaceted customer accounts and complex customer journeys.
Building on the Net Promoter Score system (NPS), CustomerGauge has also been at the forefront of monetizing NPS, i.e. linking CX data to revenue for a complete understanding of the impact of your experience program.

Qualtrics vs Medallia vs CustomerGauge: Gartner's Assessment
To give you a sense of how the different tools are generally received, the 2020 Critical Capabilities Report released by Gartner gives a detailed account of how vendors perform against real-world use cases.
The report details product capabilities like advanced case management, customer journey orchestration, and advanced predictive and prescriptive analytics, from the world's top B2B vendors ranks them by use case.
According to the report, CustomerGauge is the highest performing product for a tool with an enterprise B2B use case. Medalla and Qualtrics come second and third respectively, with scores of 3.38 and 3.22.
Qualtrics vs Medallia vs CustomerGauge: G2 Comparison
Before we dive into the unique features of each platform and the differences between them, let's consider how they've been reviewed by users.
G2 is a software marketplace and peer-to-peer review site that enables verified software users to post authenticated reviews. Users are asked to score software out of 10 across a range of different areas which are aggregated to give an average star rating out of five.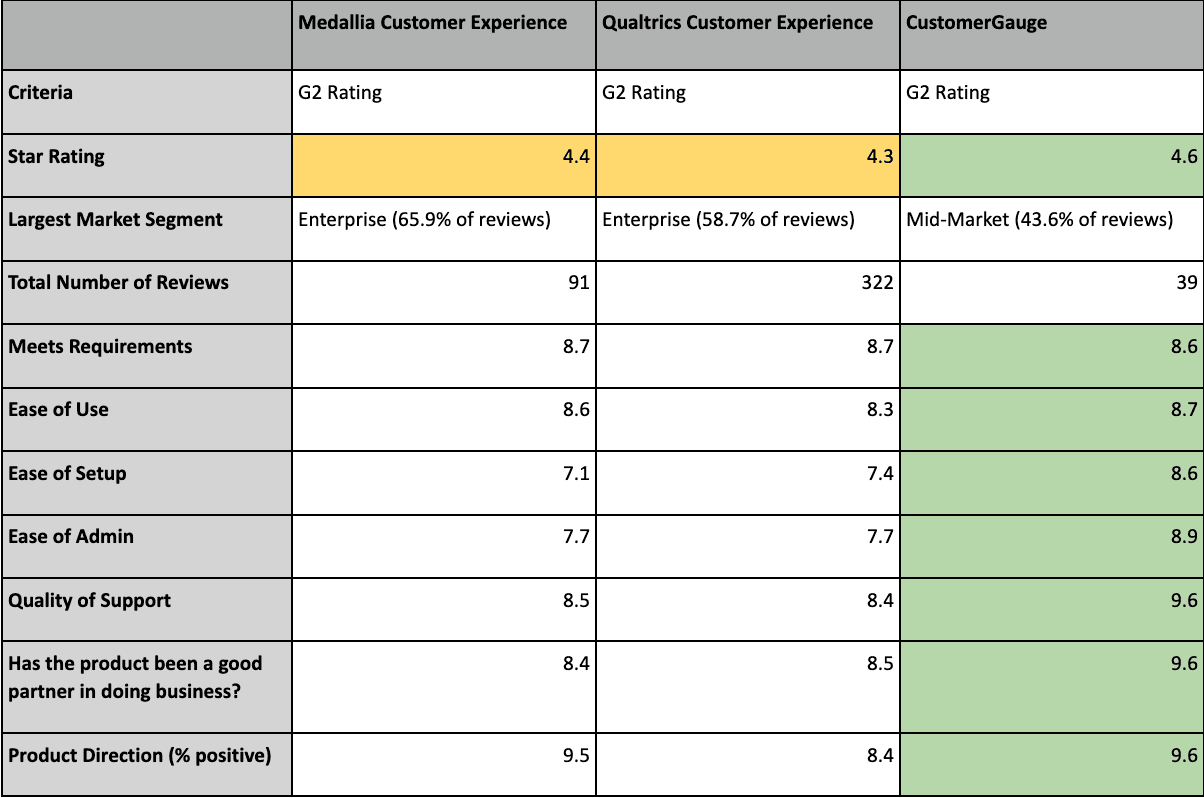 As you can see, CustomerGauge cleans house when compared to both Qualtrics and Medallia with an aggregated score of 4.6/5 and a higher score than both tools in all areas, including ease of use, quality of support, and, crucially, whether the provider has been a good business partner.
But what do individual users have to say about the different tools? Here are some of the key perspectives.

What Users Think About All 3
Qualtrics
Strengths
Qualtrics is highly praised for its excellent customer support and how user-friendly the platform is:
Cautions
However, customers have highlighted certain limitations and UX issues:
Medallia
Strengths
The quality of Medallia's survey functionality is highly praised on G2:
Cautions

However, users have reported some difficulties in getting to grips with the basics:
CustomerGauge
Strengths
The Pros and Cons of the 3 CX Solutions
Qualtrics

Pros
Simple setup. Qualtrics stands out due to its core simplicity. It's a web-based tool that requires no software installation.

Centralized interface. The software has a point-and-click interface for building powerful surveys which can then be sent and analyzed from a single online location.

Survey templates. It's easy to get started with Qualtrics thanks to the inclusion of over 20 fully-automated, guided solutions that come with pre-built analytics and reporting. Then there's the survey builder which includes over 85 question types, pre-built survey templates, and tools for basic and advanced users.

High customization. Everything is also highly customizable and Qualtrics gives users full control over the use of multimedia content, complex branching, and randomization.

Range of VoC signals. Qualtrics boasts some of the most advanced functions for capturing customer feedback, including conversational analysis and more.
Cons
Not always intuitive. Customers often note that some functions just aren't very intuitive, demanding a lot of time to perform simple functions—particularly for new users.

Expensive. Compared to other products, Qualtrics is a little pricey. However, for larger businesses, that might not be a concern.
Medallia
Pros
Omnichannel feedback collection. With Medallia, you can track customer sentiment wherever they interact with your brand, including email, social, digital web, in-app, conversational messaging, and connected devices.

Experience metrics reinforced by other customer data. Captured feedback is combined with operational and transactional data that's fed into the Medallia system, allowing businesses to benefit from insights into all relevant touchpoints on the customer journey.

Performance monitoring for feedback campaigns. The platform's 'Health Check' module shows users how the feedback process is running, giving insight into metrics like invitation status, response rates, and abandonment rates to help teams optimize it.

Targeted campaigns. The platform makes it easy to design targeted feedback campaigns that reach the right customers, in the right format, and at the right time.
Cons
Limited customization. Some customers have noted that questions are not always customizable, meaning that results are a little skewed.

Glitchy. Customers suggest that some features do not work as well as they should, including the survey and sentiment analysis.
CustomerGauge
Pros
Designed for B2B accounts. Our tool provides a comprehensive solution for customer and account experience by automatically capturing and distributing feedback from different voices in your customer accounts to your teams in real-time.

A focus on CX action. Features such as alerts for closed-loop feedback allows you to focus on action, not just customer sentiment. You can focus on reducing churn, driving up-sells, closing new business with referred leads, and more.

State-of-the-art survey builder focused on NPS, to help you build and manage referral programs, customer retention, relationship management, and more.

More than just survey data. Surveys themselves are a great way to track customer sentiment. But what happens when customers don't respond to surveys? CustomerGauge's 360 customer tracking allows you to monitor how often your customers interact with your platform.
Cons
Not designed for B2C users. The research firm Gartner named CustomerGauge the highest performing VoC vendor in the world for the B2B VoC use case in its 2021 Critical Capabilities Report. However, it's not designed for B2C contexts. If that's you, you'll likely prefer an alternative tool.

Not suitable for academic contexts. Unlike Medallia and Qualtrics in particular, CustomerGauge isn't equipped for academic research. We wouldn't recommend using it unless you are in a commercial context.

Book a demo to see out why Gartner ranked CustomerGauge the best B2B VoC platform on the market!

About the Author