Frederick F. Reichheld introduced the Net Promoter Score® in his article "The One Number You Need to Grow" in 2003. Reichheld found in his research that out of 19 loyalty attributes, the best predictor of future growth was the customer's willingness to recommend the company. To capture this willingness he asked a single question: "How likely is it that you would recommend [company X] to a friend or colleague?"
This question later became known as "The Ultimate Question" in his 2006 bestseller by the same name. This concept of the Net Promoter Score was later expanded into the Net Promoter System®, which provides a toolset that allows companies to measure customer feedback, act to close the loop with customers and grow their bottom line.
Introducing the Net Promoter System
The Net Promoter Score includes Fred Reichheld's original ultimate question, with the 0-10 scale. Based on how customers answer the Net Promoter Score question, they are divided into detractors (0-6), passives (7-8) and promoters (9-10).
The Net Promoter System takes the Net Promoter Score to the next level and uses these results to turn feedback into action and profitable growth. With the Net Promoter System, companies can determine the loyalty of customers in real-time and act immediately to improve each customer's experience.
In addition, some Net Promoter Systems can also be a driver of growth. By adding revenue figures to Net Promoter Score and customer data, companies can begin to identify opportunities for growth within their own customer base.
Since not all Net Promoter Systems offer these types of features, it's important to understand what qualifies as a good "Net Promoter System".
There are two types of Net Promoter Systems available on the market: heritage Net Promoter and monetized Net Promoter.
Heritage Net Promoter System vs. Monetize Net Promoter System
Heritage Net Promoter was originally introduced with Fred Reichheld's Net Promoter Score model back in 2003. A heritage Net Promoter System enables companies to create surveys (Net Promoter Score and possibly others such as CSAT and CES), measure customer feedback in response to these surveys, and act (often in real-time) to close the loop.

Numerous Net Promoter System software providers offer this type of service. And while it serves a purpose in the short-term for measuring your Net Promoter Score and addressing feedback, it misses long-term goals that all well-defined and profitable customer experience programs should provide: sustainable growth.
By measuring and introducing processes around retention, referrals and up- and cross sells, companies can grow even faster.
The Monetized Net Promoter System offers all the features of a heritage Net Promoter System and expands on them. By adding revenue figures alongside metrics such as the Net Promoter Score, retention, referrals, churn and more, companies are able to monetize and grow their Net Promoter program.
The Monetized Net Promoter System employs three steps: Measure, Act and Grow.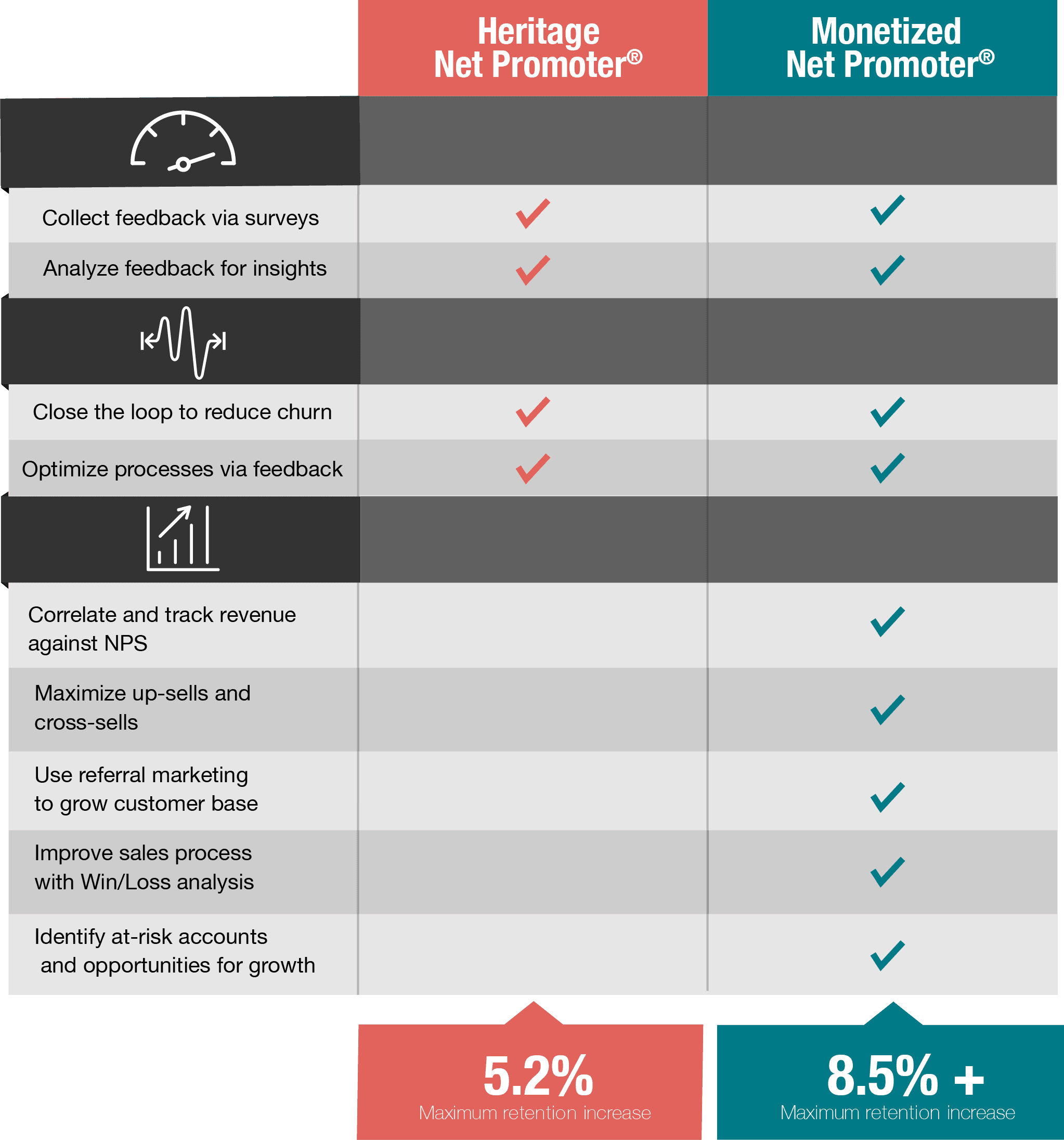 Measuring, Acting and Growing with the Net Promoter System
A Monetized Net Promoter System offers a three-step process to getting the most out of your customer experience program: measuring customer feedback, acting to close the loop, and growing your customer base.

Measuring Customer Feedback
Listening and analyzing customer feedback is necessary to understanding the Voice of the Customer.
Listen
Companies can use email surveys, text/SMS surveys, iPad/kiosk-based surveys, POS receipt surveys, QR code surveys generated by a Net Promoter System to gather and listen to customer feedback.
In addition, looking beyond just Net Promoter Score surveys, Net Promoter Systems can also include drivers within surveys to more easily determine root cause, and additional questions such as CSAT and CES.

Analyze
A good Net Promoter System should have superior analysis capabilities to get the most out of the customer feedback gathered. As such, there are multiple types of analysis that a Net Promoter System should perform, such as the following:
✓ Driver analysis
Adding drivers to Net Promoter surveys offers a deeper look at the reasons behind your Net Promoter Score.
✓ Root cause analysis
Root cause analysis is necessary for when other forms of analysis don't offer enough insight. In combination with Net Promoter System data, follow-up surveys and root cause interviews can give an added layer of understanding.
✓ Text analysis
Using interactive text analysis, customers can see comment tagging in real-time and adjust tags to appropriately categorize their feedback.
You can learn more about measuring customer feedback in our comprehensive eBook, step 1 of our Monetized Net Promoter series.
Acting to Close the Loop
Closing the loop is a vital step within a Net Promoter System. Acting in real-time to respond to customer feedback is the best way to reduce churn and improve retention among high-value customers.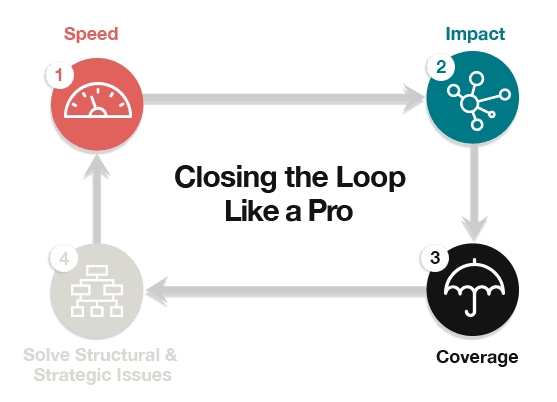 There are 4 best practices for closing the loop within a Net Promoter System:
1) Speed
The speed at which you close the loop in your Net Promoter System can play a big part in negating churn and increasing promoters. More than 50% of customers answer surveys in less than 24 hours. Make sure you give them the same courtesy.
2) Impact
A good closed-loop process should measure the impact of your customer experience efforts. I.e., time to close the loop, percentage of promoters, churn per month and any other vital KPI to deducing your CX impact.
3) Coverage
You should strive to close the loop for as many customers as possible. Doing so will allow you to have a clearer picture of root cause based on the larger population size of your Net Promoter Score data.
4) Solve Structural and Strategic Issues
A good closed-loop process will have the steps in place for issues that require structural or strategic-based support that involve upper-management.
In addition, there are three levels to closing the loop: the frontline, management level and the executive level.
You can learn more about closing the loop at each level of your organization in our comprehensive guide to acting on customer feedback in a Net Promoter System.
Growing Your Customer Base
With a Monetized Net Promoter System, companies go beyond simply measuring and acting on customer feedback and begin to monetize it.

Combining revenue data with Net Promoter data is the first step in finding deeper value in the Net Promoter System. For example, in survey data from our most recent white paper, a majority of responders found that up-sales revenue grew by 3.2% when NPS grew by 10 points.
By tying data such as revenue, referrals and up-sells and cross-sells, companies can:
✓ Discover what percentage of revenue equals 1 Net Promoter Score point
✓ Identify areas of strengths, weaknesses, opportunities and threats to save at-risk customers and maximize high value promoters
✓ Predict the likelihood of when, why and which customers will churn
✓ Tie referral marketing efforts to Net Promoter campaigns
What a Good Net Promoter System Provides
Before you make the leap with any Net Promoter software provider, remember these important features any good Net Promoter System should provide:

Understand the pain points in your customer's journey
When it comes to delivering a superior product, end users aren't looking to understand intricacies, they're looking for simplicity. With Net Promoter Score data, gain complete insight into the pain points in your customer' s journey using transactional and relationship surveys.
Learn who your most valuable customers are and how to keep them
Reduce the cost of acquisition by focusing on your current customers. Determine your customer lifetime value (CLV) to better understand the impact on revenue and churn. Who accounts for most of your revenue: passives or promoters? This information is vital to tying NPS to revenue, something every good Net Promoter System should do.
Discover how customers feel about your product, services and brand
Let customers drive your growth and business decisions by measuring and analyzing feedback to determine how to improve your product and brand.
Prove ROI by tying revenue data to Net Promoter
For every 1 NPS point, be able to attribute a portion of revenue.
Close the loop with dissatisfied customers
Act, in real-time, to quickly follow-up with dissatisfied customers to rescue them from churning. Your Net Promoter System should allow you to track and manage open cases in real-time.
Tie Net Promoter to referral marketing
If you aren't seeing growth within your program, then you're doing it wrong. Start by tying referral marketing efforts to your Net Promoter System.
Stay transparent with streamlined reporting
Ensure you're able to track trends and report on multiple locations to ensure management has a complete picture of customer loyalty.
Capitalize on positive feedback
Use review sites to generate referrals, improve SEO for searches and boost morale.
Engage and motivate employees
Use Employee Net Promoter Score (eNPS) to assess staff sentiment, engage with your employees, and gain valuable feedback to improve.
CustomerGauge's Monetized Net Promoter System
At CustomerGauge, we employ the Monetized Net Promoter methodology, which uses the Net Promoter Score and Net Promoter System to measure customer feedback, act in real-time and grow your customer base.
To learn more about our Monetized Net Promoter platform, please visit the dedicated solutions page.