In our The State of B2B Account Experience report, we identified a common problem with B2B brands and their customer experience (CX). While 90% of B2B leaders say that CX is a top priority, only 28% say that they feel they have control over the direction it's taking.
Why? Well, inadequate technology and problems with business culture don't help. But one of the fundamental reasons is that the majority of B2B brands are unable to state the ROI of their Voice of the Customer (VoC) program.
62% said they can't produce an ROI of VoC—and a further 22% said they just haven't.
However, to truly understand the state of your Voice of the Customer program—and your CX in general—calculating its return on investment is a must. It helps you fight internal resistance to CX, understand your performance, and, ultimately, drive revenue growth.
Quick advice:
We asked our VP of Education, Cary T Self, what his most important piece of advice is for those wanting to drive revenue with their voice of customer program. Here's his #1 answer:

"
Tie every aspect of your program to revenue. Not only is this the most important metric that your leadership and investors are constantly looking at, but it will also help you prioritize what is most important. With limited time and money you have to make decisions on what will have the biggest impact on your business growth.
Cary T Self
VP of Education
But how can you measure the ROI of Voice of the Customer? Let's take a look at some best practices. That's what we're here to find out.
Why Measure the ROI of VoC?
Some businesses are perfectly content to listen to their customers and occasionally act on what they're saying. But to get real insight from your CX program, you need to do more. Here's what measuring the ROI of your VoC can do for you.
Prove the value of your VoC program. Firstly, you'll be able to put a hard number on the benefits your CX program is bringing. If you can show the impact you're having, you're more likely to secure further internal support, resources, and funding from your executives. When there's often a lot of pressure to prove results, an ROI is the only thing that can deliver that proof.
Understand why NPS improves, but revenue flatlines. Imagine you've put lots of effort into your VoC strategy and you've witnessed your Net Promoter Score rise magnificently. But at the same time you notice that revenue growth has stalled. Why's that? By not linking your CX to your financial data, you'll simply never know.

Get buy-in from all levels of your business. Often, business teams can be reluctant to change and adopt new practices—even when the benefits can be huge. Sharing the financial successes of your CX can overcome this resistance.

Make optimizations to power future improvements. In truth, your CX program may not be having the results you'd hoped for. But by linking your VoC data with an understanding of your revenue, you can more easily identify opportunities to improve your program and track the financial impact you're having in the process.

Drive business growth. A better understanding of your revenue impacts means a more effective CX program in the long run. By putting revenue at the heart of your VoC program, you'll see results.
However, you'd be surprised: 70% of B2B businesses aren't linking their CX programs to financial data. That means they're flying blind.
6 Steps to Measure the ROI of Voice of the Customer
You now know why linking financials to your CX is so important. But how do you measure the ROI of VoC?
Here are 6 steps you can follow:
1. Know Your Current Retention Rate
Understanding your ROI starts with collecting the data you currently have on your VoC performance. That starts with knowing your retention.
Customer retention is the proportion of customers that stay with your business over time. It shows the successes you're having in preventing churn, securing continued revenue, and maintaining growth. Benchmarking this figure will help you understand the impact that your VoC program is having.

2. Understand the Cost of Doing Nothing
Your CX efforts will always have a return on investment. You might just not know it. Or worse, it could be negative.
In fact, doing nothing in VoC itself comes at a cost. This is the cost of churn—i.e. the number of customers who are leaving your business—as well as the cost of your marketing efforts. These don't come for free.
40% of B2B executives that we spoke to don't know their own churn rate. But this is a priority figure to grasp if you're intending to improve your returns.
We can help you understand the cost of doing nothing — discover it for yourself with our ROI calculator.
3. Link VoC Goals to Your Business Strategy
Setting goals and targets is an important part of any CX strategy. It boosts performance, helps you close the loop faster, and will show you what future success actually looks like.
To understand the ROI of your VoC, link your customer experience goals directly to your overall strategic aims. What metrics are you prioritizing as a business? Is your focus to improve retention and the experience of your existing customers? Or to bring in as many new customers as possible?
Your VoC never stands all by itself. Rather, you can get a clear vision of your revenue and overall impact by linking it to the metrics you're already tracking.
4. Track Upsells and Resells
80% of B2B profits come from 20% of customers, according to Gartner. That means that the quantity of your customers is less important than the depth of the relationship you have with the most valuable accounts.
Our research report uncovered that upsells and cross-sells thanks to a voice of customer program are rarely measured.
Tracking upsells and resell successes will be a crucial part of the way you identify the ROI of your VoC program. This can be easily done: automate it.
Try it by joining the dots between the positive feedback you get, an initial conversation with the customer, and the future sale.
VoC platforms like CustomerGauge can make this easy.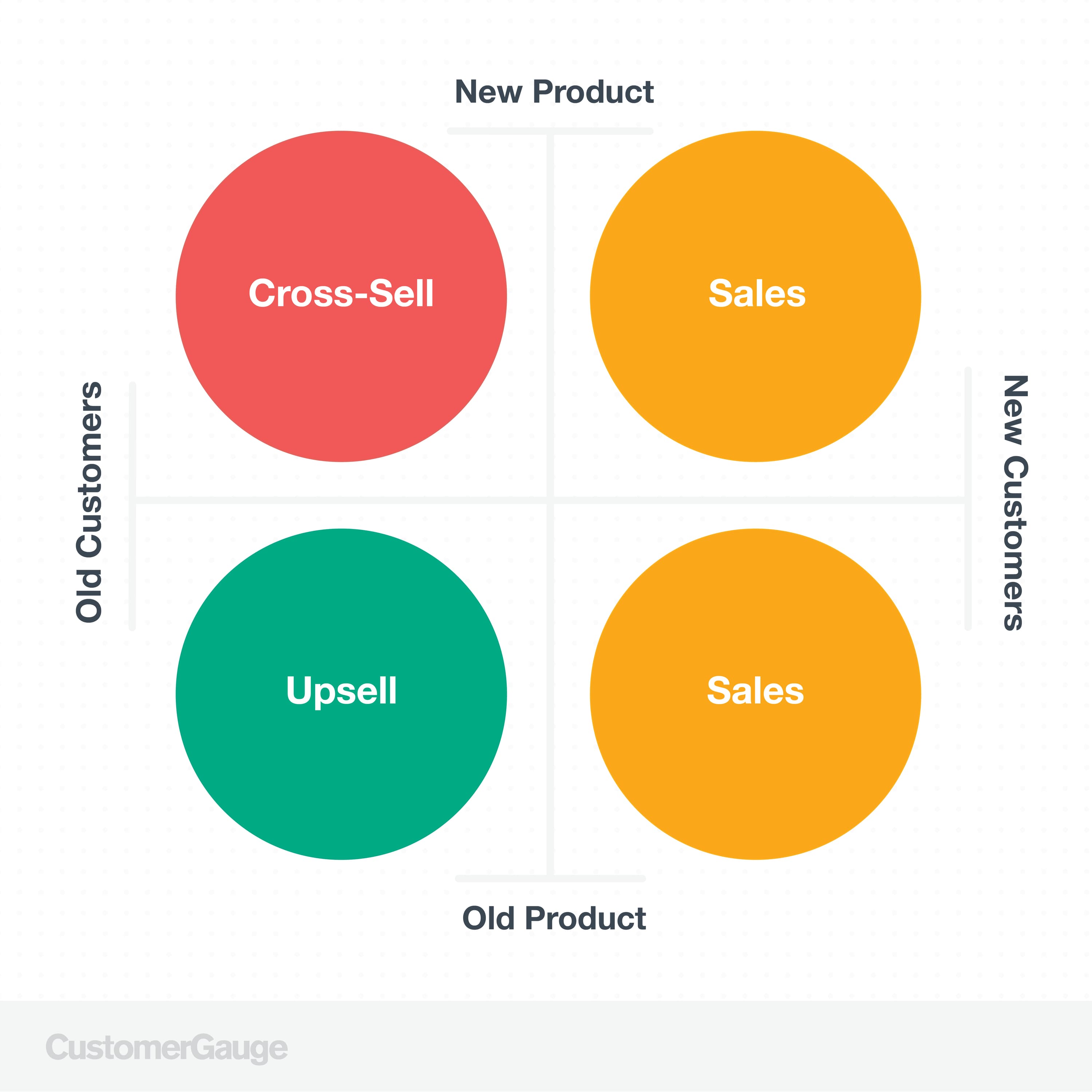 5. Incorporate Referrals
The same can be said of the referral revenue. 26% of revenue typically comes from referrals. But if you do not measure how CX impacts your referral rate, you'll have no idea of your full ROI.
While NPS monitors the likelihood of customers making recommendations, that doesn't mean that they actually do it. Tracking actual referrals will help you monitor your real-life impact.
The process of tracking referrals can be automated just like upselling. For example, you can encourage customers to use a specific referral link to make the recommendation. Then, you'll receive a notification whenever a referral is made.
Learn more in this article on how SmartBear drove $6m in referrals from their B2B CX program.
6. Calculate Your Hard Currency ROI
Finally, your ROI figure will necessarily incorporate other costs: marketing efforts, overheads, and the cost of staff labor. These will be specific to your business and will change depending on the size of your team, whether you are remote, and many other factors.
But to reduce these costs, you can take the step to automate your VoC systems. This can reduce your overheads and provide you with targeted, actionable insights to improve your revenue-capturing processes.
For example, with CustomerGauge's VoC software, we calculate that you can improve your ROI by 13 times compared to doing it manually.
4 ROI Voice of Customer Best Practices
By following the steps outlined above, you'll be well on your way to having an ROI of your CX.
But now, with your ROI calculating machine up and running, keep in mind these four best practices to ensure you're having the biggest impact you can.
Measuring ROI should be done in real-time. We find that it's no good calculating your ROI just once a year, for example. Instead, it's best to do it at least monthly—but even more frequently if you can. We recommend tracking your ROI in real time, so you have an up to the minute understanding of how the needle's moving.

Understand the revenue impact of specific drivers. Part of your CX program should be identifying the specific impact on revenue of everything your business does. What effect is your onboarding process having on churn rates and revenue? Or your customer service? With this understanding, you can identify your most valuable drivers—and improve those that are causing the biggest loss of revenue.

Automate your CX to save costs. It's worth repeating. To bring the cost of CX down and identify smarter solutions for revenue growth, automating your VoC processes is a must. There are plenty of VoC software out there that can help. For B2B brands, CustomerGauge is consistently recognized as the best.

Use VoC ROI to drive action. Ultimately, your data is only a ground for action. With quality data, you need to put steps in place to make improvements. Because that's what your VoC program is all about.
CustomerGauge Makes Calculating ROI Easy
At CustomerGauge, we can help you automate the processes behind your VoC program while ensuring that you are linking all your CX data to your revenue.
Want to see how? Book a demo to find out.
About the Author