Bolstered by the adoption of emerging Internet of Things (IoT) technology, the B2B telecommunications industry is anticipated to grow to $1.46 trillion this year. But for all its growth and critical role in the expansion of new technologies, B2B telcos are suffering from several significant challenges–namely, abysmally low rates of customer satisfaction (Telco has an NPS® of 24, even lower than the banking industry's 37). So how do these telcos overcome the experience crisis and grow faster? It's pretty simple in our opinion, leverage the Account Experience™ (AX) methodology to improve experiences across all major stakeholders in an account and link satisfaction metrics directly to revenue to drive sustained, profitable growth.
Creating a better Account Experience isn't just about generating loyal, happy accounts (although that's certainly important). A better AX ultimately generates higher profits. Loyal, happy accounts stay longer, make more referrals, and cost far less to generate than new customers. In fact, a study by Forrester found that, after the auto industry and upscale hotels, telecommunications has the third highest potential for increasing revenue by improving their experiences. Companies that focus on Account Experience also have 2x the referral sales volume, 18.6% higher revenue growth, and 20% higher upsell/cross-sell growth vs. those who do not focus on their experience.
The question is, is telecommunications meeting that potential?
B2C vs B2B Telecommunications
For B2C telecommunications, creating a better customer experience must focus on addressing the individual customer's experience with the brand. What are key drivers of a customer's level of loyalty? Network connectivity? Flexible contracts? Excellent customer service? In any case, telecommunications companies need to discover these key drivers, continually survey customers to get feedback in real time, and focus on how overall customer loyalty impacts revenue.
B2B telecommunications have a more complex game to play. They must manage multiple contacts and touchpoints, monitoring loyalty from different parties within one account. While the churn of a handful of customers in B2C isn't going to significantly affect a company, the churn of major accounts can impact overall revenue in a significant way.
B2B telecommunications companies face a number of challenges that must be addressed on multiple levels: from the standpoint of customer loyalty and satisfaction; retention rate; and finally, revenue.
B2B Challenge #1: Accounts aren't happy.
hough accounts are evidently unhappy with their telecommunications providers, measuring customer satisfaction metrics is nothing new to the industry. AT&T, Verizon, and Sprint all use Net Promoter Score (NPS) to measure and assess loyalty by asking the following simple question:
How likely are you to recommend this brand or business to a friend or coworker?
The resulting metric certainly delivers valuable insight, but it can also be deceiving; giving companies the impression they are performing well without noticing that their highest value accounts did not even take the survey. So while a telecommunications company might measure NPS and score highly, they still may experience a major churn event in one of their most valuable accounts.
CustomerGauge's Account Experience gives telecommunications companies a tool for addressing these pitfalls of NPS, by:
Providing comprehensive insight into a customer's level of engagement across multiple channels like logins, usage, support tickets, etc.
Displaying coverage percentage to give accurate insight into who is actually taking the survey and what % of your total revenue they cover.
Routing account insights directly to front-line staff in real-time so account managers can be proactive in closing the loop.
Ultimately, Account Experience prevents the kind of blind spots that result in sudden, unexpected churn­­–and gives managers the ability to create a better overall Account Experience which directly impacts retention rates for the positive.
B2B Challenge #2: Falling Average Revenue
The average revenue per user/account for telecommunications companies is falling in nearly every region of the world. From 2011-2016, companies in North America experienced a -2% change; Western Europe, -6% change; Middle East, -4%; Latin America, -10%; and Asia, -1%.
To prevent further loss, B2B telecommunications companies need to be able to link customer experience directly to revenue. They need to be able to see how loyalty and satisfaction actually impact their bottom line, and act on that insight to create an AX that will generate happier customers (and more revenue).
Account Experience helps managers to do so, by giving them the ability to see how incremental changes in Net Promoter Score affect financials. The Revenue Simulator shows how a low NPS vs. a higher NPS will generate higher revenue, according to the average spend of "Promoters" vs. "Detractors."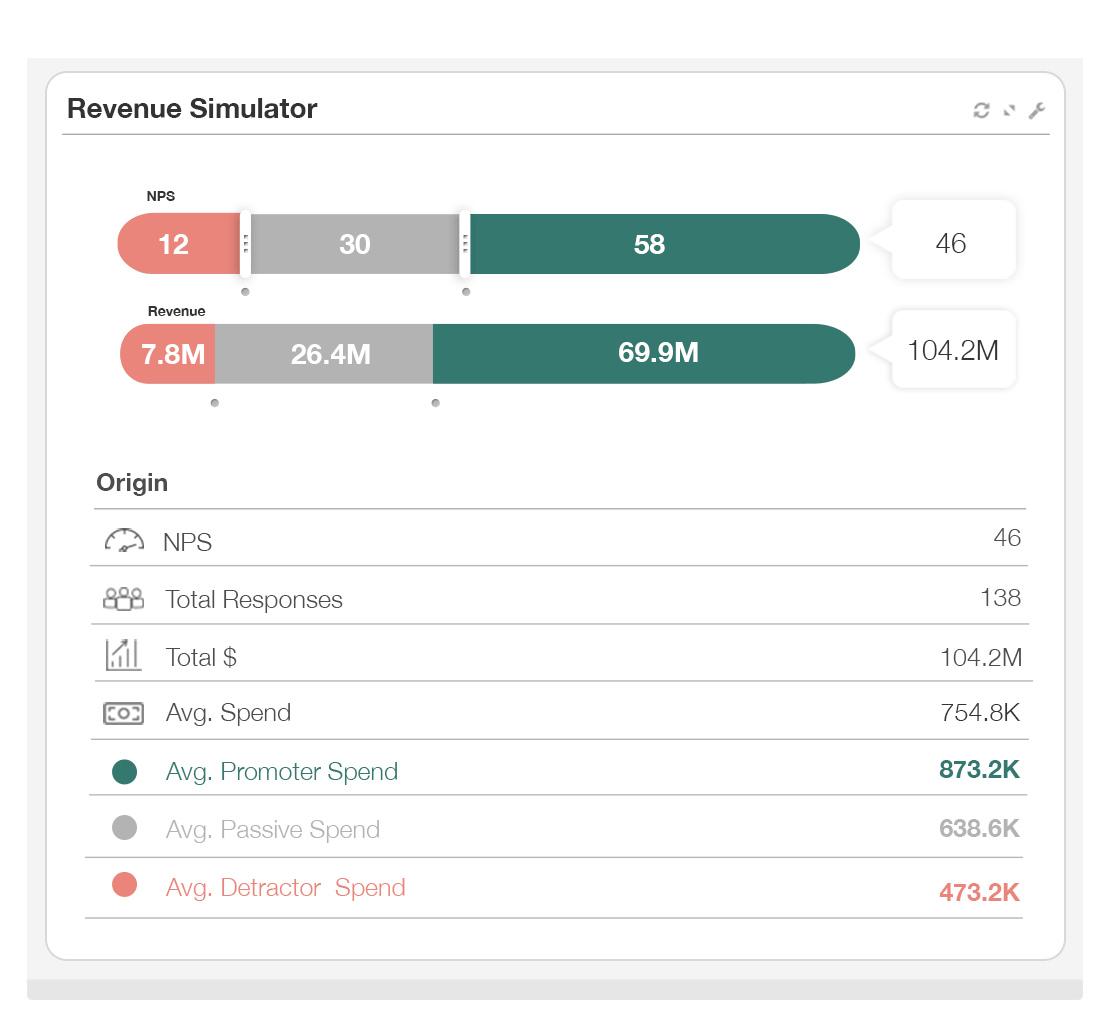 In addition, users of CustomerGauge Account Experience suite can directly tie revenue and NPS to root cause drivers. What this allows you to do is for example, focus on the specific feedback drivers of your telco business that are contributing the most (or least) amount of revenue to your bottom line and proactively close the loop. Seeing your direct revenue impact on drivers and NPS is often a mind-blowing experience for new telco users of CustomerGauge.
Using this never before available intel, leaders can make better decisions based on hard data–but still put Account Experience at the center.

B2B Challenge #3: Competition & industry disruption.
The commoditization of telecommunications has given rise to a massive number of new competitors. In addition, industry disruptors such as web applications like "WhatsApp" (allowing individuals to text for free from abroad) have introduced a whole new level of challenge for telecommunications companies to keep their customers & accounts actively engaged.
To compete in an age of disruption and rapidly paced innovation, telecommunications companies need to continue surveying and capturing account-signals to constantly assess areas of improvement in real-time. In doing so, companies keep the account's desired experience at the center of their business operations ensuring a positive impact on retention rates and overall growth.
Account Experience gives telecommunications companies the ability to survey accounts via email, text message, in-app, through agents, with a QR code, or even on an iPad at a kiosk. The result? Managers gain the insight they need to implement changes, regardless of channel, to create a better Account Experience.
Gathering so many different touchpoints in telco can often pose reporting challenges for some vendors. Fortunately, CustomerGauge's Account Experience solution gives companies the ability to implement custom dashboards displaying satisfaction scores, account-signals, etc for their websites, stores, call centers, and through resellers—the segmentation options are nearly unlimited, and it's all in real-time so there is no delay responding to accounts. Interestingly, the results may show that Account Experience is stronger in portal vs. onsite, etc. This can help program managers to granularly focus their efforts on specific pain points by channel to help improve the overall experience.
Finally, telecommunications companies can use Account Experience to survey their own employees, and ask about levels of satisfaction within the company. Gathering intel about employee loyalty may not seem relevant until you consider the fact that happy, engaged employees are responsible for creating a great AX!
Alaska Communications Jason Weed says of CustomerGauge's Account Experience solution, "Hands down the best vehicle for client feedback that I have ever used."
B2B Challenge #4: Complexity of servicing B2B accounts.
As mentioned above, B2B accounts carry a particular set of challenges. They typically involve a number of different contacts, and demand a more comprehensive level of engagement than a relationship that is single-contact and purely transactional. Telecommunications with large corporate accounts, for example, need to be able to continually survey and capture account-signals to manage loyalty and prevent sudden churn of high value accounts.
Account Experience gives managers the power to effectively manage B2B accounts by:
Providing Prioritized Account Focus–displaying a holistic, organized view of accounts stack ranked by revenue contribution.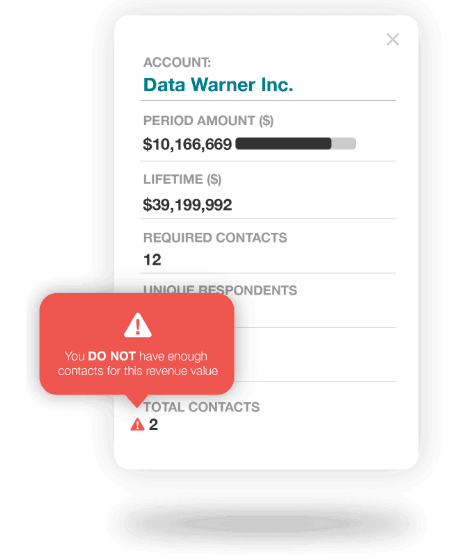 Anticipating Churn Likelihood–taking into account multiple account-signals like usage, support tickets, satisfaction data, Regular Business Review data, etc. to generate a "Churn Likelihood," and then making recommendations for follow-up.
Breaking down departmental silos by providing relevant dashboards specifically made to engage each department into creating the best possible Account Experience possible.
Ultimately, Account Experience provides the detailed overview and insight that telecommunications needs to create a powerful CX for their B2B accounts–forging connections that prevent churn and result in long-term growth.
B2B Challenge #5: High cost of acquiring new customers
The cost of acquiring a new telecommunications customer has gone up 65% in the past five years alone. This is a tough pill to swallow for an industry who is also experiencing shrinking margins.
It's almost always less expensive to keep a customer than to acquire a new customer. Not only that, but a loyal, long-term customer or account can make valuable referrals and respond well to upsells and cross-sells. That being the case, telecommunications companies need an edge that will allow them to improve retention rate and identify opportunities for growth in their existing accounts.
Account Experience gives telecommunications companies the tools they need to retain existing accounts and identify new opportunities for growth.
Using Account Experience, managers can:
Get early churn warnings due to lack of account-signals and get recommended actions automatically for a prescriptive account retention plan.
Put accounts into a SWOT chart based on revenue and NPS to identify the best possible up-sell / cross-sell opportunities.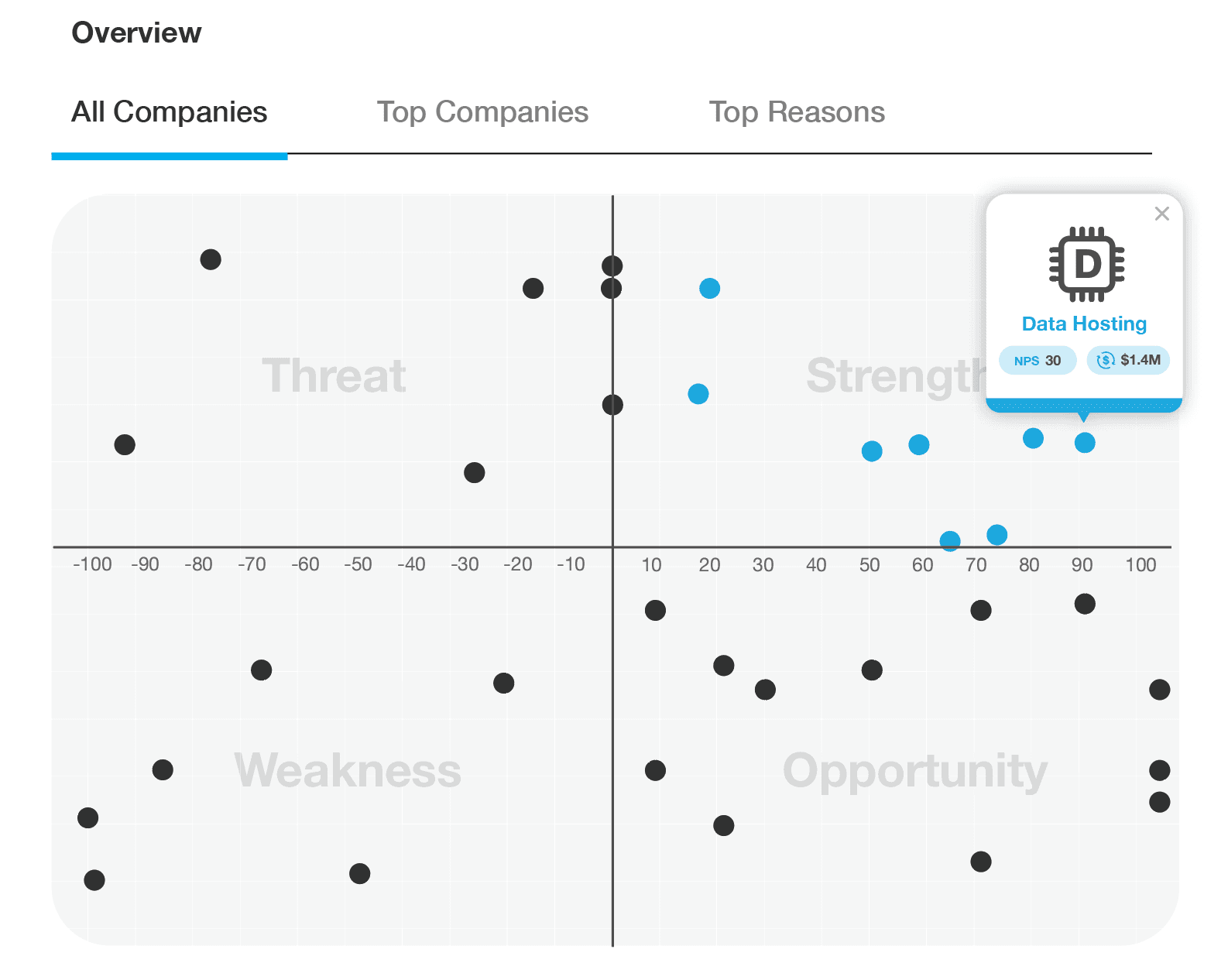 Using hard data, Account SWOT plots accounts on a grid of threat, weakness, strength, or opportunity. Using this powerful tool, managers can make powerful, data-driven decisions on how to prevent churn or find new opportunities for growth.
Account Experience: A Track Record in B2B Telecommunications
Today, Account Experience is used by telecommunications companies such as Vodafone, Alaska Communications, Batelco, Colt Data Centre Services, and Voiceworks. Offering its clients account-native capabilities, horizontal, cross-department and hierarchical adoption, and cross-industry B2B focus, it's the ideal partner to help you thrive in an competitive market. Here are a few more of our Telecommunications clients:
Humphrey Geldof, the Customer Success Specialist at Colt Data Centre Services, said "We found working with CustomerGauge was like a partnership, rather than onboarding another supplier."
About the Author