Outside of improving retention and increasing satisfaction among your customer base, another objective of your B2B CX program is monetizing customer-driven opportunities.
In this customer-centric guide to B2B referral marketing, we introduce how companies can use their CX program to generate B2B referrals.

What is Referral Marketing?
Mobilizing promoters to refer a brand, product or service is called referral marketing. Referral marketing can happen via word of mouth, or through some influence or strategy via a referral marketing program.
Because organic referrals lack frequency or predictability, companies use referral marketing programs to generate and track referrals within their customer base.
There's a lot of information out there when it comes to B2C referral marketing programs. However, there's significantly less information on referral marketing strategies when it comes to B2B businesses. In this article, we'll dig into why referral marketing is vital to the sustainability of a B2B company.
Specifically, we'll look at:
How to convince your business to jumpstart a B2B referral program
How to avoid common pitfalls in B2B referral programs
How to determine which customers to target for your referral marketing program
How to calculate customer referral value (CRV)
How to motivate customers to participate in your program
How to Get Buy-In for a B2B Referral Marketing Program
According to Harvard Business Review, 84% of B2B sales begin with a referral. While this number may fluctuate depending on your industry, this stat is significant. Why?
Because it's an important reminder that in B2B, more so than maybe even B2C, relationships can MAKE OR BREAK a business. Relationships matter to the sustainable, long-term growth of your business. They matter in mitigating churn and generating greater visibility in your industry. And they matter when it comes to generating NEW BUSINESS.
Those B2B companies that use referral marketing in conjunction with their customer experience (CX) program can leverage loyalty to promote growth and increase customer lifetime value (CLV).

Moreover, the benefits that come from a successful B2B referral marketing program are far reaching:
Referred accounts are more loyal than non-referred account in the long-term
Referred accounts are more likely to fit an ideal customer profile (ICP)
Referred accounts come with higher value and lower cost of acquisition (CAC)
With all these perks in mind, it's surprising to find that many B2B organizations still struggle to establish a customer-centric referral program.
Why So Many B2B Companies Get Referral Marketing Wrong
In CustomerGauge's NPS® & CX Benchmarks report, 54% of B2B professionals indicated they didn't use a referral marketing program. However, the 9% that not only use referral marketing, but link it to their CX program, experienced the highest percentage of revenue growth (+20%) and return on retention (+82%).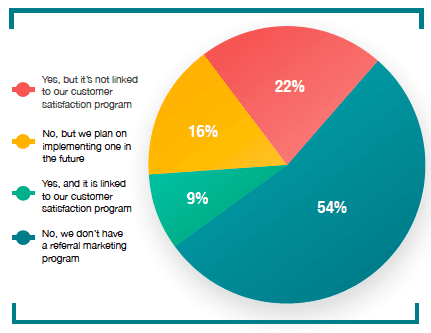 Three of the biggest (and, surprisingly, most common) missteps companies make when launching a B2B referral marketing program are:
Not tying their referral marketing to an NPS or CX program
Before launching your referral marketing program, it's important to know your target audience. To be clear: Not ALL your customers are an ideal audience for your referral program. It wouldn't be wise, for example, to target an unhappy customer to refer your company. Tying an NPS & CX program to your referral marketing efforts will inform your strategy, offer additional communication channels to promote the referral program and simultaneously improve relationships with current customers.
Not implementing a strategy to motivate participation in a referral program
Yes, your customers love you....but that's not always enough to get clients to refer your product to other companies. Having a strategy in place to motivate and reward customers for referrals is a great way to increase pipeline and loyalty.
Not having a system in place to track referrals and identify customer referral value (CRV)
Knowing how referrals impact your current sales pipeline and process, as well as the revenue generated is vital.
In the next few sections, we'll explore how B2B companies can tackle these issues head on.
How to Use a CX & NPS Program to Generate B2B Referrals
How do you know which customers to target for your referral campaign?
By tying referral marketing to an NPS and CX program, companies can identify which companies to target by:
Looking at the level of satisfaction in each account
From a common sense standpoint, asking an unsatisfied account to refer your company wouldn't be ideal. So, who are your happy customers?
Looking at the drivers of that satisfaction
But...don't discount passive customers right away! H&R Block Canada found that passive customers were also a great source of referral power. Fairly often, the reasons behind a passive customer may be an easy fix. Think about it: The time and resources to fix a small issue may lead to a high-value referral! Which brings us to our next point...
Looking at the size and activities of an account
All customers are valuable. But those larger accounts may have a greater realm of influence. By looking at the size of an account, and the different activities that happen within that account, you can identify not only which customers to target, but which products or services to ask them to refer.
Using Satisfaction Data to Generate B2B Referrals
As mentioned, CustomerGauge's NPS benchmarks report found that those B2B companies who tied their referral marketing to their CX or Net Promoter programs had greater bottom line benefits than all others surveyed.

The chart below displays the percentage share of respondents (x-axis) by the referral sales rate ranges (y-axis). In the report, 2 out of 3 companies said they registered if a sales win came from a referral—though very few could answer if the referrer was a promoter, passive, or detractor.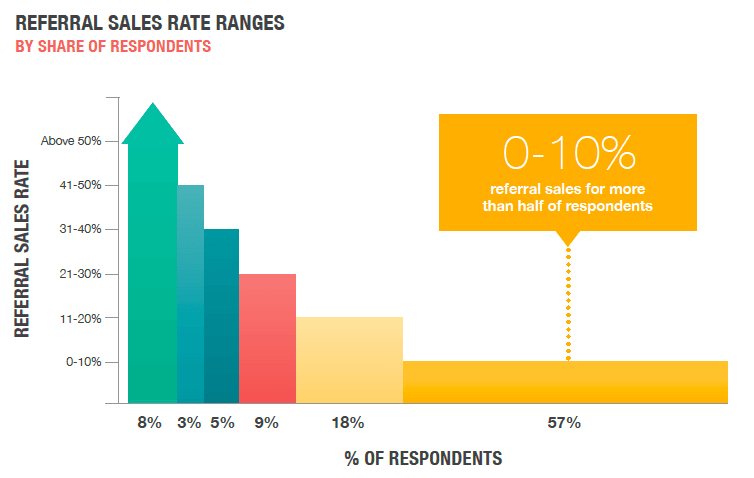 The companies in CustomerGauge's survey who tied referral marketing to a CX program experienced greater growth for a simple reason: they knew who to target. By combining referral marketing with an NPS or CX program, B2B companies can begin to identify new areas of growth, specifically for:
Targeting promoters and passives to refer new customers by incentivizing them and the referring customer (more on that in the next section)
Using a combination of referral and CX data to determine which types of customers are most likely to refer new business
Making referral marketing a part of the closed loop process by training employees to ask if a promoter will refer them at the end of a resolved issue
The other great benefit of tying referral marketing to a CX program is that you are already communicating at an expected cadence with your accounts—from QBRs to quarterly relationship surveys to customer marketing emails. This makes it easier to embed referral conversations within your customer base.
Using CX Data to Generate B2B Referrals
Once you've targeted which promoters or passives are satisfied with your brand, you can begin looking into the drivers behind that satisfaction, as well as the size and growth within that account. This is ideal if you'd like to:
Narrow down your referral marketing to refer a specific product or service
Determine which accounts might have a large amount of influence based on their size
At CustomerGauge, our clients can look at the drivers and reviews behind each contact to infer if an account is a good candidate for a referral. Drivers will indicate the reasons WHY a customer is satisfied with your brand.
Below we see this played out in both survey drivers and reviews. CustomerGauge's comment analysis shows that the driver of satisfaction here is Product. This indicates that this particular account may be ideal for referring certain a particular product.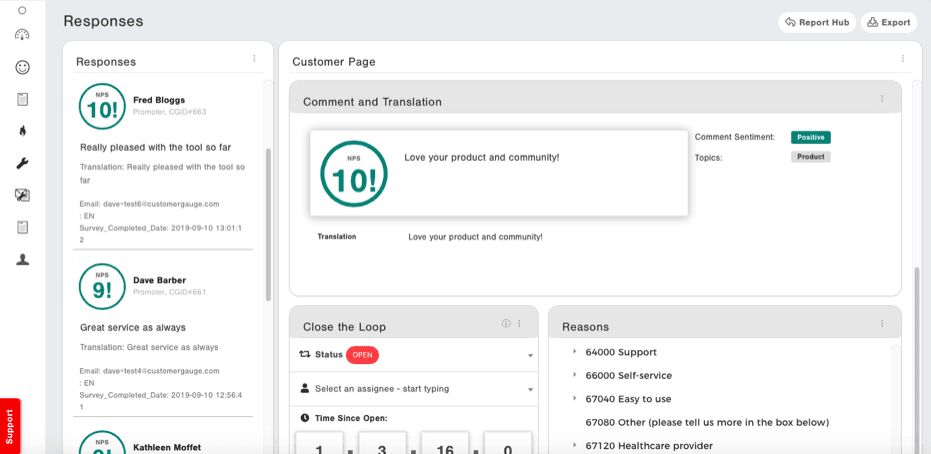 Our customers can also use a feature called "NPS SWOT" to indicate which clients are high-revenue accounts and juxtapose that information next to satisfaction metrics like Net Promoter Score®.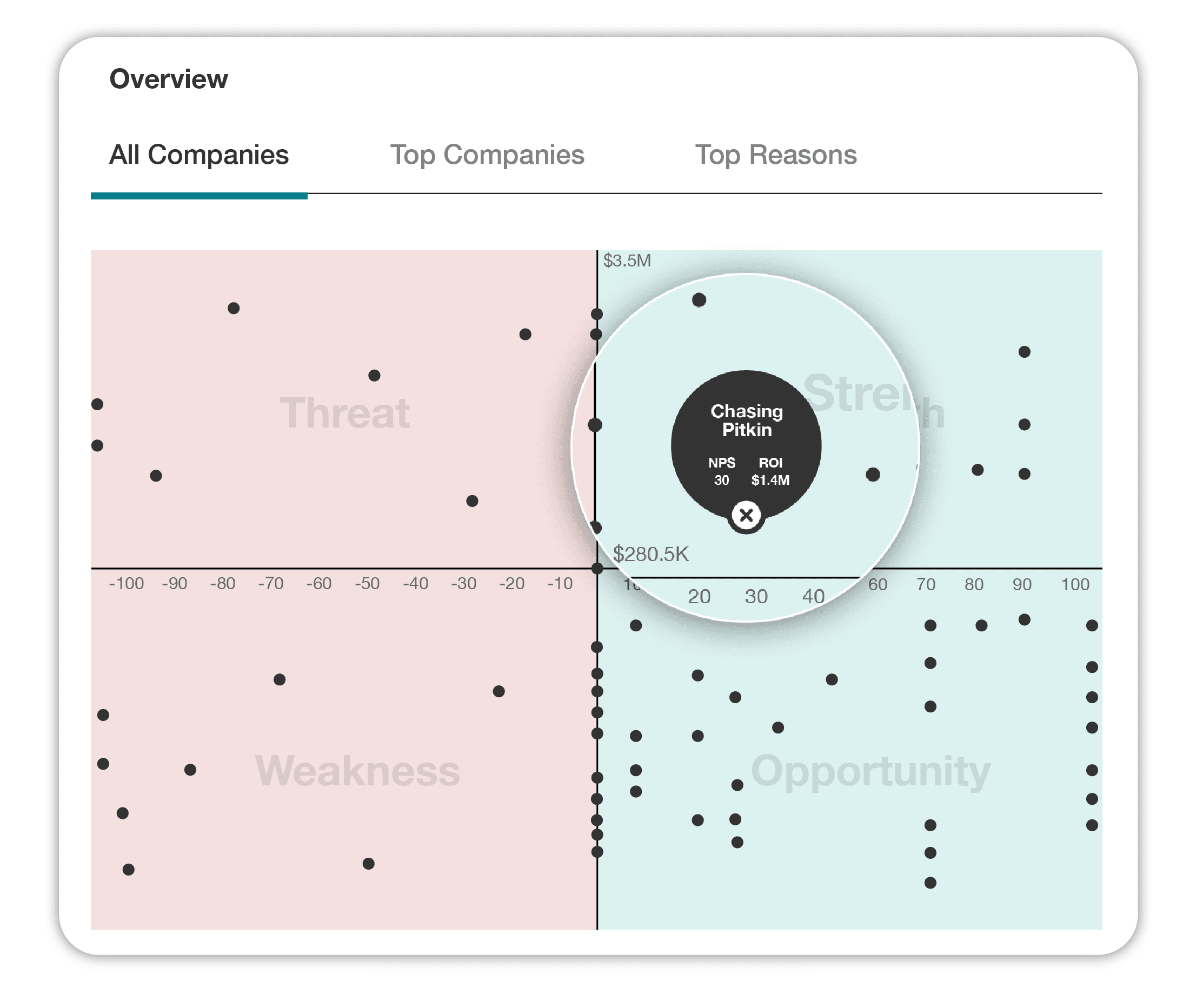 In a previous article, we look at how sales leadership can use features like these to increase retention revenue and generate new pipeline opportunities.
How to Motivate Clients to Participate in Your Referral Program
While some customers may be happy to refer your brand, in many cases, you'll need to do a bit more to motivate them. That's when reward systems come in handy. Strategizing a reward system is also one of the more fun and creative aspects of referral marketing!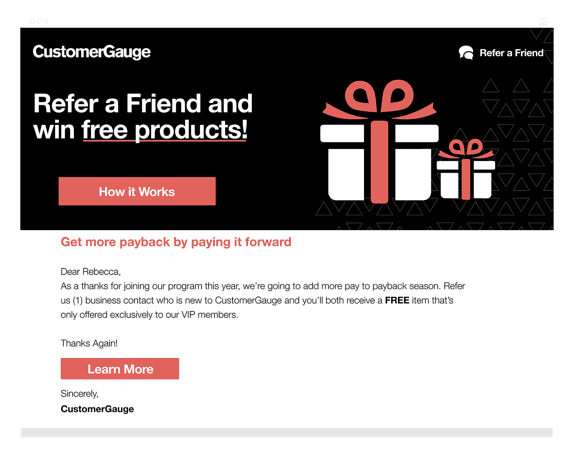 B2B companies can use different "referral rewards" with customers. Marketo has a great article on "7 Question to Ask Before Launching a B2B Referral Marketing Program," that walks through a few of these:
"...Product discounts, free training, conference passes, and gift cards with tangible value are a few options. Choose the appropriate reward type (or types, if you are going to let customers choose) based on your customer demographics." - Jignesh Shah, CEO of Rybbon
In this same article, Marketo also reminds the reader to consider important questions around rewards, including:
How big the reward will be
How and when the reward will be given
If only the referring company gets a reward (i.e., are you also willing to incentivize the referred company?)
There are a lot of great examples of B2B referral marketing programs out there. Therefore, we won't run through the gambit of possible tips and tricks. For now, check out ReferralCandy's blog post on 7 such success stories to see how companies like Google, Booker and Zoho tackle their programs.
How to Calculate Customer Referral Value
Since one of the purposes of running a Net Promoter and CX program is to create more referral business, it's remarkable that so few companies track if they succeed. One likely reason is that few CRM systems are set up to link sales and Net Promoter data. However, many companies also don't track which customers refer new business (as we discussed earlier).
Now that you've identified which customers are willing to refer and the steps you need to take to get that referral, you'll need to determine the ROI of your referral marketing. Specifically:
How much referrals affect the sales process
How much revenue referrals generate
A straightforward way to obtain this understanding is to ask joining customers. In B2B, the concept of asking won (or lost) customers for root causes to their decision is called win/loss reviews. Your CX solution should allow you to run this type of survey. Win/loss reviews not only help companies calculate CRV, but improve their retention by learning how to attract customers that stay longer.
With this information, companies can begin calculating customer referral value (CRV). Customer referral value was first created and defined by Kumar, Petersen and Leone in their Harvard Business Review article "How Valuable Is Word of Mouth".
While the actual full calculation behind CRV is quite extensive, the below does offer a good summary:

If you're a math nerd, the below image, taken from the original HBR article, goes a bit more in depth on the specifics of the calculation.


This same article also dives into some real-world examples using the above formula.

Conclusion
We hope the insights in this article help inspire your own referral program. To recap, here are some best practices we discussed:
Any stage B2B company should invest time in a referral marketing strategy: From startups to large-scale enterprises, companies at any stage of maturity should establish some kind of referral program for their business. Not only does it build a strong customer base, but it improves the loyalty of your current customers as well.
Tie referral marketing to your CX and NPS program: It's a two birds, one stone situation. Using NPS and CX data to identify which customers are more likely to refer your brand and then ASKING those customers to do so is just common sense.
Make it easy and REWARDING for customers to refer: Outside of using your CX cadence to introduce your referral marketing program to customers, using collateral like a dedicated page with instructions on how to approach referring your organization, is ideal. From there, introduce rewards or benefits for customers to incentivize them to refer. After all, they're doing you a favor!
Know your numbers: Understanding how much referrals affect the sales process and what revenue is generated from referrals is just good practice.
If you're looking to build your own success story, start by establishing a strong B2B CX program that allows you to identify and monetize opportunities like referrals within your customer base.
Luckily, we can help you out there. At CustomerGauge, we specialize in B2B customer experience management and monetization. Click the image below to schedule a 15-20 minute demo and see us in action.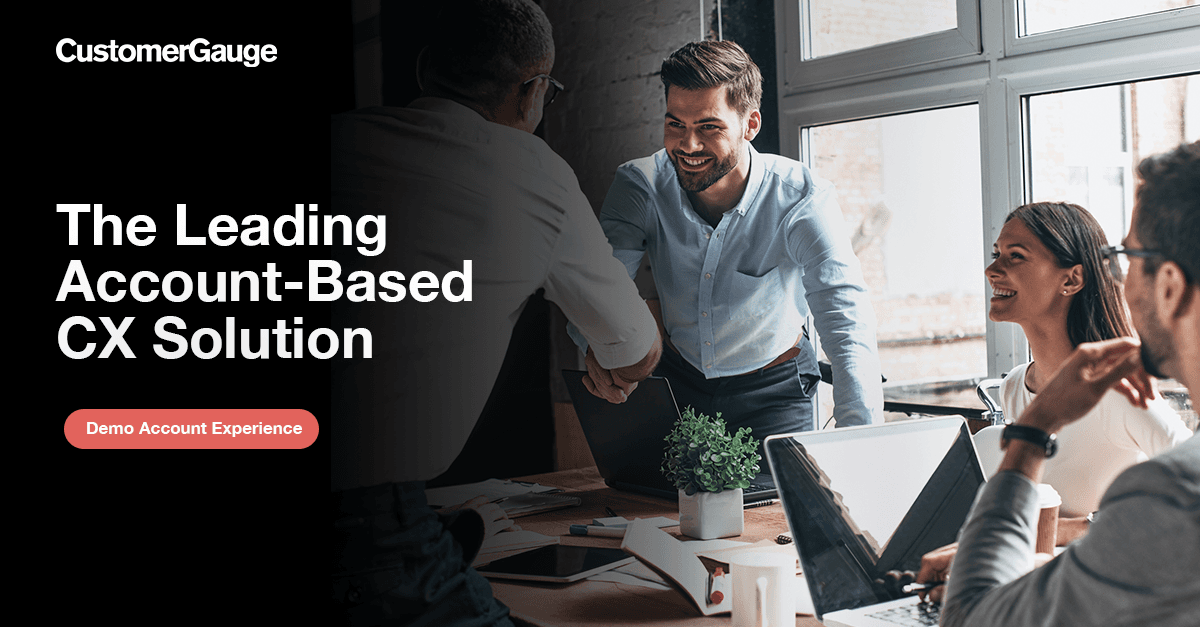 Get The Most Comprehensive B2B NPS and CX Benchmarks Report on The Planet