Venture capital funding recently reached a record high with over $84 billion in funding raised. With interest rates this low, there are almost no investment opportunities that offer returns comparable to that of a successful startup. That said, venture investments still carry great risk, as profit and recurring revenue is often non-existent early-on. What metrics should VC's look at to evaluate the potential success of an investment quickly across multiple verticals? Enter stage left: The Net Promoter Score®.

A good startup pitch comes boasting statistics on a viable business model and value proposition. A presentation with insight on a Net Promoter® program gives VCs a look at future growth potential. Here's why the metric should be added to every due diligence worksheet:
It proves that the management team takes Voice of Customer (VoC) seriously.

It demonstrates a data-backed approach to brand power.

It is a leading indicator of a company's retention revenue strength.
In this article, we're focusing on both venture capitalists who are looking for new ways to evaluate a business and entrepreneurs looking for ways to validate a pitch. The next three sections dive into the above business approaches and highlight how Net Promoter Score® can improve the attractiveness of an investment opportunity.
Net Promoter Score and Capturing the Voice of Customer
Developing a VoC program is all about capturing a customer's needs through formal quantitative methods. An Net Promoter® program is a great formalized approach for keeping a pulse on the most important opinion through aggregation of honest feedback in real time. There are generally three ways VoC programs capture this feedback: direct feedback, indirect feedback and inferred feedback.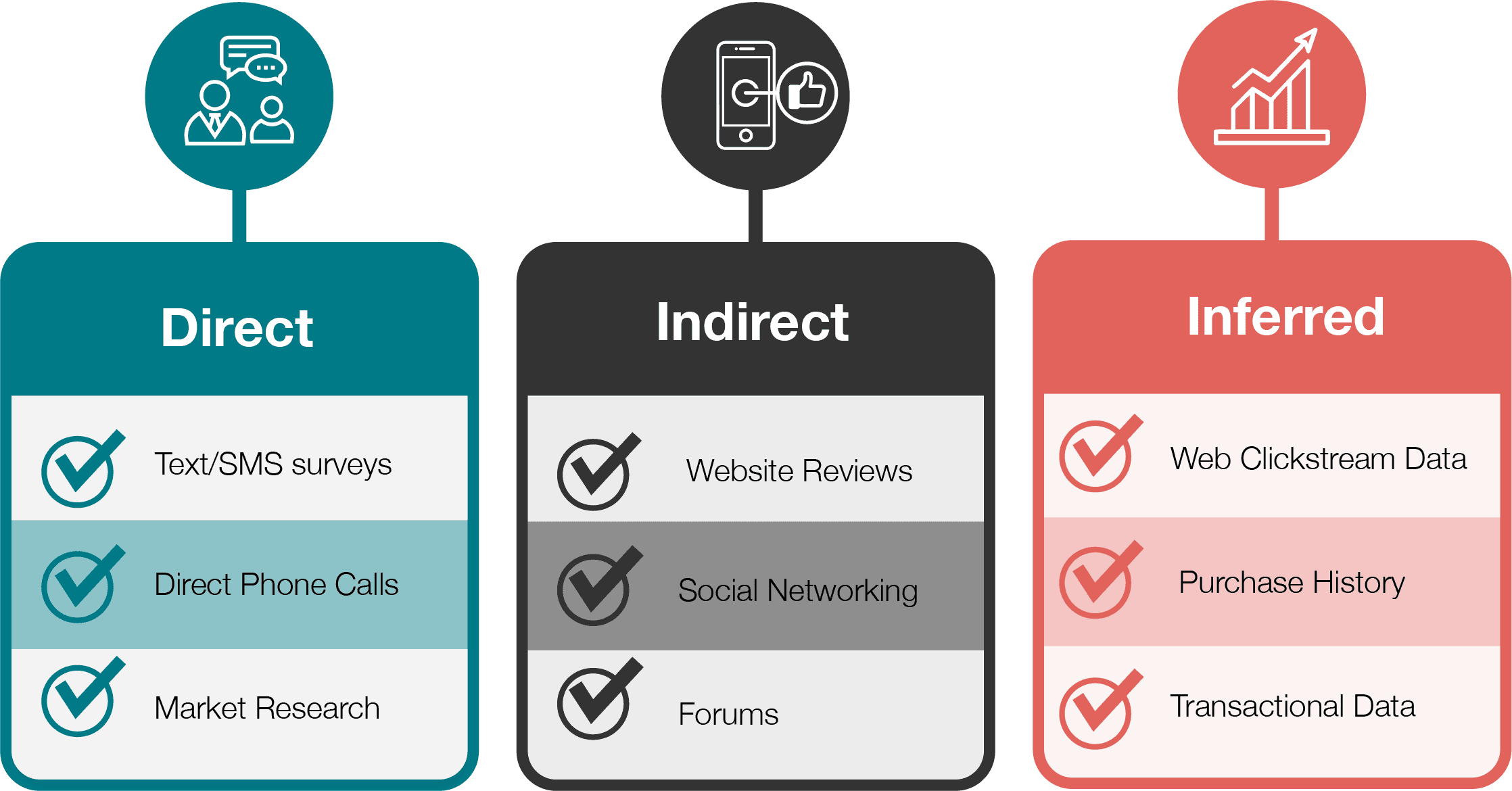 Implementing a Net Promoter solution helps capture this type of actionable data.

Amy Vetter is the Chief Relationship Officer at Xero, a New Zealand-based software company that develops a cloud-based accounting solution for SaaS businesses. She recently noted in an interview with OpenView Venture Partners that "lots of tech companies fall into the trap of thinking that they underwent their customer needs while ignoring the VoC." By monitoring client needs, an established VoC program helps engineers squash bugs, prioritize feature development, plan a targeted roadmap and incorporate customer feedback.
Eero, a late-stage venture that provides Wifi to every corner of your house, put the VoC at the center of their growth strategy early on. In a recent interview, CEO Nick Weaver noted that their automated survey tool gives the "insight you need to show your early user your listening" and to "demonstrate to the rest of the team that you're in the trenches with them." Eventually, engineering, product and marketing asked daily "what's the pulse now?" With this feedback, venture investors had more confidence in the product roadmap Eero promised.
Recently, Eero landed follow-on rounds from Index and Menlo Park ventures. Eero received this investment because they put VoC at the center of their growth strategy.
One of the most important aspects of venture investment diligence is customer reference calls. However, founders will often push investors to contacts that have only had a positive product or service experience. Understanding the voice of unhappy customers is just as, if not more, important. A Net Promoter program conveys unfiltered customer feedback offering a window into the majority -- and minority -- of both positive and dissenting opinion. A pitch that displays these observations demonstrates a "growth mindset" and boosts relationship credibility in the future. Moreover, a Net Promoter program highlights which aspects of the business needs to be investigated further and where an investor's expertise can be efficiently applied.
Net Promoter Score - A Way to Quantify Brand Power
Brand is the way consumers perceive a product or service offering emotionally. Brand power is often hard to quantify. Brand strength highlights if a company's growth potential is headed in the right direction. In a recent survey conducted by Harvard Business Review, the Net Promoter framework helped bucket specific differences between legacy and newcomer brands, marking clear differentiation points for new companies that would interest a potential investor. Promoters give a VC a look at who trusts the brand regardless of offering cost.
Masters of Scale is a podcast hosted by Greylock investor Reid Hoffman. Hoffman interviewed Airbnb co-founder Brian Chesky on the podcast a few months back. The discussion highlighted the importance of customer feedback early on for a startup. Reid mentions that if you are not getting some people that say "this is super important to me, I love this" early on then you are not on the right track. Brian goes on to say that "one passionate user can turn into many if you listen to them carefully."
"One passionate user can turn into many if you listen to them carefully."
-Brian Chesky, Co-Founder, Airbnb
A venture firm often has specialist partners look at Net Promoter Score trends over time, both internally and externally to understand brand power in the context of competitors and against the existing customer base. A venture capitalist can also use benchmarking information to look at the actual data and referrals to understand the vital coefficient of their investment opportunity.

Net Promoter Score and Retention Revenue
For investors the bottom line is always at the top of the list. In a later stage investment opportunity, revenue quality is especially important since dealflow opportunities have more predictable cash flows. Any SaaS entrepreneur looking to raise capital knows that investors are going to ask about MRR, ARR, and the lifetime value of a customer. A good investor will also always ask for more data. A founder pointing to a specific retention system of record will help venture capitalists understand the underlying retention revenue quality over time. Retention rate is an important metric that will impact a company's value outside of market dynamics growth rate. However, surprisingly, few companies can keep track of it. In CustomerGauge's 2018 NPS & CX Benchmarks Report, 44% of companies reported the didn't know their retention rate.

In a previous blog post, we discuss how so many companies missed the mark when it came to retention, and best ways to resolve the disparity.
When the founders of an investment opportunity have measured retention rate and correlated revenue with the Net Promoter Score, they will also know when, which and why their customers are churning.
Christoph Janz, managing partner at Point Nine Capital drew on information from over 60 VC's to get a grasp on what they look for in an investment opportunity. Ranked number one was an excellent founding team, followed by having a dollar retention rate of over 100%, or negative ARR churn. He also took a number of the answers and put them into a word cloud, which visually showed that customer was also at the center of everything.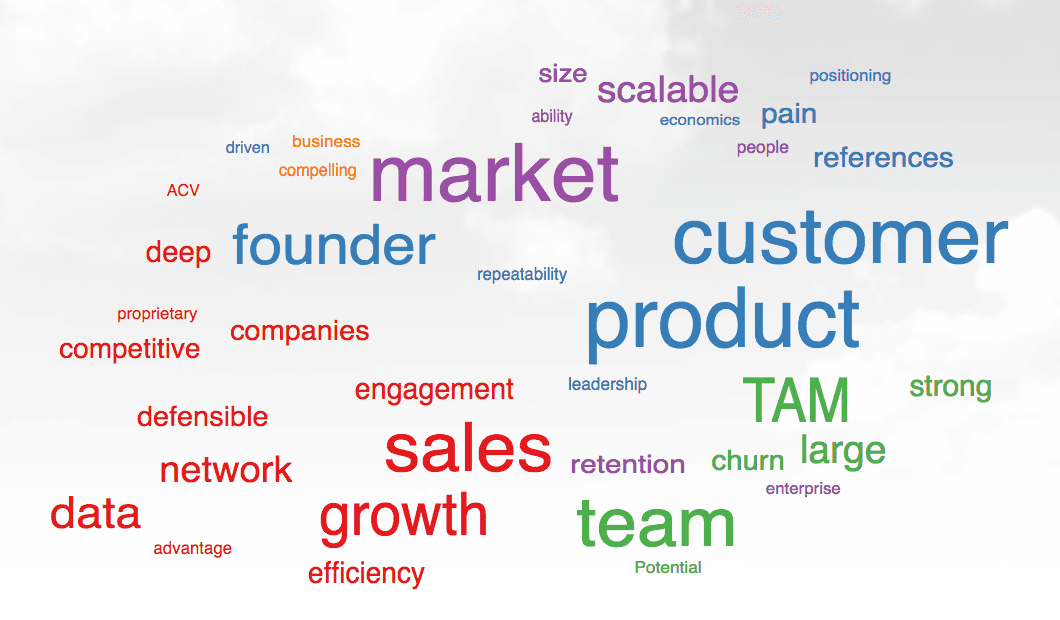 Companies with the top Net Promoter Scores within their industries outperform their competitors in terms of revenue by up to 20%. Companies looking to prove long-term profitable growth within their existing customer base can use Net Promoter Score to not only manage retention, but combat churn.

Conclusion
VC's—add the Net Promoter Score KPI to your diligence worksheet and check that every portfolio investment is tracking it as well—and use it going forward to evaluate new opportunities.
Founders—start tracking Net Promoter Score to see what it can do for your upstart. Don't take it from me, take it from SaaS investor, Jason Lemkin.
"Track NPS as a core, monthly metric. Share it with everyone. And importantly—use it for cross-functional discussion across Sales, Support, Customer Success, Marketing, Engineering and Product." - Jason Lemkin, Trusted Advisor, SaaStr
CustomerGauge is taking the retention and Net Promoter message to Silicon Valley this September 14th. If you're looking to learn more about how to scale and monetize your VoC and Net Promoter program, this is a great place to start.
In the meantime, check out CustomerGauge's 2018 NPS & CX Benchmarks Report by clicking below.