As your company grows, so does the diversity and backgrounds of your expanding customer base. Many companies struggle to adapt to a "think globally, act locally, market strategically" approach to their Net Promoter System® and customer experience (CX) program.
In the article "The 10 Habits of Customer-Centric Organizations in the Age of Digital Business", Gartner defines 10 habits of companies who practice customer-centricity. The list below was compiled in a study based on a number of globally-minded companies including Starbucks, Zappos and The Ritz-Carlton Hotels.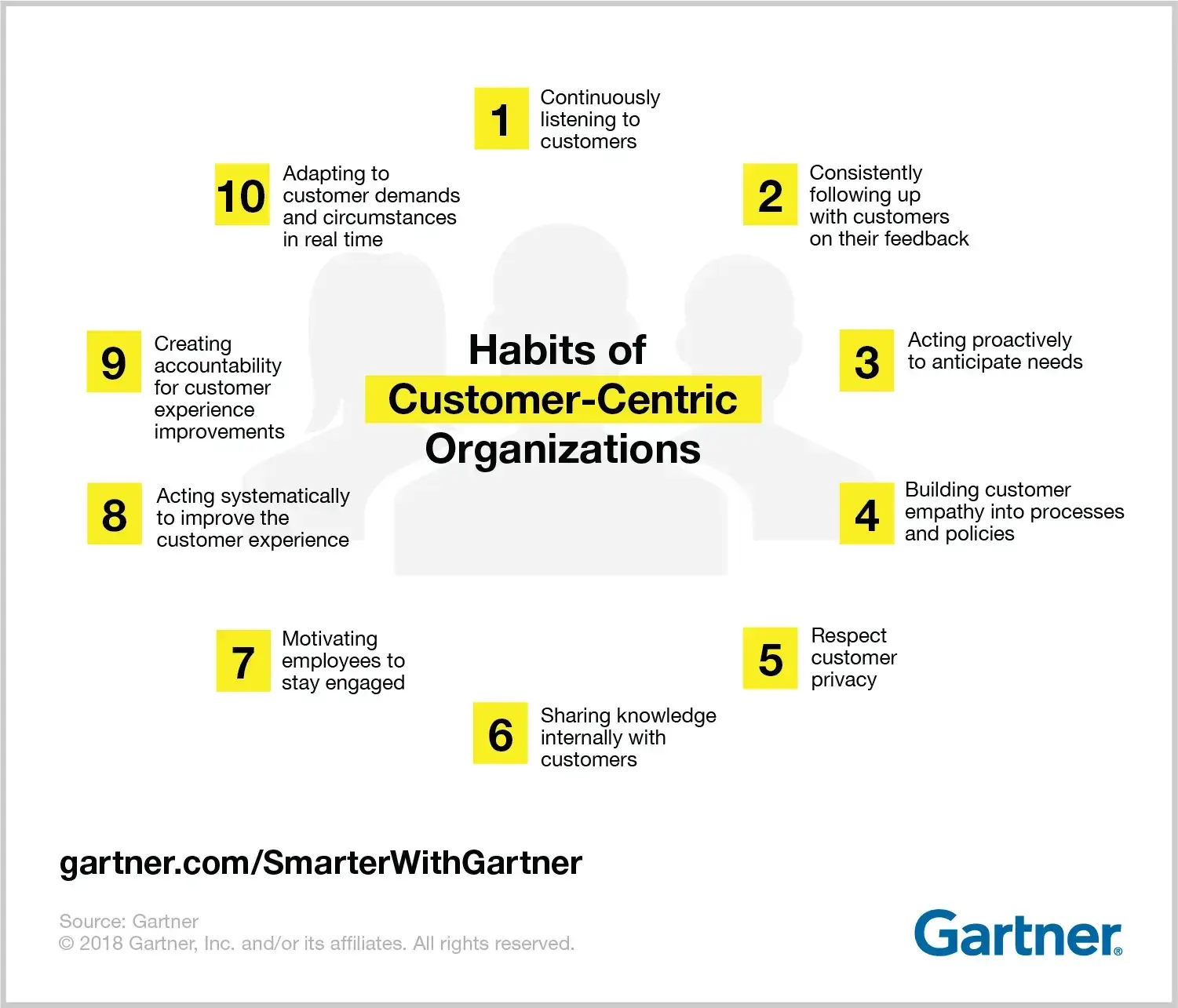 In the list above, we see a number of customer-centric habits that global organizations need to survive and grow smartly. Smart growth is the ability to grow comprehensively.
As such, it should never be the case that your company grows faster than your CX or NPS® program is able to catch up.
If you have a Net Promoter System or CX program, it should support the flexibility of a global company. In this post, we'll discuss 4 ways companies can begin to prepare their NPS and CX program to meet the qualifications of a customer-centric company—on a global scale.
1. NPS and CX Compliance—Understand and Support Data and Privacy Laws
Regions and countries have different laws about how you can reach out to customers. Situations such as obtaining and using email addresses for customers, cold calling for surveys and follow up, as well as other forms of communications may differ from country to country.
Looking back at Gartner's 10 habits, we see this same message in play in step 4, 5 and 10:
Building customer empathy into processes and policies
Respecting customer privacy
Adapting to customer demands and circumstances in real-time
To ensure your NPS and CX program are prepared for a global audience and their laws, make sure you can support different kinds of communication including email sends, call centers, etc. Your Net Promoter or CX software should have the necessary integrations that make communication flexible in any part of the world.
This brings us to our next requirement: Finding experts that understand the laws of the land. Not abiding by privacy and PII data laws can cost a company dearly—in the millions of dollars. You need to have the people and resources in place to ensure compliance.
As Stephan Thun states in his article, "CX Goes Global: Here's How", the legal and cultural landscape can be ever-changing for customer experience, so it's vital to be in the know 24/7:
"
The legal framework and Code of Conduct for customer privacy are evolving and changing continuously. As there is no global framework on the issue, businesses need to understand the specific rules and regulations of every country in which they operate.
I know, I know, compliance isn't a sexy topic, and customer experience isn't the place you thought you'd find it. However, you must ensure your NPS and CX software can support the data privacy and storage needs of your particular organization, no matter where in the world you are. Period.
2. Consider Market Needs and the Impact on NPS & CX Results
Once you have the legal foundation, it's time to dig into market needs, while also balancing global expectations.
Approaches to your NPS and CX strategy will not always be one-size-fits-all. It's key to have the tools in place that can dig deep into regional needs. That being said, while your strategy may not be one-size-fits-all, your Net Promoter software should be, which we'll talk about more in the next section when we discuss flexible tools.
In the same article previously mentioned, Stephan Thurn goes on to elaborate that local and global considerations need room to grow:
"
…around 80% of a program can be common throughout the organization—enabling senior management to have a clear view of the business and drive change through the organization. Allowing flexibility for markets and regions in the other 20% brings less resistance, more local buy-in to the global goals and allows for the program to be most relevant and effective in each participating market.
Leaving room to diversify your marketing efforts isn't new. Just look at McDonald's menus from around the world (e.g. the Ebi Burger, coming to a Japanese McDonalds near you).
Companies must be willing to adapt their strategy to the demands and needs of the customers, from marketing/advertising to customer experience programs and NPS initiatives (bringing us once again full circle back to Gartner's definition of "customer-centricity").
In addition to learning what that 20% flexibility looks like for local areas, according to Stephan, it's also vital that your company acknowledges how cultural norms and trends will affect NPS and CX data. Expectations of service, quality, and simply defining what "exceptional" qualifies as will not be the same from "Dubai to Palm Springs". So, how do you get around this as a global enterprise? Here's a few places to get started:
Diversify and define your multiple customer journeys
First, stop thinking about your customer journey as a "golden rule", and start diversify it. In their article, "Competing on Customer Journeys", Harvard Business Review defined a new journey management structure which enables global enterprises to consider the regional impacts that may diversify the customer journey. Based on this structure it is easy to see how touch points in, for example, Asian-Pacific regions, may not match up with those in Central Europe. A number of factors, such as popularity of touch points based on technology, e-commerce trends, etc., may create different and various touch points.
Define your survey drivers
Your touch points should define whatever drivers you include in your surveys. Therefore, the surveys sends for different regions should have a number of drivers that focus on the touch points of that particular area, in addition to global drivers. This will allow you to track relevant trends to individual markets. You can learn more about driver analysis in our Root Cause handbook.
Set KPIs on a regional level based on S.M.A.R.T goals
S.M.A.R.T goals allow companies to set realistic targets and KPIs. For globally-minded companies, KPIs/S.M.A.R.T goals should be looked at on a regional basis as well. This will ensure targets keep in mind the needs, trends and expectations based on that region and customers. For example, an NPS increase of +10 in two years may not be as feasible in one area as another. (Which brings us to our next point….)
Define your Net Promoter Score® for regions and company-wide
Many global organizations have different sets of Net Promote Scores: one for the entire enterprise and others based on region. ING, a $1 billion + company does this, as well as conducting an NPS score for the company as a whole. This again makes it easier to set realistic targets for improvement on a location-basis.
3. Utilize Flexible NPS and CX Software
As previously mentioned, your toolbox should be flexible. Ideally, whatever NPS or CX provider you run with, you should have the following features to align with the needs of your global organization:
Multi-lingual surveys and platform
Your survey engine should support multiple languages. Moreover, given a global company means a global team, whatever platform you use should also support multiple languages for your team to easily navigate the tool.
A "globally-minded vendor"
You should look for a software provider who has experience in managing data and companies across the globe. Not only will such providers have the expertise to assist you in rolling out such a program, but they will also have the resources (i.e., data centers, for example) in place. A global team also means support in different language and dedicated and knowledgeable CSMs and advisors.
Robust data capabilities and compliance
As a large organization, you have some robust customer data needs—which means you must have a system that is flexible enough to meet the demands of your growing company. Moreover, a good NPS /CX provider should meet the standards and compliance of any region you plan to work out of.
Ability to fulfill the needs of a customer-centric company
Glance once more at Gartner's 10 habits of a customer-centric company. Your software provider should enable you to efficiently conduct the tasks of 1-10—from continuously listening to the Voice of Customer (VoC) to adapting for customer needs and demands.
4. Use Robust Reporting Features to Get a 360 View of Your Enterprise
In our final step, we look again at another important feature in any NPS and CX software: robust reporting. The C-suite should have full access to hierarchical reporting for a 360-degree view of their organization. Not only does this provide greater insight for strategic initiatives, but it also supports best practice sharing and thought leadership through-out the company.
At CustomerGauge, for example, we have a number of features that allow companies to track KPIs and S.M.A.R.T goals based on regional data. As previously mentioned, companies should report on the NPS of specific regions.
In the same vein, other reporting features such as NPS over time, response rate KPIs and workflow summaries can offer more in-depth data into the performance of each region vs. overall company KPIs.

Conclusion
We hope the lessons here provide you with the stepping stones for ensuring the success of your global company's NPS and CX program. However, don't let your journey stop here.
Click below to download our guide to B2B CX (otherwise known as Account Experience) to dive deeper into this topic.

About the Author