There are plenty of options when it comes to customer experience management (CXM) software. However, it's exactly all those options that can make choosing the right platform for your business a minefield.
Take Alchemer and Qualtrics CoreXM — both do very similar jobs and are well reviewed. Both platforms deliver customer experience (CX) insights, drive revenue from customer engagement, and provide the support you need, when you need it.
So, how do you choose between them?
Below, we've done the heavy lifting to help you decide between Alchemer vs Qualtrics CoreXM comparison. And while we're here, we want to show you CustomerGauge, too, the platform ranked by Gartner as the best voice of customer (VoC) solution for B2B brands.
By the way, if you're looking for a Qualtrics vs SurveyGizmo product comparison, you're in the right place. As of 2020, Alchemer is the new name for SurveyGizmo.
Introducing Alchemer, Qualtrics CoreXM, and CustomerGauge
Alchemer (formerly SurveyGizmo)
Alchemer is essentially a customer survey system that integrates with CRMs and other software so insights and workflows can be created for managing CX. The platform launched in 2006 and it prides itself on being one of the most flexible surveying platforms available.
The software positions itself as a tool for businesses that have outgrown SurveyMonkey but don't want the complexities of Qualtrics.
That's fair enough: the platform is a step up from SurveyMonkey in terms of capability while being much more cost-effective than Qualtrics CoreXM. As a result, many users are from smaller and medium-sized organizations working in the areas of Healthcare, Governance, Education and the not-for-profit sectors.
Qualtrics CoreXM
Qualtrics is one of the biggest CX solutions available, with more than 85% of Fortune 100 companies using the platform for CX management. Like Alchemer, Qualtrics CoreXM also has a strong customer survey focus with a leaning toward support for educational organizations.
Many of Qualtrics's customers are massive brands, and smaller businesses may find the enormity of the solution has far more than they need. Qualtrics surveying capabilities are often used more by researchers in educational organizations than business users.
Yet, Qualtrics is a robust and comprehensive CX solution. Recent acquisitions of Usermind and Clarabridge have brought superior journey orchestration and conversational analytic capabilities to the software, further enhancing their offering.
CustomerGauge
CustomerGauge is a CX solution designed specifically for the complexity of B2B relationships. While CX tools like Alchemer and Qualtrics aim to serve everyone, CustomerGauge has a single focus on B2B businesses.
CustomerGauge helps B2B brands manage all elements of their CX management programs, from Net Promoter Score (NPS) surveys to closing the loop on account feedback and linking the CX actions directly to your bottom line.
CustomerGauge also differs in its emphasis on action. It does far more than simply help you understand your customer's experience; CustomerGauge actively works to help you continually improve that experience in ways that drive revenue.

Alchemer, Qualtrics, and CustomerGauge: Gartner's Assessment
Gartner's Magic Quadrant provides an influential and insightful analysis of key players in various technologies and software services. In many cases, big corporations look to Gartner's Magic Quadrant analysis to find potential vendors and partners to work with.

In 2020, CustomerGauge took the top spot in Gartner's Critical Capabilities Report for B2B VOC vendors. The platform beat competitors such as Qualtrics, Alchemer, and more, thanks to the high level of collection channels, data and analytics, and insights generated via the platform.
CustomerGauge remains a top CX management platform today, with high regard given to their B2B focus and methodology for linking NPS scores to revenue and monetizing customer initiatives.
It's great to see Gartner recognizing the B2B customer niche and acknowledging the particular needs of B2B, requiring a different approach to customer experience management strategy.
Qualtrics CoreXM has excellent Peer Insight Reviews from Gartner's platform, as does Alchemer.
However, when it comes to driving customer excellence for B2B businesses, both have slightly different focus and intent.
G2's Assessment of Alchemer vs Qualtrics CoreXM vs CustomerGauge
Before we get into the nitty-gritty of customer reviews, the G2 comparison chart below lays out the basic criteria for choosing between Alchemer vs Qualtrics CoreXM and CustomerGauge for your CX management.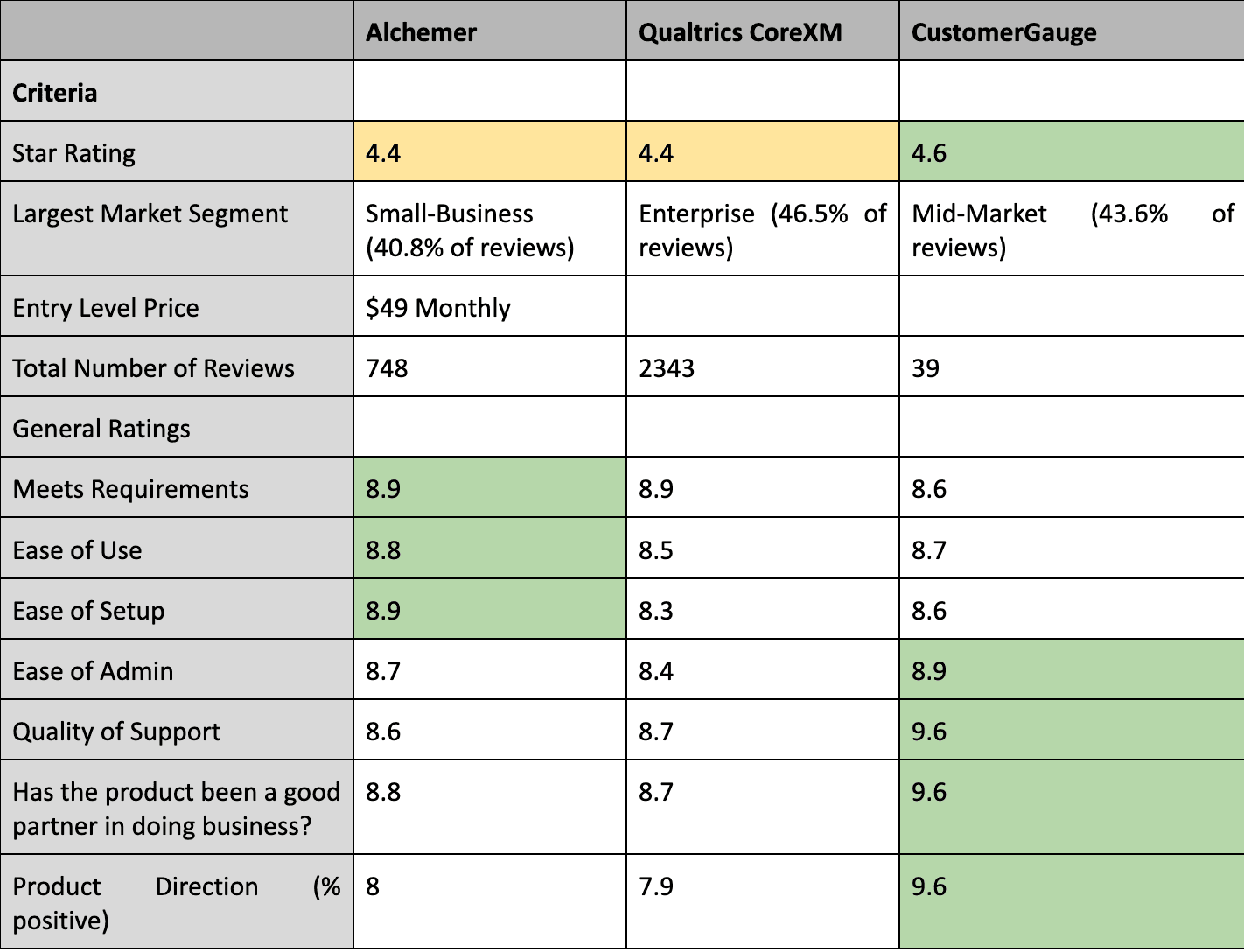 Qualtrics vs Alchemer vs CustomerGauge: What Users Really Think
Creating a customer experience that drives business revenue and growth is a team effort.
All business departments need to work together smoothly and your CXM software provider should work like a partner who's interested in helping you achieve the best results.
This is just one of the areas of strength for CustomerGauge, as this technology customer who gave CustomerGauge a 10/10 rating commented, "We are very pleased with the partnership with CustomerGauge and the many benefits are supporting our goal to become more customer-centric. The CG team is very responsive and supportive!" (Renan Machado Cardoso)
Mike E, who works with a medium-sized Enterprise echoed similar sentiments to Renan, giving CustomerGauge a 5-star review on G2 after trying two alternative CX solutions before opting for CustomerGauge:
"The implementation, the interface, and ability to get real-time information [is what I like best about CustomerGauge]. Also, the customer support is excellent! [We] have not discovered any dislikes of the platform or the company."
What are customer perspectives on other platforms?
What Alchemer Users Say…
The surveying abilities of Alchemer are highly praised by users.
Strengths
Lisa Gonzalez of Mt Diablo Unified, scored Alchemer's CX Management Software a nine out of ten on TrustRadius.
"[Alchemer is] easy to use with teachers, staff, and students. Students can create simple and complex data-gathering surveys, as can staff. We've used it for smaller scale collections of staff and larger scale with the greater community."
Lisa noted that the platform is:

Easy to use software for teachers, staff, and students

Good for creating simple and more complex surveys

Inexpensive CX surveying platform
Diane, a Marketing Consultant for a small business also gave Alchemer a top 5-star rating.
"Alchemer provides a robust user-friendly survey interface. Additionally, the survey results are easily laid out in a graphic design format that you can customize. Customer service has about some of the nicest people ever who can walk you through any technical needs for more sophisticated tools."
Diane was satisfied with Alchemer's:
Great graphic representation of survey responses

Friendly customer service support
Cautions

However, system outages and the price of the higher levels of subscriptions are some of the things users aren't so impressed with Alchemer for.
"As a non-profit, cost is important and we can only afford the most basic level [of Alchemer]. Being able to capture compelling visuals is important for our fundraising and to share our impact. I wish there was more ability to manipulate charts/pictorials, adjusting tags, categories, colors etc. to help us in our cause." (User in non-profit organization management)
"There are a surprising amount of outages in the platform from the user side [...] At least once a month there tends to be an hour or so during the day that access to the platform is down. Beyond that, I occasionally run into situations where the platform does not want to implement the logic for reasons that are hard to understand." Samuel A. Senior Market Research Analyst
What Qualtrics Users Say…
Strengths
Korey Migdal, Director of People Ops for Marcus Thomas LLC gave Qualtrics CoreXM a top ten out of ten score on TrustRadius.
"[Qualtrics CoreXM] has met all our expectations in a short time. Using simple questions through surveys sent to our customers as general or unique links, we obtained answers and analyzed their needs… The statistics and analysis provided have served us well for statistical analysis fostering success."
Korey praised the platform's features including:

Ability to send surveys as unique links

Robust statistical analysis

Able to gain insight to customer's needs from survey responses
Shivam G, Assistant Manager for a medium-sized enterprise was equally complimentary about Qualtrics CoreXM, stating in his 5 star G2 review:
"A great overall experience of collecting data (surveys and interviews) and then the number of options it gives to the user to analyze the data it has collected from the clients or employees or stakeholders [are what I like best about Qualtrics Core XM]. [Also] the level of automation that you get in terms of scheduling the surveys or interviews. The types of questions you can ask or record in the system also give a lot of power to the users to extract meaningful insights."
Multiple options for analyzing data and feedback

Good levels of automation for surveys and customer interviews

Insightful questions can be asked and recorded for meaningful feedback
Cautions
However, the very comprehensiveness of Qualtrics also works against it at times. Users complain that it can be difficult to learn and an expensive solution for their needs.
"Qualtrics has a lot of possibilities, so sometimes it was a little bit hard for me to differentiate from all the buttons, [practicing] I learned and started remembering all of them." Christina A. Magister in Innovation and Knowledge Management
"[You can] carefully evaluate what you need and if it's worth the cost as well as the added complexity of using Qualtrics" Jessica Y. Quality Assurance Engineer
Alchemer vs Qualtrics CoreXM
Despite Alchemer and Qualtrics CoreXM both being software solutions for gauging customer sentiment and creating customer-centric focused businesses, their different strengths and weaknesses make them ideal for very different companies.

Alchemer is best for smaller organizations working in the areas of Healthcare, Governance, Education, and the not-for-profit sectors.
Qualtrics, on the other hand, is a tool preferred by large Enterprises working in the areas of Finance, Insurance, and Retail.
Pros and Cons of Alchemer
Alchemer Pros
It's simple to use, as well as easy to configure and customize, making it fast to implement across your organization

Alchemer makes it simple to collect data, while boasting more rigorous analytics that many basic tools

It's relatively inexpensive

It boasts strong customer support
Alchemer Cons
Case management and closing the loop are difficult to track and manage

Additional integrations are needed to gain deeper insights, but these don't integrate very smoothly

Large datasets slow the system down

Simple workflows and dashboards can lead to unnecessary complex workarounds

Lack of responsiveness to customer feedback
Pros and Cons of Qualtrics CoreXM
Qualtrics CoreXM Pros
Simple to create and send customer surveys, and surveys can easily be reviewed before sending

Functionality allows users to build experience profiles and match them to customer identities

Tracking analytics to easily view customer lifecycle

Built in templates and data visualizations

Great for efficiently distributing and analyzing the customer data that has been collected
Qualtrics CoreXM Cons
It's not particularly intuitive and can take users some time to become comfortable with the platform

Lacks out-of-the-box capabilities

Can be difficult to find appropriate functions for simple tasks

High pricing for fairly standard functionality
Pros and Cons of CustomerGauge
CustomerGauge Pros
Supports CX action. Tailored to support revenue-responsible customer-facing managers, customer feedback and insights are directly linked to revenue so high-value actions and opportunities are quickly and easily identified

Focused on bottom-line growth. CustomerGauge combines customer relationship management with VoC data collection to drive tangible financial results

A wide range of CX features. Additional support such as CX program playbooks, benchmarking, and account risk alerts help profit and loss responsible executives deliver results
Key strengths include the clear B2B focus for CX management and up to 15 times greater response rates for customer feedback requests
CustomerGauge Cons
B2B focus. The clear B2B focus of CustomerGauge makes it an unsuitable choice for B2C enterprises. Data analytics, representations, and account management are all geared toward the complex account structure of B2B relationships
Why Choose CustomerGauge for CX Management?
When it comes to CX Management for B2B or B2B2C organizations, CustomerGauge is the best in class. The CX platform has been designed specifically to link B2B customer management back to revenue and increase customer retention while identifying opportunities to grow relationships.
CustomerGauge's Account Experience™ (AX) uses NPS scores and customer feedback to deliver insights that let managers and customer support teams prioritize follow-ups and intelligently act on feedback received.
Accounts can be prioritized by meaningful action, customer value, or those at most risk of churn so the greatest return can be achieved.
Rather than building CX management around surveying software, CustomerGauge has incorporated this approach as one element to create consistent, comprehensive, and careful customer management that delivers real results for your business.
About the Author