In recent years, there's been an explosion in the number of customer experience (CX) management tools on the market. While this has encouraged innovation and improved products, it can make selecting the right tool for you a little difficult.
Two of the most popular platforms that businesses struggle to choose between are SurveyMonkey and Qualtrics, market leaders you've probably heard of already.
While SurveyMonkey has made a name for itself as a highly adaptable surveying tool, Qualtrics is really designed for big brands who want to implement serious CX programs. Both have their advantages and drawbacks, and they have users and advocates among many types of businesses.
However, where both programs are pretty weak is in their capabilities for B2B brands.
Fortunately, that's where CustomerGauge excels. Ranked by Gartner as the #1 voice of customer platform for B2B, CustomerGauge provides the features that every B2B brand needs.
So, which will it be: SurveyMonkey, Qualtrics, or CustomerGauge? Here, we compare the three tools and help you decide which might be best for you.
Introducing SurveyMonkey, Qualtrics, and CustomerGauge
SurveyMonkey
You'll score zero points for guessing that SurveyMonkey is, well, an online survey platform. It was founded in 1999 and grew rapidly throughout the 2000s to become the go-to platform for people who want to create an online survey quickly and easily (and for free).
With more than 20 million active users, it's by far the biggest player on the market, but that doesn't necessarily mean it's the best.
Side note: SurveyMonkey changed its name to 'Momentive' in June 2021 but given the recognition behind its old name, we're going to continue using it — just like everyone else.
Qualtrics
Qualtrics is a cloud-based software platform for enterprise experience management. Originally launched in 2002, Qualtrics has grown to become a powerful player in the voice of customer market.
Where SurveyMonkey is designed as a surveying platform, Qualtrics provides a complete solution for brands that are looking to improve their CX. It enables the seamless capture and analysis of all experience data from customers and employees in a single system of record.
CustomerGauge
CustomerGauge is a CX solution designed specifically with B2B brands in mind.
It helps companies manage every part of their customer experience management program, from surveying to closing the loop on customer feedback and linking their CX data to revenue.
The focus of the platform is on Net Promoter Score surveys. Yet, these are complemented by other customer satisfaction and engagement metrics to give you a complete picture of your customer activity.
Qualtrics vs SurveyMonkey vs CustomerGauge: Gartner's Assessment
A 2020 Critical Capabilities Report released by Gartner gives a detailed account of how vendors perform against real-world use cases.

The report details product capabilities like advanced case management, customer journey orchestration, and advanced predictive and prescriptive analytics, from the world's top B2B vendors.
According to the report, CustomerGauge is the highest-performing product for a tool with an enterprise B2B use case. Qualtrics and SurveyMonkey appear on the list, with scores of 3.22 and 2.36 respectively.
SurveyMonkey vs Qualtrics vs CustomerGauge: According to G2
G2 is one of the most used customer survey aggregators on the internet. Here are the results from their comparison of the three tools.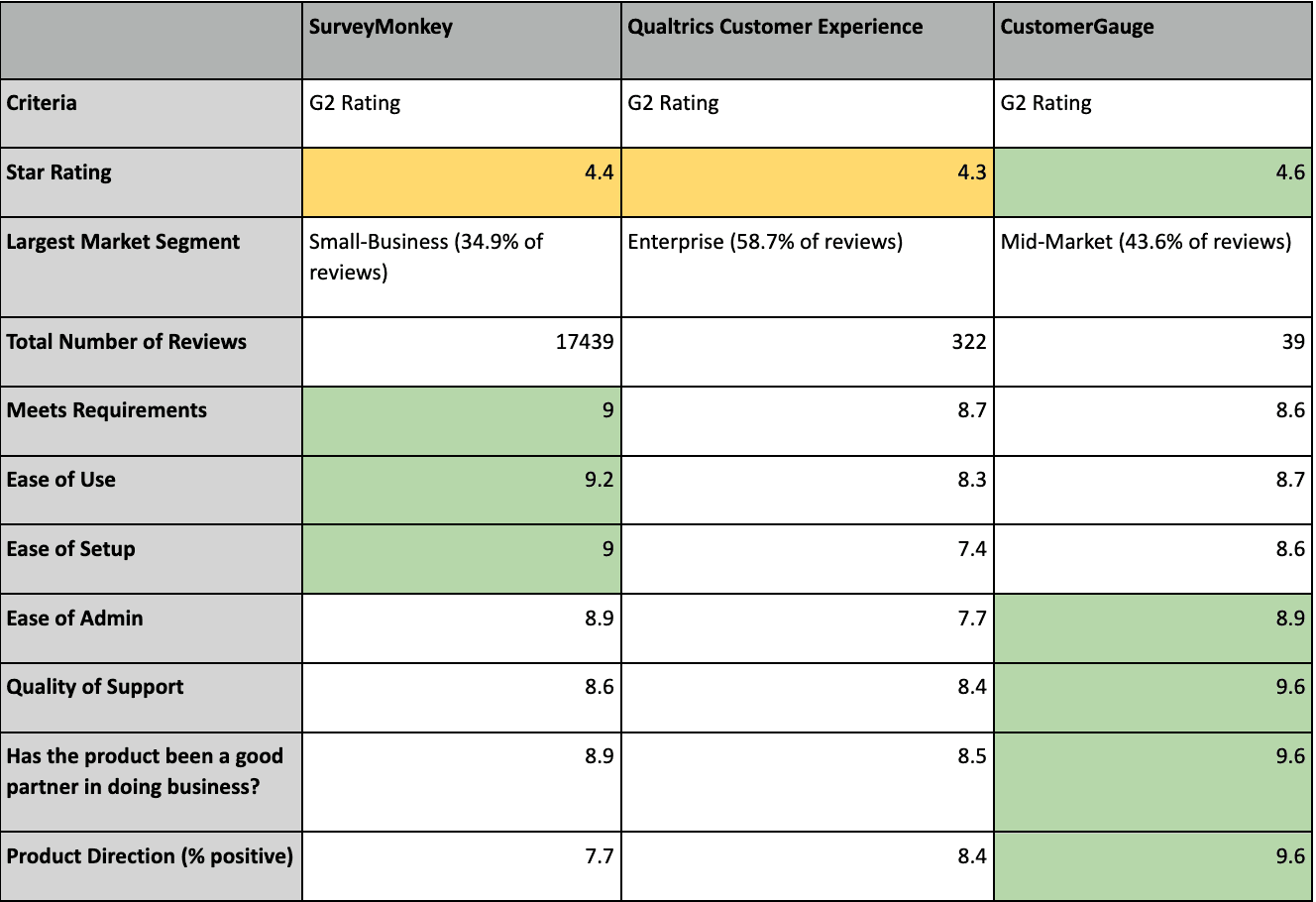 How Users Feel About All 3 Platforms
What do real users think about how the two programs work? Let's take a look at key points they raise in their reviews.
SurveyMonkey Customers Say…
Strengths
SurveyMonkey is highly praised for how quickly and easy it is to use. G2 reviewers have said:
Cautions
Although SurveyMonkey receives lots of praise, reviewers have cited steep pricing and limited reporting.
Qualtrics Customers Say…
Strengths
Qualtrics is highly praised for its excellent customer support and how user-friendly the platform is:
Cautions
Some customers have highlighted certain limitations and UX issues:
CustomerGauge Users Say…
Strengths
CustomerGauge users praise the platform's NPS capabilities and the continued support from the internal team.

The Pros and Cons of the 3 CX Solutions
Qualtrics and SurveyMonkey are both effective solutions for surveying your customers and securing clear insights into their experience of your brand. However, there are important differences that you should be aware of before you invest.

For example, SurveyMonkey can suffer from limited functionality, as it does remain a surveying system at heart. Meanwhile, Qualtrics is a heavy-duty CX solution that offers much of what large enterprises will need and more.
In fact, for many users, it might be overwhelming.
So, which should you buy? Here, we've outlined some of the pros and cons of these solutions, to give you a better sense of what you're buying.
Qualtrics
Pros
Easy setup. Qualtrics is a web-based tool that requires no software installation. That means it's great for researchers and other professionals who want to get started quickly.

Centralized survey management. The program features a point-and-click interface for building powerful surveys which can then be sent and analyzed from a single online location.

A wide range of question templates. Qualtrics's survey builder includes over 85 question types, pre-built survey templates, and tools for basic and advanced users.

Highly customizable. The tool gives users the opportunity to use their own graphics, multimedia content, complex branching, and randomization. It also includes support for almost 50 languages, which is ideal for organizations that have a global customer base.

Robust analysis. Data analysis features allow you to filter, classify, and clean up survey data. A statistical analysis tool lets you forecast sales and understand the impact that your CX has on revenue.
Cons
Non-intuitive design. For all its functionality, Qualtrics can be a little overwhelming to begin with, and can take time to get used to. For example, what you would think would be easy tasks are quite difficult to perform unless you know where to look.

High price. Quality software shouldn't come for free. But lots of users have noticed that the price tag is quite high compared to competitors. In fact, many point out that it is simply unaffordable for smaller businesses.
SurveyMonkey
Pros
Whole-of-market focus. SurveyMonkey has been designed to cater to individuals and small businesses with its Individual and Team plans, as well as to large enterprise customers with its Enterprise plans.

Ease of use. The whole point of the tool is to make it really easy to create questions and collect and analyze data from respondent groups of all sizes, whether they consist of a few hundred or more than a million people.

Wide question bank. One of the most celebrated of SurveyMonkey's features, this offers users pre-made questions sorted into different survey categories such as customer satisfaction, community, human resources, political, non-profit, and more.

Additional reporting features, including building charts and PDF reports.

Single account. One unique feature of SurveyMonkey is how everything can be created, shared across teams, collected, analyzed, and distributed from a single account.
Cons
Limited analytics and action insights. While SurveyMonkey does surveys very well, it is limited when it comes to providing guidance on what to do with the results. That's admittedly not what everyone needs, but it can be a limitation for businesses looking to improve CX.

Poor survey design. Some reviewers have noted the outdated style of the surveys, which may not encourage high response rates.
CustomerGauge
Although SurveyMonkey and Qualtrics are fantastic tools for CXM, they primarily focus on surveying customers and can be said to be lacking in terms of functionality in other areas.
While this is fine, if you're looking for more a tool like CustomerGauge is likely to be a better fit.
Pros
Live automated surveying. CustomerGauge offers a comprehensive solution for customer experience by automatically capturing and distributing feedback from your customer accounts to teams in real-time.

Customer revenue analysis. CustomerGauge helps you understand exactly how your customers feel about your brand, but also how often they engage with you and how much value they bring to your business. This helps you reduce churn, drive up-sells, and close new business with referred leads.
To date, CustomerGauge is the only CXM solution that automatically combines your customer insights with your revenue data.
A focus on B2B. B2B brands need more sophisticated customer surveying tools to be able to handle the complexity of deeper, multifaceted customer relationships.

Alerts for closing the loop. If you receive customer feedback, you need to act on it. CustomerGauge helps you do that by allowing you to set targets and alerts for closing the loop.
Cons
B2B focus. CustomerGauge is designed specifically for B2B brands. That means it may not be the right fit if you're selling directly to consumers.
Unfit for academic research. While SurveyMonkey and Qualtrics are both used by researchers in non-commercial contexts, CustomerGauge's focus is on helping businesses drive revenue through CX improvement.
If you're a B2B brand looking for robust software to help you improve your CX and drive revenue growth, CustomerGauge is the tool for you.
About the Author