Only 37% of financial services providers are tracking their Net Promoter Score (NPS), and it shows.
As recently as 2020, the global financial instability caused by the pandemic demanded that banks identify and meet the needs of their customers in meaningful and personalized ways.

And yet, CustomerGauge research shows the Net Promoter Score (NPS) for financial services and banking dropped to 44 and 30 respectively in 2020. At a critical time, banking customers didn't feel supported.


Banking, which is known for its ability to identify opportunities, reduce margins, analyze returns and boost profits, can't ignore the role of CX, as it plays a major part in all of them.

Especially as customers come to expect a better, more streamlined and more personalized customer experience. Banks that neglect CX are sure to lose out to those that prioritize it.
Let's take a closer look at why customer experience management in banking matters, and how you can go about improving your CX right now:
What is Customer Experience Management in Banking?
CXM is all about managing and meeting the expectations that customers have of your brand.
In an industry as competitive as banking, where most banks offer very similar products and services, this is as much about what you offer, as it is how you deliver it.
Consider what your banking customers want and need out of every interaction they have with your many touchpoints. These touchpoints might include the following:

Innovation: Your customers want to be able to be able to transact quickly and easily wherever, whenever, and however they choose. Features, systems, and apps that work well—and which are ideally mobile-first—are vital for a smooth customer experience.
Communication: Can your customers access the right people when they need advice or help? Customers expect communication lines to be open and accessible, and staffed by properly-trained representatives. Too many failed attempts at engaging with your bank, and they may start to look elsewhere.
Personalization: Being able to tailor your financial product offering to suit your customers' unique needs is essential in garnering brand loyalty. This approach has gained so much traction that 75% of banks are now investing in a business model that places the customer at the heart of how they work and what they do. For example, targeted credit cards based on your customers' profile (student credit or debit cards, cashback credit cards, travel credit cards, company credit cards).
Security and privacy: Studies suggest that 60% of customers don't feel comfortable sharing personal information with their bank without an additional layer of privacy or reassurance. Are you providing this essential support?
Of course, there might be other issues that your customers feel are important. But how will you know what these are unless you ask? Having a CXM strategy in place is vital for your understanding and your ability to meet your customers' expectations.
The Importance of CEM in Banking
Without a CEM/CXM strategy in place, you're likely to be out of touch with your customers' wants and needs. This can have meaningful and material ramifications.
The number one reason customers leave banks is poor service, and 56% of customers who leave say they were prepared to change their mind if their banks had only reached out to try and keep them. While it might be tempting to let these customers go and replace them with new ones, this has time and cost implications.
Finding and retaining new clients is expensive. Keeping and growing your existing client base, on the other hand, is easier and more profitable. In fact, just a 5% increase in customer retention can result in a 25% increase in profit.
You want to keep your clients, not replace them. And that involves making their CX a priority.
The Benefits of Customer Experience Management in Banking
Having an integrated CXM across your entire business—not one siloed into certain departments, but a truly integrated system that offers real-time insights—provides a holistic sense of where your business is succeeding and where it's failing.
This insight can help you to turn detractors (i.e. your least-satisfied customers), into promoters—people who are likely to have the biggest positive impact on your profits.
Promoters tend to require less time and energy to keep happy (although you should always keep an eye on this), and are more likely to make major financial decisions over time (for example, applying for a mortgage). If they're happy, they may bring everything under your wing—from their short-term loans to their investments.
These are the customers you shouldn't lose. These are the customers you need to grow.
How Can I Improve My Banking Customer Experience Management?
You've probably heard of NPS, the widely widely-used metric that sits at the core of most customer experience strategies. It quantifies where your customers sit on the spectrum between detractor and promoter.
Improving your customer experience comes down to prioritizing and enhancing your NPS (USAA, for example, has an NPS of 75, one of the highest in the industry), while simultaneously tracking it with your growth. This, of course, can only be done if you have a highly-effective banking customer experience management system in place.
With NPS and revenue connected, you'll know how CX is impacting your bottom line. And you'll know exactly where the gaps are and the opportunities lie. Enter CustomerGauge's Account Experience CX framework.

Related Read: What is a good NPS score?
What is Account Experience and how can it help?
The Account Experience methodology ensures your CX program is action-based, not just research-based.
It takes you from a place of understanding customer feedback and pain points, to a place where you can use customer feedback to accelerate growth—be it through tackling retention or by activating your customer referral engine.
Having a real, dollars-and-cents value attached to your CX drivers and NPS scores helps you to understand how much your pitfalls are costing you, how much your successes are profiting, and why a CXM strategy is so important.
Our Account Experience follows three simple steps:

Step 1: Measure
You can't know what you're dealing with until you measure it. Measuring your NPS is the first critical step, and will form the foundation of your strategy. It involves two types of surveys: relationship surveys and transactional surveys.
Relationship surveys assess how your customer is feeling about your business, product or service in general. While this may sound too frequent, our research has shown that companies that conduct quarterly relationship surveys see a 5.2% increase in retention. If you're up to date with how your customers are feeling, you'll know what you're doing right and what you're doing wrong.

Transactional surveys refer to a specific transaction or engagement. In banking, they could be conducted at certain sensitive touchpoints, such as when a customer is onboarded, or when new products or services are released.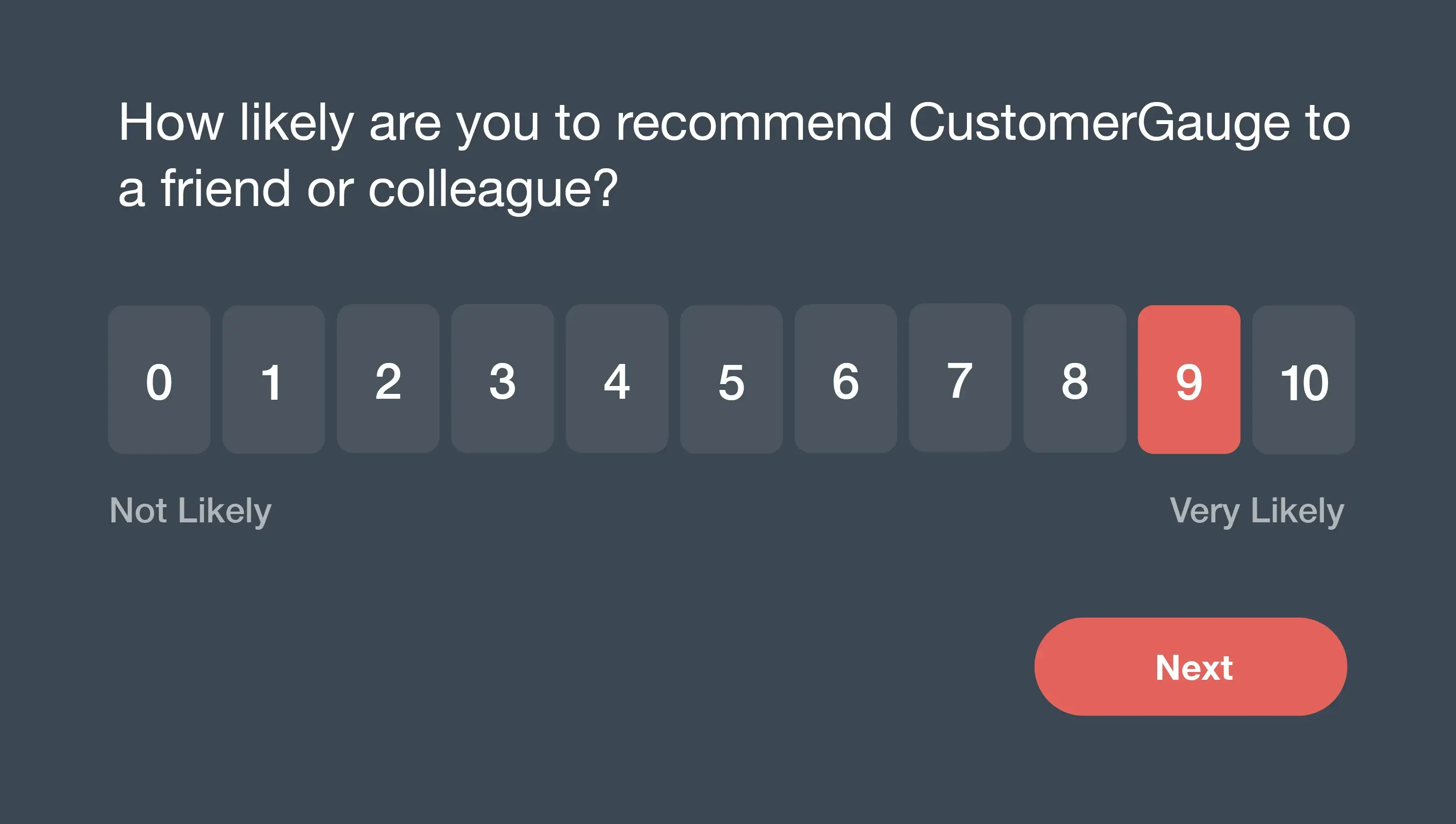 Top tips:
Collect feedback from multiple stakeholders in your customer's organization. The C-suite and frontline users often have very different opinions and needs, but all of them have to be happy to prevent the risk of churn.

Experiment with survey channels. In one case study, ICON was able to get a 100% response rate on their NPS survey—a clear indicator of engaged, trusting customers.
Step 2: Act
Accessing the data is just the first step. Now, you need to act on it. Addressing your customers' concerns takes place in two different ways: closing the loop and optimizing.

Closing the loop involves addressing your customers' needs directly. This is rarely a one-size-fits-all approach in banking, and it's best to be prepared to cater to unique concerns with a unique solution. If you can, close the loop with detractors within 48 hours for the best results for customer retention. Close the loop with your NPS promoters too to take advantage of referral and upsell opportunities—but you can take a little longer to follow up with this segment.
Optimization refers to the process of setting targets for your NPS growth. Our research has shown that companies that set these kinds of targets grow twice as fast as those that don't. Take the time to optimize your strategy by setting goals and actively monitoring your progress toward achieving them.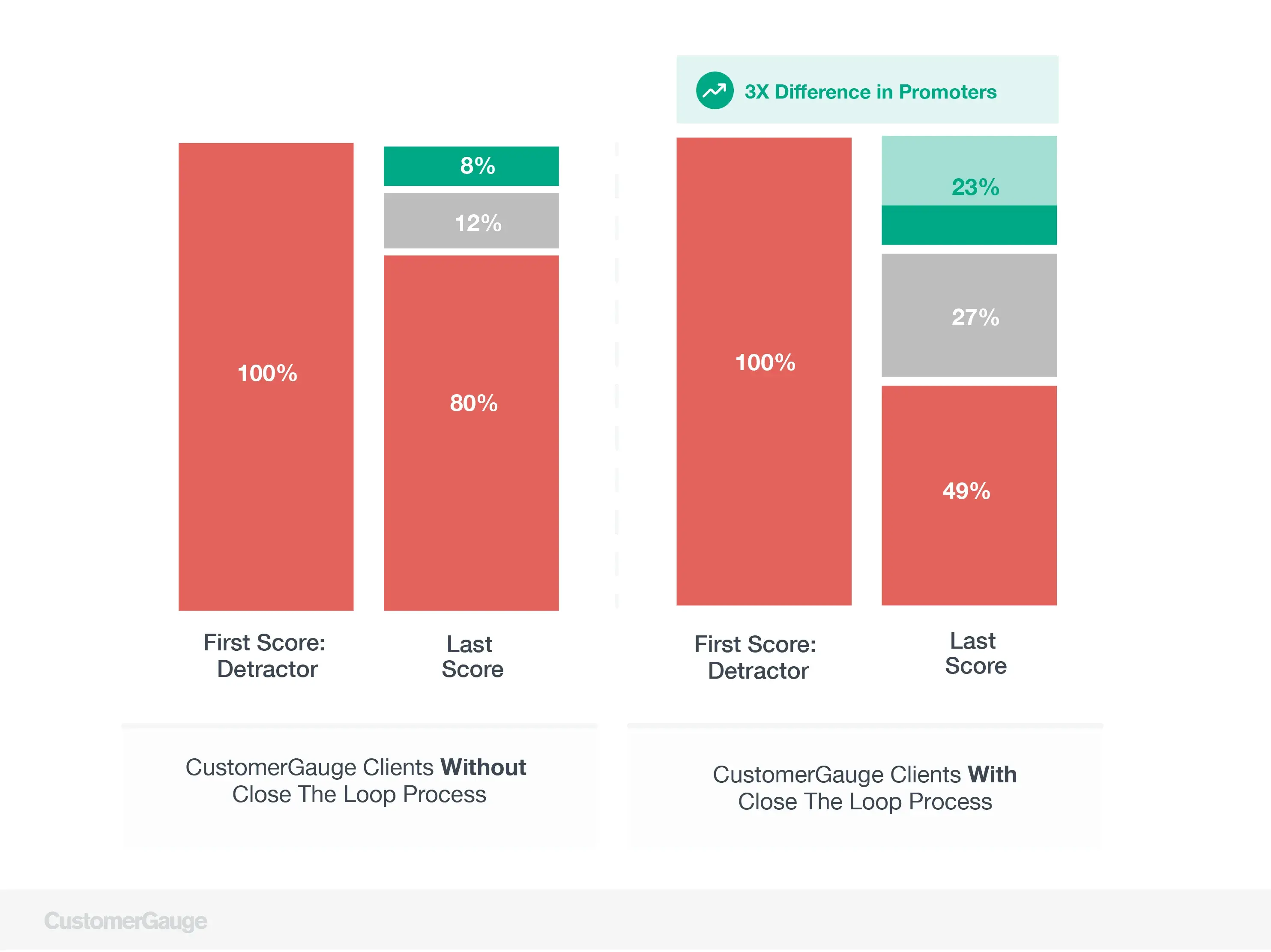 Step 3: Monetize and Grow
Now, it's time to see the impact of your work. Identify how NPS growth affects your bottom line and put steps in place to boost it by monetizing it, identifying your at-risk and safe customers, and making targeted optimizations.
Start by aggregating your detractors, passives, and promoters to understand how improving a specific touchpoint can increase your revenue. You should be able to attribute a specific portion of revenue to any increase in your NPS score.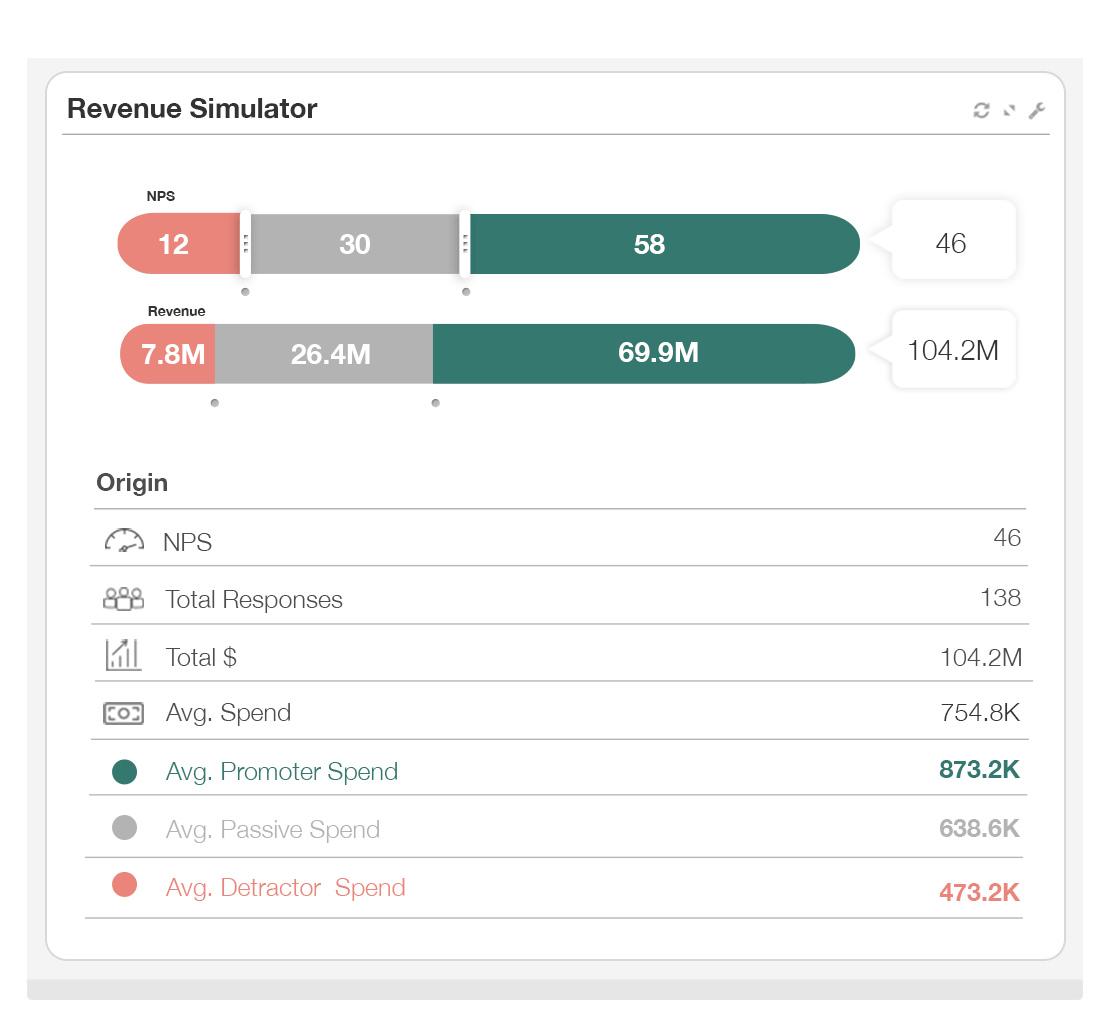 Then, consider which customers are most likely to churn. Reach out to them and discuss their concerns. Simply showing you've listened makes customers engaged and less likely to churn, and detractors can become promoters when they see you're taking action on their feedback.
Meanwhile, because you've linked your NPS program to revenue, you can prioritize high value customer accounts first.
Finally, keep optimizing. Knowing the value of each of your customers helps to drive retention, referrals, and repurchases. Look for opportunities to cross-sell and up-sell among your promoters as another way of increasing your bottom line.
Related Read: 27 Financial Services NPS Benchmarks to Compare Against
Three Advanced Strategies For Banking To Improve CX
Right, so you know why CXM strategy is important and how to go about implementing a framework (Measure, Act, Monetize and Grow). Let's take a look at three important things to keep in mind for your CXM strategy in banking:

Place top leadership in the CXM driving seat: If your CXM is going to be effective, it needs to be an executive priority. Take the time to demonstrate CX's impact on your revenue. The effective rollout of your CXM depends on full buy-in. One of the easiest ways to get this is to show the results that Account Experience reveals.

Focus on coverage: Coverage measures how much revenue your collected feedback covers. This can help you see whether your NPS represents your most valuable accounts. While all your customers are valuable, some are more valuable than others, and you don't want to lose the heavyweights to churn.

Establish yourself as a partner:Vendors are replaceable. But partners integrate and provide invaluable support over the long-term. Get to know your banking clients deeply, solve their issues, and you'll likely find they stick with you for the long haul.
Our Advanced B2B CX Strategies ebook is here to help—and so are we. Contact CustomerGauge today to find out how we can make customer experience management a powerful part of how your bank does business.
About the Author