Client feedback helps you improve your business, fight churn, and gauge customer loyalty. For any business committed to growth, it's a resource that can't go untapped.
But how do you access that feedback?
To save yourself the impossible task of speaking to all your customers individually and gleaning general insights from their responses, you need a client feedback tool.
Typically, these are platforms that enable you to collect feedback, often through Net Promoter Score (NPS), and analyze the responses all in one place. However, client feedback comes in all different shapes and sizes, and to truly have an impact you'll need to collect it in all its forms.
That's why we've put together a list of client feedback solutions that B2B brands simply can't do without. From powerful surveying software such as CustomerGauge to tools that monitor your online presence, these are the feedback tools you can't go without.
But first, let's consider why you need feedback in the first place.

Why B2Bs Need Client Feedback
Client feedback enables you to build a stronger relationship with your B2B customers, while informing efforts to improve your offerings.
However, it's not just the customer experience (CX) improvements that matter; feedback can also help you boost your revenue.
Build trust and emotional loyalty. Requesting client feedback shows your customers that you care about their perspective. Before you've even acted on that feedback, this builds trust and improves customer loyalty.
Closing the loop on feedback improves trust even more. In fact, we found that B2B brands that close the loop decrease their churn by a minimum of 2.3% every year.
Improve your product and service. Your clients are the people that use your product to solve their problems. As a result, they're likely to know better than anyone where it excels and where it falls short. Use their feedback to improve your offering and build a better customer experience overall.

Cut retention. We mentioned that feedback isn't just about improving CX. Rather, it has tangible benefits for your bottom line, too. For example, if customers tell you that they're dissatisfied, you can prevent them from churning. Remember, every 5% increase in customer retention can improve your revenue by as much as 95%.

Boost referrals. B2B brands live and die from their customer referrals. But we found that 63% of B2B companies don't track referrals as a result of their CX program. Collecting customer feedback can make B2B referral marketing easy, by helping you identify the most loyal customers, i.e. the best opportunities for referrals.
Why B2B Feedback Has Its Own Unique Demands
There's no doubt that client feedback can significantly impact your B2B business.
Yet, customer feedback is not all the same.
If you want a client feedback tool to be effective, it needs to respond to the particular demands of B2B feedback:
B2B clients are not just individuals (unlike B2C). Your B2B customer is a whole company of people with different needs, experiences, and problems to solve. Ideally, your B2B feedback tool would be equipped to collect the sentiment of all stakeholders.
That means everyone from the C-Suite and frontline staff to tech decision-makers and users. Typically, B2C feedback tools don't have the capabilities to track different sentiments in the same client accounts.
B2B has more complex customer journeys. Given the number of different stakeholders, your clients' interactions with your brand are far more numerous. Rather than a simple journey through Awareness, Purchase, and Support, B2B buying cycles are longer and less direct. That means more opportunities for multifaceted feedback.

Client-specific feedback matters more. In B2C contexts, customers have very similar account values, meaning their feedback always carries a similar weight. In B2B, some accounts can be as much as 100x larger than others.
As a result, a problem for a single large client could be a lot more urgent for you than that of a smaller customer. That's why it's important to link customer sentiment with revenue metrics to see where value really lies.

What Client Feedback Do You Need?
Before we get onto the tools themselves, it's important to know what sort of customer feedback you actually need as a B2B brand.
In many ways, these are very similar to B2C CX metrics. However, the way that you measure them may differ:

Net Promoter Score (NPS) surveys. The most important piece of customer feedback you can collect is NPS. As a type of customer survey, it's an active form of feedback, meaning you have to go out and request it.
NPS is a measure of customer loyalty, i.e. the likelihood of customers to be retained in the future and ultimately recommend your brand to others. If you're chasing revenue growth, it's the number one CX metric to follow (for example, we found that simply by starting an NPS program can improve your retention by 7%).
Meaning, a client feedback tool that puts NPS at its heart is a must.
Engagement metrics. An inevitable risk of all customer surveys is that customers just don't respond. That's why B2B brands should supplement their NPS surveys with customer engagement monitoring to get a complete image of the voice of the customer (VoC).
This isn't a type of feedback where customers explain to you what they feel. Instead, it's a way for you to monitor how they interact with your brand.
This comes in many forms. CRMs can monitor it in limited ways, while website analytics tools like Hotjar can show you how customers interact with your brand online.
Customer reviews. One of the most infamous types of client feedback is the customer review on social media, review pages, or your own website. While normally associated with consumer products, B2B reviews do exist — and over 90% of B2B buyers use them.
But, you need a tool to manage them wherever they come up. For example, social media listening and review management tools are great for this. Alternatively, you can collect client reviews on your own dedicated website, as we did with CustomerGauge Reviews.
Top 7 Client Feedback Tools
So, what are the client feedback tools you need? Here we outline 7 of the best for B2B brands.
1. CustomerGauge
Top of the list is CustomerGauge, ranked by Gartner as the number one voice of customer tool for B2B brands.
Designed specifically with the complexities and challenges of B2B client feedback in mind, CustomerGauge is an indispensable tool for accessing the sentiment of your business accounts.
Built around the NPS system, CustomerGauge is all about tracking customer loyalty, boosting retention, and improving your brand's customer experience management (CXM). This way, you can identify any clients at risk of churn and close the loop on all feedback.
However, CustomerGauge does a lot more than that. Thanks to its Account Experience™ technology, the platform enables users to identify the revenue impacts of their entire CX program.
For example, if there's a particular touchpoint that customers struggle with, you can see how much it could be costing you. Or, if a client is particularly happy, you can fully understand the opportunities for referrals and upselling.
And don't just rely on customer surveys. With the 360° customer tracking tool, you can identify how often customers interact with your brand and re-engage with them if they've gone quiet.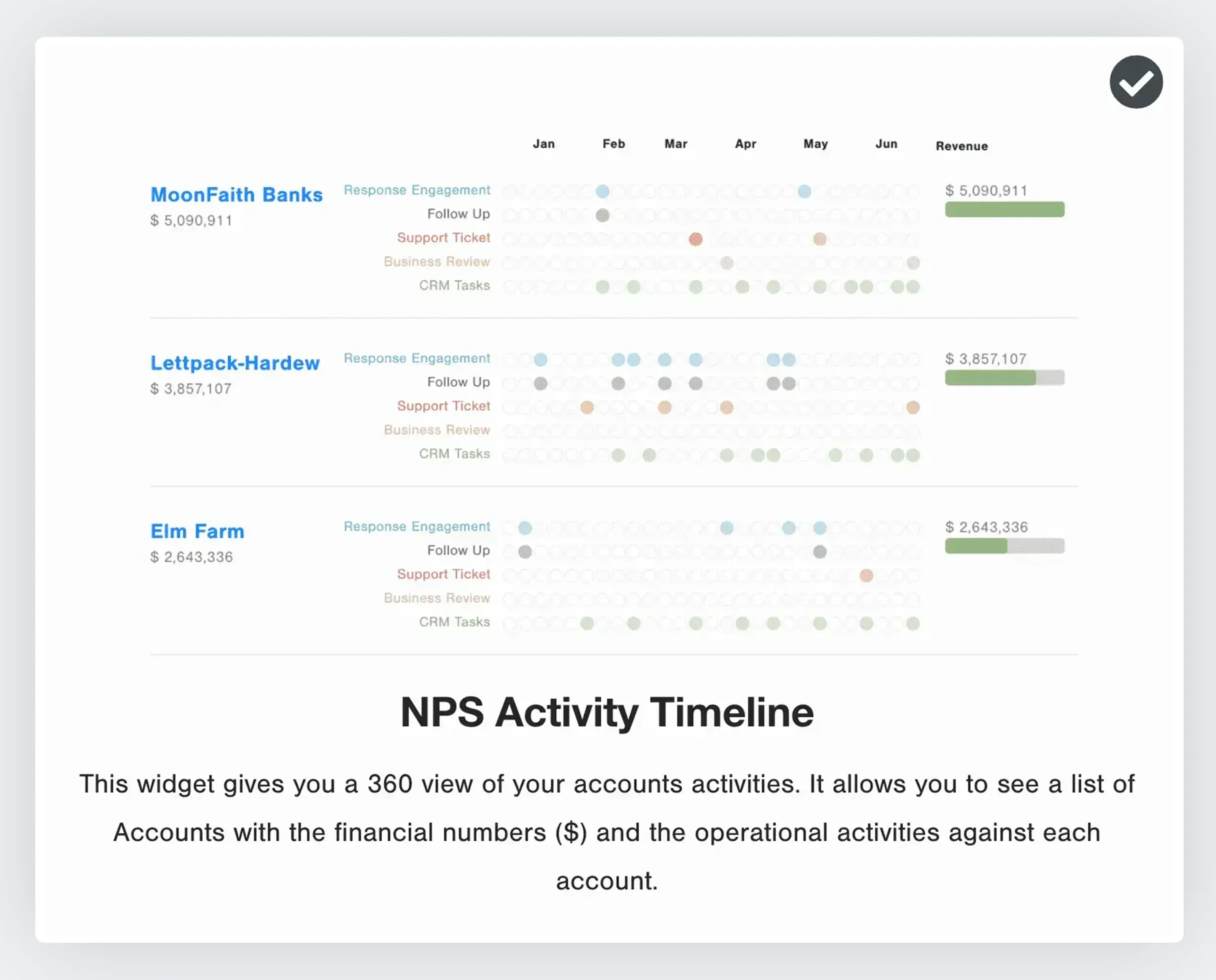 2. Hotjar
Hotjar is a tool that shows you how your website is being used and why. While tools like Google Analytics can track the customer's journey across your site, Hotjar tells you why customers are behaving as they do and what you can do about it.
Hotjar primarily uses website heatmaps, scroll tracking, and conversions. Alongside live customer feedback, the tool shows the weaknesses in your website and points to opportunities for improvement.
For B2B SaaS brands, for example, it's an exceptionally useful tool to understand customers better.
3. Trustpilot Business
We mentioned above that over 90% of B2B brands consider customer reviews in their buying decisions. If you want to make a good impression, you're going to need a tool that can help you manage this particular type of customer feedback.
For example, with Trustpilot Business, you can collect reviews throughout the customer journey, highlight positive reviews on your website, and analyze general trends from feedback.
4. Typeform
Typeform is a customer feedback tool that's primarily designed to make the process of collecting and giving feedback effortless and enjoyable for both you and your customers.
While it's not as powerful as CustomerGauge in terms of analytics or action, it can have a role to play nonetheless.
For example, use it to embed quizzes or simple questions into your website to solicit feedback whenever your customers engage with you.
5. Sprout Social
Sometimes feedback is happening without you even noticing. Customers might not be speaking to you, but they may well be speaking about you. You want to be able to hear it nonetheless.
That's what social listening is all about, and Sprout Social is one of the leaders in this field. If there are conversations happening about your industry, B2B brand, or a particular product, collect it effortlessly.
6. Canny
Canny is a client feedback tool focusing on product reviews.
Aimed specifically at SaaS brands, Canny enables customers to request specific features and publicly announce new products and tools you've introduced.
This way, it's all about improving your closed-loop feedback by maintaining an open conversation with your customers about your products.
7. HubSpot
Finally, HubSpot is a customer relationship management tool that enables you to collect and act on customer feedback.
Its surveying capabilities are limited, but the ways this massive tool empowers your customer service team (as well as sales and marketing) makes it a powerful solution for B2Bs aiming to improve their CX.
One of the major benefits is that these days HubSpot integrates with pretty much everything — meaning you can use it no matter which other tools you already have on board.
CustomerGauge: The Client Feedback Tool for B2B Surveys
From customer reviews to social media listening, there are many ways for B2B brands to collect client feedback. But to truly understand your customers' sentiment, Net Promoter Score surveys have to be a part of your CX management framework.
For B2Bs, CustomerGauge is the most effective NPS software out there. Able to handle the complexities of B2B accounts, and directly link your CX data to your revenue, it provides the full picture of how your customers feel.
About the Author