Learn the benefits and obstacles of modern B2B review management, as well as how to use your CX program to automate the review process and generate pipeline.

The Importance of Reviews in the B2B Buying Process
As a layman consumer, it's the story of your average Friday evening:
It's date night and you're trying to figure out where to go for dinner. You could go to the usual place—but hey—you're feeling adventurous. You jump on over to Yelp and check out some of the top restaurants in the surrounding area. You come across a place that seems reasonably priced for sushi, with 4 out of 5 stars. Great, you say, clicking into the entry.
Then, you scroll down to the reviews…"1 star. NEW MANAGEMENT—DON'T GO HERE." Yikes.
You scroll down further and see a few more 4-5 star reviews that praise the menu variety, authentic cuisine, etc. Perfect!—when wham! "Unfriendly staff" "Food subpar for price". What now?
"Everyone's a critic" has taken on new significance when it comes to online reviews. From exploring hot and trending restaurants on Yelp, to identifying your next CEM software vendor on G2 Crowd—reviews have enabled the average person to do some truly revolutionary things:
Conduct their own research
Become their own experts
Provide their own expertise
Dictate brand perception in an open forum
And while review companies like Yelp have transformed the B2C buyer's journey, B2B companies still struggle with how to approach review management online—despite the significant impact it can have on their bottom line.
In fact, according to G2 Crowd, 92% of B2B buyers "use online review sites to get information and recommendations to support their purchase decisions."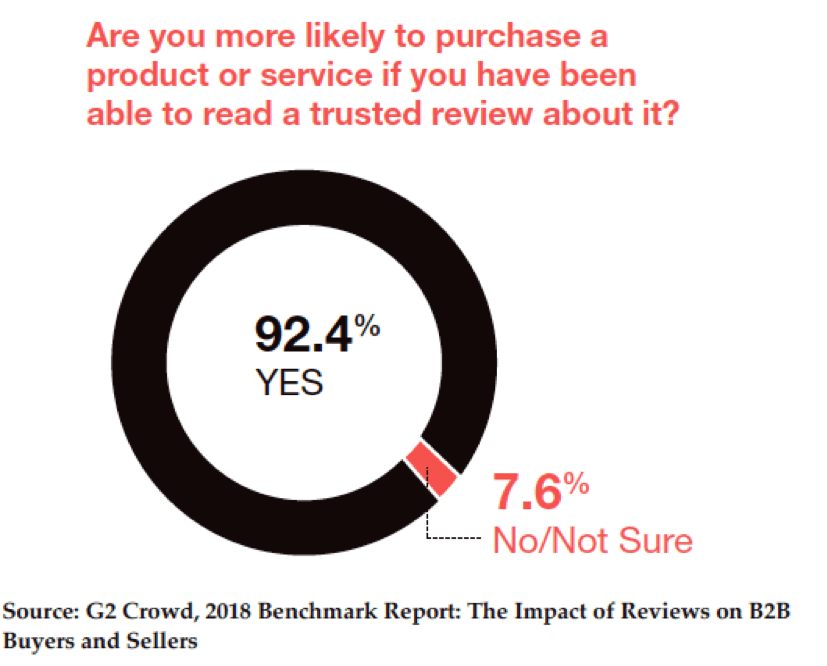 In many cases, B2B customers are making financially larger investments than those in a B2C customer journey. As such, a review is invaluable during the consideration stage of a B2B buyer's journey, when, according to G2 Crowd, 71% of buyers actively seek reviews.

In this article, we'll discuss the significance of B2B reviews in generating new business, how reviews can be harnessed and managed in a Net Promoter® and customer experience (CX) program, and best practices brands are using to capitalize on their B2B customer feedback.
The ROI of B2B Reviews
When it comes to publishing reviews online, the hesitation from companies often comes from the perceived impact a "negative" review will have on a business' reputation.
However, there are three reasons why the fear of a negative review shouldn't be a deterrent for your B2B company:
The Value of a Positive B2B Review is Far Reaching
Market research firm, Dimensional Research, in a study of over 1,000 responses, reported that 90% of consumers said positive online reviews influence their purchasing decisions.
But the value of a review has a larger impact on ROI than this surface level benefit. Many businesses can also use these same reviews to create other collateral to generate revenue:
Social proof and pull quotes for a website or pitch deck
A conversation starter for future case studies
A conversation starter for future referrals
In a previous blog post we discussed how sales leaders like Chief Revenue Officers can take additional approaches to enhance their customer retention revenue stream through methods like referral and review programs. Click below to learn more.

Negative B2B Reviews Provide Another Channel to Close the Loop
One of the worst things a company can do is simply ignore negative reviews. After all, you made this channel available for clients to voice their opinions and share it with others. Therefore, B2B organizations should treat their review platform like any other feedback channel.
Review platforms also provide an avenue for companies, outside of social media and surveys, to close the loop with customers. Not only will this improve customer retention and loyalty, but companies can then ask if a customer is willing to update their review down the line.
Below is a screenshot taken from the CustomerGauge review site. Here, the client notated a support issue they were facing. Our support team was quick to respond for this circumstance and follow-up with next steps.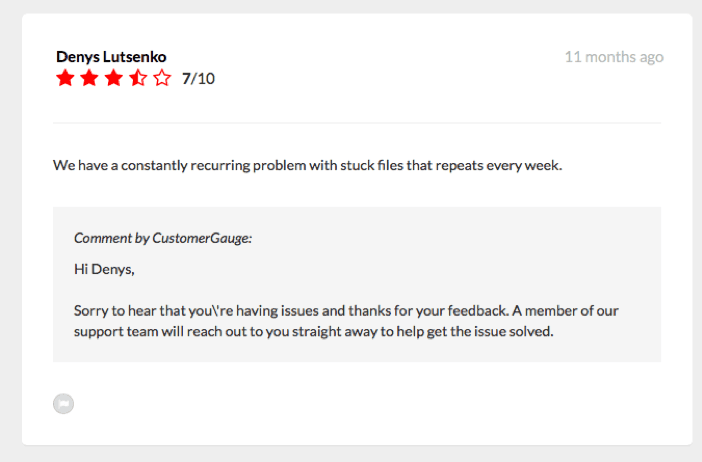 At CustomerGauge, we take the time to respond to BOTH positive feedback and negative feedback. Quite often, positive reviews may also contain additional context around suggestions or issues the customer is having, despite their overall satisfaction.

The review below is taken from CustomerGauge's G2 Crowd account. Our customer was nice enough to post this great insight into their experience. They also mentioned some areas for improvement. When our marketing team saw this feedback, not only did they escalate it to the CSM and product team, but they followed up with a reply.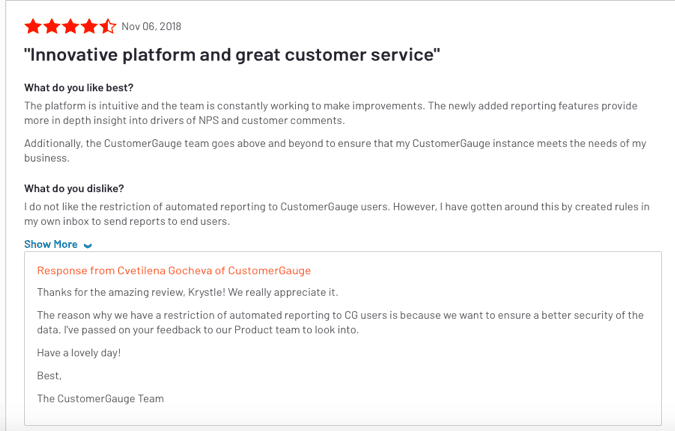 A Diversity of Opinions Shows Greater Credibility in B2B
Researchers at Northwestern University found that displaying five or more reviews for products/services increases purchase likelihood by 270% compared to products/services without reviews.
This same study also encouraged businesses to not dismiss the value of negative reviews on their bottom line as well. The researchers found that having some negative reviews on a review site also provides greater credibility:
"Purchase likelihood typically peaks when the average star rating is between 4.2 and 4.5 stars and starts to drop as the star rating approaches a perfect 5.0. While it may seem counterintuitive, negative reviews can have a positive impact because they establish credibility and authenticity."
This perspective on the positive impact of negative reviews has been substantiated in other research as well. G2 Crowd surveyed B2B buyers on how they felt when seeing a negative review for a B2B vendor. 72% of those surveyed said that "negative reviews give depth and insight into a product," with an additional 40% indicating that it helped make the review profile more credible.
This fear of negative reviews have led some companies to reframe the way they ask for feedback in the first place. In a Harvard Business Review article, one marketer shared that when they framed a question looking for a compliment (i.e., "What went well during your visit?"), they receive more enthusiastic reactions. According to marketer Sterling Bone: "People are happier when they focus on the positive, yet companies rarely give them that chance."
However, such an approach is sort of like fishing for a compliment: it's kind of manipulative and doesn't really give a full picture of the customer story.
That's why many industry experts look for more objective questions, similar to the Net Promoter Score®:
"How likely are you to recommend (this company, this product, this experience, this representative) to your friends, family or business associates?"

In the next section, we'll dive into something that many B2B organizations get wrong when it comes to reviews: asking nicely!
How to ask for a B2B product review
Many companies, wrongly, assume that a client will recommend, refer or provide a review without any intervention on their end. While in some rare cases this may prove correct, in most B2B businesses, this couldn't be farther from the truth.
In the previously mentioned Northwestern University report, companies reported that 80% of reviews originate from follow-up emails by companies.
So, how can companies begin asking customers for reviews? Here's a few steps to begin the process:
Make a formal review program.
Have somewhere to house your reviews.
Make it easy for customers to post a review.
Simply asking customers "on-the-fly" for reviews will create a lot of busy work not only for your team, but your customers. Additionally, depending on the size of your B2B customer portfolio, reaching out individually to customers may not be realistic.
The best course of action is to begin building a formal review program for customers. In an earlier post, we discussed how the best referral marketing programs found success when automated and embedded into the workflow of a company. In a similar fashion, having a process in place for generating reviews is just as important.

To get started, begin finding solutions for the following questions:
What department(s) should be responsible for generating reviews and monitoring them?
How and when will we ask for reviews?
Where will customers post their reviews?
The first question is somewhat easier to answer. Marketing and Customer Success are generally the departments responsible for gathering customer testimonials. As such, these two departments should work together to answer the next two questions.
How and when to ask for a review depends on the current methods at which your company communicates with customers. Some companies rely on email as a formal communication channel. Others may use in-app pop ups or surveys to generate reviews. Further down in this article, we discuss how coupling review management with a B2B CX program enables companies to automate and optimize the review process.
After identifying when and how to gather reviews, the question becomes: where do you host them?
If you're been struggling to answer this question, know you're not alone. Many B2B companies have a difficult time deciding where to publish reviews.
For some industries, the answer is clearer. B2B SaaS and software companies have a plethora of options when it comes to posting reviews online: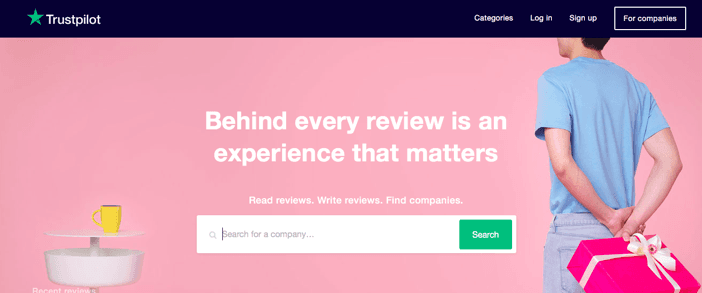 Companies outside the software or technology industry may only use services like Google Reviews to correspond with companies that post reviews. However, other companies have found that personal review sites may be the way to go….

Integrating Reviews into Your B2B Customer Experience Program
Like other B2B companies, our clients were frustrated with the lack of options in their industry for publishing customer reviews. In response to this frustration, CustomerGauge developed dedicated "review sites" that could be integrated with our client's very own CX platform.

The beauty of linking reviews to an existing VoC program is three-fold:
Reviews become seamlessly integrated into the customer feedback loop
It streamlines the review process for customers
Companies get their own SEO-optimized review site that they can refer to potential customers
To better understand how coupling CX software and reviews works, let's quickly look at the process in the CustomerGauge system:

Start with a survey, comment and a request.
At the end of a customer feedback survey, our customers include a comment box to capture additional sentiment from their customers. At the end of these surveys, CustomerGauge includes a simple checkbox which requests permission to post a customer's comments publicly on a review site.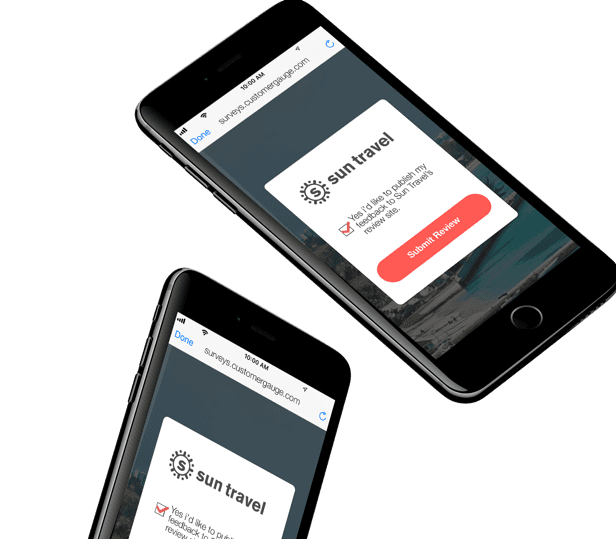 Using this process has had a significant impact on review generation for our clients—with almost 20-30% of survey feedback getting converted into online reviews. In fact, for some clients, that number is even higher, with up to 40% of all survey feedback results turned into reviews. The impact of this simple change at the end of surveys shouldn't be surprising. A good customer experience should be convenient. Given that customers are making the effort to respond to your survey, they shouldn't have to jump somewhere else to submit a review.
2. Thank your customers!
Besides thanking your customers for taking your survey (which, BTW, you should also do), ensure you also thank them for taking the time to submit a review—whether it be positive OR negative. As we mentioned, both are important for building credibility. This "thank you" can be as simple as a follow-up email, a message at the end of a survey, or if the review was particularly impactful, a phone call.
3. Post the reviews on a dedicated SEO-optimized review site.
CustomerGauge clients use dedicated review sites to manage their reviews in one place. These reviews not only register for search and are optimized for SEO, but they are auto-generated. Meaning your marketing and CSM team don't have to worry about constantly reaching out to customers for testimonials. Additionally, just like on sites such as Yelp, our clients are able to respond to comments from customers to resolve issues or respond to a question.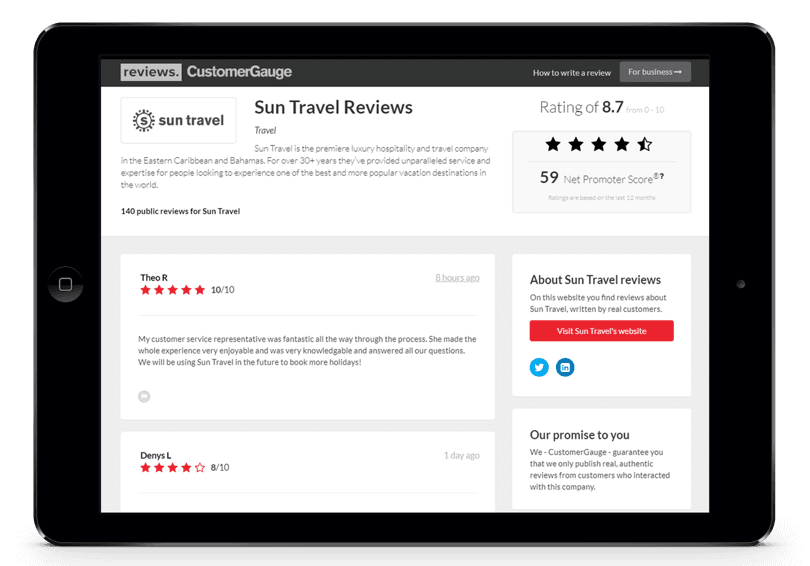 4. Make reviews a centerpiece of your website.
Outside the dedicated reviews page, CustomerGauge clients can also embed a number of pre-designed "review widgets" onto the footers of their websites. Just like the review site, these update in real-time.
Clients can choose their favorite widget design, grab the embed code, and immediately post on their website.

Conclusion
Reviews are an important element in any VoC program. By embedding reviews into your feedback loop, not only can you streamline workflows for your team, but you can make the process for submitting a review easier for your customers.

We hope the best practices described here help inform your own B2B review program. If you're interested in learning how CustomerGauge can help in that department, click the image below.
About the Author