A ton of effort goes into building a strong, effective customer experience (CX) program — we recognize that.
That's why we'd hate to see any time, research, and strategizing wasted on not utilizing the right channels to deliver your surveys to customers.
Just like the length of your surveys can affect Net Promoter Score (NPS), how you reach customers has the largest impact on results.
This is because your customer experience doesn't begin when you receive feedback; every touchpoint someone has with your business counts, so where you're sending surveys truly matters.
If sent correctly, you'll see a direct correlation with increased response rates, and eventually, an improvement in NPS.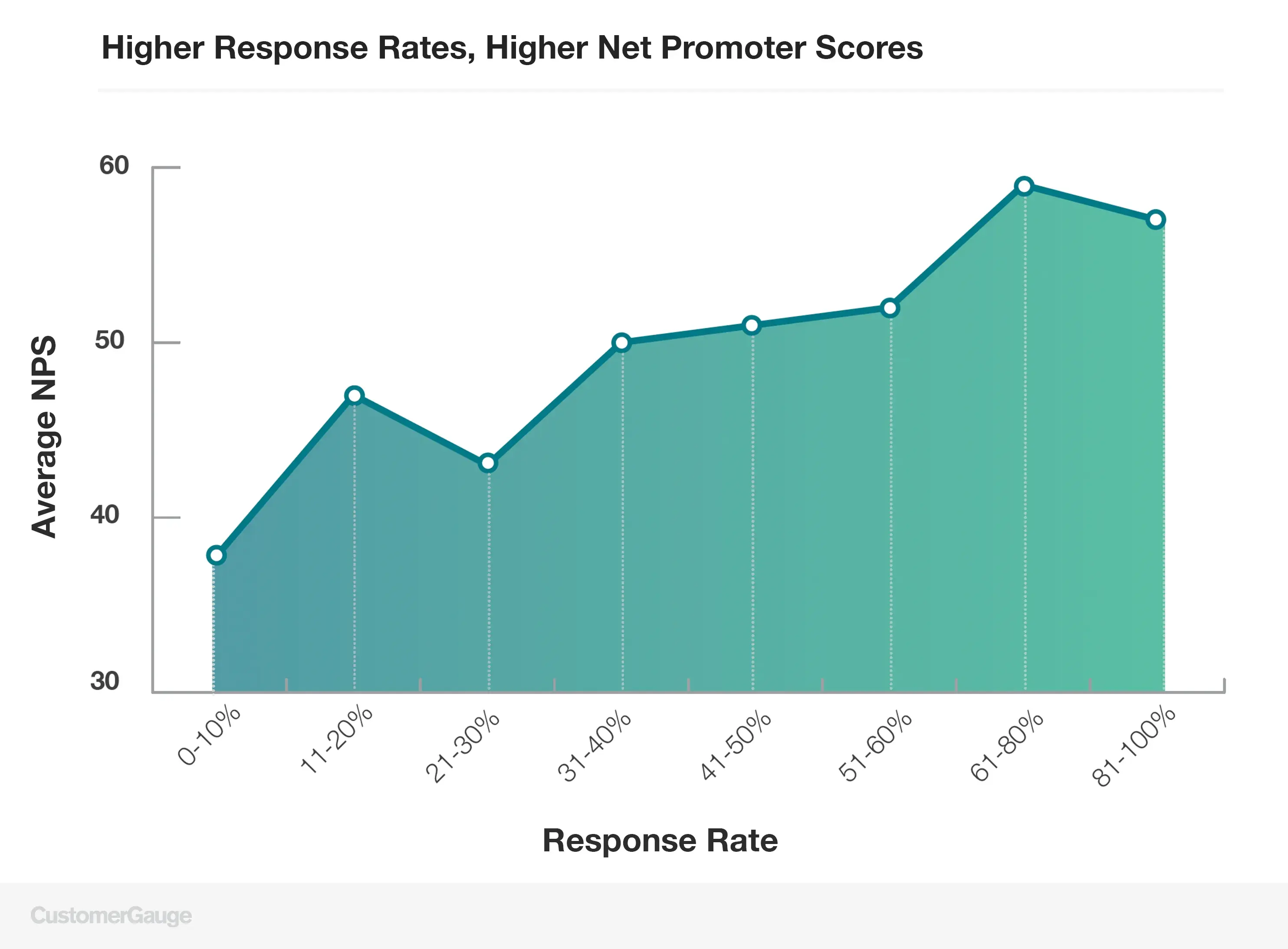 Before heading into our 5 different channels, let's look at the importance of omnichannel survey distribution:
The Importance of Omnichannel Survey Distribution
In our recent webinar, Top Tips For Building an Omnichannel Feedback Strategy, we covered the ins and outs of omnichannel feedback and how it can improve customer retention. An omnichannel feedback strategy captures customer feedback through various channels for you to analyze at each touchpoint.
In adopting more than one channel to distribute surveys, you open the line of communication between your business and customers, making it easier to cover every account — key to retaining more customers.

"
"We're not suggesting you ditch one channel for another — what we're saying is a healthy, holistic approach is incorporating a couple of these channels if not all of them. However, they may all not be right for you, and you want to pick the ones that work."
Cary T. Self
VP of Education and Services
It's important to get survey delivery methods right because improving customer experience works two-fold. You're sending surveys out because you want to receive valuable feedback to learn where you can improve.
Sounds simple enough, right?
Well, participants need to want to engage and respond to your questions. This is why if your survey is poorly designed or sent through a channel they don't use, you won't get accurate customer data.
To ultimately master the art of survey design and delivery, there are a few other important best practices you can't leave out in addition to getting your channels right:

Asking the right questions. The Net Promoter Score question is not enough to gather all of the data you need. Include a driver question to understand their answers further, one about the customer's background, and how you'd like to improve. *Note: asking more than 6 questions will result in your response rate suffering.

Survey frequency. We recommend customers survey 4x a year or every quarter. It may sound like too much, but our research shows that regular relationship surveys see a 6 point increase in retention.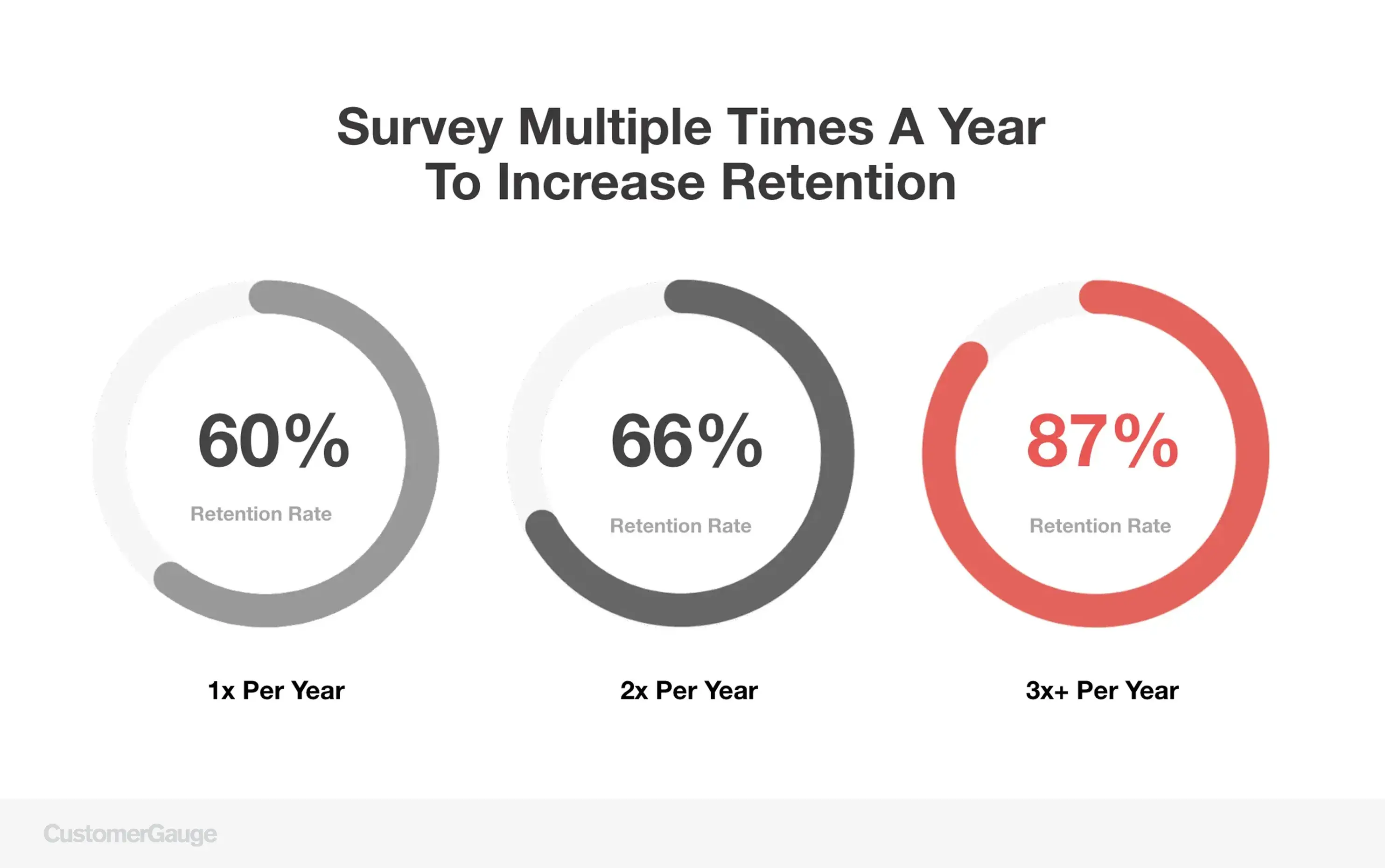 How to Distribute a Survey With 5 Different Channels
You're now caught up on the importance of choosing the right survey delivery channels and the strategy behind them.
Here you'll learn the pros and cons of each, who they're best suited for, and other factors that play a role.
Email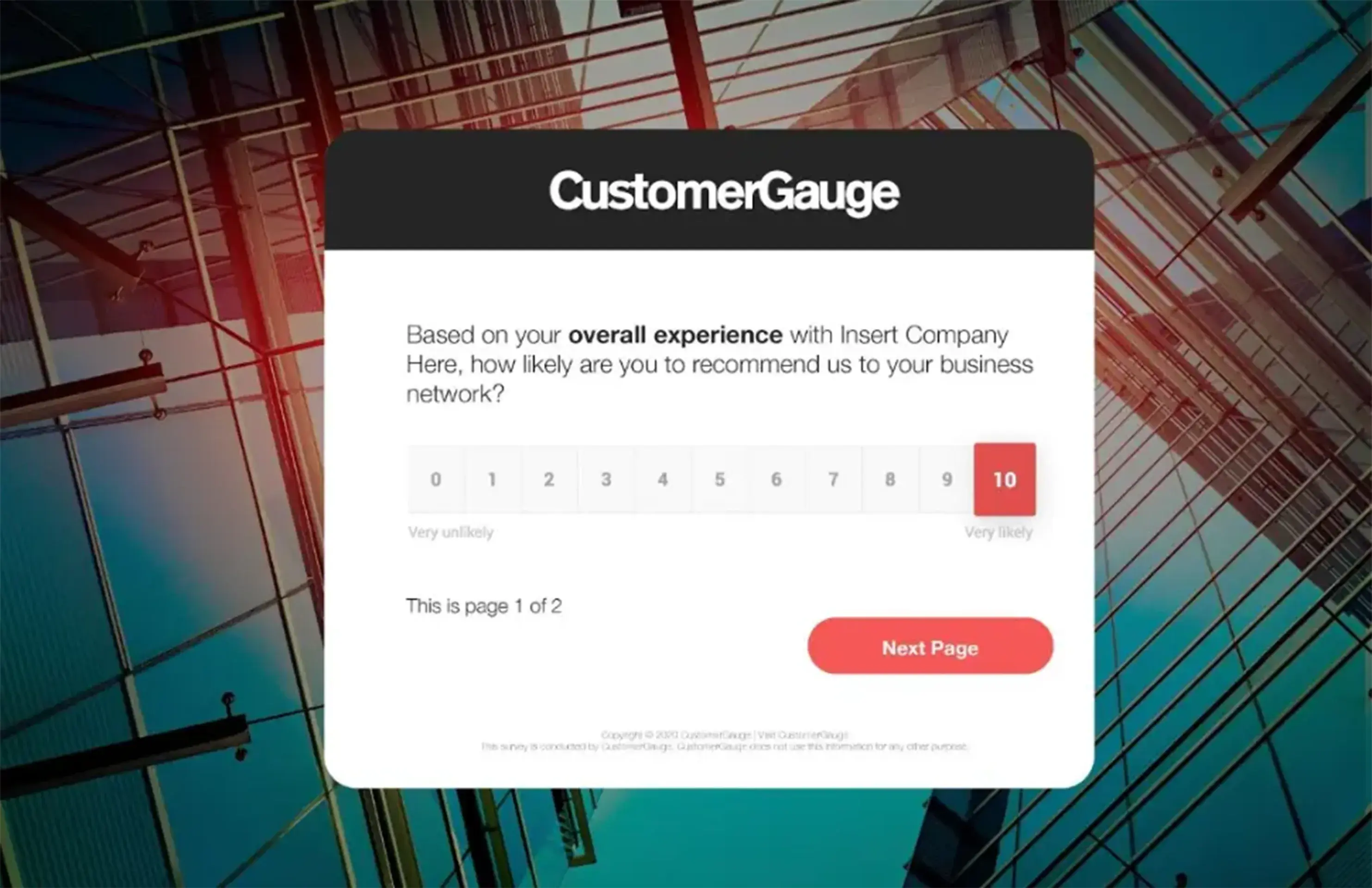 If you've ever heard that email is king, this still reigns true.
Sending surveys via email is still the most popular method, with 99% of CustomerGauge customers choosing to use it.
This is because it's often used as the primary communication for B2B companies both externally and internally, making it a convenient and trusted option.
With this method, your survey would be linked within the email body.
So, to get your customers to fill out the survey there are a few best practices we recommend:

Avoid spam filters. The last thing you want is for the survey you worked hard on to end up in a junk folder. You can dodge this worst-case scenario by avoiding common triggers in your subject lines like all-caps, exclamation points (yes, even if you're trying to grab their attention), and words such as 'Act Fast' or 'Last Chance.'
Invite your customers to open the email. The best way to do so is with friendly subject lines like, 'How did we do?' or 'We'd love to hear from you.'
Make a case to click. You want to convince your customers to take your survey — there are a few ways you can do so. The survey link should be obvious and easy to find. Plus, it won't hurt to mention how little time it will take to fill it out. Avoid loud images, colors, or fonts, and personalize it! Put a face to the feedback using your CEO's name and photo in the signature.
Mobile-optimize. A significant and ever-increasing percentage of customers will read your invitation email on a mobile device, so your email template must be optimized for all kinds of screen sizes.
The CustomerGauge dashboard is designed to quickly set up an automated email campaign to send across your entire customer base.
Your primary email will always be ready to go, but you have the option to include reminder emails, too (which we recommend as best practice).
Who should use it?
Email is suited for any business that has a list of their account's email addresses. Depending on where you're located, it's the preferred method in Europe and North America.
Pros

Low-cost

Non-intrusive

No character limitations

Supports images and video

Surveys can be accessed across all smart devices
Cons

Some companies have a strict firewall and sending unsolicited emails can breach security

Survey links can get lost in inboxes or end up in spam folders
SMS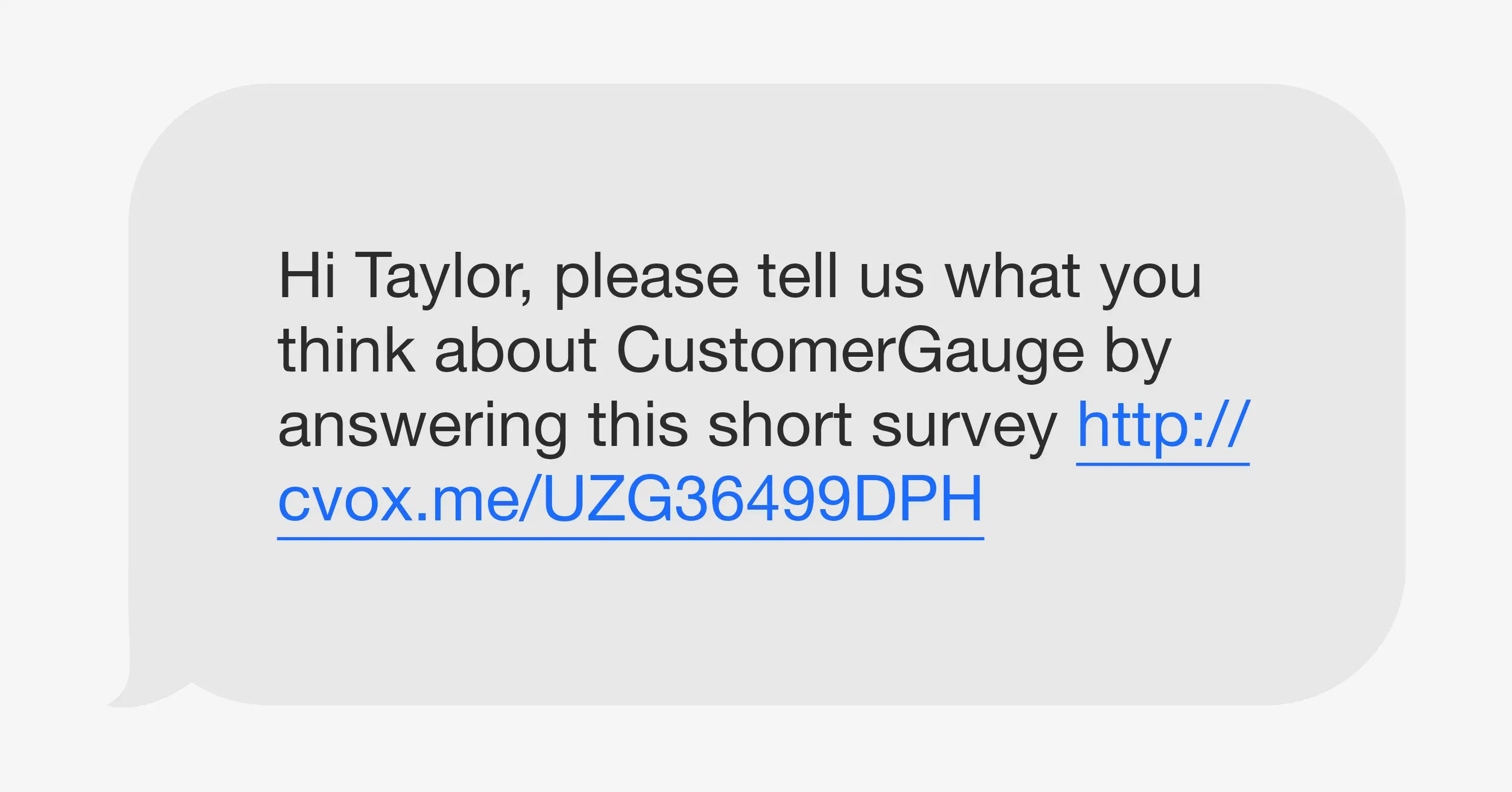 Short Message Service (SMS) or as we know it, text message, lets you send a survey link directly to participants. This can be an incredibly effective way of getting noticed with open rates averaging up to 98%.
Naturally, sending surveys through SMS will work best when recipients trust you, the sender. If someone receives an unsolicited survey, it's extremely unlikely they'll engage or want to continue getting messages from your business.

Who should use it?
Companies that have access to their customer's phone numbers can use SMS for survey distribution. It can be tricky to get your hands on a full list of customer phone numbers, however, if you have a strong database to utilize SMS can be a great option.
This method is typically used across consumer packaged goods (CPG) and telecommunications industries.
Locations including Asia, Africa, and North America prefer using SMS above all else.
Pros

Surveys stand out

Opportunity to lead to higher open rates

Can make it personalized to the recipient

50 to 70 countries can be supported
Cons

Limited to 160 characters

More expensive compared to email

Delivery is not always guaranteed
WhatsApp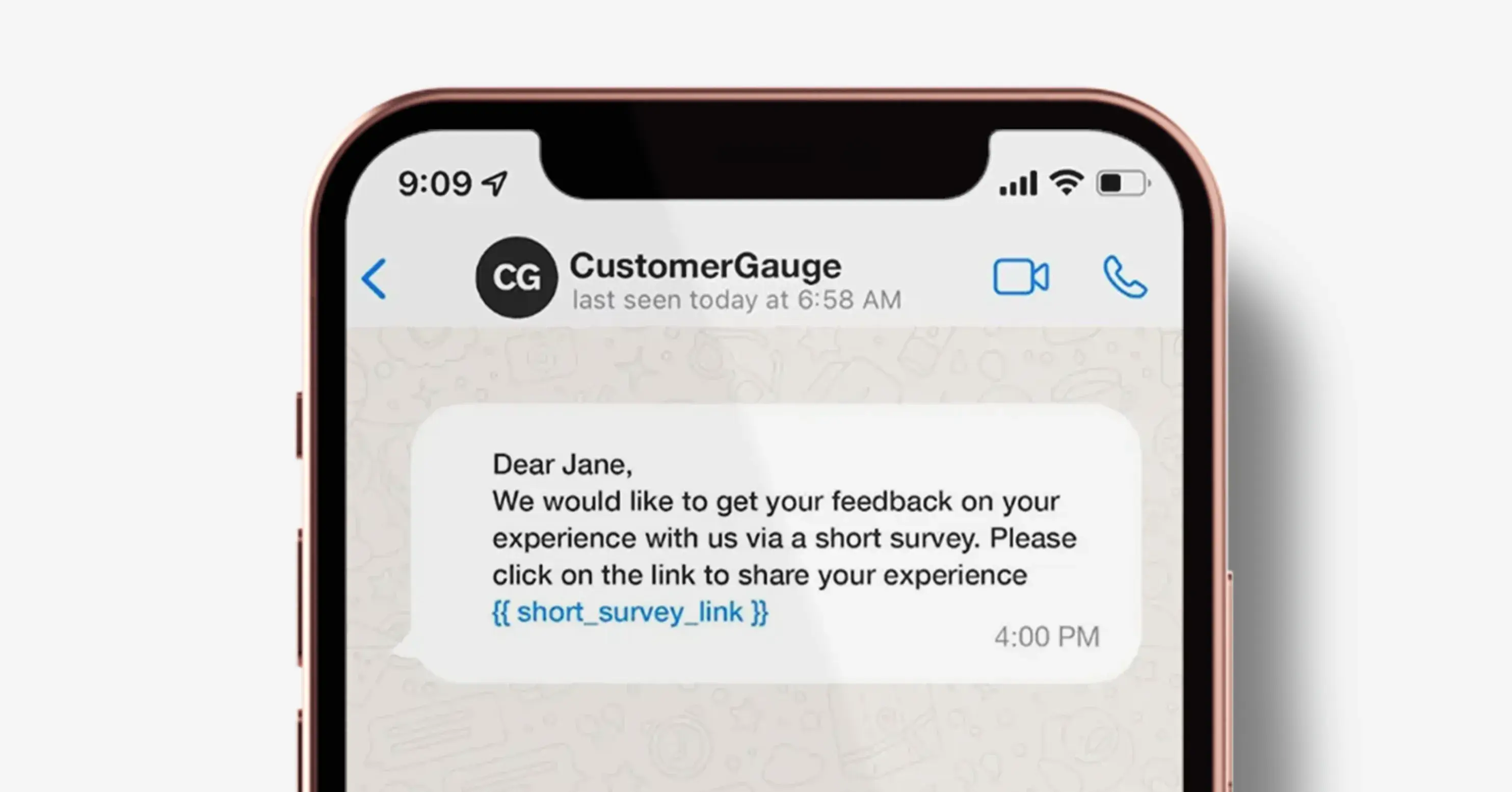 Mobile messaging platform WhatsApp is an easy-to-use survey distribution alternative to text messaging or email. With a global reach, WhatsApp has many other benefits including anywhere-accessibility through wifi and zero character limits.
However, this channel does have industry-specific regulations to be aware of.
Brands in Alcohol, Tobacco, Medical, Healthcare, and other fields cannot send surveys through WhatsApp. Unfortunately, it can't be used throughout China as well.
Who should use it?
WhatsApp works best for businesses already using it to speak with customers. Accounts can trust surveys coming from you and it comes across as a more personal communication method.
This survey distribution channel is most popular in Latin American regions.
Pros

Trusted by customers already using it

Stands out on mobile

Zero character limits

Can be used globally

Supports images and video
Cons

Can be considered intrusive to those not already using it

Costly compared to others

Highly regulated for specific industries
Pop-up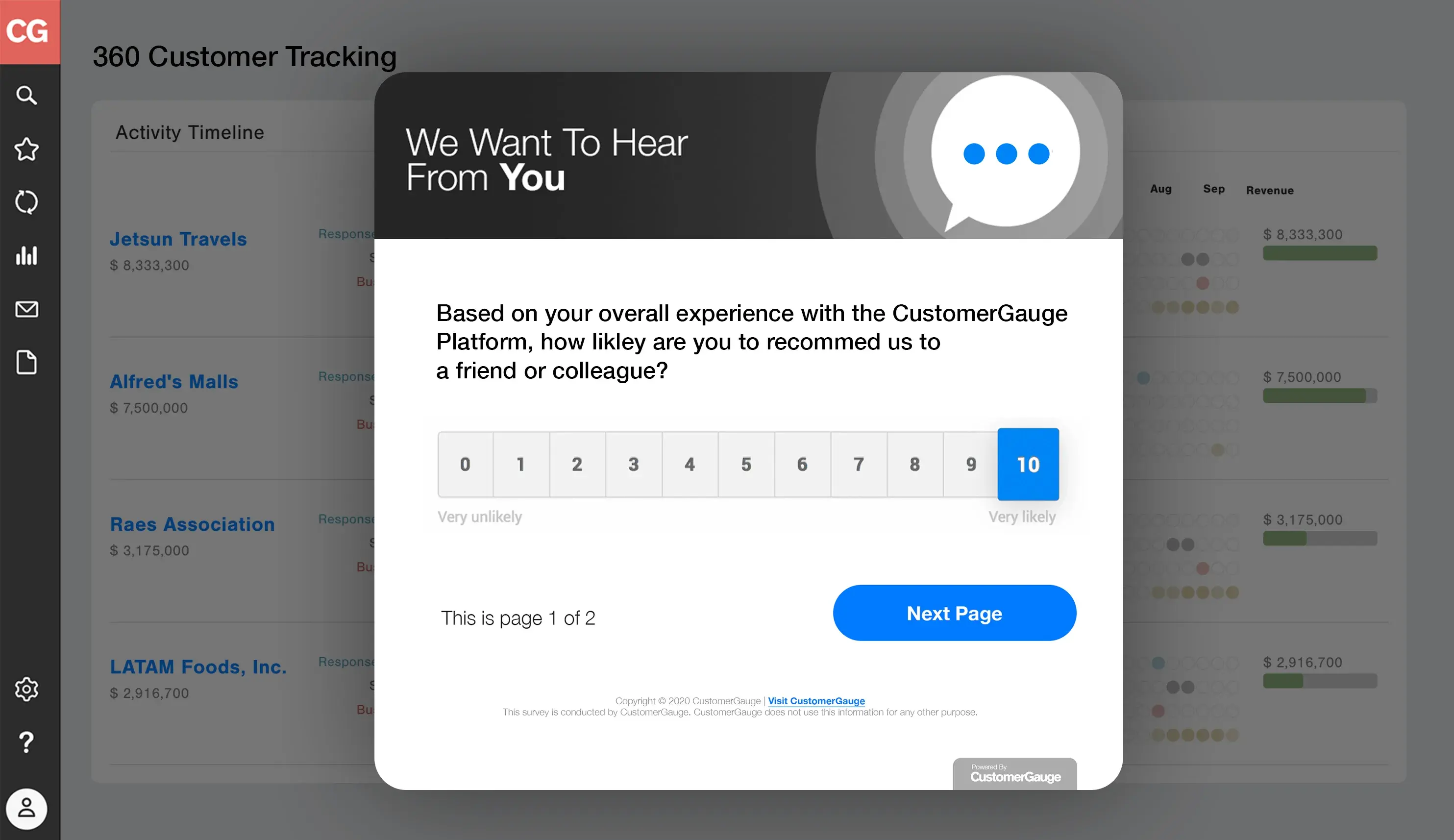 If you're a Technology company with a product application or B2B brand with a customer portal, a pop-up survey is a great way to survey users.
One of CustomerGauge's latest releases, an embedded pop-up survey reaches your customers exactly where you want feedback — in your product! You can capture feedback at the moment whether they're first signing in or finishing up an element of your application.
The survey link will act as a part of the page prompting users to "Tell us what you think" or "Please give us feedback".
Our VP of Product, Trishaala Chengappa, shared in our recent webinar, "You can place this in-app surveying capability in any of your applications to collect feedback in real-time, track delivery and response rate, and can be integrated into your entire feedback collection process."
Who should use it?
Companies with active websites looking to capture real-time feedback from customers.
Pros

Can be embedded directly into your application

Real-time feedback

Zero character limits

Low-cost

Integrations with other delivery vectors
Cons

Could be seen as intrusive if not set up properly
Phone via Live Agent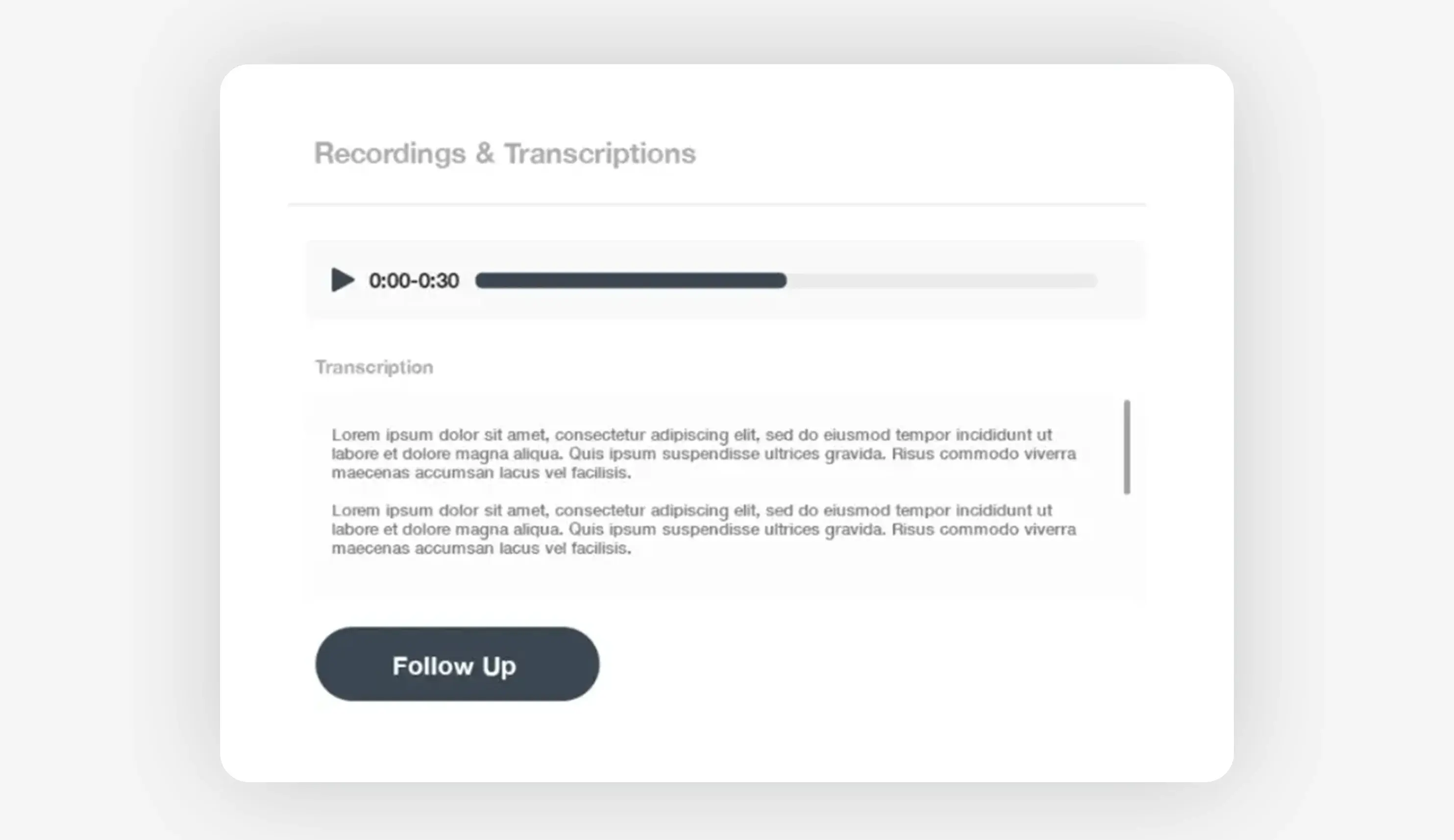 Sometimes the best data is collected face-to-face (or close to it) by speaking to a live agent through a call center.
Through this feedback collection channel, surveys are conducted through an agent calling your customer and asking survey questions directly on the phone while filling out and submitting the survey on their behalf.
The results will flow directly into your CG platform in real-time, as they would with email & SMS surveys.
With a call center agent, you have full control over the phrasing and wording of survey questions and can be conducted in any language. As this method of survey distribution is real-time, answers can potentially be more in-depth, leading to more accurate data.
Who should use it?
Accounts that have mostly landline numbers from their customers and business tend to take place over the phone. This survey distribution method is favored in North America.
Pros

Feedback is richer in context

Multi-language

An extra way to reach customers (helping response rates
Cons

Can be seen as more intrusive than SMS — important to control the length of the survey and ask top questions up front if the recipient was busy at the time of receiving the call.

Customers may not answer an unknown number

Costly
CustomerGauge Survey Distribution Delivers Powerful Data
To increase response rates and boost your Net Promoter Score, you need a tool that can delivery surveys in ways that work for you and your customers. Our platform makes survey distribution easy but powerful, with fast feedback collection and data all in one place.
💡 Hear from Jay Woody, Founder and Chief Medical Officer at Intuitive Health who pioneered a health model combining a full-service emergency room and urgent care under one roof. He continues to utilize CustomerGauge to reach over half a million patients annually with industry-leading NPS scores rooted in a culture of exceeding customer expectations.
About the Author