If you've been following along with Part 1, Part 2, and Part 3 of Weathering the CX Storm webinar series, you'll know we're facing the winds head-on.
Our team of customer experience (CX) experts have been preparing professionals how to leverage the current economic shift by adding value to their CX program.
Tying revenue to your program will make the difference between being seen as a valuable asset to your business or facing job cuts — think of it as your emergency lifeline, and it's more attainable than you might think.
In Part 4 of Weathering the CX Storm, our Global VP of Education and Services, Cary T. Self, shared the screen with Customer Success Manager, Beatrice Gheorghisor, to explain the importance of acting on feedback.
From insights found by our own research to tried and tested strategies, the two covered it all.
Why Close the Loop?
Cary kicked off Part 4 with another poll, this time asking attendees how quickly they follow up with their customers on average.
25% said within 24 hours (best practice!), while 43% said between 25-48 hours, with the rest at 3 days to 1 week.
These stats are very similar to CustomerGauge research found in our The State of B2B Account Experience benchmarks report seen below, with the goal set at closing the loop as quickly as possible.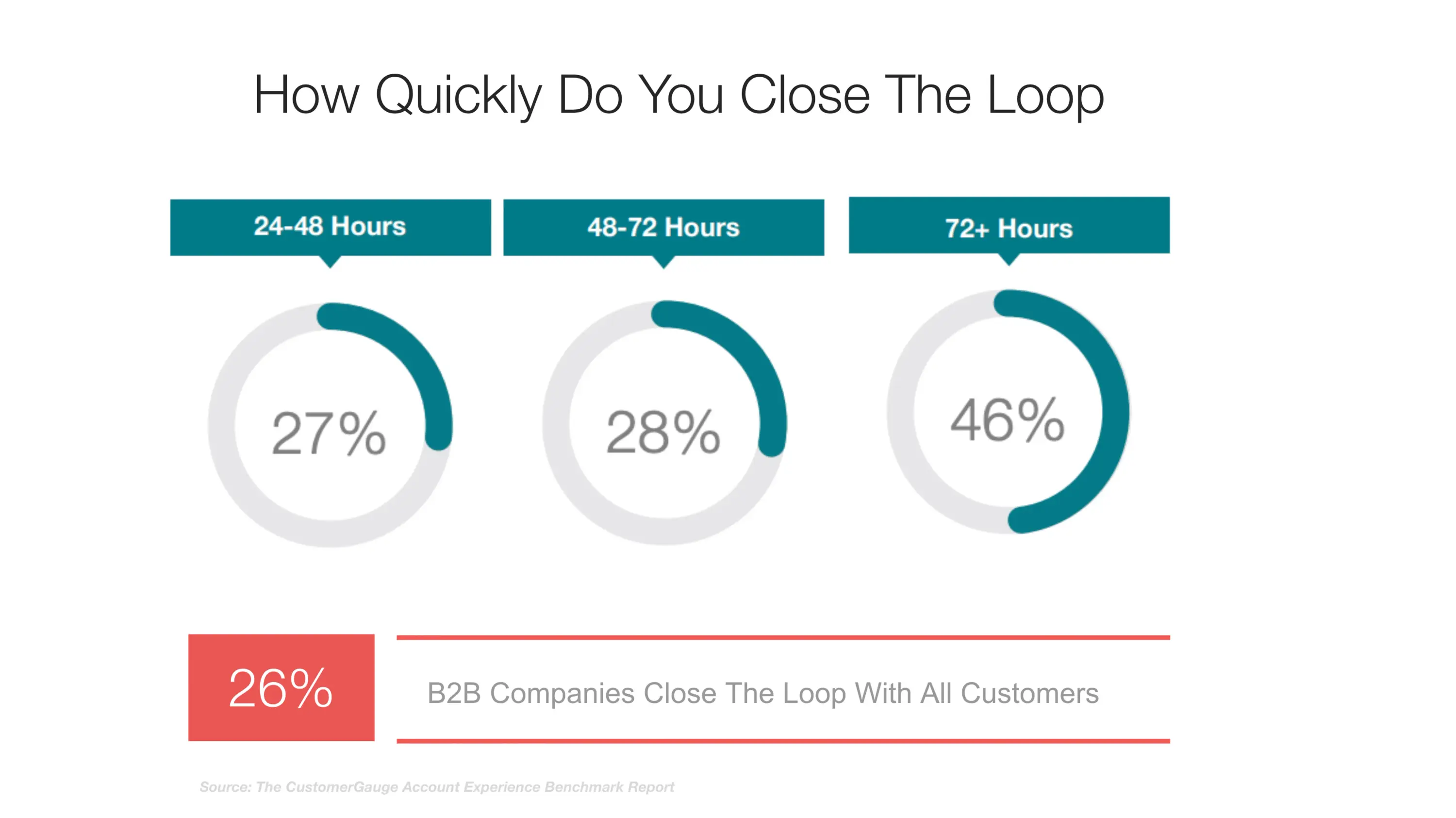 So, why is it important to close the loop? What does it tell us and why should you care?
Beatrice shared that she tells her clients, "It really is common courtesy to respond to the feedback. A detractor or score that isn't as good as expected is only a cry for help. So reaching out and responding, it's not that complicated."
If a customer is going out of their way to give you feedback, it's because they want to see you do better and stick with your business. By them spending time to help you improve, it's only right you spend time letting them know their feedback was heard.
"It's a way of uncovering issues," said Beatrice. "The reasons for detraction. We can see their response, of course, but that won't tell us the whole story behind it. It's good to reach out and understand, then this way you can dig into the reasons and fix it if you can, then also improve the experience for other customers as well.
Our team believes this is where many companies make the same mistake.
Closing the loop isn't just about putting out fires — it's about listening, asking more questions, making the experience better, and showing you care.
In doing so, you're not only strengthening that customer relationship, but it will also improve your entire customer experience.
And the data speaks for itself. When you quickly close the loop, you'll see the positive impact in the numbers.
View the change in Net Promoter Score (NPS) just by cutting down that follow-up time taken directly from our report.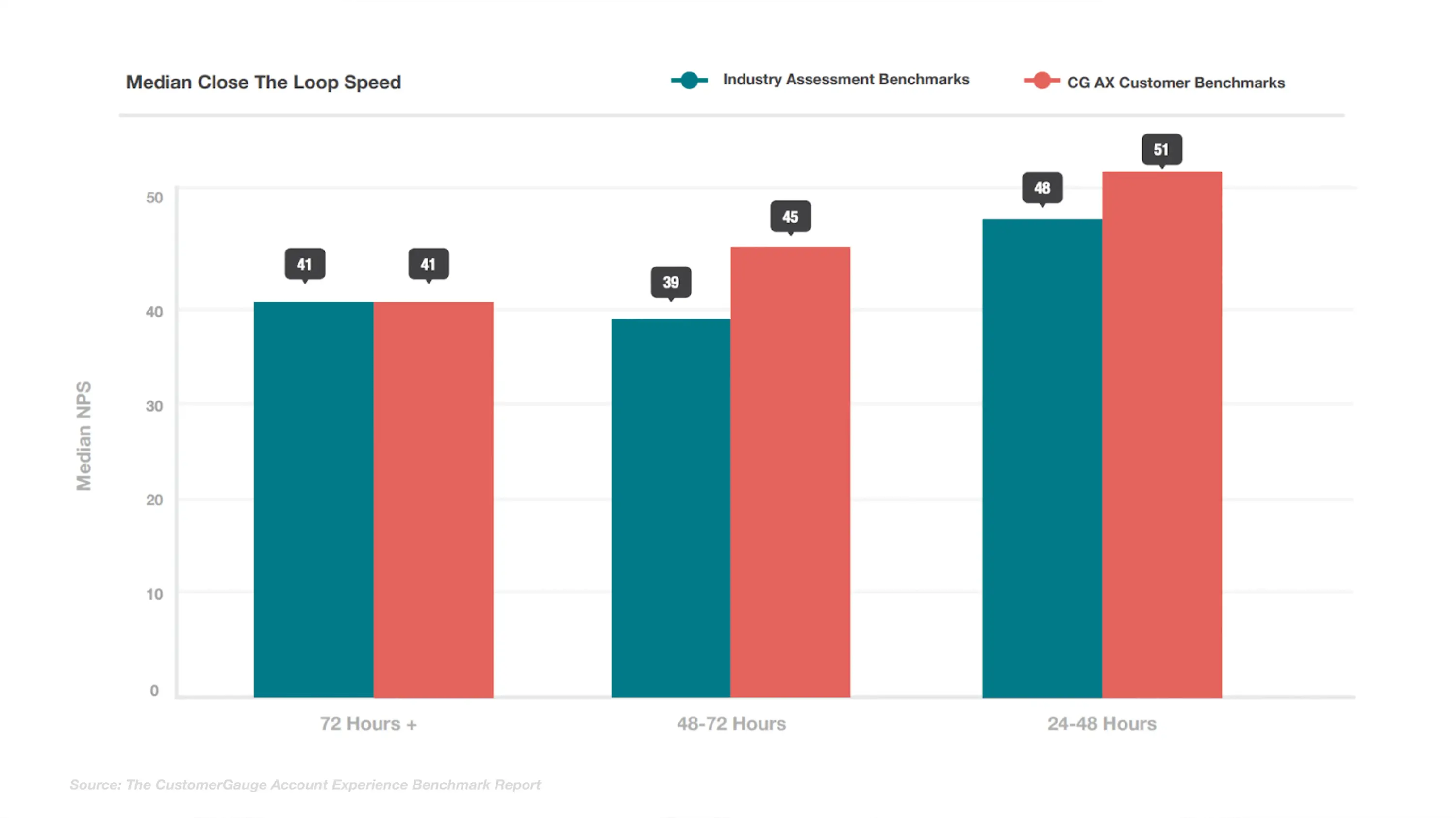 The bottom line? The best way to improve your response rate and NPS is by closing the loop.
Our customer, Briggs Equipment, is a perfect example of a business that is doing it right. So much so, they won our Account Experience (AX) Award for closing the loop.
Briggs Equipment is an ESOP-owned full-service material handling company and since beginning with CustomerGauge, has become an incredibly customer-centric business.
We gave them the AX Award because they achieved a 98% closed-loop rate by reaching out to (just about) every single one of their customers!
How did Briggs Equipment achieve this? They:
Aimed to close the loop with every single customer — account coverage!
Shared feedback with all levels of your organization
Communicate, communicate, communicate
Cary shared, "Success looks different for everyone, that's why we're doing this webinar. Not everyone has a full team or all the resources, but if you can, you should close the loop with everyone. And if you don't have the resources, we have other ways you can."
Let's dive in.
Top Five Action Tips From the Experts
1. Speed matters
Contacting your customer between 24 and 48 hours will not only be appreciated by customers but will have a direct positive impact on your NPS.
Note: we don't necessarily mean you should resolve the issue at this time — not everything can be fixed immediately.
However, simply reaching out lets the customer know you have taken their feedback into consideration and will do your best to fix it.
The longer you wait to have a conversation with customers, the more time you give accounts to look toward the competition.
"People always say it isn't personal, it's business," said Cary. "No, it is personal. We still bring our emotions to work and when we're worried and give feedback or even if we're happy and give positive feedback, we want to make sure its heard — timing is so important."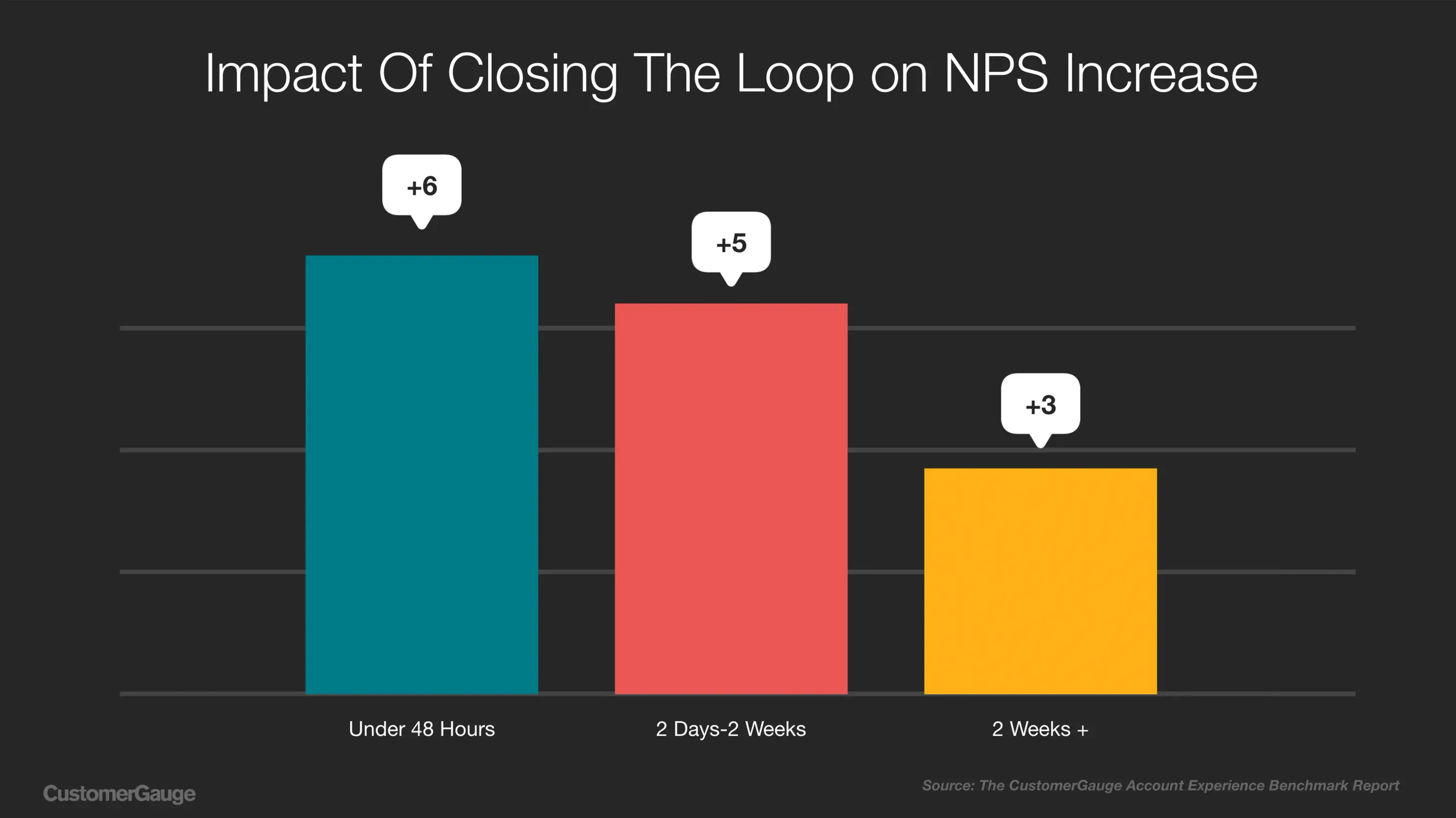 2. Close the loop at ALL levels
This is an area our team sees companies struggle with when growing their CX program.
Typically, an organization would have a dedicated team that is responsible for closing the loop.
For example, Briggs Equipment has a centralized team that focuses its day-to-day on responding to customers.
That will look like your Account Managers, Business Developers, Customer Sucess Managers, and so on. And we're firm believers that it should start at the frontline.
However, the mistake we see made is, it doesn't stop there.
Beatrice explained, "It's empowering them to go back with the correct solutions and answers that run deep within your organization, that's why it's important to also have the middle management involved with the communication."
She continued, "When we're talking about systemic issues that might take a bit longer or reprioritization of budget, then we're talking about including the executive level."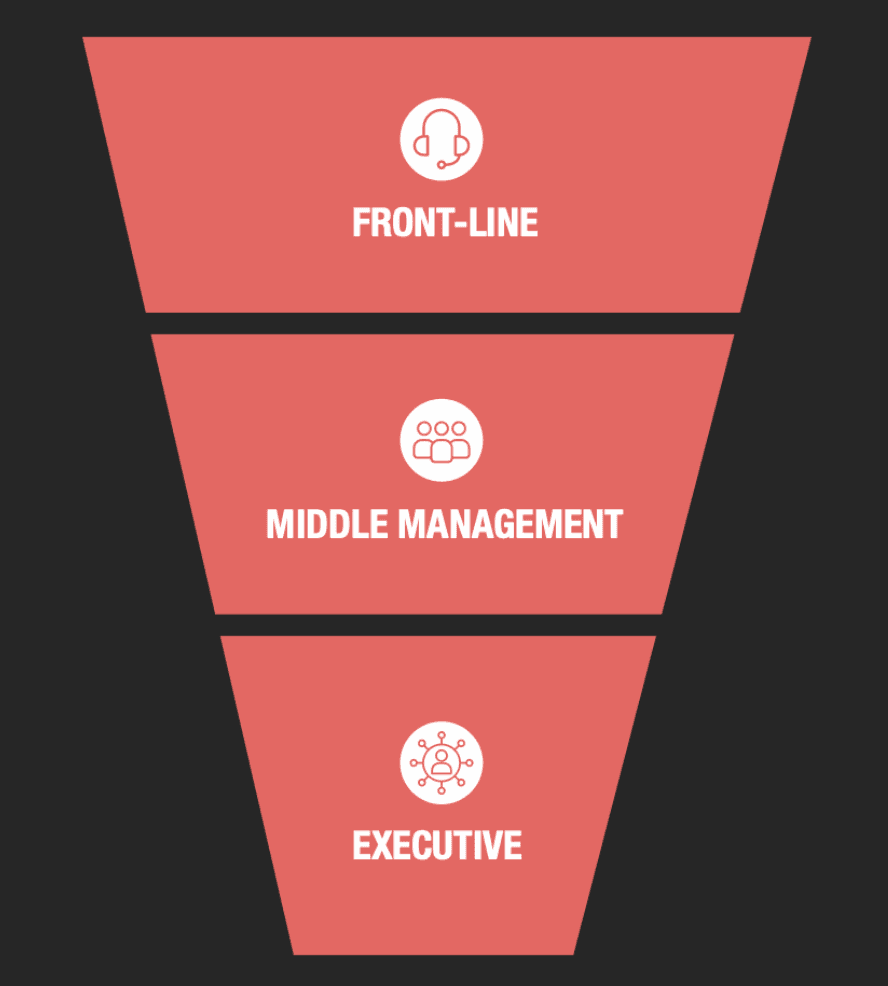 Management and above are often aware of bigger, more strategic things happening throughout the company, such as product or cost changes.
That's what makes them a great option to close the loop with that type of feedback, especially when a centralized team may not know how to respond to certain comments.
"I think when we talk about closing the loop at all levels, this is where we start to see how different levels of an organization have a different responsibility in closing the loop." said Cary.

"I also think people don't close the loop because they're afraid of what they're going to hear or have the wrong answer, but the trick is: just get involved. Everyone should [close the loop] at least once."
3. Set targets
A great target to set (which shouldn't come as a surprise by now) is speed — how quickly you follow up with customer feedback.
Because as Beatrice said, "If you don't follow up within 2 days, when is it going to get done?"
It's critical to hold your team accountable and have a goal to reach, and that should be reaching out to customers between 24 and 48 hours.
Another target that should be set is account coverage. That goal? 100% of accounts!
It's important to have the right technology in place so that you can keep track of your targets and visualize them in one place, which is exactly what our Account Experience software can do.
Our dashboard shows how many open cases you have and who to reach out to next.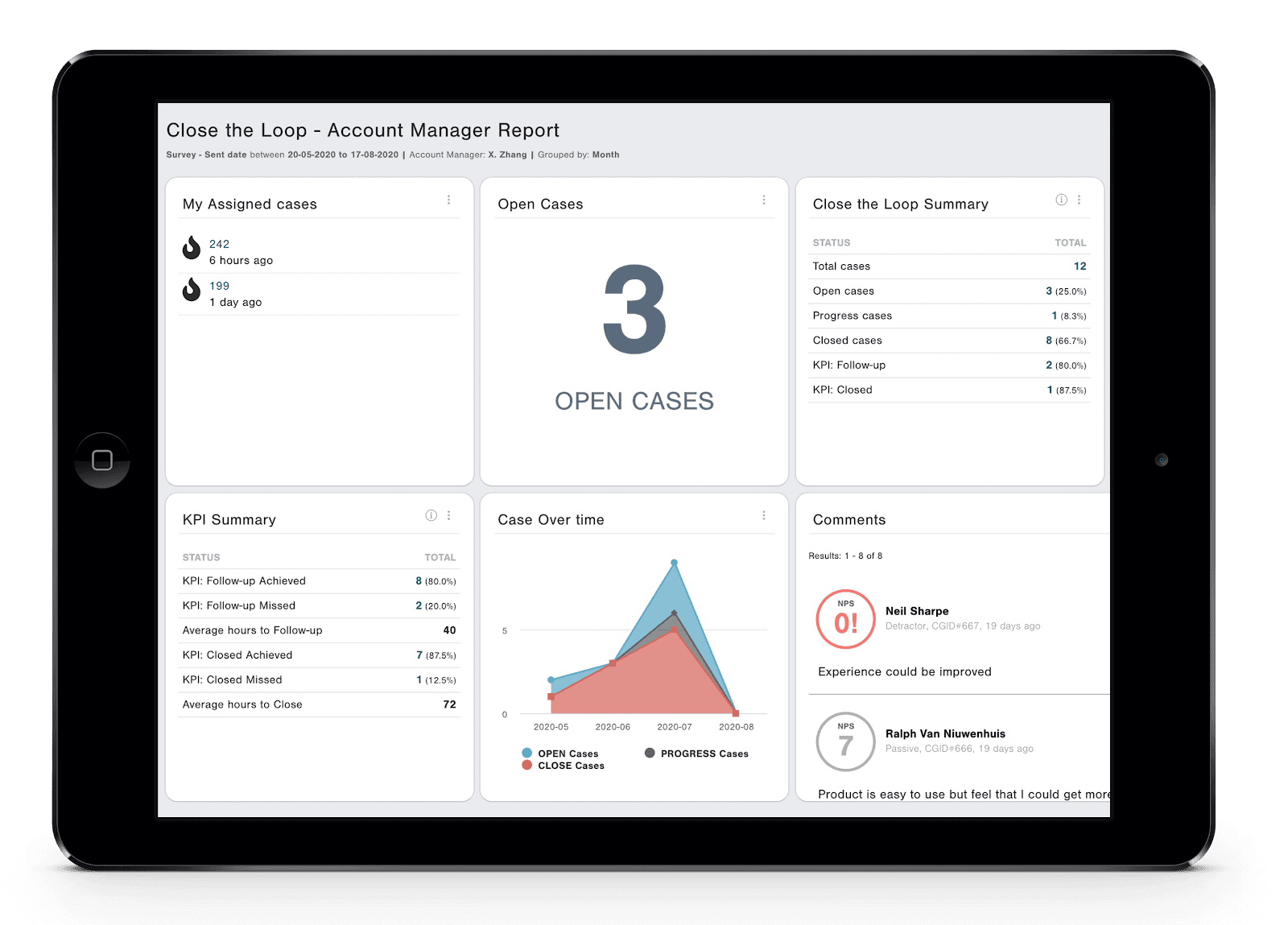 4. Communication is key
There are various aspects of communication; let's start with the most basic: respond.
Pick up the phone and have (an old-fashioned) conversation with that customer! As we touched on earlier with who should close the loop, it should continue to be your frontline first and foremost.
Cary noted, "Yes guys, picking up the phone. [Account Experience] is not a replacement for people. If you trust your team to sell business, get new business, and maintain relationships, you should trust them enough also to pick up the phone and get back to feedback."
Communication is also key not for just external individuals, but internal as well. Every organization looks different, but one element we've seen work well is branding CX programs and creating a culture of customer-centricity — something Briggs Equipment does a great job of.
5. Not all are created equal
Every program is going to be different. This is due to your team size, the types of businesses you work with, various industries, regions, languages, and more.
So, in order to be successful you must prioritize, automate, and focus on revenue.
For your business, if you don't have the resources to achieve 100% account coverage at first: prioritize! Start with detractors or your highest-revenue accounts and work your way down the list.
If that can't be done, focus on the responses that can be resolved the fastest — starting somewhere is better than nowhere. Then, you'll eventually want to automate your process.
"Email campaigns targeted specifically to promoters or passives is an effective way, then, of course, the newsletter that goes out every quarter or half-year concerning what you've learned from the program is even more powerful," said Beatrice.
Lastly, and most importantly, you must be able to view where your revenue lives within each account. This is key to weathering the storm of cut CX programs, and ensuring a high-valued detractor doesn't slip through the cracks.

Cary said, "We see a lot of companies make the mistake when they're receiving 10, 20, 30 pieces of feedback and everyone is putting their resources there. But then one piece of feedback comes in and almost gets ignored is worth a million dollars. The others might be a quick fix, but that's where revenue comes in and helps us prioritize."
With all four parts of our Weathering the CX Storm webinar series, your team should be strapped with the tools needed to prove value in your program.
One of our favorite aspects of this series was our Q&A with attendees and having the opportunity for open conversation.
So, if you were unable to join and have any questions please feel free to reach out to our team!
Interested in seeing our product live? Contact us for a demo.
About the Author