Introduction
Picture walking into a board meeting and your CEO asks you what impact your experience program has had on the company.
If you're not tying NPS to revenue you can imagine how difficult that conversation might be. You may have even been there.
Now imagine being able to pull up the data that proves you've brought in $6 million dollars worth of referral revenue, and increased close rates from 30% to 47%.
That is powerful!
You just went from having a really bad day to being a hero within the organization.
That's exactly what Jennifer Mahoney was able to do at SmartBear.

In the video below, Jennifer walks us through exactly how they run their CX program in a way that unifies customer success and sales.
Implementing Transactional Surveys with Customer Success
Before she implemented CustomerGauge, there wasn't a customer success team at SmartBear.
The team was assembled in February of 2017 and fully functional by June of the same year. CSMs were directly responsible and bonused on upsell and cross-sell opportunities.
In a matter of 6 months, using CustomerGauge to identify those opportunities they were able to create $2.2 million dollars in new business.
By the time she spoke at our event (Monetize! Silicon Valley) a year later, that number grew to $6 million dollars!
So the question is, how were they able to do it?
The answer is simple.
By mapping out the customer journey and implementing transactional surveys they were able to get direct feedback from customers.
CSMs became the point of contact and were able to grow deeper relationships and a better understanding of each customer's unique pain points.
By surveying multiple stakeholders in each customer account, they were able to identify:
Threats: Large customers at-risk of churning
Opportunities: Extremely happy customers that (1) are ready to refer and (2) are likely to be interested in buying more
One of our favourite quotes is at 17 minutes 15 seconds:
"
"Sales came to me and said, 'we just want you to give us a list of customers that I can call that I know love us and that I can sell to.' and I said, 'I can do that. I have a software program that can give you a list of just that."
Jennifer Mahoney
SmartBear
Activating Promoters to Drive Results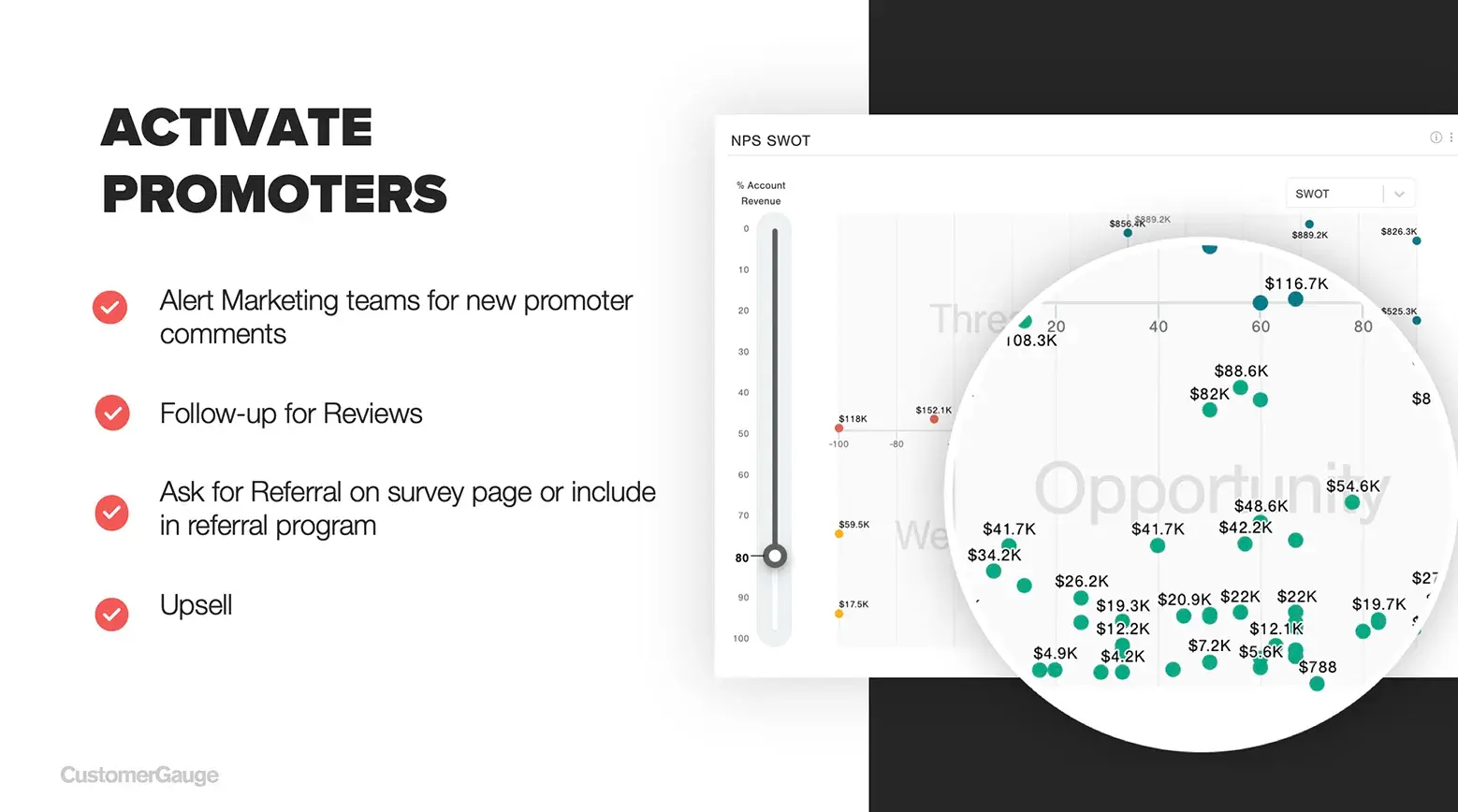 Using CustomerGauge's widget library (check out some more of them here), Jennifer was easily able to understand which customer accounts fell into each category.
Our platform not only runs your NPS program but it brings Account Experience to your organization.
Account Experience pulls customer engagement and revenue data into one place and cross-tabulates it with NPS scores—giving you a holistic understanding of where your threats/opportunities are and how large they are.
Her CSM team could now focus on 'threats' (i.e. large accounts who are unhappy with their experience), while her sales team could focus on opportunities (i.e. accounts ready to grow).

Results
The result?
> $6m in referral business
> 47% reduction in customer churn
You can have the same results! We do it again and again for customers.
Learn more in the video below, or reach out for a software demonstration today.
About the Author