CustomerGauge builds NPS management software for B2B companies with customizable widgets for you to visualize your customer experience (CX) data.
Once connected to your company's accounts, our NPS visualizations (we chose our top 13 to get you started!) share important trends regarding your Promoters, Detractors, and Passives over time.
Having the opportunity to visualize your CX data will:

Allow you to segment NPS for better analysis

Understand your metrics with high-quality designed visualizations all in one place
We'll cover our dashboard and three sections from the widget library within our software, including segmenting by revenue.
And if you're in the B2B space, that section is for you.

You must tie your NPS and CX metrics to revenue outcomes to get cross-organizational buy-in for CX (what we call monetizing NPS) — these visualizations will help with that.
Let's start creating your NPS dashboard by first looking at the big picture:

Understand & Analyze Metrics in an NPS Dashboard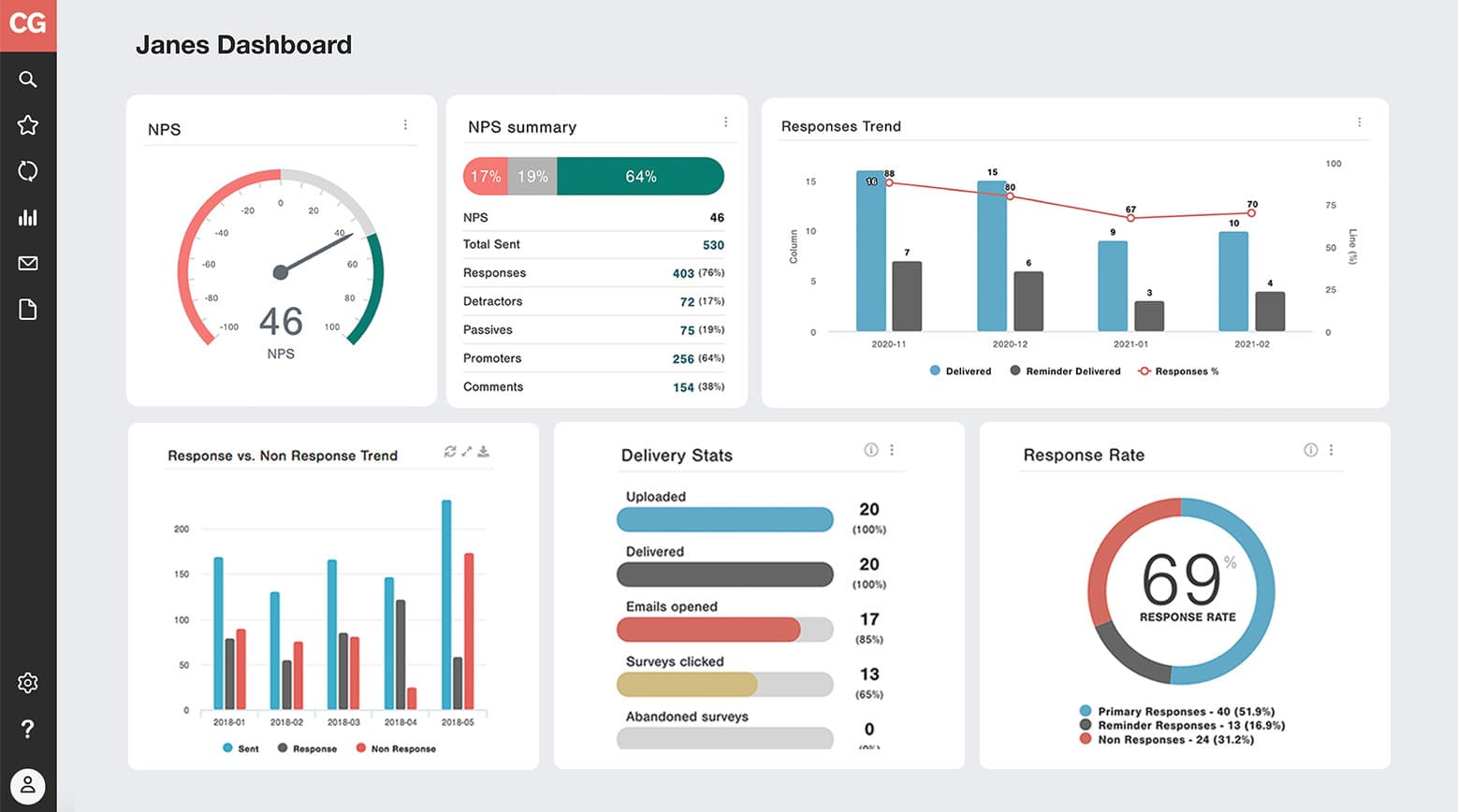 Before we share details on individual widgets, it's important to understand an NPS dashboard entirely.
You no longer have to oversee siloed data and manual work with the new way of tackling accounts.
Our Account Experience™ software & methodology provides you and your team with everything you'd need to drive growth through Net Promoter.
How? You'll have the opportunity to truly understand and analyze real-time daily feedback to learn where customer satisfaction lies.
Add automatic reporting, (the imperative) integration of revenue with CX data, closing the loop functionality to tackle churn, identifying upsell opportunities with NPS, and winning referrals and business-changing metrics will always be at your disposal.

So, when you head into a dashboard for the first time, you can customize it with widgets that are most important for your business to track.
Above is a birds-eye view of a complete CX program — look at all that data!
If you:
✓ Are struggling to send, receive, and act on feedback
✓ Find data is siloed from team to team with no true strategy
✓ Want to decrease churn and increase customer loyalty

It's time to build your own NPS dashboard and find which widgets will make an impact.
5 Ways to Visualize Your Net Promoter Score
In this section, we focus on the different ways to visualize the NPS score itself without any cross-segmentation.
1. NPS performance gauge
The most simple and effective way to represent your Net Promoter Score visually is through a gauge.
While it doesn't bring much in the way of actionable analysis to your score, the use of red, grey, and green is a great way to show company performance across your organization without confusion.
Discover: 4 Ways to Answer 'What is a good NPS score?'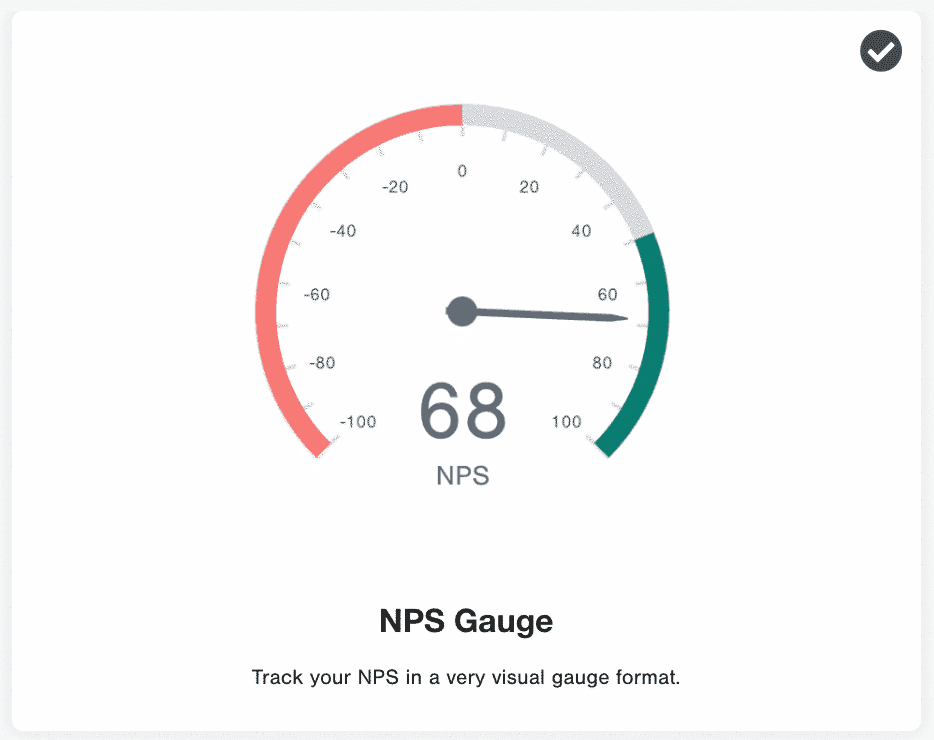 2. NPS by frequency
The NPS frequency widget in the CustomerGauge dashboard is another very simple (but powerful!) tool to convey NPS performance.
Each bar in the chart shows the distribution of scores across each of the potential score options (0-10). Not only does it let you view the chart, but you can also click on any part of the graph and it will bring you to the accounts that gave you that score.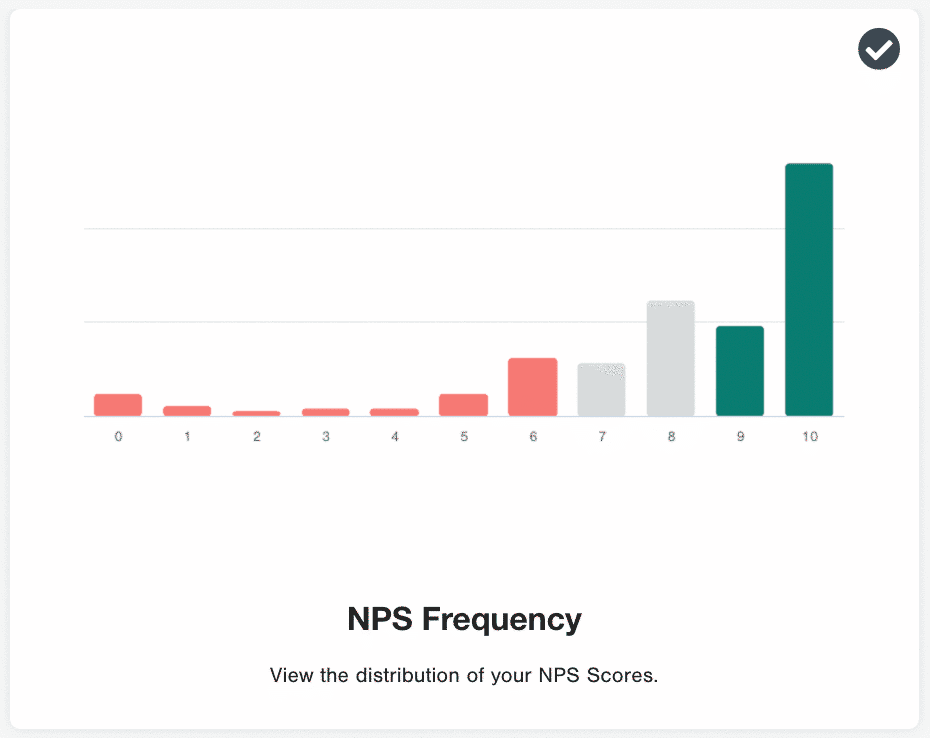 Whether the majority of your scores are in the green, like in the below example, or not, will be crystal clear for the reader. The addition of frequency volume and percentage statistics clearly indicate an NPS survey's success.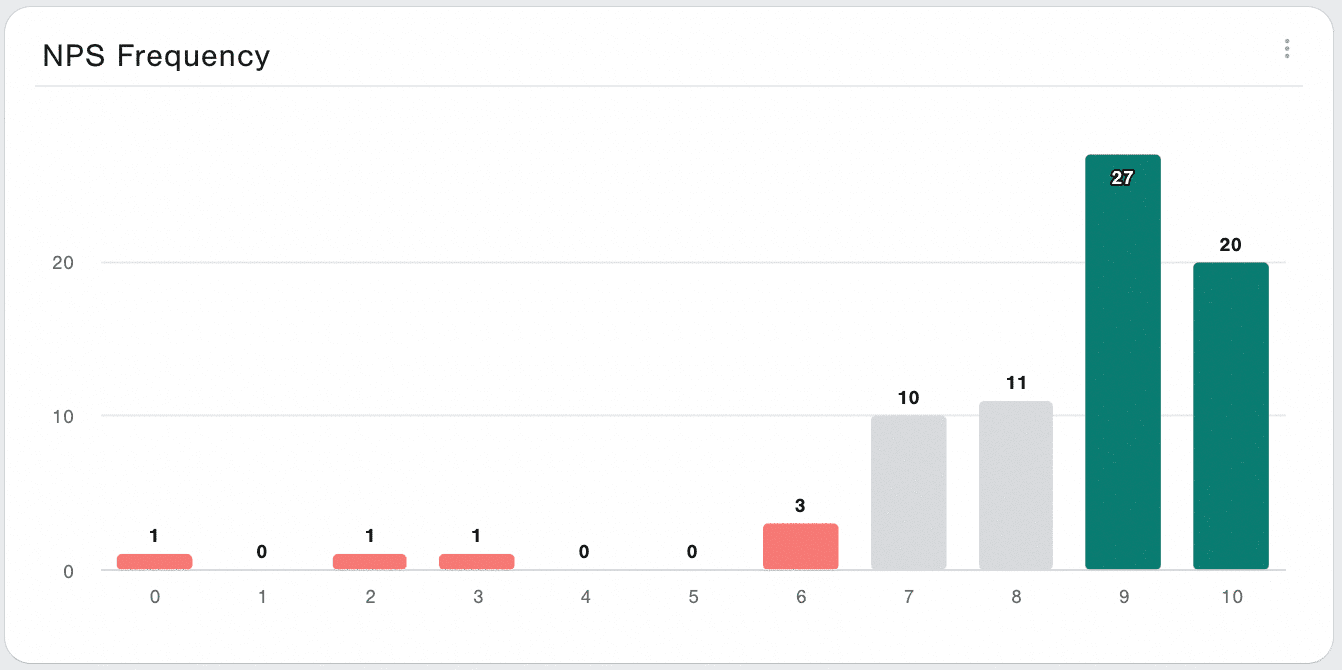 3. NPS stacked column data
Utilizing a stacked column graph segmented by month or quarter is popular because of how they visually represent the trend of the three NPS groups: Detractor, Passive, and Promoter. Plus, like every other, you can click into a segment and be taken right to those accounts that fall under those categories.
You can also view responses, non-responses, and comment.
With our two different widget options, you have the ability to view by trend or segment to get a closer look at each of your customer's industries.
It may be difficult to compare like-to-like. However, if you survey the same customers each time, improvements could be down to differences in who was surveyed rather than progress made to the customer experience.
4. Net Promoter combo
Our NPS combo visualization widget shows a stacked chart of NPS over time, paired with other factors impacting your NPS score.
For example, in the image below, we tracked the volume of Detractors, Passives, and Promoters with an overlay of the response rate. This normalizes the responses to some extent, so that the reader of the graph is aware of other factors, like a low response rate, that could be contributing to a rise or fall in NPS score.
5. NPS via a data table
Similar to the stacked NPS charts above, the popular trend table segments your survey respondents and then assesses performance by chosen time period.
Some people work better with hard data rather than color-coded graphs so this is a great alternative to add clarity to your NPS dashboard.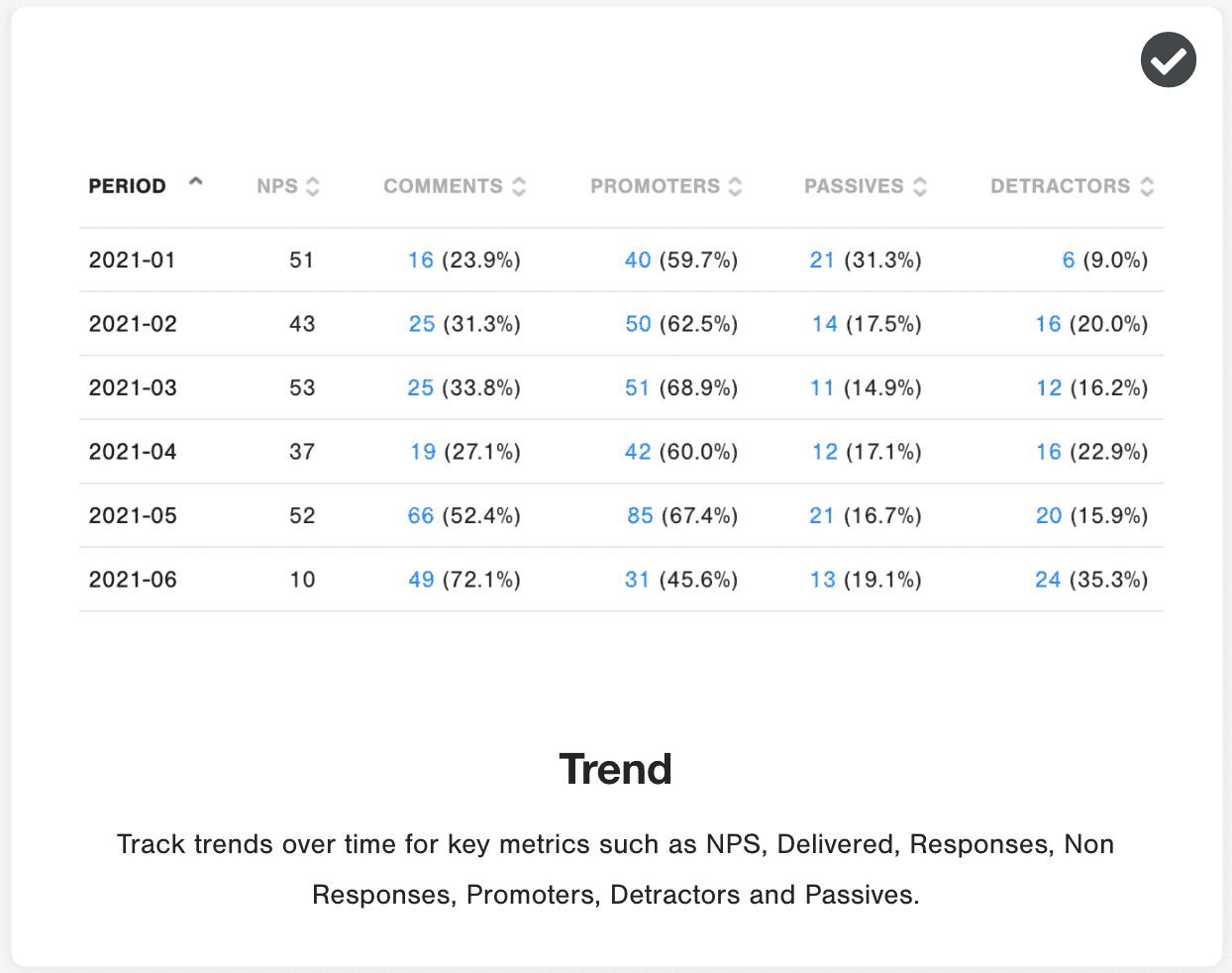 4 Ways to Bring Segmentation Into Your NPS Visualization
You put together the first stage of your NPS dashboard and it's lookin' good!
If you're eager to dive deeper into the data, segmentation is how you'll break it down and reveal more specific details about each of your accounts.
Let's go:

1. Loyalty spectrum

The loyalty spectrum widget is a powerful tool to get your NPS analysis started.
It shows your NPS survey response distribution by Detractor, Passive, or Promoter, segmented by a factor of your choice.
Popular segments we see are B2B vs B2C customers, the language of recipient, region of the recipient, the touchpoint (useful for transactional NPS surveys), and by account revenue value.
Each of these lets you dig deeper into the nuance of your score.
2. Driver loyalty
Our fleet of NPS driver widgets includes waterfall charts, loyalty charts, scatter plots, and other tables.
Once you, or your NPS software, have calculated each driver's contribution to the overall NPS score, an NPS driver segmentation is a great way to visualize it.
With the Drivers Loyalty widget, you can quickly see what the most important drivers of satisfaction (and dissatisfaction) lie with your customers.
Adding this extra level of analysis lets you understand why accounts are rating you the way they are.
3. Response segmentation
Whether your NPS surveys received a response or not is a telling signal.
Disengaged customers typically have a low response rate, a sign that they're likely to churn in the future.
By segmenting by customer account or region (or whatever you'd like), the below chart reveals areas of low performance that your team can work on.
💡 Top tip: Closing the loop in under 48 hours encourages a higher response rate!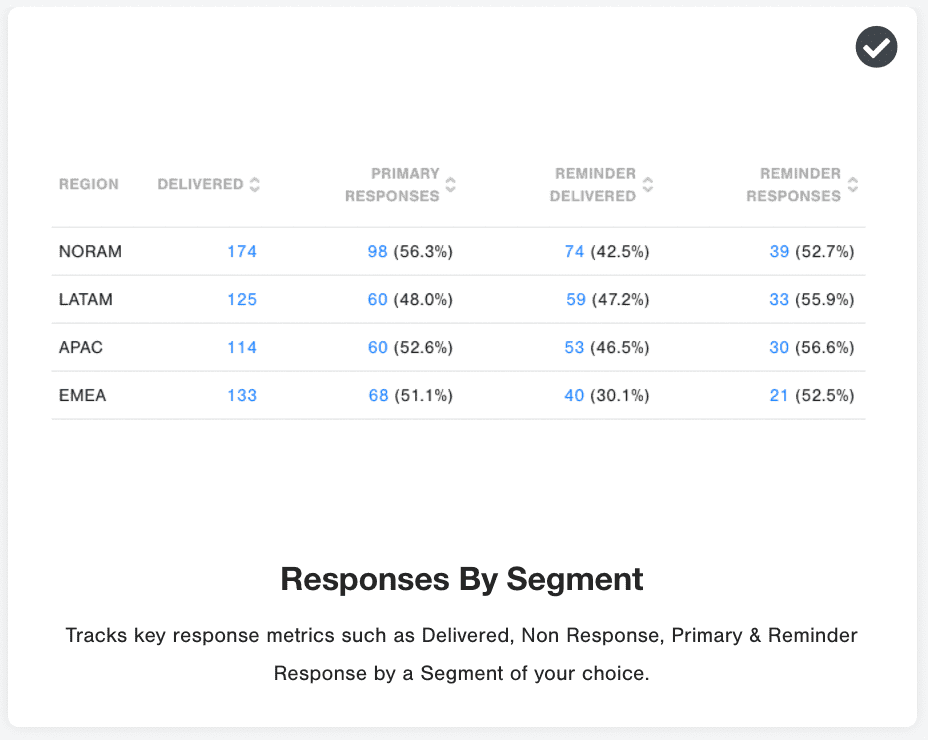 4. NPS tag table
Our NPS tag table visualization is a continuation of our AI analytics capabilities.
Within CustomerGauge, text and sentiment analytics is used to understand the free-text survey field.
We recommend that our customers offer a free-text space for their customers to leave a comment. This often translates into fruitful feedback to learn from.
The NPS tag table takes all of those free-text responses, identifies common themes and topics, and lets you know the volume and sentiment of each one.
This widget is really popular for CX research because it doesn't just show you what topics customers care about, but also which ones inspire the most strong emotions — it's a love/hate relationship.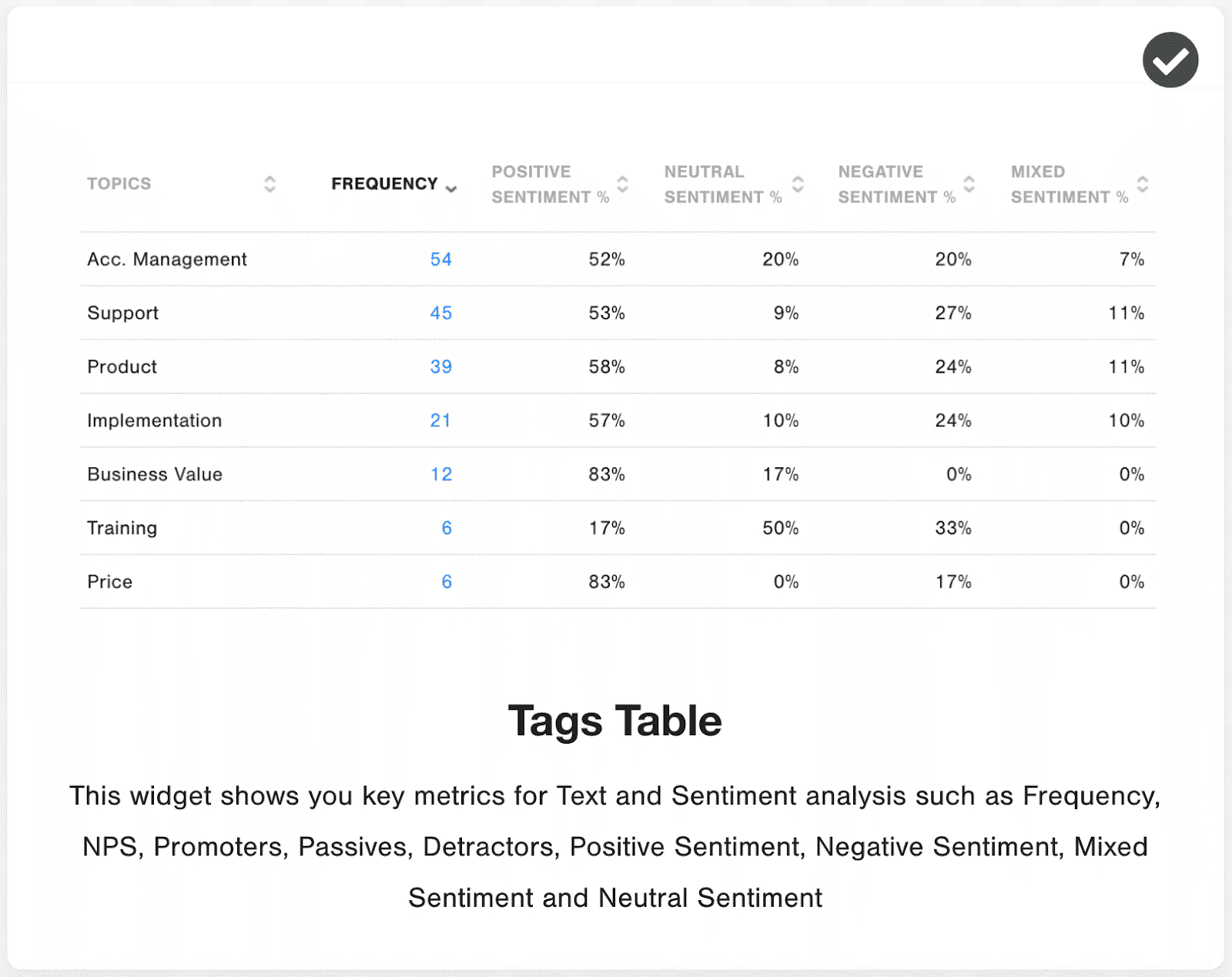 4 NPS Visualizations That Drive Growth: Segmenting by Revenue
If you aren't tying your NPS data to revenue, you're missing the mark.
One of the most important things you can do for your business growth, CX program, and customers is to tie your NPS score to financial outcomes.
We make it seriously easy for our customers to get started with our growth-focused widgets which all share incredibly valuable information.
Now you're only four widgets away from creating a powerful NPS dashboard! Put everything together and learn how to pair your customer data and revenue.

1. Average spend of each loyalty bucket
Our revenue simulator widget is extremely impactful.
It shows a snapshot of your company's financial health by tying the score of your customer to the annual revenue they bring in for you.
The effect is to show you how much of your overall annual revenue sits with promoters (safe) vs detractors (at-risk) so you can turn up to your management meeting with clarity on why CX needs investment this year.
We've also added a slider so you can simulate the impact of converting more detractors into promoters — a great way of getting buy-in for a powerful closed-loop process.
2. NPS Lifecycle Visualization
The NPS lifecycle widget in the CustomerGauge NPS platform is one of our most powerful for B2B businesses.
The lifecycle widget utilizes the Pareto principle (when adapted to business, it states that roughly 80% of your revenue comes from 20% of your customers) to assess the health of your top customers.
It first takes a look at your highest value customers and divides them into top 80% of revenue vs bottom 20%. Leveraging the NPS score, it divides those customers into "at-risk" (i.e. their overall NPS score is less than -20) and "safe" (i.e. their overall NPS score is more than 20).
Critical to the visibility of your customer health is the last column, "unknown." It tells you how much revenue is unaccounted for (when they didn't respond to the survey).
Would you be comfortable knowing $9.2m in revenue isn't filling out your NPS surveys?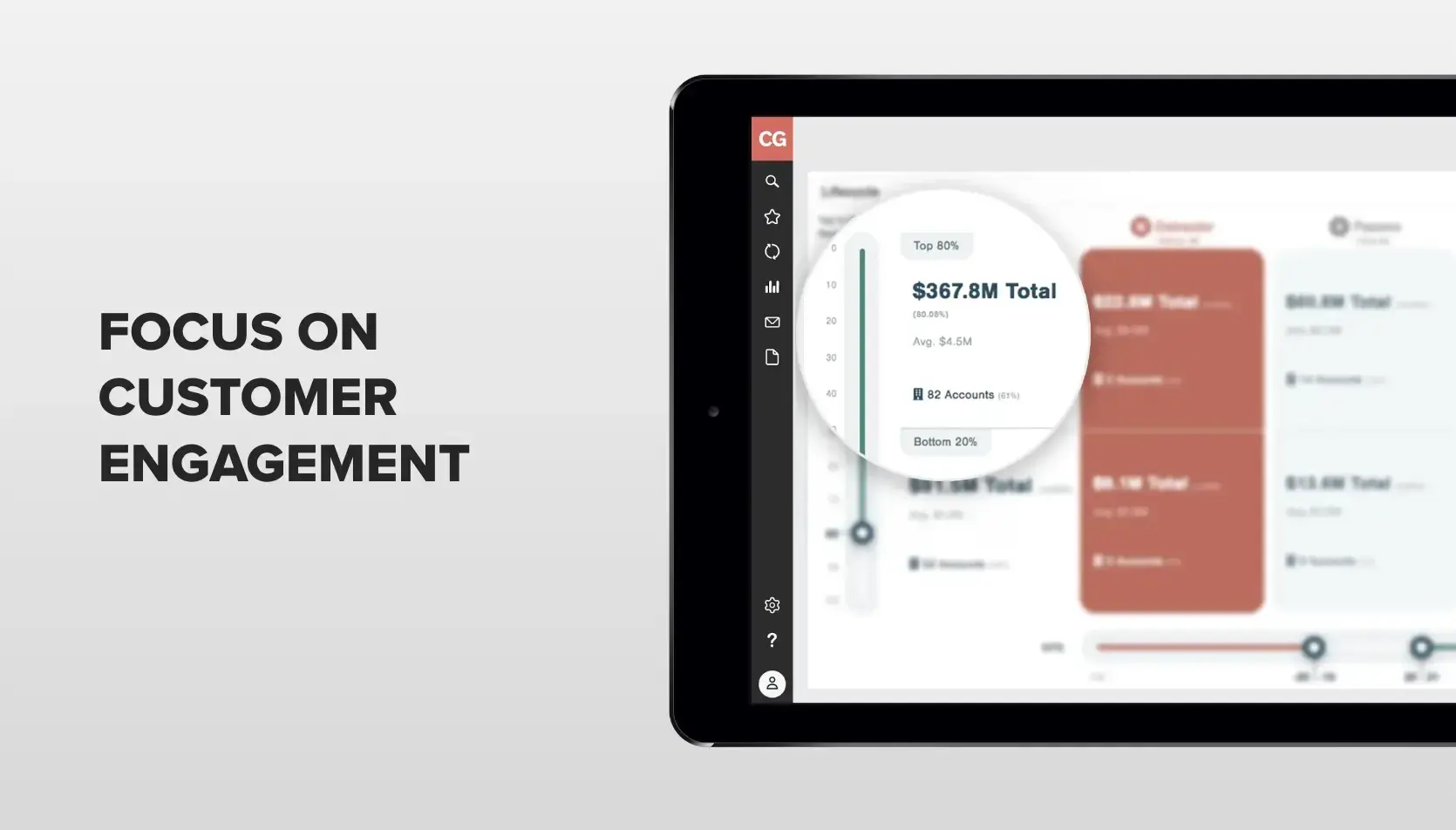 3. NPS SWOT
The NPS SWOT (Strengths, Weaknesses, Opportunities, Threats) helps to visualize the opportunities your customer base represents.
SWOT uses both the NPS score and the annual revenue of each customer to determine their place. An opportunity, for example, is a customer with a high NPS score but low revenue (and an opportunity to upsell into that account, since they're so happy with your service).
On the other hand, a threat is a customer account with a low NPS score but high revenue — a high-value customer that's unhappy, not ideal.
4. NPS absence of signal
We'd rather our customers be unhappy and give us feedback than completely disengaged — crazy, right? Not so much as we've been sharing how important Detractors are.
Although Detractors aren't happy, they're leaving important feedback on how you can improve (which is so valuable!) And Detractors are more likely than any other group to become future Promoters, which is the goal.
🚩 It's when someone isn't providing any feedback that your red flag should go up.
Our absence of signal graph indicates whether a customer is disengaged or not. By integrating several customer touch points (customer support, surveys, quarterly reviews) you can track whether that account is being energized throughout the year.

If you see a lot of empty engagement signals on a high-value account, it's time to act fast to prevent churn.

Get Started On Your NPS Dashboard (& See Which Companies Are Crushing It With Theirs)
We shared our most powerful widgets to motivate you to create an NPS dashboard of your own.
We have tons more widgets like these in our customer experience software and continue to help B2B companies run their entire NPS programs, including closing the loop and accelerating customer referrals.
Request a demo today to learn how we can help your company tackle churn and grow faster using NPS!
In the meantime, check out how Wajax used CustomerGauge to discover their Promoters are worth double their Detractors.
About the Author