Medallia vs SurveyMonkey vs CustomerGauge: three heavyweights in the customer experience (CX) space, but what's the difference between them? What does each offer, what sets them apart, and which one is the right CX solution for you?
Choosing the right CX management tool can feel overwhelming at first. Look a little closer, however, and you'll find that there are important differences.
Medallia, for example, is known as an established enterprise CX tool, while SurveyMonkey typically caters to small businesses and offers highly adaptable, but relatively simple, surveying capabilities.
CustomerGauge is distinguished by its impressive B2B features and has even been ranked by Gartner as the #1 voice of customer platform for B2B.
Curious to find out more? Let's get started.
Introducing Medallia, SurveyMonkey, and CustomerGauge
Medallia

Medallia is a popular CX tool and one of the biggest brands in the market. Its strength lies in its versatility and ability to easily perform cross-functional tasks. In fact, it boasts the highest number of different functions compared to its competitors.
Through its sub-division, Medallia Athena, Medallia uses AI and machine learning to detect patterns, uncover issues and opportunities, and predict behavior.
Medallia typically provides CX management software to larger organizations, including those with large and complex multi-enterprise structures. It's particularly popular among enterprises working in the financial services, technology and telecommunications, and retail sectors.

SurveyMonkey
SurveyMonkey has long been known for doing exactly what its name suggests (the survey part at least, we're not quite sure where the monkeys come in). It's an online survey platform that was founded in 1999 and grew rapidly throughout the 2000s to become the go-to place for quick, easy (and often free) surveys.
SurveyMonkey boasts more than 20 million active users, making it by far the biggest player on the market. But, the biggest doesn't necessarily mean the best, and, when it comes to free products it's important to remember that you could get what you pay for.

CustomerGauge
CustomerGauge is a CX solution designed specifically with B2B brands in mind.
It helps companies manage every part of their customer experience management (CXM) program, from surveying to closing the loop on customer feedback and linking their CX data to revenue.
On that last point (combining customer insights with revenue), it's important to note that CustomerGauge is the only solution that does this. It's what makes the platform stand out from the rest and renders it immensely valuable.
CustomerGauge's focus is on Net Promoter Score (NPS) surveys. Yet, these are complemented by other customer satisfaction and engagement metrics to give you a complete picture of your customer activity.

Medallia vs SurveyMonkey vs CustomerGauge: What Gartner Says
In 2020, Gartner released its Critical Capabilities Report, which provides a detailed account of how vendors perform against real-world use cases.
The report details product capabilities like advanced case management, customer journey orchestration, and advanced predictive and prescriptive analytics from the world's top B2B vendors and ranks them by use case.
In the report, Gartner ranks CustomerGauge, with a score of 3.42, as the highest performing product for a tool with a B2B use case. Medallia comes 2nd with a score of 3.38 and SurveyMonkey comes 8th with a score of 2.36.
Medallia vs SurveyMonkey vs CustomerGauge: G2's Verdict
G2 is one of the most widely used online customer survey aggregators. It also provides a useful comparison tool.
You'll see CustomerGauge comes out on top for ease of admin, quality of support, and for its overall rating. SurveyMonkey performs slightly better in terms of its ease of use and ease of setup.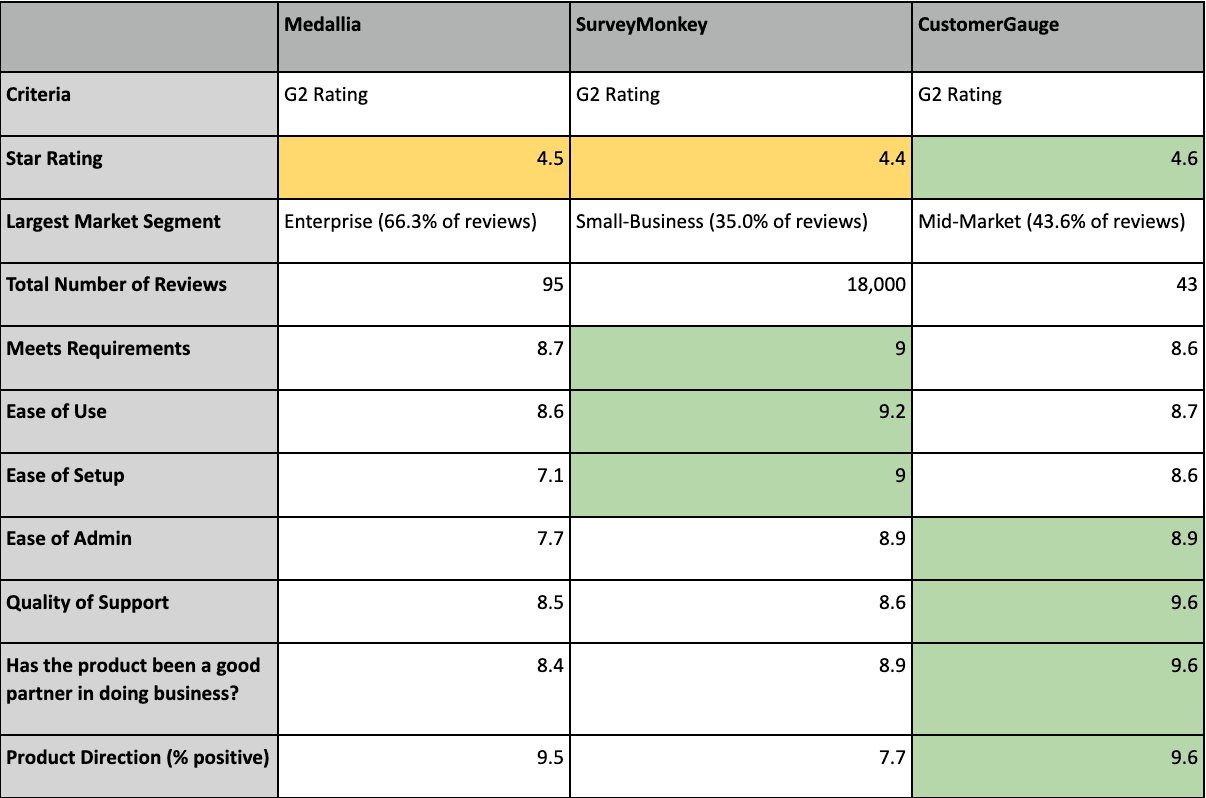 What Customers Say
Medallia Customers Say…
Strengths
The majority of Medallia's reviews are positive, many of which praise how easy it is to navigate.

Cautions

Critics, however, feel that Medallia doesn't offer a positive experience to their end users, and that it fails to deliver on its promises.

SurveyMonkey Customers Say…
Strengths
SurveyMonkey is also often commended for its user-friendliness. On G2, reviewers have said:

Cautions
While the majority of feedback on SurveyMonkey is positive, critics feel frustrated by having to pay after opting for the free version. Others dislike the platform's reporting functionality.

CustomerGauge Customers Say…
Strengths
CustomerGauge users highlight its impressive NPS capabilities and the customer service support they receive.

We optimized our CX program by adding multi-language NPS surveys, which allowed us to tap into a wider audience and increase the amount of valuable customer feedback." (Customer success specialist, mid-market)
Pros and Cons of Each
Medallia
Pros
Robust and flexible. Medallia's real strengths are evident in how it handles complex company hierarchies and in how easy it is to use. Even if you're managing data from a large organization that changes frequently, Medallia's strength and opportunity analysis is intuitive and easy to understand.
Impressive features. Gartner scores Medallia highly in terms of its analytics and insight, automated action, and data collection capabilities.
Enterprise focus. If you're a big business, Medallia has been built for you.
Cons
Expensive. Along with Qualtrics, Medallia is among the more expensive CX solutions out there.

Stronger for B2C. Medallia scored highest in Gartner's ranking for B2C enterprises, making it a worthy contender if this is your business model.
SurveyMonkey
Pros
Ease of use. SurveyMonkey is all about making it really easy to create questions and collect and analyze data from respondent groups of all sizes. This might be a few dozen people or more than a million. It's up to you.
Large question bank. One of the most celebrated of SurveyMonkey's features, the platform's question bank provides pre-made questions that have been organized into different survey categories, including customer satisfaction, community, human resources, political, non-profit, and more.
Additional reporting features. SurveyMonkey can also build charts and create PDF reports.
Cons
Poor survey design. The outdated style of SurveyMonkey's surveys has come under scrutiny over time. Critics argue that the design may dissuade people from responding.

Limited analytics and action insights. Once your survey results are in, SurveyMonkey doesn't offer much guidance when it comes to what you should do with your results. This may or may not be a con for you, depending on whether you're looking to use your results to make meaningful interventions to your CX, or are simply searching for high-level insight.
CustomerGauge
Pros
Live automated surveying. By automatically capturing and distributing feedback from your customer accounts to teams in real-time, CustomerGauge's solution is comprehensive.
Customer revenue analysis. CustomerGauge helps you to understand how your customers feel about your business, demonstrates how often they engage with you, and shows how much value they bring to your business. This link, between CX and revenue, is unique to CustomerGauge and is designed to reduce customer churn, encourage upsells and cross-sells, and promote news business.
Closing the loop alerts. CustomerGauge helps you act on the feedback you receive by helping you to set targets and alerts for closing the loop.
Cons
B2B focus. CustomerGauge is specifically designed for B2B brands. That means it may not be the right fit if you're selling directly to consumers.
Unfit for academic research. CustomerGauge is ideally suited for commercial contexts, rather than academic research (where platforms like SurveyMonkey are often used).
For B2B companies searching for robust solutions that both improve CX and drive revenue growth, CustomerGauge can do that and more.
Request a demo to find out!

About the Author