Upcoming Opportunities for Growth
According to PwC, depending on the channel customer expectations and motivations will be different. However, low price wins across all channels. When asked "thinking of your favorite retailer, why do you shop there?", 64% said good prices. In comparison, when asked "What has been your main motivation for buying online", 45% said that it was more convenient. Here are more trends that will shape the future of the multi-channel industry: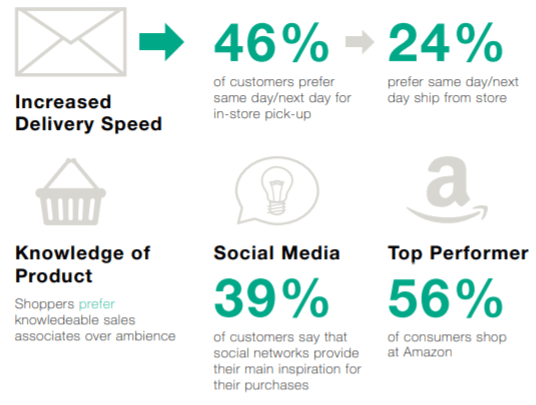 Apple
In 2017, Morgan Stanley conducted a research on the smartphone industry in the USA. The AlphaWise survey has revealed that Apple is far ahead of the competition in terms of customer loyalty. Apple's iPhone was reported to have 92% retention rate, with the percentage being up from 86% during the same time last year. The multi-channel retail giant is not only enjoying one of the highest retention rates possible, but also a very high Net Promoter Score. Apple tops NPS rankings in a number of important categories, including smartphones, tablets, and laptop computers.
Let's discover how Apple has increased growth and retention through customer engagement and NPS:
NPS to gauge health of the customer relationship
Apple is one of the biggest advocates of NPS. The company introduced the NPS system back in 2007 and since then has been systematically listening to customers and managing its business in response to their needs. Apple's feedback surveys include the NPS question, along with an open-ended follow-up question: "Anything else on your mind?". NPS results help Apple better understand the health of their customer relationship and pinpoint key customer touch points along the customer journey.
Since rolling with NPS, Apple has achieved one of the highest scores in any sector, reaching 89 in 2016. However, the retailer's high NPS did not happen by pure luck. It was achieved through carefully listening to customer feedback, quickly closing the loop and engaging all Apple employees with NPS.
Engage all employees with NPS
Apple's centralized NPS team uses customer feedback to better understand the reasons that turn customers into promoters or detractors. Furthermore, Apple's team does a daily standup, where employees review the NPS feedback received and discuss how to adjust their work accordingly. In this way, the company makes sure its employees understand the importance of paying attention to customer feedback and delighting customers. Finally, Apple makes sure employees know where they stand among their peers in terms of NPS and where their stores stands relative to the rest of the stores in the region. In this way, the company further engages all employees with the NPS program.
Quickly close the loop
Following an NPS survey, Apple store managers call detractors within 24 hours. Research has found that companies that close the loop quickly after receiving customer feedback, experience a 10% increase in retention. This is even more important when it comes to closing the loop with detractors. Apple has found that following up with dissatisfied customers 24 hours after com pleting an NPS survey results in great return on investment. Reichheld highlights that detractors that have been contacted have purchased subsequently more Apple products and services than others.
About the Author