You didn't land on this article to discover that existing customers are 60 to 70% more likely to buy a new product or service and or that they're 30% more likely to spend more on their average order over time.
You're here because you're well aware of the value of customer retention.
That's why you're searching for fool-proof customer retention strategies that leverage customer feedback to deepen relationships, build trust, and improve your bottom line.
What that really means? You want to keep your existing customers happy.
Here are 7 customer retention strategies to improve retention to help you do this.

7 Practical Customer Retention Strategies
1. Track NPS Using Relationship & Transactional Surveys
Conducting the research necessary to have a firm handle on your Net Promoter Score (NPS) should be the starting point of any customer retention program.
Your NPS will help you understand the drivers behind your retention rate.
What do your customers love about your products and services? What frustrates or irritates them? Are they singing your praises to friends and family, or are they so disgruntled that they're on the edge of churning?
This information is key to account management (sales or success) teams by identifying accounts at-risk of churn (those with poor engagement or response rate, or leaving NPS scores below 7) and, critically, identify accounts ready to grow through upsell or referrals.
Both relationship and transactional surveys will be a critical part of this process.
Relationship NPS surveys gauge the overall experience with your brand. If done at regular intervals, with multiple stakeholders in each account, you can clearly track loyalty and identify any churn risks.
Transactional NPS surveys, on the other hand, examine the customer's experience at particular touchpoints in their journey with you.
Learn more: Account Experience—The Methodology for B2B Companies to Tackle Churn & Drive Account Expansion with Voice of Customer
2. Measure CX Across the Customer Journey
Establishing good customer experience (CX) in your business doesn't happen by accident.
You need to be actively measuring, analyzing, and optimizing your customers' experience at every stage of their journey.
Cary T. Self, CustomerGauge's VP for Education and Program explained this B2B retention strategy recently in an interview:

"
Having worked with so many companies, one of the biggest mistakes we've all made is to make retention the responsibility of one person or one department. This is where most companies go wrong — because to better understand how to retain a customer you have to understand the customer journey, where each department engages with the customer and the impact each interaction has on overall loyalty.
You should also be using this data you collect to grow your business. This may sound obvious, but research for our report, The State of B2B Account Experience, has shown that 62% of businesses aren't calculating the ROI of their customer experience efforts.
This makes it harder to secure internal buy-in and to understand the specific financial impacts that each customer touchpoint is having on your retention.
A strong customer experience management strategy can help you do all of these things.
3. Know the Value of Your Customer Churn Risk
NPS surveys will give you a firm handle on your customers.
Who are your promoters (those who are passionate about your brand), who are your passives (those who are satisfied), and who are your detractors (those likely to churn)?
Then, take these categories a step further by really interrogating your data. Of your potential detractors, are there any that are high value? You need to be paying particularly close attention to them. By tying your NPS data to revenue, which is exactly what CustomerGauge's Account Experience is designed to do, you'll have a clear sense of which clients matter most.
Overall, investigating the impact your retention strategy work is having on your bottom line will be an essential part of any successful strategy.
4. Support Analysis With Action
If you're running your surveys effectively, you should be receiving actionable insight to boost your customer retention efforts.
This information is most valuable when your action is informed by financial metrics.
We recommend that you actively interrogate your data and strive to:

Improve specific drivers. Are frustrated customers on the edge of churning because they're unhappy with your onboarding process, your customer service, or your technical support? And which drivers are having the biggest impact on your revenue? Look into these specific drivers closely.
Engage with high-value customers. Monetized NPS, which links your NPS data with your revenue, will tell you how much your at-risk customers are worth. Consider these heavyweights carefully. Reaching out to them first with a reason to stay will make a meaningful difference to customer retention.

Identify upselling and cross-selling opportunities. Are there opportunities for further growth among your promoters? The Pareto principle suggests that 80% of profits come from 20% of customers. Capitalize on this: upsell, cross-sell, and run a referral program to boost retention and, ultimately, grow your customer base, too.
5. Pay Attention to (& Resolve) Absence of Signal
Absence of signal is exactly that: an absence of response.
It's most common among your passive customers, and refers to an account or a group of accounts that have gone quiet. They don't respond to surveys and they don't submit support tickets.
They're there, but you don't hear from them.
If your customers aren't responding to your surveys, you must minimize the absence of signal and maximize engagement by trying different feedback collection methods:

Not filling out email surveys? Try text messages or telephone interviews.

Are they visiting your website often? Hit them with a popup.
Keeping an eye out for absence of signal is critical for improving customer retention. As you track your engagement, take note of which customers aren't responding to you, and make a concerted effort to intervene and find out why.
Doing so will help you to predict churn and preemptively boost retention.
6. Get Serious About Closing the Loop
Closing the loop is the the point in the process where you act on feedback you've received from your customers and reach out to them to tell them what you have done.
This involves both responding to your customers and, if possible, demonstrating that you've taken their feedback on board.
Keep lines of communication open throughout, ask to talk to them more about their issues or address them in your QBR. And, once an issue has been resolved, let them know, "This is what we did as a result of your feedback."
Doing this can go a long way, as we found that companies that close the loop with every customer can increase their retention rate by over 8%.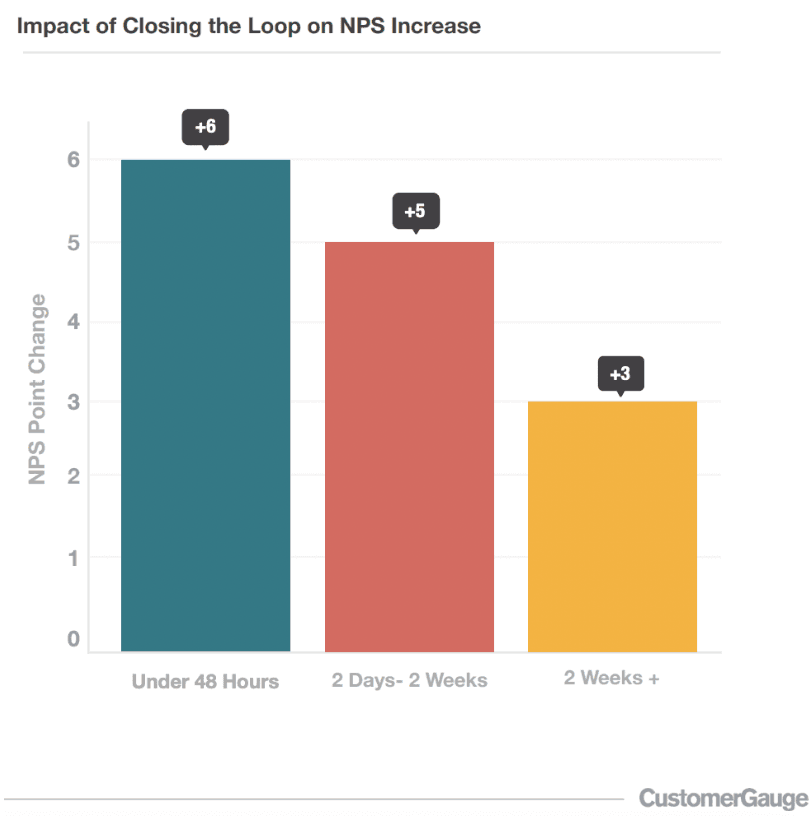 7. Implement a Loyalty Program
Studies suggest that almost 80% of customers are more likely to stay loyal to a brand if it has a loyalty program in place. We mean the incentives, rewards, or discounts that you can give customers to thank them for repeat purchases.
Establishing a customer loyalty program that really works in B2B contexts is a fine art. You've got to consider your diverse customers and create a program that helps you stand out from your competitors.
It can be a very important factor in helping your customers to continue using your products and services over anyone else's.
Drive Customer Retention With CustomerGauge
At CustomerGauge, we're experts in customer experience. We can help you listen to what your customers think and feel about your brand, to improve their experience, boost retention, and grow your bottom line.
Creating customer loyalty and retention can be a lot of work, but you don't have to do it alone.
About the Author