How to Structure Your NPS Survey Questions
Your survey's structure will inevitably affect your NPS response rate. That can be a problem, because the lower the response rate, the less reliable your data. So, how can you structure your NPS survey to get the best results?
Well, to start with, typically, every NPS survey has two questions at its core. They follow a pretty standard format:
The Ultimate Question: How likely are you to recommend us on a scale of 0 to 10? It gives you the best insight into customer loyalty, but it's also a great way to break the ice.

The Driver Question. This is open-ended and requires you to ask why the customer gave that score. "What do you love about our product?", for example, could be a great driver question.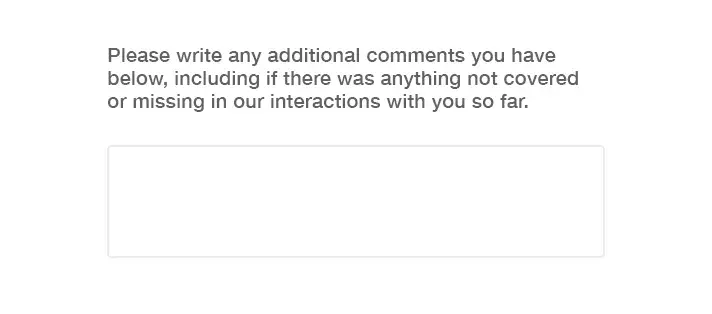 Whichever NPS format you choose (and you can find some options below), these two questions should be included. But they're not the only questions you might want to ask.
Can I Add More Questions to the Net Promoter Question?
You can add more questions to your NPS survey, yes. But be aware. The beauty and effectiveness of NPS come from its simplicity. And the more questions you ask, the less likely customers are to respond.
In fact, our research found a sweet spot. Asking between two and six questions usually gets you the most responses—and the most detailed results.
Asking the Right Net Promoter Score Follow-Up Questions
Our research shows that you have a maximum of questions you can ask without dramatically affecting your response rate. So, you don't have much space to get these questions wrong.
Consider the following:
What are your goals for your NPS program? Are you just getting a first sense of what your customers think? Or do you have specific business goals in mind, like turning passives into promoters? In the latter case, you'll want to ask your customers exactly what you can improve.

Do you have a particular focus? Are you interested in a specific customer segment or touchpoint? Or are you tracking changes in customer loyalty over time? Here, demographic questions can help you understand which customers think what.
It's also good practice to end the NPS survey by asking if you can follow up with your customers. This way, they won't be put out if you keep in touch.
NPS Driver Questions: Wording Matters
Driver questions are the most common type of follow-up question—and they are a must for any NPS survey worth its salt.
Many standard NPS templates suggest asking "What is the reason behind your score?" as a driver question. But it's a bit impersonal. To tease out real feedback, wording the Net Promoter Score question to respond to their initial response can be helpful:
For promoters: What did you love about our product/service?
This will encourage your customers to discuss the parts of their experience that they appreciated, so you can keep doing what you are doing.
For passives: How can we improve your experience?
From customers that aren't promoters, you want to get information on how you can do better. Asking directly encourages customers to be forthcoming.
For detractors: What was missing or disappointing in your experience with us?
If customers are disappointed, you really want to know why, so you can close the loop.
Cascading NPS Questions
Alternatively, rather than relying on text, you can provide customers with cascading questions in your NPS survey design.
Cascading questions are a type of survey in which questions appear in response to a previous question. They're useful for three main reasons:
They keep questions relevant to customers—and therefore keep responses high.

They allow you to more easily identify root causes of any problems customers may have.

They keep surveys shorter and reduce customer effort.
Find out more here: Why You Should Use Cascading Questions in Your Surveys
Other Things to Consider in NPS Question Survey Design
What else must you know to make your NPS survey design perfect? Here are some tips to bear in mind:
Keep it short. It's worth repeating. NPS surveys are powerful because they're short, simple, and demand very little from your customers. Asking too many questions undermines all of this.

Don't mess too much with the Net Promoter Score question wording. Decades of research have gone into the NPS survey question. The standard model is the best option out there.

Send your survey through the right channels. We found that website and phone surveys get much higher response rates than email surveys. Phone interviews have a 42% response rate, compared to 30% over email.
About the Author