Introduction
Covid-19 dealt a major blow to many sectors when it hit in early 2020. For the most part, the telecoms sector wasn't one of them. Telecom suppliers that met the burgeoning demand—while delivering exceptional customer experience—were able to thrive.
Telecom, media and technology consulting firm Analysys Mason expects the industry to continue its upward trajectory in the coming years. An increase in mobile connections, more spending on mobile data, and uptake of fiber services, the firm says, is likely to lead to worldwide telecom growth between 2020 and 2025.
But this is a fiercely competitive sector. And as both demand and competition rise, customers are becoming increasingly selective of the brands they choose. As a result, telecoms customer experience management (CXM or CEM) is quickly becoming a differentiating factor—more than it has ever been before.
Related podcast episode: Experience Learnings From a 100+ Year Old Telco
Let's look into what CXM means in telecoms, why it matters, and how to go about implementing a solution that works:

What is customer experience management in telecom?
Historically, the telecom sector hasn't been known for its exceptional customer service. Its many touchpoints—from onboarding and installation, to customer and tech support, and contracting and billing—have a reputation as sources of frustration rather than satisfaction.
This has severe ramifications for businesses operating in this space, especially as customers come to expect better experiences. Those who are left feeling like their needs have been met are likely to recommend a brand, product, or service to others—and remain a customer.
Those who are left wanting could move their business away or even make public complaints. Both of these actions bring significant financial and reputational impacts.
In telecoms, customer experience management is largely about delivering what the sector is all about in the first place: seamless, efficient and effective communication. Through any means. It's important that businesses operating in this space are seen to walk the talk.
Adopting a customer-centric approach that makes customers feel seen and heard is the best way to go about this.

What are some CEM use cases in telecoms?
In telecoms, the touchpoints customers encounter offer opportunities for better CEM. Customer are likely to be impressed by:

Quick and simple onboarding

Hassle-free installation

Competitive rates

A wide range of services

Accessible customer support available through multiple communications channels

Properly trained staff

Exceptional technical performance

Strong technical support and good communication in the event of any problems

Transparency and accountability

Seamless contracting and billing processes
CEM that is firmly integrated across these use cases makes for a streamlined service and, in the end, a happy customer.
The importance of CEM in telecoms
According to the American Customer Satisfaction Index, the telecom industry receives some of the least favorable reviews in industry surveys. Our own research validates this. Telecoms' Net Promoter Scores (NPS)—the widely-used metric for customer experience strategies—is among the lowest of all the sectors we assess. Typically, the score stands at just 31.
This poor service results in substantial industry churn, which the saturation of providers in the market only enhances. With so many to choose from, customers barely hesitate in replacing their telecoms provider with a competitor.
While losing a few customers may feel somewhat insignificant, particularly for such an in-demand sector, these losses take their toll over time. One study estimates that individual telecom businesses lose up to $65 million a month to churn.
Further research shows that a 5% increase in customer retention, on the other hand, can result in a 25% increase in profit. Building on your existing customer base is better than regularly trying to establish a new one.
By having a firm handle on your customer experience (CX) in real time, you're more likely to address the concerns of unhappy customers before they turn elsewhere.
And by the same measure, you're able to keep happy customers happy by continuing to provide, and improve on, the products and services they need.

The benefits of implementing customer experience management
The benefits of making CXM a priority are clear. In telecoms, a well-executed CXM strategy can:

Boost customer retention: Customers whose concerns are addressed are more likely to remain loyal.


Reduce business costs: Promoters tend to require less attention and therefore cost less to serve. Long-term customers are also likely to spend more on additional services and products, and stay longer.


Improve customer interactions: One study found that 82% of customers do business with a company based on past experience or word of mouth references.


Bolster positive word-of-mouth: Transforming detractors into promoters is a productive and cost-effective way of outsourcing some of your marketing efforts to your fans.


Improve processes and products: Gaining insight into your customers' likes, needs and wants can help you refine your product and service offering, innovate and stay ahead of your competitors.
How can I improve my customer experience in telecom?
Firstly, you don't have to do it alone. Enter the CustomerGauge Account Experience Model—a system that automatically measures and analyzes your customer feedback in real-time.
Account Experience seeks to improve CX, reduce churn and actively grow your bottom line. It does this by starting with your NPS—and taking it further.
In telecom, some 48% of businesses are already tracking their NPS, but 38% aren't bothering to set their scores against CX targets that they can consistently track. Far too few are linking their NPS to their growth.
Related Read: 30+ Telecoms NPS Benchmarks to Compare Against
That's exactly where CustomerGauge's Account Experience comes in. By tracking your NPS alongside your growth, it helps you understand the extent to which your CX is affecting revenue. With this information, you can make specific, deliberate, and informed decisions that can increase your NPS and lead to your telecoms business's long-term success.

What is the Account Experience methodology, and how can it help?
CustomerGauge's Account Experience methodology goes beyond simply assessing customer loyalty, and into the nitty-gritty of how this loyalty (or lack thereof) materially affects your company.
On average, CustomerGauge has helped telecoms firms to increase their NPS by as much as 19 points—from a median of 31 to 50.
In order for it to work effectively, there are a few steps to follow:
Step 1. Measure: You can't know what you're dealing with until you measure it. Measuring NPS is the first critical step and it'll form the foundation of your strategy. It involves two types of surveys: relationship surveys and transactional surveys.
Relationship surveys assess how your customers are feeling every quarter. While this may sound too frequent, our research has shown that companies that conduct quarterly relationship surveys see a 5.2% increase in retention. If you're up-to-date with how your customers are doing, you'll know what you're getting right and what you're getting wrong.
Transactional surveys refer to a specific transaction or engagement. In telecoms, they could be conducted at certain sensitive touchpoints, such as when a product or service is ordered and delivered, when an upgrade is conducted, or when new products or services are released.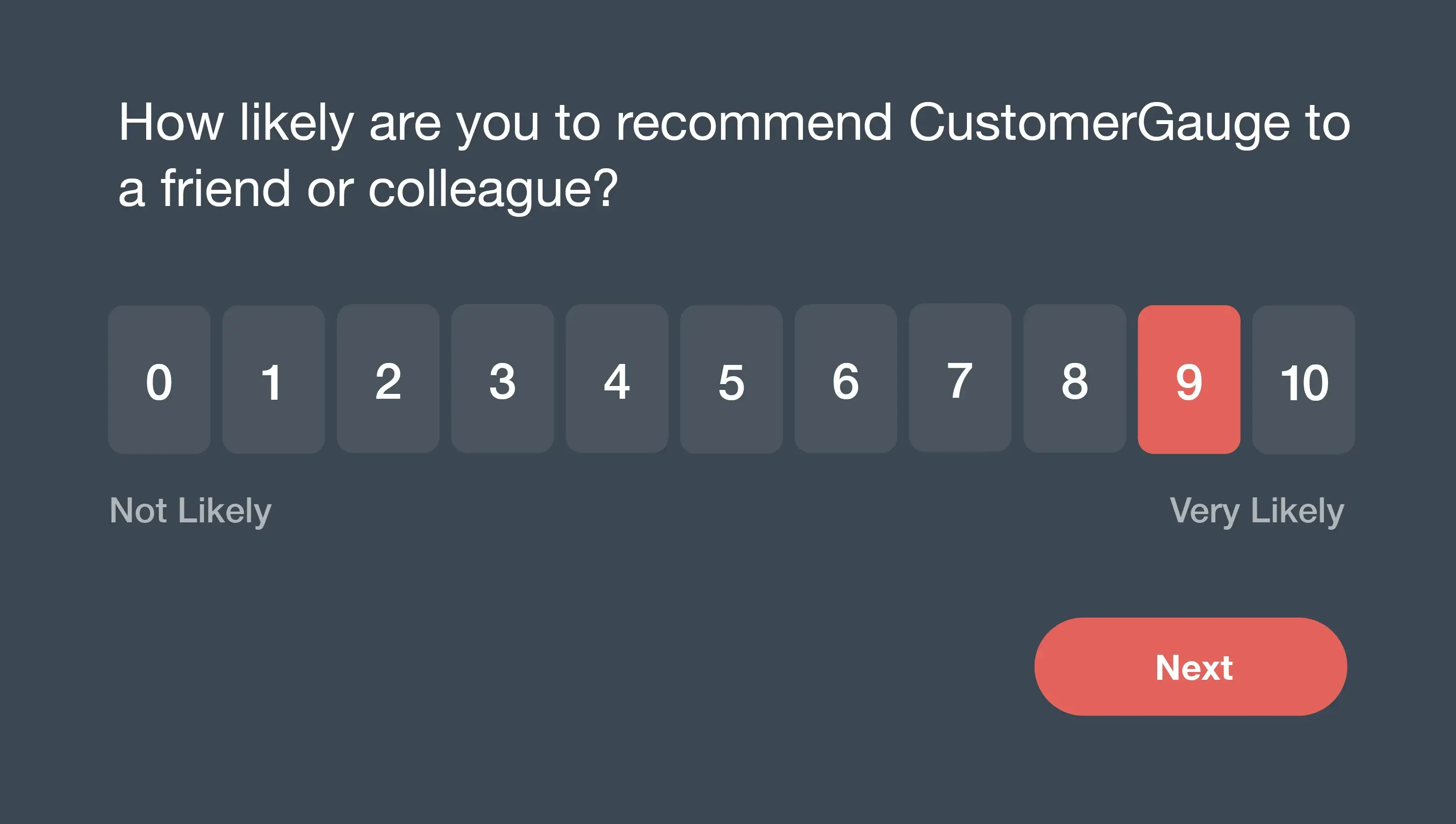 Top Tip:
Collect feedback from multiple stakeholders in your customer's organization. The C-suite and frontline users often have very different opinions and needs, but all of them need to be happy to prevent the risk of churn.
Discover: 7 Strategies to Reduce Churn in Telecoms
Step 2. Act: Accessing the data is just the first step. Now, you need to act on it. Addressing your customers' concerns takes place in two different ways: closing the loop and optimization.
Closing the loop involves addressing your customers' needs. This is rarely a one-size-fits-all approach, and it's best to be prepared to cater to unique concerns with a unique solution. If you can, close the loop within two weeks. But those who close the loop in under 48 hours see the largest impact on retention.
Optimization refers to the process of setting targets for your NPS growth. Our research has shown companies that set targets grow twice as fast as those that don't. Take the time to optimize your strategy by setting goals and actively monitoring your progress towards achieving them.
Step 3. Monetize and Grow: Now, it's time to see the impact of your work. Identify how NPS growth affects your bottom line and put steps in place to boost it by monetizing it, identifying your at-risk and happy customers, and making targeted optimizations.

Start by aggregating your detractors, passives and promoters to understand how an increase in NPS will increase your revenue. You should be able to attribute a specific portion of revenue to any increase in your NPS score.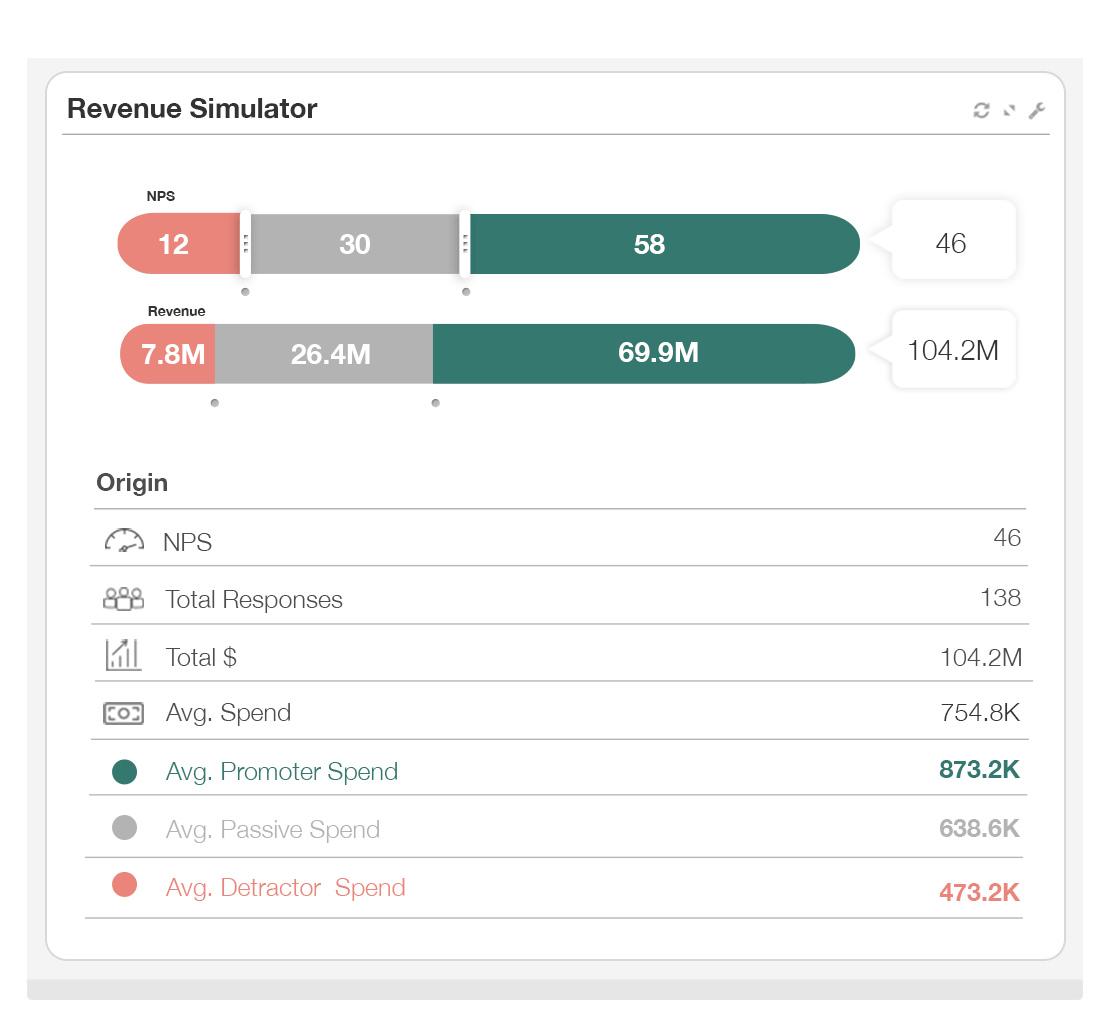 Then, consider which customers are mostly likely to churn. Reach out to them and discuss their concerns. This simple act will often encourage them to stay.
Finally, optimize. Knowing the value of each of your customers helps to drive retention, referrals and repurchases. Focus your new CX improvement projects on the issues facing your highest value detractors, and look for opportunities to cross and up-sell among your promoters as a way of boosting revenue growth.
CustomerGauge makes this process easy. Implement telecom customer experience management tools like our Account Experience Net Promoter Software, and you could boast a 100% retention rate, just like our client, Alchemista.

Three advanced strategies for telecom companies to improve their CX
Looking for practical advice? Here are three ways to improve your CX:

Get the right buy-in: CX is a business imperative, but your C-suite has to understand this if they're going to make it the priority it needs to be. Take the time to demonstrate your CX program's impact on their departments health, efficiency and revenue growth. The effective rollout of your CXM strategy depends on their buy-in and support, so get buy-in early and let department heads be part of the early decision-making process.

Support your CX strategy through technology: Your CXM processes should be a help, not a hindrance. This means that it needs to be easy to use, accurate, and insightful. It also needs to integrate seamlessly across various aspects of your business. CXM is not a siloed undertaking.

Establish yourself as a partner:Make an effort to understand your customers' business, to solve their concerns, and to enhance the offerings they need, and you'll likely feel like a partner to them, rather than a vendor. This distinction can be the difference between loyalty and retention, and a contract failing to be renewed.
For more information on these and other strategies, download our Advanced B2B CX Strategies ebook.
We also invite you to find out more about CustomerGauge's Account Experience methodology, and to listen to Charlotte Dunsterville, CTO at the 100 year old Telecom, Sure, discuss how she implemented a killer NPS program to boost retention.
About the Author