5..4..3..2..1.. 🚀 We officially have take-off of CustomerGauge's all-new Campaign Suite — the most simple and easy-to-use survey campaign builder in B2B experience built entirely from our customer's feedback.
With so many advanced functionalities compared to our previous Delivery Manager, it was only right for our team to share the details before having customers jump in.
Hosting our September Product Launch webinar was none other than our VP of Project Management, Trishaala Chengappa, and our VP of Education and Services, Cary T. Self.
This was a can't-miss event for our customer base as the advanced functionalities are, well, game-changers.
During the webinar, Trish and Cary shared:
A complete demonstration of the Campaign Suite
A thorough understanding of how to use the new functionalities
All major benefits that result from our new improvements
How we connected platform to playbook with Account Experience best practices in mind
...and more!
Whether you missed the webinar or want a refresher on this information-packed session, let's launch right into it.
Meet Your New Experience Co-Pilot
Our customer's feedback was clear: it was difficult to create campaigns and surveys — which our team aims to avoid at all costs.
That's why CustomerGauge Product and Engineering has created a complete end-to-end functionality to manage campaigns across multiple vectors and scale with ease.
But this wasn't just about making survey campaign creation and management easier to use, but also adding incredible new features and increased accessibility for every organization.
At the heart of it all, our goal is to empower customers to seamlessly collect as much feedback from their customers as possible.
Why a Fully Advanced Campaign Suite?
After collecting years worth of feedback from customers, it was time to put it in motion and address their pain points to launch a new, powerful product.
From beginning a single campaign to scaling multiple surveys across different countries and touchpoints, the Campaign Suite is built for everyone.
Plus, the addition of closing the loop with customers through localized alerts is an exciting new functionality that adds to a better experience with the CustomerGauge product.
Trish shared, "From the Campaign Suite, you can control all of your campaigns across multiple vectors that we support and you can actually collect feedback parallelly from your different customers.

We also now cover more than 190 locales that you can survey around the world...we wanted to make sure customers can collect feedback from any part of the world and it's about maximizing those response rates; the right delivery vector makes all the difference."
With this, Cary had to jump in and share his excitement.
"I just want to say 'wow.' That deserves a big wow — accessibility is such a big topic for us in the [CustomerGauge] Academy and our platform. And now here, we're really reaching more people in more ways," said Cary.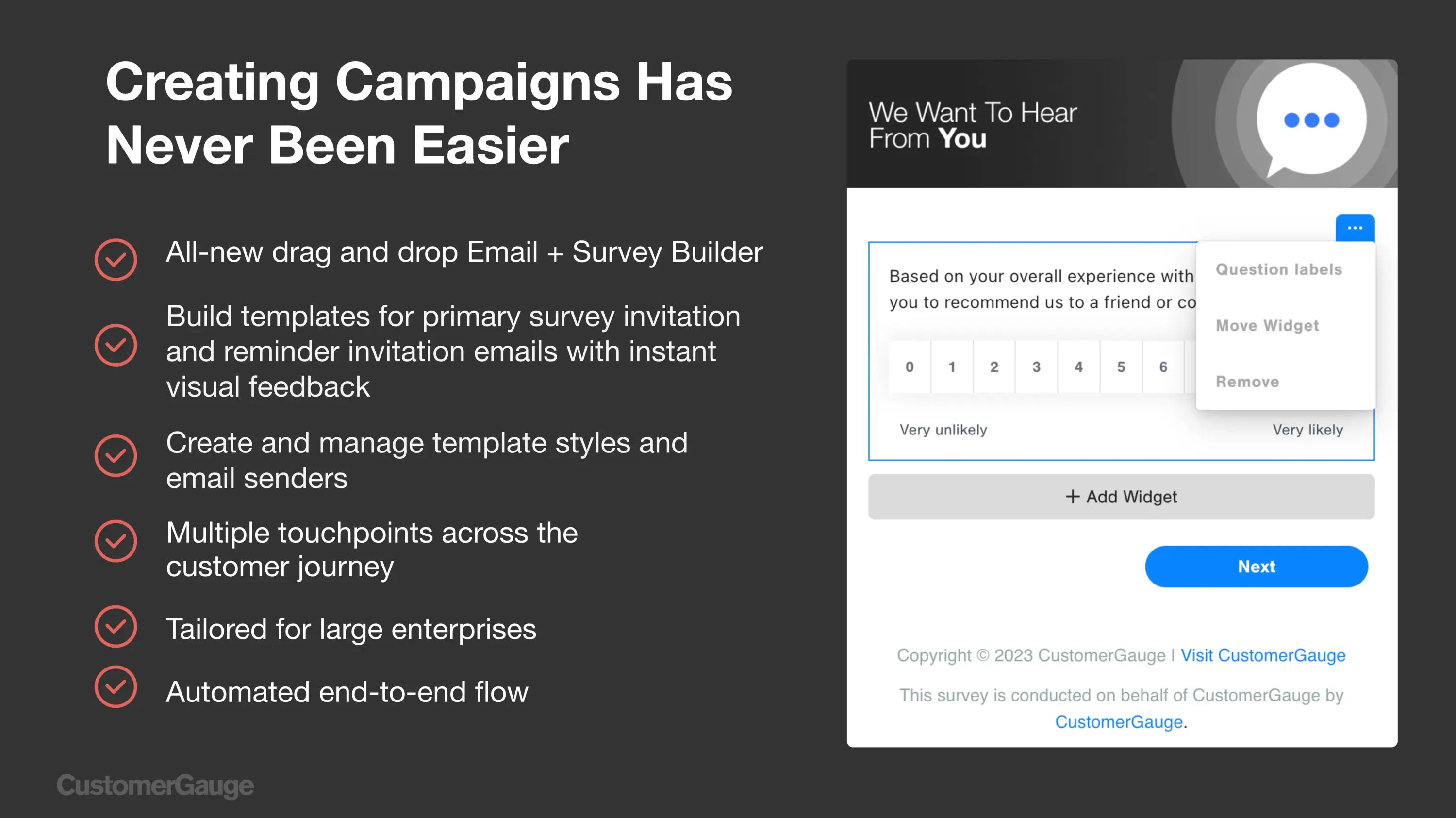 Understanding what different types of businesses need to scale their customer experience (CX) program was also key in building the new advancements.
For example, we know that large enterprises need certain permissions to allow multiple teams to operate within the same ecosystem. That's why we tailored a lot of new features around easy access for bigger enterprise requirements.
Cary added, "I think some people left their campaign in place and didn't want to touch it or do anything to upgrade it or refresh it maybe to increase response rates or they had one person that did that and everyone piled it on them. And really being able to empower people in different departments for different areas of the organization will allow you guys to create new touchpoints.
And to refresh your relationship relationships more frequently to help increase that response from your customers."
With that, Cary and Trish were eager to give our webinar attendees an in-depth platform demo of the all-new Suite which you can find in the full recording above.
"
Wow, you weren't kidding. Way, way easier. It took me two minutes to go create a basic survey and email campaign. The way it all fits together (branding, questions, survey, etc.) is very intuitive.
I struggled with the creation of the surveys in Delivery Manager. It did not flow for me. Again, really awesome product and team behind it!
Dan Delisle
Senior Manager of Customer Care at Sphera
Major Benefits Customers Can Expect
We can confidently say that there are too many Campaign Suite benefits to count!
A big differentiator from our previous Delivery Manager is the system used to choose for you which survey distribution methods to send out surveys. Now, you can explicitly tell the system that you'd like to send out an SMS message or an email — this is key.
Trish shed a bit more light on this, "If you're using an email, you can go completely automated straight from sending an automated pre-invite to informing the customer that you're going to be surveying them to automatically sending a primary invitation after that, and so on.
...This makes it possible for you to go straight from informing a customer that they're receiving a survey all the way to making sure that you're able to remind them and boost that response rate."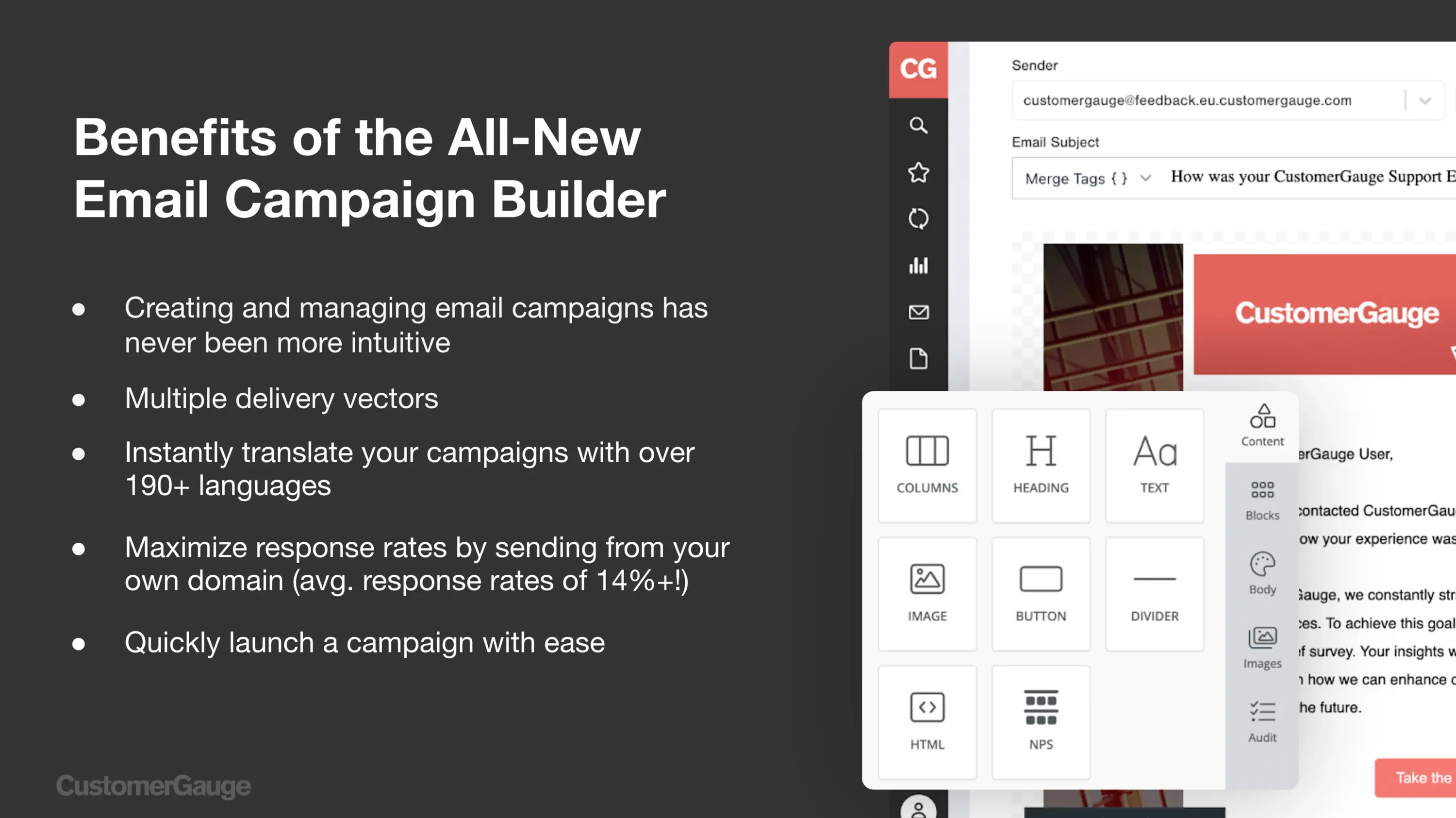 Another fantastic new feature is if you're a global company you can now reach out to customers at a time that's business-friendly for them.
So, now you can have separate sending times per campaign. For example, if you've got operations in Malaysia versus an operation in the Netherlands, you can ensure that surveys are delivered to customers during operating hours in each of those locations.
Trish continued, "In the case of SMS, that's really great because you don't want to be sending someone a message right at dinner time. An added advantage to this is the duplicate rule, something we've learned from our customers. You want to be able to collect feedback from different customers, whether that's relationship, support, implementation, etc.
You might have a different interval period with which you are serving a customer. Typically, with the relationship survey you're doing this once every seventy or ninety days, but with a support survey, you probably want to do this a bit more frequently.

And the rules, the day rule here allows you to actually leverage that. So, you can have a global rule, but you can also have individual campaign day rules that say, 'send a support survey out once every forty-five days versus send a relationship survey out once every seventy days, making the system then scale for different customer journey points."
What do all of these new features have in common? Extreme personalization to our customer's customers needs. Their outreach will be even more custom to the way they operate compared to before.
Another added functionality within the Campaign Suite is that it comes fully loaded with a template gallery built with best practices in mind. Customers are encouraged to leverage these templates to easily add to every campaign that they're building.
"We thought of everything to ensure that we keep it consistent with the corporate branding of our customers because we understand how important that is." said Trish.
This is great for branding consistency across operations including quick drag-and-drop, image uploads, and more.

"
We keep using the word 'easy' over and over again, and I don't want you to mistake easy for simple — that's not what it is.
It's extremely powerful. It's extremely dynamic. And we wanted that experience to be easy for you all to access.
Cary T. Self
VP of Education and Services at CustomerGauge
Campaign Suite Q&A
Q: Can a template be transferred from the old delivery manager to the new setup?
A: It won't be automatically migrated from the old Delivery Manager to the new Campaign Suite. We want to give customers the opportunity to review what they have and try and see if they can in improve on it or make it better.
Q: Will the system automatically translate to another language or will that still be a manual process?
A: That is still a manual process, where we do recommend you to have your text that you're reaching out to your customers professionally translated, and then you can apply that back into the system.
Q: Do we set up branding for campaign emails and surveys separately?
A: You do set up your branding separately for the email template and surveys. But once you've done that, you can assign the branding for the surveys and reuse them.
Q: Is the amount of campaigns limited?
A: It's only as limited as your contract with us.
Q: If we have reports made for segments, would we have to remake the report?
A: No, you will not have to change any of your reporting with the transition to the campaign suite. The reporting relies on the data. And as long as your data stays the same, the reporting will all function as is.
Q: Do we have the ability to reuse a question?
A: You do have the ability to reuse a question that you've already created. When you add a widget onto the survey, just choose the question you wanna add to that particular survey.
Q: Can you vary color of text?
A: You can vary the color of text and buttons.
About the Author