Today's B2B buyers are more empowered than ever when it comes to their customer experience. Accustomed to the omnichannel experiences offered by B2C companies in their personal lives, B2B customers are eager to see the same tech-savvy and customized solutions in their professional work.
This shift in customer expectations hasn't gone unnoticed by B2B enterprises. Today, B2B companies are more likely to grow revenue and retention by implementing a strong omnichannel strategy. In fact, companies that excel at omnichannel customer experiences retain an average of 89 percent of their clients.
Meanwhile, 75 percent of B2B customers would buy again from their supplier, provided that the company had omnichannel capabilities.
What is an Omnichannel Customer Experience (CX)?
An omnichannel customer experience is a holistic, integrated multi-channel experience. Multi-channel experiences provide customers with a varied experience across each channel, while omnichannel experiences allow customers to continue their experience when navigating different touchpoints, devices, and channels.
In Hubspot's blog, content marketer Aaron Agius defines omnichannel as:
"
A multi-channel approach to marketing, selling, and serving customers in a way that creates an integrated and cohesive customer experience, no matter how or where a customer reaches out.
Aaron Agius
One of the simplest ways to distinguish between a multi-channel experience and an omnichannel experience is to consider chatbots.
An omnichannel chatbot is a single bot, deployed across all channels, that provides customers with an integrated experience. So, for example, if a user first interacts with the chatbot on your website, and later via FB messenger, the customer can pick up where they left off.
Conversely, a multichannel experience may have different chatbots deployed across each channel. The individual chatbots do not share a centralized database, so the customer's experience varies across each channel.
Here are three B2B omnichannel examples in different scenarios:

Omnichannel account management. With our customers at CustomerGauge, we run quarterly Net Promoter surveys using our own NPS software to gauge customer sentiment. Our platform also measures things like customer support contact frequency and product usage.
As many B2B organizations do, we have quarterly reviews with each customer to check-in on their needs and see if we can improve their experience. Our customer success team never goes in blind. Leveraging their visibility into survey feedback, usage data and support conversations, they are able to get to the point and quickly address the customer's needs.

Omnichannel customer support. While omnichannel chatbots are one example, let's consider a slightly more complex one. Let's take an interaction with a live chat agent where a customer is facing an issue with a SaaS solution.
Now, let's say the customer follows up via email. The email support agent has the details of the complaint and immediately responds with an update. So, this exchange is an omnichannel experience: the customer picked up from email right where they left off on live chat.

Omnichannel commerce. The global pandemic invited rapid digitalization of commerce, and technology played a crucial role in bridging the gap between digital and physical experiences.

For example, let's consider e-commerce stores. They have digital storefronts and product listings but physical inventory. Businesses turned to inventory management systems that integrate with ecommerce stores to bridge the gap by syncing digital listings with physical inventory.

Similarly, both B2C and B2B ecommerce stores integrated track-and-trace functionality into their online tracking portals. Customers can use these portals to track the status of their items in real-time and receive regular updates through alerts.
What are the Benefits of Delivering a B2B Omnichannel Experience?
Implementing a consistent B2B omnichannel experience can help you increase customer retention and grow revenue for your brand. According to McKinsey's 2021 B2B Pulse survey, 82% of B2B suppliers will seek out a new supplier if you can't offer them a performance guarantee (e.g., a refund or a risk-free trial).
The same survey found that B2B buyers were willing to spend more through online or remote sales channels, and a staggering 94% of respondents consider today's omnichannel reality just as effective, or more so, than before the global pandemic.

How to Devise a Successful B2B Omnichannel Strategy
A successful B2B omnichannel strategy accounts for both your customer's journeys and your organization's internal structure. Here are 7 considerations that can help you build a successful omnichannel strategy.
1. Create a Seamless Customer Experience
According to McKinsey's 2021 Pulse survey mentioned earlier, modern B2B buyers use at least 10 channels to interact with suppliers—a significant climb from 2016's five-channel average. The survey data revealed an emerging 'rule of thirds,' i.e., at each stage of the sales process, the average B2B buyer uses a mix of:

Traditional sales (in-person meetings)

Remote (phone discussions and virtual meetings)

Self-service options
Thus, B2B businesses cannot risk offering poor experiences. We need to meet customers on their preferred channels and remove friction from the customer's journey.
But successful customer experience programs aren't built on guesswork. B2B leaders looking to create a seamless, omnichannel customer journey need to identify three things:

Which touch-points customers have with a business

How they prefer to communicate with each one

How to integrate those channels into a business
Many companies still struggle to meet the demands of all their channels. However, failing to do so comes at a price. According to CX expert Shep Hyken, businesses are losing more than $62 billion per year to bad customer service—a number on the rise from previous years.
I worked for a customer service technology provider for 3 years, and it was abundantly clear to us and our customers that it was a critical touchpoint. When other experiences fail, where does the customer come to first? Customer service. Therefore, they need a fast, useful response otherwise their negative experience from other touchpoints compound at the help desk.
McKinsey's global Pulse survey again revealed that nearly 80% of B2B buyers will look for an alternative if suppliers fail to meet the following five core needs:

Performance guarantees—including full refunds if the product or service does not fulfill its promise.

Product availability displayed online.

Purchases enabled over any channel (another nod to omnichannel CX).

Real-time customer service.

A consistent experience across channels (in other words, an omnichannel experience).
Thus, B2B brands must strive to deliver these 'must dos' to secure customer loyalty.
2. Understand Your Customer's Journey and Identify Key Touchpoints
To create an omnichannel customer experience, it's important to determine every possible touchpoint within the customer journey.
B2B customer journeys are typically complex with various touchpoints.
Research by Gartner revealed that B2B buying journeys, for example, are non-linear. Gartner discovered that B2B buying journeys can be organized into a list of 'jobs to be done', but customers do not have a clear path from problem to solution.

This diagram illustrates how the B2B buying journey is more like a maze than a linear progression. Here are some crucial touchpoints from the illustration:

Your website

Social media (e.g., LinkedIn discussion)

'Dark social' - these are 'invisible' discussions that brands can't track. It includes interactions between customers via text, email, private Slack channels, WhatsApp, and so on.

Consultations

Information from your sales reps
However complex the B2B buyer's journey is, understanding your customers' goals can help you tailor your offering to meet their expectations.
According to Gartner's research, B2B customers typically share a common set of jobs that make up their journey. These jobs include:

Finding information that enables their decisions. So, creating content that addresses your buyer's intent is crucial. And it's important to create content for buyers at each stage of their journey, which is why 73% of B2B companies surveyed by Content Marketing Institute (CMI) have a content marketing strategy.

Validating the information they acquire. Buyers may take consultations, talk to their peers, consult customer reviews, or contact your representatives.

Aligning key internal stakeholders. Over a decade ago, Gartner's research revealed that just over five stakeholders were involved in B2B buying decisions. However, their more recent research revealed that this number now exceeds 11, and occasionally nears 20.
It's important to remember that, during steps 1 and especially 2, customers will not solely rely on your company for content and details. For example, 76% of U.S. B2B buyers will look for another supplier if customer reviews are not readily available.
Thus, B2B brands that deliver omnichannel experiences should also consider engaging loyal customers as advocates through referral marketing.
The buyer's journey covers pre-purchase touchpoints, but what about the rest of the journey? I interviewed the Director of CX at British sandwich and coffee chain, Pret A Manger, recently and he walked me through how Pret do their Customer Journey Mapping. It's an extremely insightful example with lots of best practices for identifying weak points across your customer experiences.
We also have an excellent course on customer journey mapping here, where you can learn how companies can take control of CX with the Net Promoter System® to clearly identify the touch points and therefore, pain points, within the customer journey.
3. Understand the Role of Customer Retention in Omnichannel Strategy
To deliver an authentic omnichannel experience, we must also consider touchpoints with customers after they make their first purchase. According to research by Optimove, which covered over 180 brands at various growth stages, some companies:

Obtained 90% of their revenue from new customers

Obtained 90% of their revenue from existing customers
They also found that both these categories suffered long-term. Companies under the first category suffered from high churn rates, while the latter type suffered from stagnation and eventual churn.
Optimove's research further revealed that companies that found a healthy balance between new customer acquisition and customer retention experienced the highest compound annual growth rates and were most successful.
This research supports the need to deliver best-in-class customer experiences at each touchpoint, because a combination of high-quality acquisition and retention is crucial for B2B brands to grow sustainably.
4. Capture the Omnichannel Customer Experience with NPS®
We've established the importance of customer retention, but how can you:

Actively fight churn?

Identify customers' needs, expectations, and challenges?

Determine where friction arises in the customer's journey?
The answer is Net Promoter Score (NPS), the metric designed to help you understand—and optimize—customer experience and loyalty. What's more, our research shows that conducting different types of NPS surveys helps companies improve their retention and drive their annual growth by up to 4.9%.
Retention Increase by Survey Type

NPS surveys are a measure of your customers' loyalty, determined by asking them how likely they are to recommend your brand, on a scale of 1-10.
Your company's Net Promoter Score is calculated by subtracting the percentage of your unhappy customers (detractors) from the percentage of your most loyal ones (promoters). The result is a number from -100 to 100.
Relationship NPS surveys seek to investigate a customer's loyalty to your company by asking:
How likely are you to recommend Company X to a colleague or client on a scale of 0-10?
By assessing the willingness to recommend, a company can gauge its customers' loyalty and analyze the potential of its referral campaigns. In B2B, sending a relationship survey involves reaching out to many contacts within an account.
All accounts should be surveyed, but start with the most important ones first (determined by revenue and strategic position of that account). However, it's important to determine which contacts within the company to collect the feedback from (we recommend surveying several contacts involved in the buying process: frontline, middle management, and senior execs)
Meanwhile, transactional NPS surveys investigate the experience a customer has at a specific touchpoint by asking:
On a scale of 0-10, how would you rate your recent support experience/ transaction?
These surveys can reveal deeper insights into satisfaction around individual aspects of a business. They are designed not to measure customer loyalty, but to measure satisfaction with a specific company segment in order to improve it. To learn more about surveying customers, have a look at CustomerGauge's white paper, Next Generation Net Promoter.

NPS surveys give you valuable insights into customers' pain points and challenges, but you can get more out of NPS by tying your scores to revenue. We developed monetized NPS, part of our Account Experience methodology, to help you achieve this.
By combining Net Promoter feedback with account revenue, you can easily identify priority accounts to tackle churn, boost referrals and read signals that show accounts are ready to upsell or cross sell.
Learn about Account Experience here, the VOC methodology built for B2B organizations.
5. Close the Loop at Every Level and on Every Channel
Closing the loop entails responding to customer feedback and making sure relevant action is taken, with the goal of reducing churn. Closing the loop is essential to improving CX and NPS. CustomerGauge research revealed that companies that don't close the loop increase their churn by at least 2.1% annually.
Conversely, companies that close the loop at every level decrease their churn by at least 2.3% each year. This means consistently following up with customers on every channel to resolve issues and minimize detractors. For an omnichannel customer experience to succeed, the company must commit to closing the loop at every level.
Closing the Loop at the Frontline
Frontline employees should close the loop with accounts. This involves reviewing scores, drivers, and comments in a client meeting to prioritize actions with the client, add them to the account plan, and follow up in later meetings. The objectives for closing the loop will depend on the satisfaction level of the customer in question.
For example, closing the loop with a loyal promoter should prioritize up- and cross-sales opportunities and asking clients for reviews, referrals, and testimonials. On the other hand, closing the loop with a detractor should focus on service recovery and root-cause analysis to understand the source of dissatisfaction.
Closing the Loop at the Management Level
Managers should identify how NPS drivers correlate to business functions and which driver improvements will help grow NPS.
Managers must also close the loop by analyzing their employee, team, and department performance. This responsibility identifies top performers to implement best practices, and poor performers to address operational improvements for products and services.

Closing the Loop at the Executive Level
The C-suite must look at drivers from a global perspective to make strategic decisions about what improvements will be prioritized, and when. This process may involve tracking issues, qualifying their correlating data, agreeing or disagreeing to implement changes, and ensuring that the plan is carried out at management and frontline levels.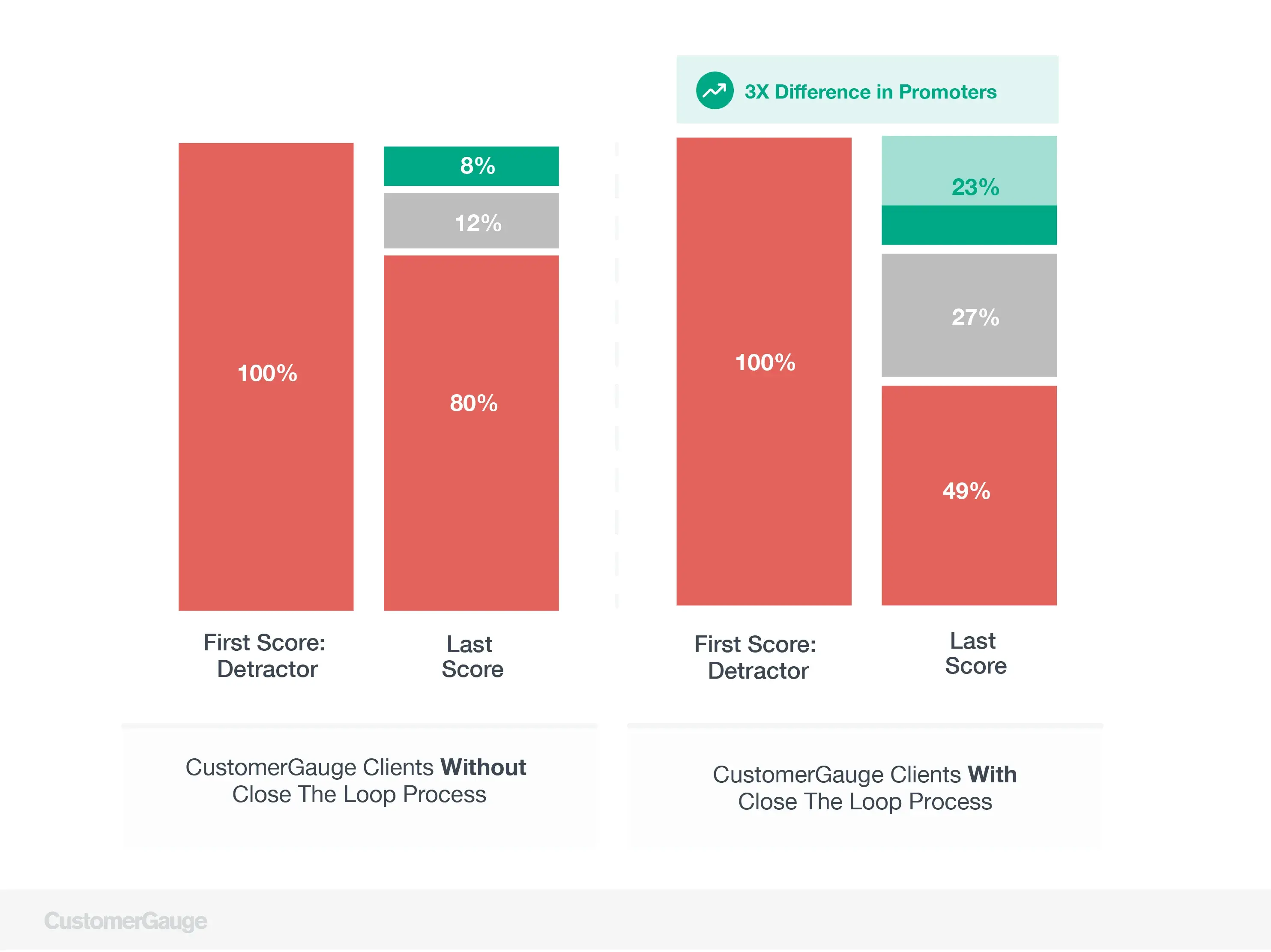 6. Adopt a Goals-Driven Closed-Loop Process
While closing the loop at every level is crucial, companies with multiple channels and touchpoints may struggle to quickly do so with detractors. So, it's important to implement a system that helps you close the loop fast to reduce churn. CustomerGauge research found that closing the loop within 48 hours can increase customer retention by 12%.
You can reduce the time your team takes to close the loop by setting clear targets. Our annual CX benchmarking report found that companies that don't set targets are the slowest to close the loop:
The targets you should prioritize are:

Setting clear targets is just the first step in implementing a good closed-loop process. Some other factors that can help you improve your process are:

And lastly, don't forget to measure your impact. You'll know that your closed-loop process is successful when you start observing tangible results, such as an increase in customer retention, sales, and NPS scores.
7. Achieve Customer-Centricity with Cultural and Digital Transformation
Until now, we've discussed customer-facing measures that help you deliver better omnichannel experiences. But for an omnichannel customer experience to succeed, B2B brands also need change management programs that tackle technology, business processes, and organizational structures. According to a B2B omnichannel report conducted by Forrester, organizational misalignment reduces the effectiveness of digital platforms.
And a survey within the same report found that 36% of B2B companies blamed conflict between different channel organizations as one of the top challenges hindering their omnichannel strategy. This was closely followed by limited staff skills (32%), and employee or management resistance (31%).
For technological transformation to be successful, businesses must succeed in its implementation. Segmented data and piecemeal software were other significant challenges to successful omnichannel integration. Almost half of the B2B companies surveyed in 2014 found it difficult to share customer data and analytics between channels, countries, and locations.
And the barrier only worsened with time. By 2018, 82 percent of B2B professionals surveyed found it moderately to extremely challenging to share data across channels. In an ideal world, the CX program expands along with the enterprise—cultivated by digital and cultural integration. Instead, silos may develop independently and disparately, inevitably creating barriers around data and disrupting operations and decision-making.
Thus, it's crucial for B2B brands to integrate change management programs in their omnichannel strategy. Otherwise, internal challenges and bottlenecks can circumvent your customer experience efforts.
When it comes to commitment to a first-rate, silo-breaking digital platform, General Electric (GE) is a great example of a company that stayed ahead of its competition. The multinational business invested more than $1 billion in industrial analytics—installing sensors into its products like gas turbines, jet engines, and other machines. The sensors send data directly to the cloud, where newly hired GE analysts process and interpret the flow. Ultimately, GE is looking to improve the efficiency and reliability of its products.
To ensure that its digital strategy succeeds through full employee backing and operational optimization, GE allocated a Chief Digital Officer (CDO) to every business unit. The shift in operations, workforce, and organization was a colossal undertaking. According to McKinsey & Company, GE's impressive technology platform is already yielding $5 billion in revenue. The company estimates that business will triple to $15 billion by 2020.

Coverage. I.e., the percentage of survey respondents you close the loop with.

And the speed at which you close the loop.

Be quick. You can set up automatic alerts for feedback that requires urgent action. Try to follow up with customers within 48 hours—or sooner if possible.

Choose the right channel. Phone calls are typically the best way to follow up on feedback and close the loop, but they aren't always a practical option—especially if you're tight on resources. Email is a great alternative, and we recommend sending customers regular updates on any progress, too.

Don't forget your fans. While closing the loop with detractors is crucial, don't forget to follow up with your passives and promoters, too. You don't want to risk them becoming detractors.

Consider implementing quarterly reviews. Discussing customer feedback during quarterly reviews can help B2B brands close the loop with decision-makers. You can present the NPS scores their company gave you, and leverage it as a talking point for the return you're bringing in. You can also use the opportunity to identify areas for improvement.
Omnichannel Customer Experience: Parting Thoughts
B2B brands must embrace omnichannel CX to meet the evolving needs and expectations of B2B buyers. Businesses can improve their omnichannel strategy by understanding customer journeys and buyers' decision-making processes, removing friction, and implementing a closed-loop process with a Monetized Net Promoter System.
Companies must understand, improve, and own all of the touchpoints in the customer journey. And getting measurable insight through transactional and relationship surveys can help you identify the needs, pain points, and successes of B2B buyers.
Finally, seamless omnichannel experiences must be backed by all levels of the company and supported by technological capabilities. Many B2B companies struggle from internal conflicts that indicate misaligned goals and strategies. And while cross-departmental data sharing and lagging tech pose significant challenges, it creates an opportunity for forward-thinking companies to get ahead by investing in the right platform.
CustomerGauge is the leading supplier of Voice of Customer solutions for B2B and B2B2C organizations. Our platform makes it easy to measure your customer experience across multiple channels, and take action to drive improvement and new revenue opportunities. Reach out to us for a product demo here.
About the Author