Today's B2B buyers are more empowered than ever when it comes to their customer experience. Accustomed to the omnichannel experiences offered by B2C companies in their personal lives, B2B customers are eager to see the same tech-savvy and customized solutions in their professional work.
This shift in customer expectations hasn't gone unnoticed by B2B enterprises. Today, B2B companies are more likely to grow revenue and retention by implementing a strong omnichannel strategy. In fact, companies that excel at omnichannel customer experiences retain an average of 89 percent of their clients. Meanwhile, 75 percent of B2B customers would buy again from their supplier, provided that the company had omnichannel capabilities.

Creating B2C-like experiences for B2B customers is important. But before we outline how to master omnichannel CX, let's get on the same page about its definition. To be omnichannel is to think past providing one—or even multiple—customer touch-points. Rather, B2B companies must work on presenting a seamless, interactive, and holistic approach that gives buyers the opportunity to connect with the business in the way that suits them. In Hubspot's blog, content marketer Aaron Agius defines omnichannel as:

"A multi-channel approach to marketing, selling, and serving customers in a way that creates an integrated and cohesive customer experience, no matter how or where a customer reaches out." - Aaron Agius
It is important to note that omnichannel experience is a step beyond multichannel. This is because multichannel experience lacks integration and unity. Companies that invest in multichannel customer experience may find themselves with:
Social media channels they aren't sure they benefit from

Customer service representatives who don't have access to the customer's full corporate and personal transaction history

Misaligned messaging, user experience, or design across channels
In contrast, omnichannel customer experience addresses all devices, touch-points, and platforms that a customer will use at every step of his journey. This approach helps B2B companies retain consistency in their messaging and brand—all the while enhancing the customer experience based on that collected insight.
Creating a Seamless Customer Journey
Successful customer experience programs aren't built on guesswork. Enterprises looking to create a seamless, omnichannel customer journey need to identify three things:
Which touch-points customers have with a business

How they prefer to communicate at each one

How to integrate those channels into a business
Many companies still struggle to meet the demands of all their channels. However, failing to do so comes at a price. According to CX expert Shep Hyken, businesses are losing more than $62 billion per year to bad customer service—a number on the rise from previous years.
Identifying Customer Touch-points
To start creating an omni-channel customer experience, it's important to determine every possible touch-point within the customer journey, which will vary depending on the industry and the business. As an example, let's look at the touch-points that would exist on a B2B e-commerce website (note: this is a relatively simple example).

Site Visit. B2B buyers need to see value from the very first web visit. To stand out, companies should curate content that shows the customer how you can solve their problem. According to CMO Council, 9 out of 10 B2B buyers say that online content has a moderate to major effect on their purchasing decisions. Articles, videos, ebooks, and reports are just a few great examples of buyer journey content. Remember, this is where first-time viewers can be turned into leads, so consider how you can collect information to begin your relationship and nurture the lead in the future.

Consider the different decision makers viewing your website and their impact on the process. Sales cycles lengthened by 22 percent in the last 5 years due to the growing number of decision-makers involved. Adding interactive tools that enable sharing and purchase reviews for multiple users will accelerate the buying process and shorten the sales cycle—not to mention provide convenience for the customer.


Evaluation. Before reaching a final decision, customers need the opportunity to evaluate their options of products. Chat bots, product specifications, reviews, and FAQs are effective channels for this stage of the buyer's journey. Be sure to account for individual decision-making personas so you can provide the right information at the right time. This can be achieved through optimized site navigation or data collected from chat bots or forms on your landing pages.

Sales Support. A good sales representative is a vital touch-point for large-scale or high-value purchases. According to the Annuitas Group, sales-nurtured leads make 47 percent larger purchases than their non-nurtured counterparts. Just be sure to keep your sales reps focused on pre-existing leads, as 98 percent of cold calls fail to convert.


Account Service. Personalization and customization are important for each account. That is because 90 percent of the revenue comes from repeat purchases for B2B companies. Automated discounts, flexibility, product recommendations, filter options, and saved preferences will help customers return for further purchases.


Relationship. Once a customer moves beyond those first touch-points, he develops an ongoing relationship with the vendor. In order to avoid churn, leverage referrals and grow revenue, the relationship must be nurtured by open communication and continuous improvement.
Capturing the Omnichannel Experience with NPS®
To ensure a fruitful customer relationship, your company needs to identify where possible issues might arise within each touch-point. The best way to do this is by surveying your customers using Net Promoter® best practices. Generally, there are two types of surveys you can use to keep a pulse on the customer experience: relationship surveys and transactional surveys. Based on CustomerGauge's research, companies that conduct both receive the highest rise in retention, showing a growth at 4.9% annually.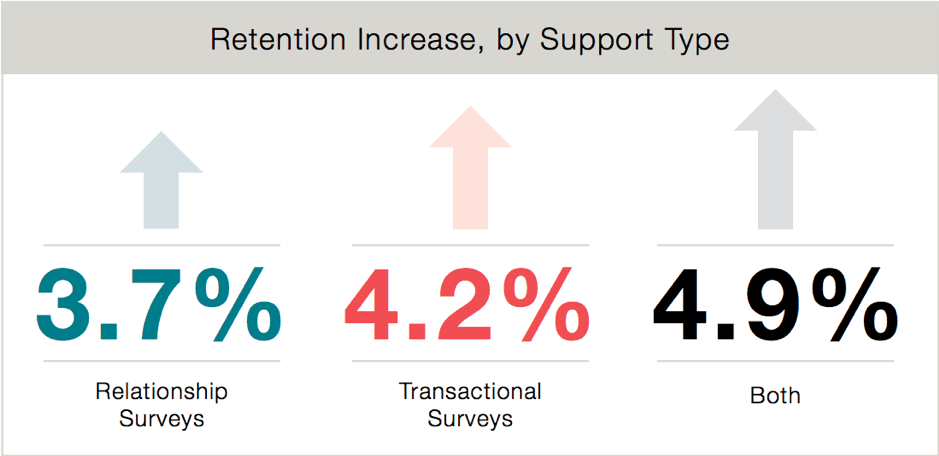 Relationship surveys seek to investigate a customer's loyalty to your company by asking:

How likely are you to recommend Company X to a colleague or client on a scale of 0-10?
By assessing the willingness to recommend, a company can gauge its customers' loyalty and analyze the potential of its referral campaigns. In B2B, sending a relationship survey involves reaching out to many contacts within an account. All customers in B2B should be surveyed, but it is important to determine which contacts within the company will be giving the feedback.
Meanwhile, transactional surveys investigate the experience a customer has in a specific touch-point by asking:
On a scale of 0-10, how would you rate your recent support experience/ transaction?
These surveys can give deeper insight into satisfaction around individual aspects of a business. They are designed not to measure customer loyalty, but to measure satisfaction with a specific company segment in order to improve it. To learn more about surveying customers, have a look at CustomerGauge's white paper, Next Generation Net Promoter.
Closing the Loop at Every Level
Closing the loop is essential to improving CX and NPS. This means consistently following up with customers at every channel to resolve issues and minimize detractors. For an omnichannel customer experience to succeed, the company must ensure to incorporate this process across all levels of the organization and customer journey.
Closing the Loop at the Frontline. Frontline employees should be closing the loop with accounts. This involves reviewing scores, drivers and comments in a client meeting to prioritize actions with the client, add them to the account plan and follow-up in later meetings. The objectives for closing the loop will depend on the satisfaction level of the customer in question.

Closing the loop with a loyal promoter should prioritize up- and cross- sales opportunities and asking clients for reviews or referrals. Companies can also request permission to publish the client's success story in a report that will be used for inbound collateral. On the other hand, closing the loop with a detractor should focus on service recovery and root cause learning to understand the source of dissatisfaction.

Closing the Loop at the Management Level. Managers should identify how NPS
drivers correlate to business functions and which driver improvements
will help grow NPS. Managers must also close the loop by analyzing their employee, team, and department performance. This responsibility identifies top performers to implement best practices, and poor performers to address operational improvements for products and services.

Closing the Loop at the Executive Level. The C-Suite must look at drivers from a global perspective to make strategic decisions about what improvements will be prioritized, and when. This process may involve tracking issues, qualifying their correlating data, agreeing or disagreeing to implement changes, and ensuring that the plan is carried at management and frontline levels.
Companies with multiple channels and touch-points often have difficulty closing the loop quickly with detractors in a consistent manner. Luckily, the process can be fully automated with the Net Promoter System. That way, your company can:
Forward issues to the appropriate employees using automated workflows

Promptly follow up using automatic "fire-fighting"

Analyze retention rates and closed loop processes at a granular level
Employing these closed-loop policies to minimize pain points and maximize every interaction is how NPS can be leveraged to grow customer loyalty and boost retention.
Atea, a leading Nordic and Baltic supplier of IT infrastructure, is a B2B company that has successfully incorporated the Net Promoter System into its customer experience. The company continuously surveys clients and optimises on the basis of their results. Atea also prioritizes measuring performance with its employees in order to gauge loyalty using eNPS®. Incredibly, the surveys generate a 96 percent response rate and a score of +50.

Achieving Customer-Centricity with Cultural and Digital Transformation
Omnichannel customer experience can only succeed through the development of change management programs that tackle technology, business processes and organizational structures. According to a B2B omnichannel report conducted by Forrester, organizational misalignment actually reduces the effectiveness of digital platforms.
A survey within the same report found that 36 percent of B2B companies blamed conflict between different channel organizations as one of the top aspects hindering their omni-channel strategy. This was closely followed by limited staff skills (32 percent), and employee or management resistance (31 percent).
Of course, technological transformation is as important as the people that enforce it. Segmented data and piecemeal software were other significant challenges to successful omnichannel integration. Almost half of the B2B companies surveyed in 2014 found it difficult to share customer data and analytics between channels, countries, and locations.
The barrier worsened with time. By 2018, 82 percent of B2B professionalssurveyed found it moderately to extremely challenging to share data across channels. In an ideal world, the CX program expands along with the enterprise—cultivated by digital and cultural integration. Instead, silos develop independently and disparately, inevitably creating barriers around data and disrupting operations and decision-making.

When it comes to commitment to a first-rate, silo-breaking digital platform, GE is ahead of the competition. The company invested more than $1 billion into industrial analytics—installing sensors into its products like gas turbines, jet engines, and other machines. The sensors send data directly to the cloud where newly hired GE analysts process and interpret the flow. Ultimately, GE is looking to improve the efficiency and reliability of its products.
To ensure that its digital strategy succeeds through full employee backing and operational optimization, GE allocated a Chief Digital Officer (CDO) to every business unit. The shift in operations, workforce, and organization was a colossal undertaking. According to McKinsey & Company, GE's impressive technology platform is already yielding $5 billion in revenue. The company estimates that business will triple to $15 billion by 2020.
Parting Thoughts
Playing defense with customers is a poor game plan in the new B2B world. In order to meet the B2C-like demands of savvy B2B buyers, enterprises must embrace omnichannel CX to become agile, responsive and integrated in their customer experience.
One of the ways of achieving this is by incorporating continuous feedback using the Net Promoter System. Companies must understand, improve, and own all of the touch-points in the customer journey. Getting measurable insight through transactional and relationship surveys will pinpoint the needs, pain points and successes of B2B buyers.
Finally, seamless omnichannel experiences must be backed by all levels of the company and supported by technological capabilities. Many B2B companies struggle from internal conflicts that indicate misaligned goals and strategies. And while cross-departmental data sharing and lagging tech pose significant challenges, it creates an opportunity for forward-thinking companies to get ahead by investing in the right platform.
Get The Most Comprehensive B2B NPS and CX Benchmarks Report on The Planet