As the leading software company for B2B customer experience (take a look at Gartner's critical capability report here), we know a thing or two about Net Promoter for B2B companies.
70% of B2B companies don't tie their experience data to revenue. You read that correctly, 70!
We know tying revenue to your B2B experience program can lead to:
C-suite alignment
A seat at the table/Personal expansion
Revenue centric decision making (saving large accounts vs. small)
Program expansion
and Referrals
So the question is, why aren't more companies doing it?
We found some of the top reasons were:
People new to the role simply don't know how
There are security and/or privacy concerns giving out financial data
Departmental siloing, which leads to lack of buy-in
Technical/software limitations
If any of this sounds like you, this episode of our podcast is for you.
B2B NPS Benchmarks Tying Revenue to Your Experience Program
In this article, we'll share with you some of the leading B2B companies and their NPS benchmark.
We'll also cover what it takes to improve your NPS score and how to *actually* turn that score into a leading metric for growth.
What's the average B2B NPS benchmark?
We conduct a global B2B NPS benchmark survey every year at CustomerGauge (download that here).
The results show that this year, healthcare comes out on top with a median NPS of 58. Whereas telecommunications came bottom with an NPS score of 31.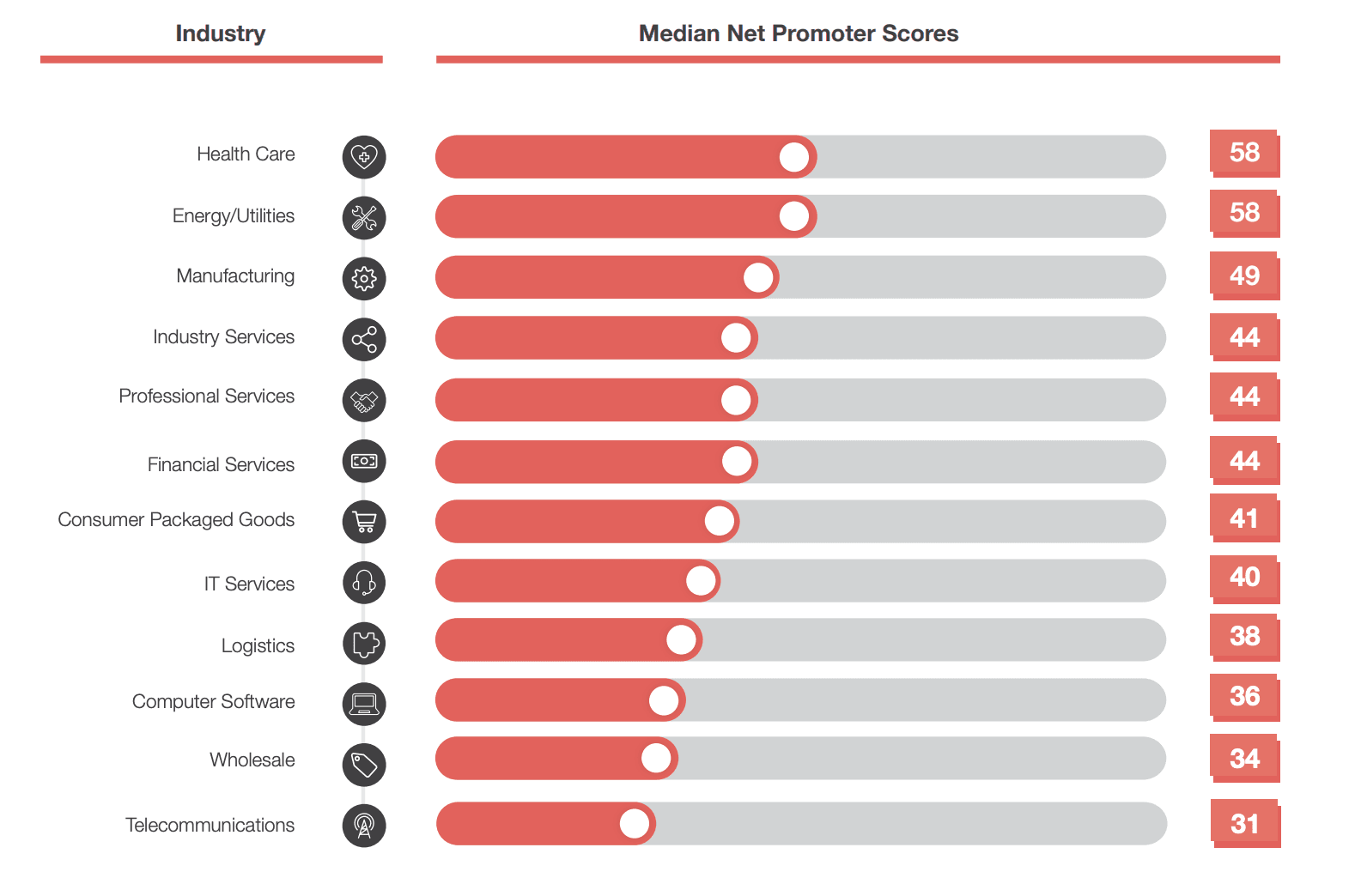 In the report, we've added an analysis of each industry and have also benchmarked our external survey with the NPS scores of our customers (AccountExperience users).
For example, in Logistics, amongst AccountExperience users the NPS score was 13 points higher than the industry average.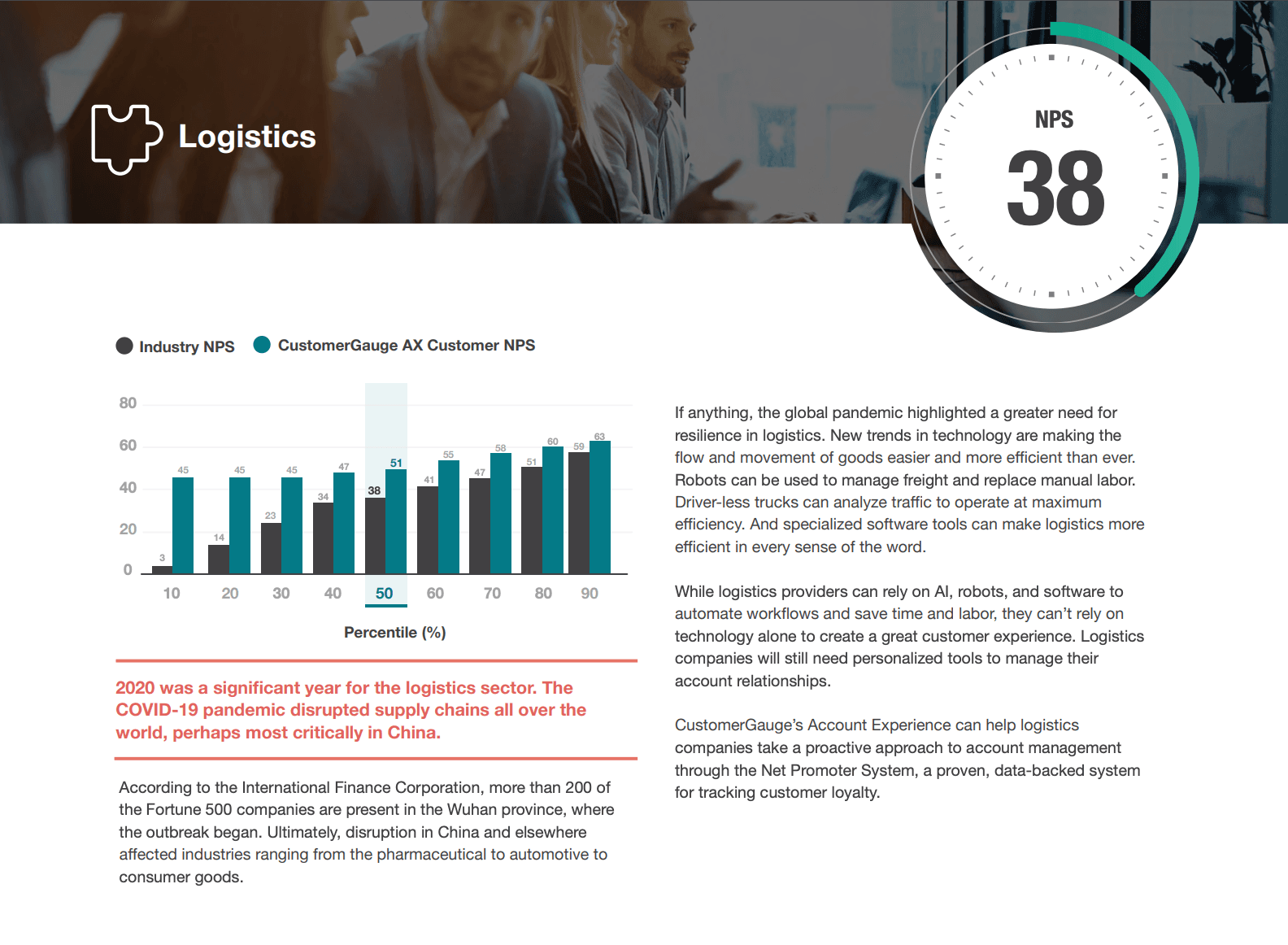 In our report, CustomerGauge invited several thousand companies to assess their programs to get a better sense for the overall B2B experience market. 776 B2B companies across the globe agreed to take this journey with us and assess their programs in the period from January 2019 to July 2021.
It's worth noting that these results are self-reported by the companies. Once a company submits their answers, CustomerGauge sent them a fully customized PDF with a program maturity assessment and benchmarks based on the previous submissions.
The second half of our B2B experience benchmarks database is anonymous CustomerGauge Account Experience customer benchmark data. We've pulled over thousands of fully anonymous data points like email open and click rates, response rates, NPS, and much more.
We then combined this AX customer data with our assessment data bringing you the most comprehensive B2B experience benchmarks database on the planet. While the data paints a somewhat immature landscape overall in B2B experience, the data also shows B2B companies utilizing proper Account Experience strategies and tactics can far surpass current industry benchmarks.
The results are remarkable, as they demonstrate how Account Experience can be used to improve several customer loyalty behaviors that increase growth in three key areas: Retention, Up-Sales & Cross-Sales, Referral Business.
Upskill: 10 B2B Customer Retention Strategies
What is Net Promoter Score (and How to Improve Your B2B NPS Score)
I won't bore you with the basics. But there are three things that everyone should know about Net Promoter Score—and most don't.

1. To quote our VP of Education (Cary Self), "NPS is not a research tool, it's an action tool."
With just a handle of questions, the Net Promoter System provides a wealth of insight into customer account health.
However, analysis paralysis often sets in and companies often rest on their laurels while customer's problems remain unaddressed.
The true beauty of NPS when applied to B2B accounts is about three simple things:
1) Identifying detractors: your most important customers at risk of leaving.
2) Understand customers who are promoters, and what you are doing well.
3) Rescuing detractors to secure revenue, and activating promoters to grow business by referrals.
Two out of three are about identification, or research. But point three is where the magic happens: taking action to secure business and activate your referral mechanism.
Our customers are usually leaders in sales enablement, operations and transformation. If that's you, you need to make sure your teams act with velocity to close the loop.
When you survey your accounts and receive their feedback, you must act quickly. The opportunity to retain detractors or to activate (upsell or get a referral) from a promoter diminishes as more time passes.
"But wait! I am already responding to my customers fast!"
This is about acting on feedback fast. Not all customers are asking to have a conversation but their feedback may still require immediate action. So be quick and take action!
2. NPS in B2B should be focused by customer revenue
It's likely that 80% of your revenue comes from 20% of your customers (known as the Pareto principle).
It could even be more skewed than that. So, as customer's aren't adding an equal amount of value to your business, it makes sense not to treat them equally.
By linking operational metrics (i.e. revenue) to your NPS survey results you can quickly identify how much revenue sits in each NPS bucket: detractor, passive, promoter.
If your annual revenue is $100 million, and your B2B NPS survey discovers that $75 million in revenue is coming from accounts that are detractors—you might be in trouble.
Equally, if you use an NPS software like ours, you'll receive alerts when a proportionately large customer is a churn-risk.
And, my personal favourite feature, you'll understand the value of each CX driver. Wondering what to fix next? Well, your customer success process is responsible for $10 million of at-risk revenue right now...a clear indicator of what to fix first.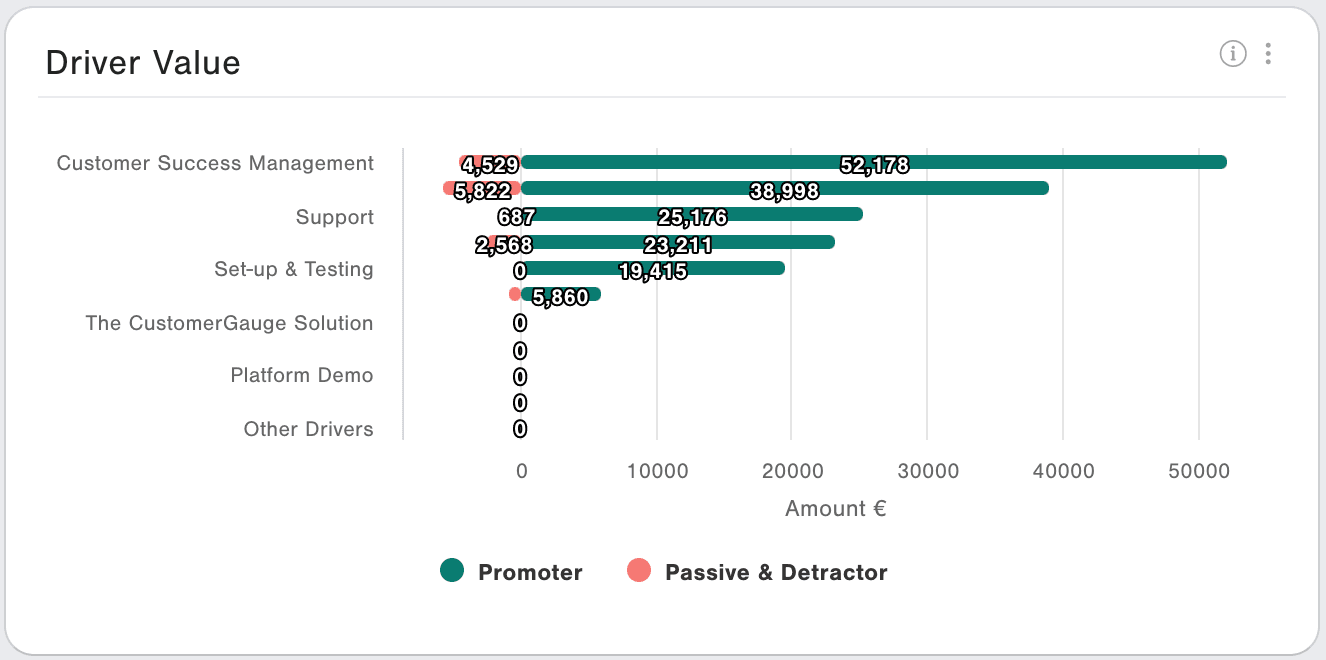 Read more in our free book on Account Experience here.
3. In B2B, NPS survey design is KEY to your success
Our deep experience in B2B Net Promoter Systems has brought us to these two conclusions:
You must survey multiple layers of decision-maker and user. Within each customer account, there is more than one decider of your fate. If all of the frontline, mid-level and senior C-suite are influential, so survey as many stakeholders as possible. Someone isn't filling out the survey? Absence of engagement is a signal itself. Time to worry.
Survey frequency has an impact on retention rate. Indeed, we have evidence that companies who survey customer's quarterly have the highest average retention rate.
Read more of our NPS survey design best practice here.
Our customer success and education teams work extensively with B2B customers to improve their Net Promoter programs. Don't hesitate to reach out to them for a chat about best practice!
B2B NPS Benchmark Spotlight: Alyce
Alyce is a fast-growing B2B gifting software company based out of Boston, MA. Alyce uses AI to automate personal outreach and recommend gifts that appeal to prospect's life outside of work.

Sean Macpherson has been the driving force behind launching the Account Experience program at Alyce. But this wasn't his first soiree into NPS. Sean has headed up the implementation of experience programs at several large SaaS companies. Some have been very successful and others fell flat. Sean attributes the success of the program at Alyce to the following:
They are getting actionable feedback from the program. Too many programs are focused on scores and not on customer engagement. The beauty of an Account Experience program is your customers give you the roadmap to retain them, all you have to do is listen and act on their feedback.
They Close the Loop with all detractors in 48 hours. Getting feedback isn't enough. Alyce has processes in place to make sure all detractors are followed up within 48 hours or less. This keeps customers engaged with your product and lets them know that you take their feedback seriously.
They are taking action on feedback. Most companies running an NPS program for the first time will learn the hard way that feedback without action can be more detrimental than not getting feedback in the first place. Alyce not only closes the loop with customers, but they include them in the process to enact those changes.
The final piece of Alyce's success is tying revenue to the program. If you want to make the biggest impact on the business, you need to ensure you are prioritizing your actions by revenue. Sometimes small accounts make the most noise, but retaining large accounts is the goal. Tie revenue to the program so you know where priorities lie.
About the Author