What is Net Promoter Score (and How to Improve Your B2B NPS Score)
I won't bore you with the basics. But there are three things that everyone should know about Net Promoter Score—and most don't.

1. To quote our VP of Education (Cary Self), "NPS is not a research tool, it's an action tool."
With just a handle of questions, the Net Promoter System provides a wealth of insight into customer account health.
However, analysis paralysis often sets in and companies often rest on their laurels while customers' problems remain unaddressed.
The true beauty of NPS, when applied to B2B accounts, is about three simple things:
1) Identifying detractors: your most important customers at risk of leaving.
2) Understand customers who are promoters, and what you are doing well.
3) Rescuing detractors to secure revenue, and activating promoters to grow business by referrals.
Two out of three are about identification or research. But point three is where the magic happens: taking action to secure business and activate your referral mechanism.
Our customers are usually leaders in sales enablement, operations and transformation. If that's you, you need to make sure your teams act with velocity to close the loop.
When you survey your accounts and receive their feedback, you must act quickly. The opportunity to retain detractors or to activate (upsell or get a referral) from a promoter diminishes as more time passes.
"But wait! I am already responding to my customers fast!"
This is about acting on feedback fast. Not all customers are asking to have a conversation but their feedback may still require immediate action. So be quick and take action!
2. NPS in B2B should be focused on customer revenue
It's likely that 80% of your revenue comes from 20% of your customers (known as the Pareto principle).
It could even be more skewed than that. So, as customer's aren't adding an equal amount of value to your business, it makes sense not to treat them equally.
By linking operational metrics (i.e. revenue) to your NPS survey results you can quickly identify how much revenue sits in each NPS bucket: detractor, passive, promoter.
If your annual revenue is $100 million, and your B2B NPS survey discovers that $75 million in revenue is coming from accounts that are detractors—you might be in trouble.
Equally, if you use an NPS software like ours, you'll receive alerts when a proportionately large customer is a churn risk.
And, my personal favorite feature, you'll understand the value of each CX driver. Wondering what to fix next? Well, your customer success process is responsible for $10 million of at-risk revenue right now...a clear indicator of what to fix first.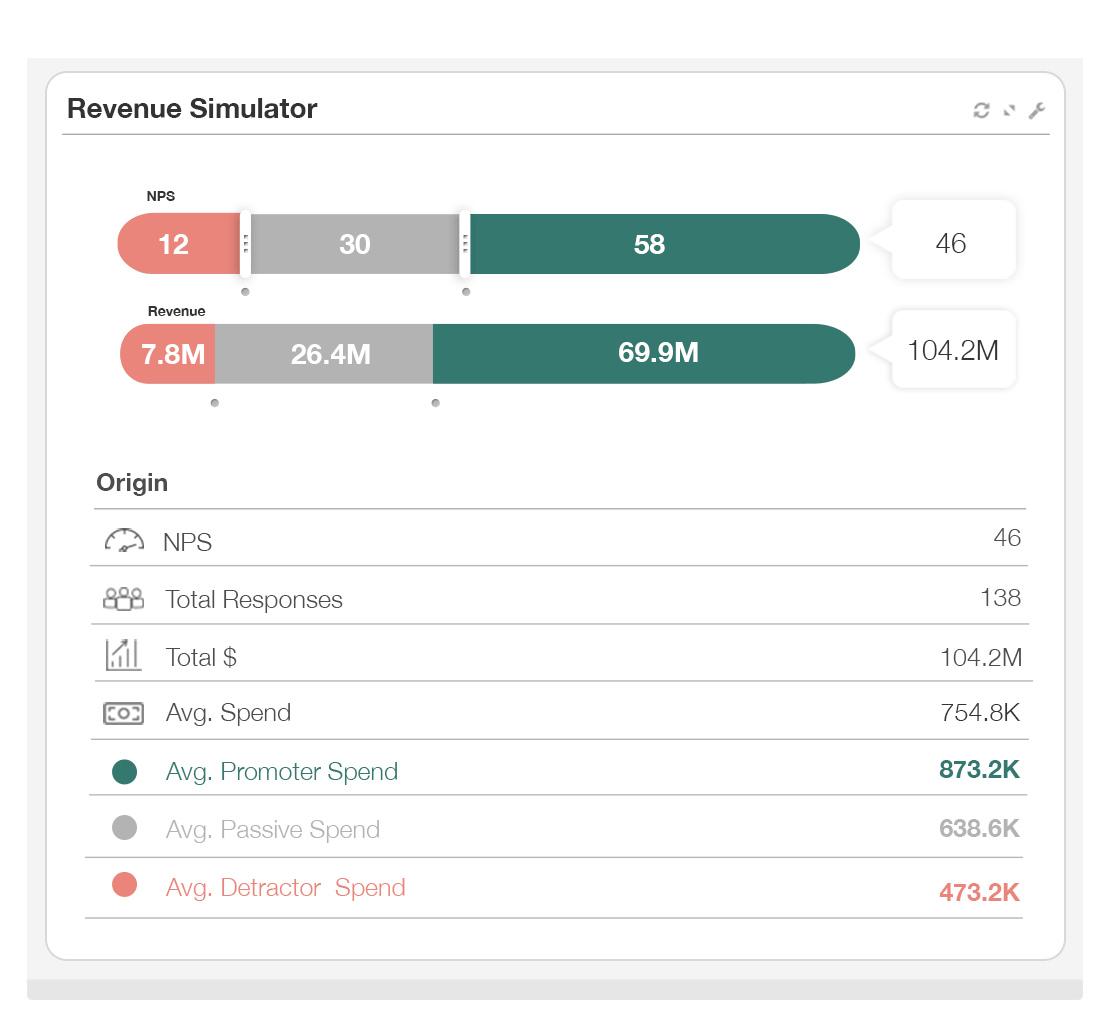 Read more in our free book on Account Experience here.
3. In B2B, NPS survey design is KEY to your success
Our deep experience in B2B Net Promoter Systems has brought us to these two conclusions:
You must survey multiple layers of decision-makers and users. Within each customer account, there is more than one decider of your fate. If all of the frontline, mid-level and senior C-suite are influential, so survey as many stakeholders as possible. Someone isn't filling out the survey? The absence of engagement is a signal itself. Time to worry.
Survey frequency has an impact on retention rate. Indeed, we have evidence that companies who survey customer's quarterly have the highest average retention rate.
Read more of our NPS survey design best practice here.
Our customer success and education teams work extensively with B2B customers to improve their Net Promoter programs. Don't hesitate to reach out to them for a chat about best practice!
About the Author