For B2B companies, customer experience (CX) has become increasingly important.
According to Gartner, 80% of companies now expect to compete mainly based on their CX. That means that your customers' experience needs to be flawless—or you run the risk of falling behind.
That's why customer-committed B2B businesses need to invest in a voice of customer (VoC) program. In an economy where a third of customers would take their business elsewhere after a single bad experience with a brand, your customers need to be heard. And VoC is the most effective way to do it.
In this article, we'll explore some of the many benefits of voice of the customer programs—from improving your relationships with clients to driving revenue.
These VoC benefits speak for themselves. Yet you may find your biggest challenge is to convince your leadership that their investment will bring these results.
With this in mind, we'll help you make the case for VoC adoption across your organization. Alongside the main voice of the customer benefits, we share some of the main objections you can expect—and how you can respond.
Let's get started.
Free Download: Advanced B2B CX Strategies Nobody Talks About

What is Voice of the Customer (VoC)?
Voice of the customer refers to the strategies, processes, and techniques that a company can use to understand their customers' perspective. In short, it's the way for you to dig into what customers are saying about your brand, product, or service, and get the info to meet their needs.
VoC is really all about collecting customer feedback — typically using a mix of traditional methods such as surveys, alongside new techniques like live chat or social media listening.
But it's really more than that.
Listening to the customer's voice is important, but you must then act on what they're saying—to put steps in place to improve products, drive revenue growth, and better respond to customer needs.
Yet there's a problem that often discourages businesses from investing in CX. The benefits of VoC campaigns can take time. While they're felt by customers almost immediately, only later do they deliver returns on your investment. But don't panic, because come they will.
Here are 5 of the key benefits you can expect from your VoC campaign.
5 Benefits of Voice of Customer
1. Build a Deeper Relationship with Customers
The earliest benefit of your VoC campaign will be to strengthen the relationship between you and your customers.
By listening to what customers are saying, acting on it, and closing the loop, you'll provide an improved customer experience.
A deeper customer relationship means:
By surveying more than one contact, you can improve your retention by 18%.
Closing the loop also increases survey response rates over time, as customers come to learn they're being listened to — as they did with Account Experience Award Winner, Briggs Equipment.
In short, happier, more engaged customers bring better opportunities for growth.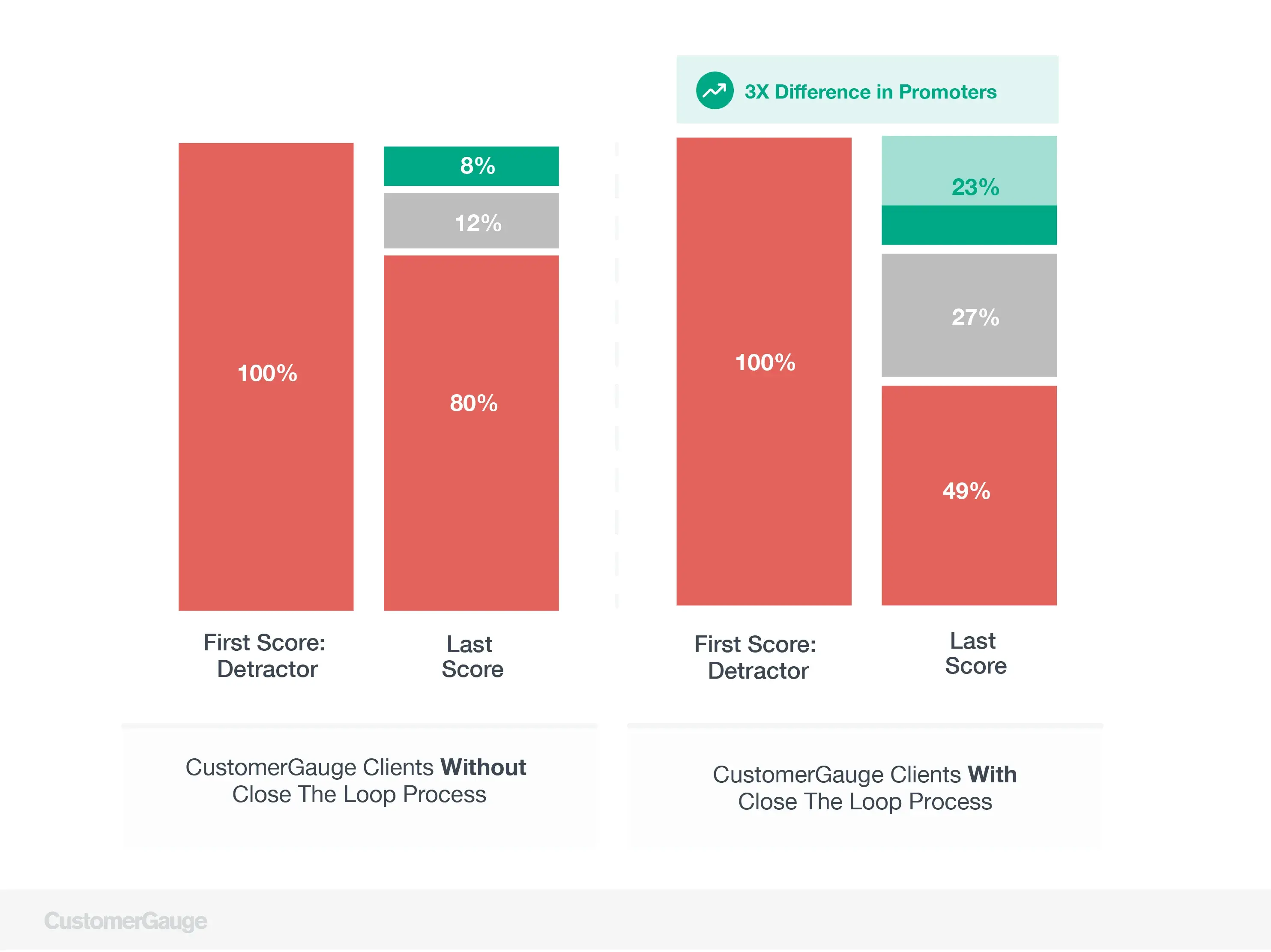 2. Identify Opportunities for Growth and Improve Revenue
There's a straight line between customer satisfaction and business performance, including between your Net Promoter Score and your revenue. Our data, for example, showed that a 10+ increase in NPS leads on average to a 3.2% increase in profits.
But that won't happen all by itself. Rather, the value of VoC is that it clarifies opportunities for growth. For example, it can show you:
This is the most important benefit of VoC for your business growth and can help everyone in your organization — from sales teams to marketing.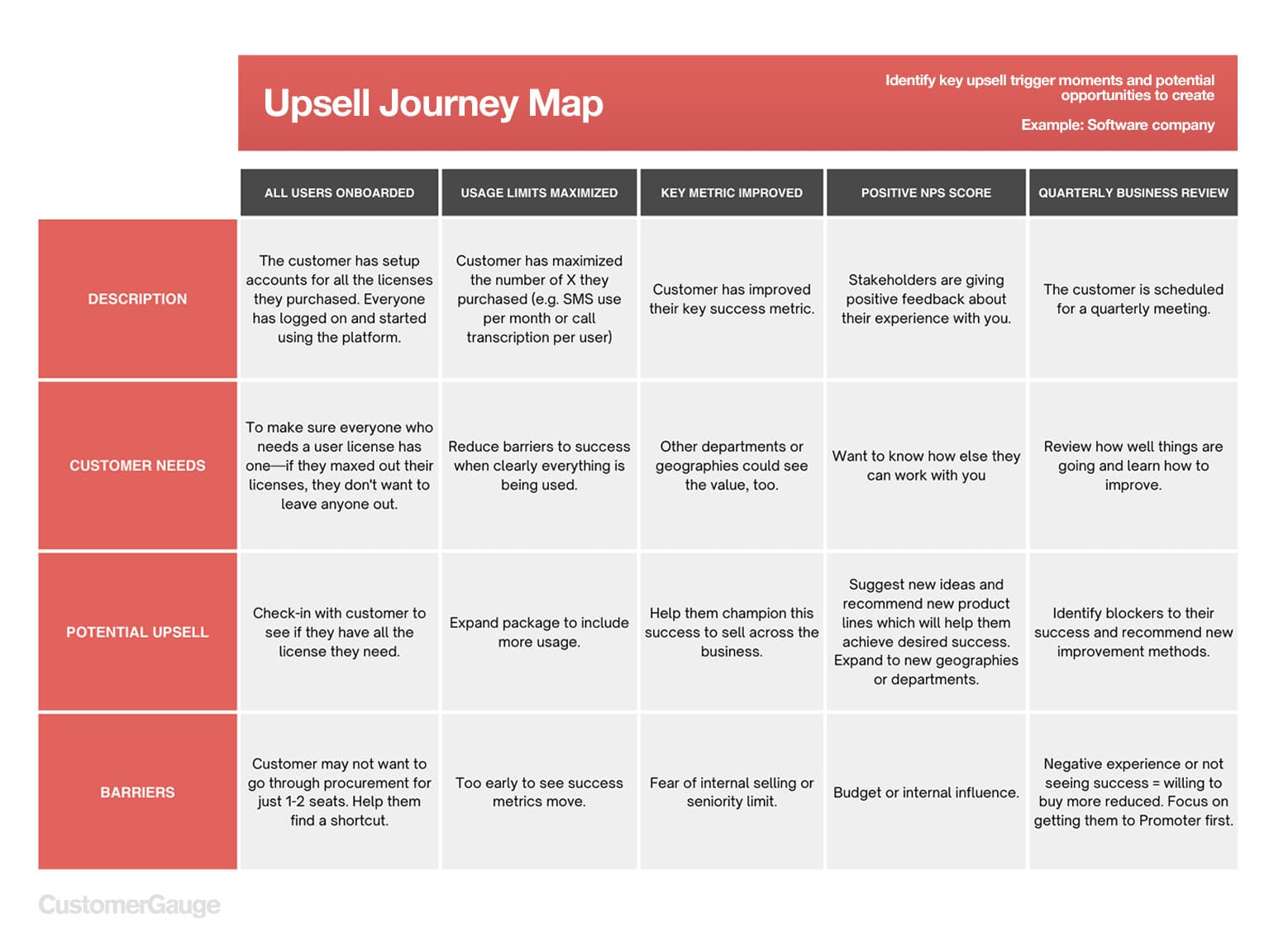 3. Optimize Products
Your product development team should be continuously striving to build the best products they can. But without insight into what customers really want, it can be difficult to assess what "best" can actually mean.
Voice of the customer steps in to provide the answer, and it may tell you something about your products that you hadn't expected to hear at all.
4. Get Clearer Visibility on Performance Across All Departments
Many brands don't actually know the true state of their customer experience. While B2B brands consistently say that CX matters, our research shows that 70% of B2B leaders don't actually have visibility on how it impacts their bottom line.
Perhaps this is why many businesses are reluctant to adopt VoC programs — because they aren't fully aware of their potential ROI.
Yet by turning customer sentiment into hard data, VoC reveals to everyone across your organization how their efforts are paying off. For example, it could show you that the onboarding process is excellent, but that customer service is having an impact on customer churn.
This is data that you need to know. But the reality is that without VoC tools it remains largely invisible.
5. Make Processes More Efficient — For You and Your Customers
According to a study by PWC, efficiency and convenience are the two most important things customers expect from their experience with a brand. This comes even above friendly and knowledgeable service, brand design, and personalization.
Efficiency should be at the heart of your business—both in your handling of your customers and your internal process.
VoC helps by providing more reliable data to work with. It boosts your employee experience. And it cuts costs of customer acquisition, poorly targeted upselling or referral campaigns, and more.
3 Obstacles to Accessing Voice of Customer Benefits and How to Overcome Them
These VoC benefits should make the case for investment in CX all by themselves.
Yet we know from experience that that's not always the case. In fact, one of the biggest obstacles to CX success is internal resistance—resistance to change, or to extra work.
But to remain competitive, B2B brands need to make that investment. And it might be down to you to make the case for why.
We can help. Here are three common objections to CX in your organization — and how you should respond.
1. "We have three other projects running, I suggest we launch VoC next year."
It's perhaps the most common way for VoC programs to fall flat before they've even started.
Rather than just simply say "no" to your CX proposition, colleagues might tell you there are more important things to be done.
In reality, there aren't. While there'll always be 'three projects' running at one time, it's unlikely that any of them will have the long-term impact that VoC can deliver.
Here's how to get around this obstacle:
Create a sense of urgency. Present the pain points VoC solves—and show the cost of not doing anything to handle them. You can get clarity on that cost with our ROI calculator.

Get senior executives on board early. Support from those at the top will make others more likely to listen. Your priority should be to work on the executives to ensure they buy into the idea, before tackling resistance elsewhere.
2. "This will mean more work and we're already stressed."
Of course, setting up a VoC program will take work—and a change of attitude. But immediate pain will ensure a long-term gain. In the long run, VoC leads to lean processes, less work, and happy customers who complain less.
Your teams need to know that VoC will help them cut old processes and optimize existing ones in a way that's better for both them and their customers.
Get around this obstacle:
Play up the long-term benefits. Convince your team members that the hard work they put in now will allow them to scale the program later and reduce everyone's overall workload long term. Results won't be immediate — but they will be compelling in the long run.

Appeal to your team's sense of ambition. At the same time, don't downplay the benefits to individual team members of getting on board early. In our experience, being part of a successful VoC launch can put individuals in line for a promotion.
3. "Our customers don't want to receive lots of surveys, they already receive a yearly survey!"
It's true, surveys can be a bit annoying. But what's more annoying for customers is when customers give feedback and don't see any change or results. If a customer completes your survey and doesn't hear back from you, they probably won't respond to your next survey.
(Our research shows that closing the loop with all customers boosts retention by 8.5%.)
Here's how to overcome this blocker:
Teach the importance of closing the loop. We'll say it again: closing the loop improves customer response rates and retention. It's not that customers hate surveys—it's that they hate wasting their time. Introducing VoC demands a culture change in which customer sentiment comes first. That means acting on it, not just listening to it.

Create an upfront contract with every new (and existing) customer. Explain to customers that your surveying program is important and that you expect them to give you feedback. Why? Because you really are committed to making a change.
By preempting objections to your VoC program, you can ensure you're making the strongest case possible and securing the investment your CX deserves.

CustomerGauge Can Help You Secure VoC Benefits
At CustomerGauge, we can help you make the benefits of voice of the customer a reality. With our VoC platform, we can help you build customer trust, improve your revenue, and make opportunities for growth clear for everyone.
Also, our platform can give you precise data on the impact your VoC campaign is having, so you can provide updates on return on investment in real-time. And that can help you secure the resources your CX needs long into the future.
Book a meeting with our CX experts to learn more!
About the Author