Introduction
Net Promoter Score (NPS) is one of the most powerful ways to gain insight into your customer experience (CX). However, to understand the true impact your CX efforts are having, there's one thing you must ensure: that you tie your CX data to your bottom line.
Getting clarity on NPS's impact on revenue can feel like a challenge—and if you're struggling, don't worry, you are not the only one.
In fact, CustomerGauge research has shown that over 62% of businesses can't calculate the ROI of their CX efforts. A further 70% simply don't know the impact their CX is having on their bottom line.
And 60% don't know how much each NPS driver is costing their business and the ROI they could gain from fixing them (Account Experience solves this problem).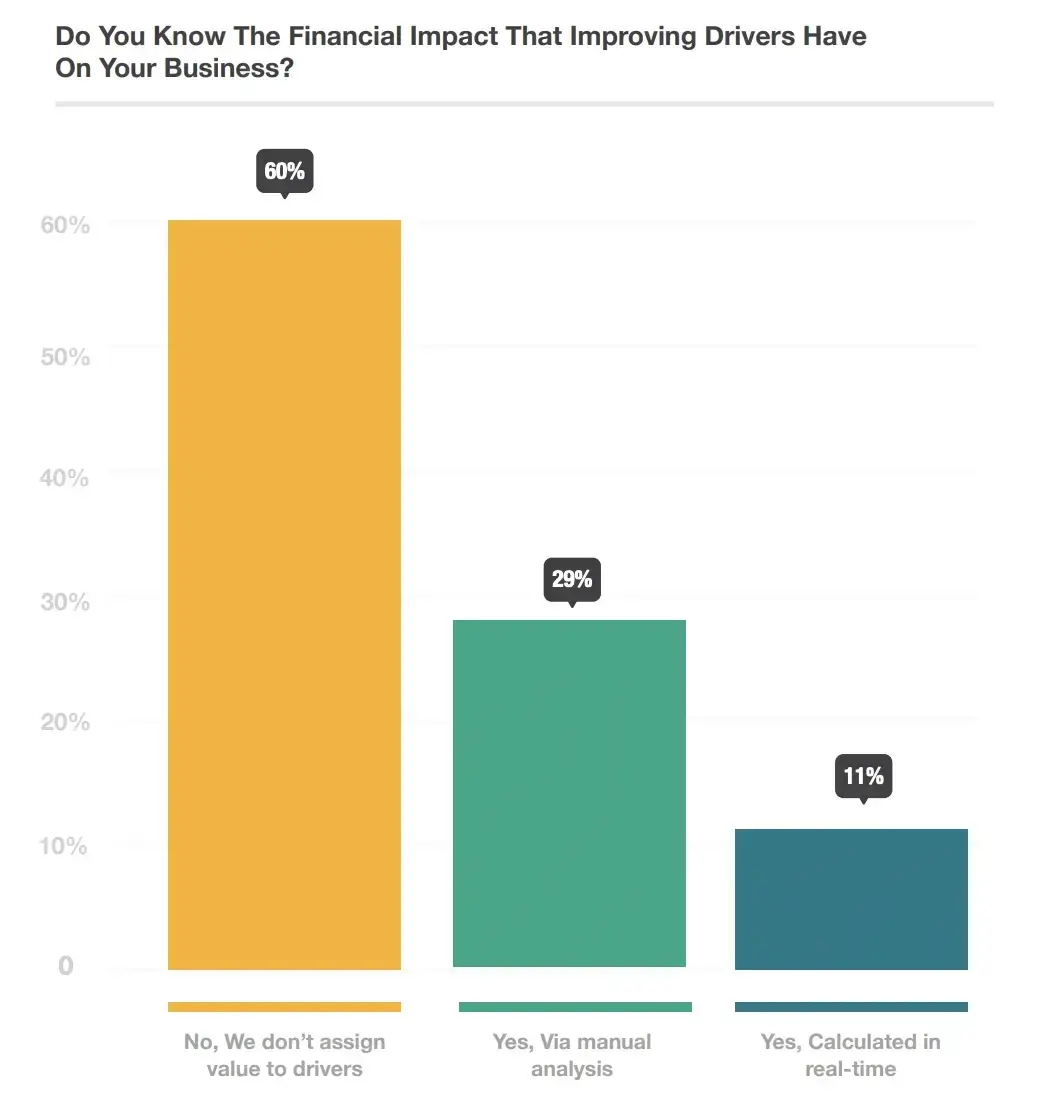 And, this knowledge gap is all avoidable.
Your NPS does have an impact on revenue—we help our customers prove it every day.
We've been consistently rated by Gartner as the number one NPS software for B2B brands in recent years, in part for this reason. We are BIG on connecting your financial customer data to your NPS program—it helps improve CX and your bottom line, and get buy-in from your C-Suite.

In this article, we explore the correlation between Net Promoter Score and revenue growth and we'll show you how to ensure your NPS efforts have an impact on revenue.

What is NPS (and How Does NPS Relate to Revenue)?
Net Promoter Score—or NPS—is the number one system that companies use to monitor their CX. Over two thirds of the Fortune 1000 are thought to use it to drive customer satisfaction and support business growth.
Originally, NPS was discovered by researchers investigating survey questions that could be asked to customers to predict revenue growth. Out of 19 questions, one proved most accurate:
On a scale from 0 to 10, how likely are you to recommend the product/service/brand to a colleague or friend?
This NPS question became the basis of a system that identifies three categories of customers, in terms of their possible impact on growth:
Detractors. They are most likely to churn, spread negative word of mouth, and negatively impact your revenue.

Promoters. They are enthusiastic customers who will recommend your product, drive referrals, and provide opportunities for upselling.

Passives. Not quite enthusiastic, but not yet detractors, passives are both potential for growth and at risk of churn.

The proportion of your detractors, promoters, and passive customers are expressed in the NPS score.
To calculate NPS, simply subtract your percentage of detractors from your percentage of promoters and you have a number out of 100. The higher the score the better your customer experience—and the better your opportunities for growth.
To give one example, Bain & Company once revealed their work with the IT company, Dell. They discovered that Dell had 15% detractors, accounting for $68 million dollars of lost revenue. According to Bain & Company, by converting just 2-8% of those detractors into promoters, Dell would have increased their revenue by $167 million annually.
Clearly, by preventing churn and improving customer relationships overall, companies can save lost revenue and boost customer spending.
Yet most companies struggle to move beyond measuring their NPS. The majority aren't drawing the link between NPS and growth.
Does NPS Correlate with Revenue Growth?
The research behind NPS is pretty clear: improving your NPS score can have a big impact on your revenue growth. How? We'll let the research do the talking:
NPS improvement drives revenue growth. Research by CustomerGauge has found that a 10+ increase in NPS score correlates with a 3.2% increase in upsale revenue. Similarly, the London School of Economics calculated in 2005 that a 7% increase in NPS equates with a 1% increase in revenue overall.

NPS best practices impact revenue. Our research found that following best practices, like surveying multiple times per year increase customer retention. Furthermore, closing the loop on NPS feedback increased retention by 8.5%. We also found similar correlations by following multiple NPS best practices found here.
NPS growth cuts costs of customer acquisition. It is between 5 and 25 times more expensive to attract new customers than to keep existing ones. Keeping your NPS high—and ensuring you minimize detractors—will keep churn to a minimum and encourage resells.

NPS helps companies get ahead of their competition. Their Net Promoter Scores explain roughly 20% to 60% of the variation in organic growth rates among competitors, according to research by Bain & Company. On average, an industry's Net Promoter leader outgrew its competitors by a factor greater than two times.
The NPS-revenue correlation is strong. But it's still only a correlation.
That means that a good NPS score doesn't guarantee revenue growth all by itself. Instead, you need to ensure that you put your NPS efforts to work.
And for that, you need to monetize NPS.
What is Monetized NPS?
Monetizing NPS, part of Account Experience, enables you to measure and track the impact of your NPS performance on revenue.
With the Monetize NPS model, you can put revenue front and center in your CX program.
This isn't a given in heritage NPS.
While many brands measure their CX and act upon it, they don't understand and increase the impact their NPS has on their bottom line—that's why we invented Monetized Net Promoter.
Monetized NPS helps you to take your CX data, connect it with revenue data, and use those to drive down customer churn in valuable accounts.
Here's just one example what's possible with an Account Experience platform: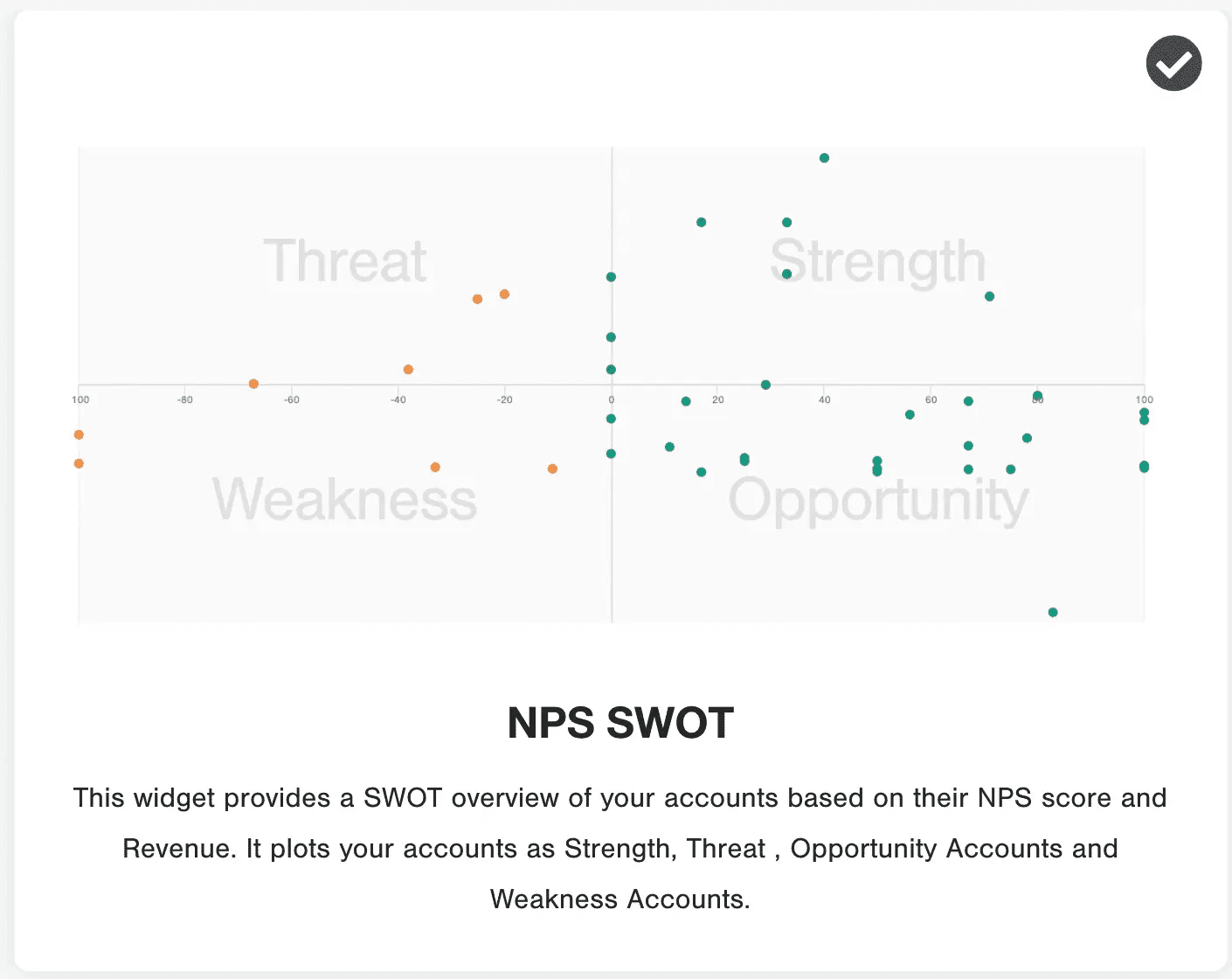 In the NPS SWOT graph, every one of your customer accounts are plotted based on their NPS score and their revenue size.
For example, a 'threat' = a large account that is also a detractor. An 'opportunity' is a small account that is also a promoter—likely ready to be upsold!
Find out more in our Account Experience ebook.
How Can NPS Impact Growth?
At CustomerGauge, we help clients move the needle on NPS to improve their CX and identify opportunities for business growth.
Here's how some of our clients have grown their revenue—and how you can too:
Reduce customer churn. Customer churn is the most important aspect of revenue loss for brands. But that's what NPS is specifically designed to identify. By clarifying who your detractors are—i.e. those who are most at risk of churn—you can give them reasons to stay.
For example, we helped the data management company, INAP, cut their customer churn rate by half in just two years. According to INAP's customer success manager, linking NPS to revenue and ensuring action were the two steps that made it possible. (Hold tight: we explore what actions you can take to improve below.)
Find out more: How INAP Reduced Churn by 50% with Account Experience
Identify opportunities for referrals. On the one hand, NPS is about reducing churn. On the other hand, it gives you the data to drive referrals. This way, NPS success concretely impacts revenue—because the more promoters you have, the better chance they'll refer your brand.
The potential impact can be huge. For example, when using Account Experience, SmartBear brought in $6 million in referrals in just over a year. At the same time, they targeted customers at risk of churn and achieved a save rate of 60%.
Upsell. Satisfied customers on average spend 140% more. By using NPS to identify opportunities for reselling and upselling, you have another channel for revenue growth. In the SmartBear case study above, Jennifer noted that her sales team simply wanted a list of happy customers they could sell to. Job done in seconds with NPS and Account Experience.
These opportunities can be hard to identify, but you can use CustomerGauge's ROI calculator to understand just how much your current CX efforts are costing you—and how much more you could be earning with Account Experience.
How to Make Your NPS Impact Revenue More
It's not just your CX efforts that help to improve your NPS score. The way that you collect voice of the customer data has an impact too.
As such, let's end with some tips about how you can improve your NPS program. This way, you'll see better response rates, higher NPS scores, and more referrals, upsells and retention. And that will affect your bottom line.
Conduct NPS surveys quarterly. Firstly, regular surveys are key to optimal NPS scores and better retention. CustomerGauge research shows that businesses see on average a 44% increase in retention rate if they conduct NPS surveys once a year. However, they experience a 51% increase if they conduct surveys with clients every quarter.

Increase coverage in your B2B accounts. B2B brands never work with a single customer. Rather, you're likely working with many individuals in any given account. To improve your NPS—and your retention—you need to survey as many of these individuals as possible.
Our research shows that you can achieve a 68% median retention rate if you survey multiple contacts in an account, compared to just a 50% retention rate if you survey one stakeholder.
3. Close the loop with all customers. Closing the loop shows customers that you care. And the data suggests they really appreciate it. B2B brands see an 8.5% increase in retention if you close the loop with all customers. And you'll improve your NPS response rate in the long run too.
4. Improve your response rate. Higher survey response rates typically correlate with a higher NPS score over the long term. From improving your survey design to reducing the number of questions you ask, there are many techniques you can use to have an impact.
Find out more here: 10 Ways to Improve NPS Response Rates
You can find many more tips like these to improve your NPS score in our The State of Account Experience eBook. Download it here.
Reach out to us for guidance
At CustomerGauge, we can help you draw a line between your NPS and revenue. And, even better, we can help you grow them both.
We remain the number one NPS software for B2B brands. Book a demo to find out why.
About the Author