Back in 2018, we published the results of a study into the performance of B2B account management.
We discovered that while B2B brands said that retention and revenue growth was obvious priorities, these were things they were actually struggling to achieve. And, where retention wasn't pulling its weight in increasing revenue, they were relying on new customer acquisition to deliver growth instead.
But a minority of businesses were able to grow, and fast, without acquiring any new customers at all. In fact, one in six businesses that we spoke to were achieving over 10% revenue growth from their existing customers alone.
This type of growth (from existing accounts) should be every account manager's goal. However, for too many businesses, it's just a pipe dream.
In fact, even today a surprising number (44%) of B2B brands can't even tell you their retention rate at all.
That's why we need to talk about account lifecycle management, i.e. the processes and tools you're using to monitor and improve your customer's experience at every stage of their relationship with you.
Account managers are suffering because there's just too much emphasis on customer acquisition. CustomerGauge's Global VP of Education and Services, Cary T. Self, explained the problem like this:
"It's much sexier to look at new business and growth as an organization. Everyone loves new! Nothing wrong with that. But we challenge you to have that same excitement for your current business.
Think of this: every account manager you have dealing with a company relationship is going up against your competition's best team of sales professionals. You have to bring the same level of excitement to retention that you bring to new sales!"
Revenue expansion through retention has been overlooked for far too long. To achieve the results of businesses that see revenue retention growth, you need to change your approach — that means improving the experience of your B2B accounts across every stage of the customer journey.
What Is Account Lifecycle Management?
In B2C contexts, you'll typically hear it referred to as customer lifecycle management. Though in B2B where our clients are typically more complex, multi-stakeholder accounts, we use the term account lifecycle management.
The main principle is the same: to nurture your customers across their lifecycle so you can get more value from them. But how you manage this in practice differs drastically between B2C and B2B.
We'll get onto some account lifecycle management best practices for B2B in just a moment.
But first, let's dig a little further into what you're aiming for here.
The fundamental aim of account lifecycle management is to increase your account's customer lifetime value (CLTV). That's the dollar value of your customer over their entire relationship with you.
Acquiring new customers is not the end of your job as a business — this in itself will rarely secure sustainable long-term growth. Instead, you want customers to stay, to continue to get value from you over time, and to refer you to others.
These three focuses: retention, upsell, and referral allow you to earn growth, without bringing a new customer in.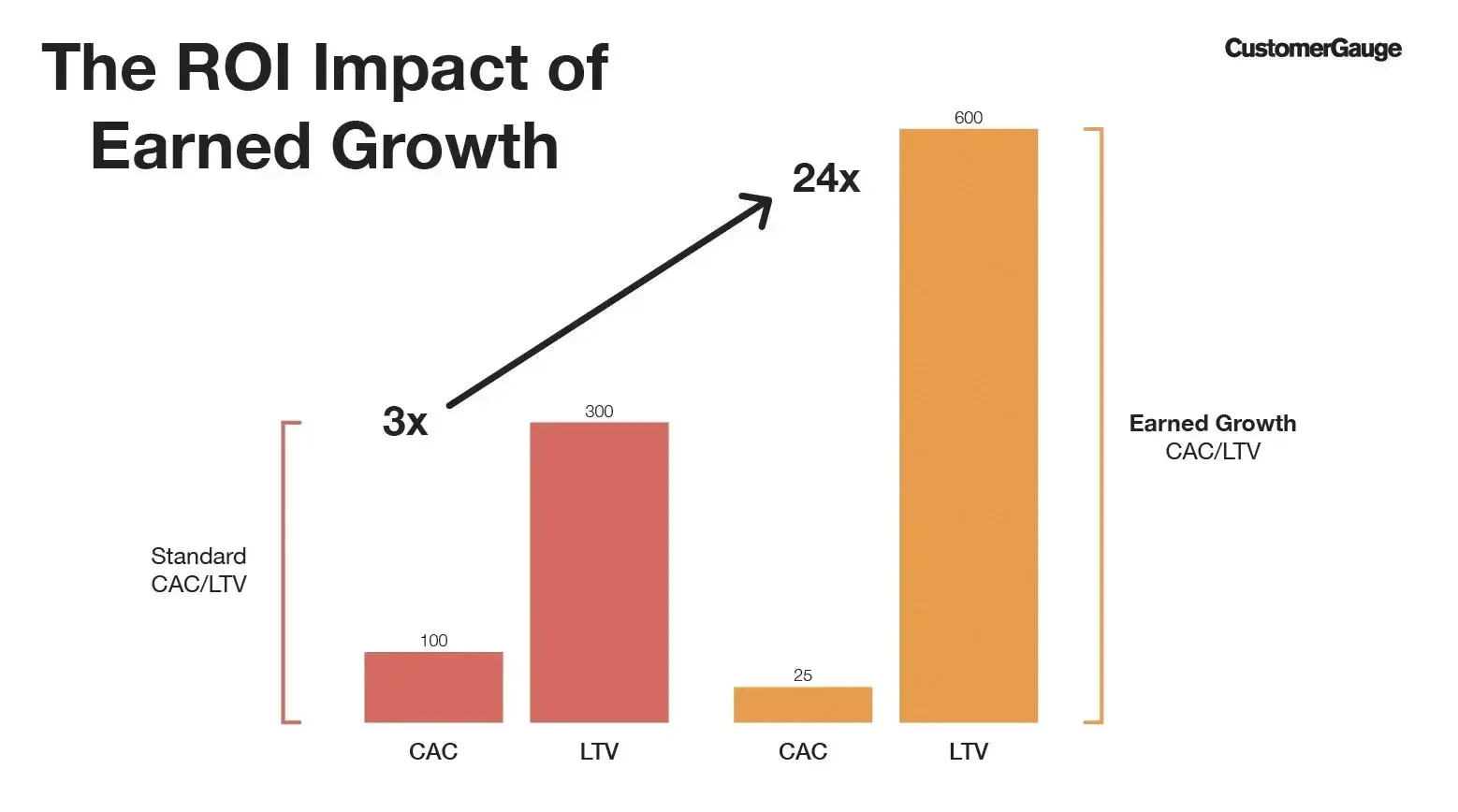 How do you achieve that? Customer experience, or what we call in B2B, Account Experience. This is the way you can get insight into what your customers are thinking across their lifecycles to improve. And, as an account manager, it's your job to do just that.
7 Account Lifecycle Management Best Practices
The account lifecycle typically goes through four stages. Each one corresponds to a particular engagement with your customer:

Awareness. Prospects become conscious that you exist through marketing or referral. Likely, they will have a pain point that you can solve and come to you for your ability to solve it.

Acquisition. Once you've convinced a prospect that you can solve their problem and they purchase your product or service, they become your customer.

Customer retention. There's no certainty that an acquired customer will stick around. Only when they are retained do they move to this part of the account lifecycle. Otherwise, they churn.

Loyalty. Loyalty is the ultimate stage of the life cycle; it goes beyond mere retention. This is where customers have an emotional attachment and advocate for you through referrals. You should aim to get all of your customers to this stage.
While customer lifecycles are usually seen as a progression, it's more accurately visualized as a cycle.
Customer loyalty is such a powerful stage of a customer's engagement with you precisely because your most loyal customers will advocate for you, i.e. they'll make other customers aware of you and help you acquire new customers through referrals.
That means that once you've got a system for optimizing this cycle in place, things will begin to take care of themselves.
For example, when customers refer you, the focus on paid acquisition becomes less important — some of our clients secure 80% of their revenue through referrals alone.
You can do that, too! Take a look at these seven account lifecycle management best practices to help you get started.
1. Use customer journey mapping to visualize the account lifecycle
We sketched out the typical vision of the account lifecycle above. But in reality, it's a little more complex and will depend on your specific business and industry.
The first step to effective account lifecycle management is to understand your customer's journey from their perspective.
A customer journey map is the best way to do that.
A customer journey map helps you get clarity on every engagement your customer has with your brand. As it's much more detailed than the simple lifecycle we outlined above, a journey map helps you see every customer touchpoint to help you identify opportunities to improve their experience.
At CustomerGauge, ours can take many different forms. Here's an example of what it could look like created by an employee:
What's important to note is that the customer journey map should always be from your customer's perspective. How are they interacting with you? Only this way will you see how each touchpoint affects their experience with you.
Top Tip
Get every department on board when you're building your customer journey map, otherwise, you'll likely miss some crucial stages along the way. Only by identifying every touchpoint in the lifecycle will you be able to give your customers the experiences they deserve.
2. Track account sentiment with Net Promoter Score
Now you know when your customers interact with you across their lifecycle, your job is to hear how they feel about those interactions so you can ultimately improve them.
There are a number of customer experience metrics you can use to do that, including customer satisfaction (CSAT) or customer effort score (CES) surveys. However, we recommend you use Net Promoter Score (NPS), which is now the most widely used surveying system.
NPS simply asks customers how likely they are to recommend you to a friend or colleague (when it comes to securing referrals later on, this information is crucial). It can also be used to assess the levels of loyalty based on specific customer touchpoints:

This way, you're asking how a specific touchpoint affects your customer's loyalty. We recommend you ask after every transaction customers complete with you (that's why we call this type of NPS question transactional surveys).
Top Tip
Alongside transactional surveys, conduct relationship surveys every quarter to continually test the temperature of your relationship. This will give you a broader picture of how your customers are feeling.
Our data shows that quarterly surveys can improve retention by as much as 5.2%.
3. Promote customer engagement by meeting them where they're at
Most account managers know that not every customer will respond to surveys. That's natural, if a little frustrating.
But there are ways around it. That's great, because if you want to get the most accurate insight into your customer sentiment, you'll need to ensure that as many customers are responding as possible:
Keep surveys short and sweet. Our research shows that you don't need to ask more than six questions on an NPS survey. For every additional question you ask, you'll reduce the response rate.

Reach customers where they hang out. Email surveys are most reliable, but you can also reach customers over the phone, SMS, or online. At CustomerGauge, we have many different survey distribution methods to work with. Don't be shy about following up to remind customers to respond — it will nudge them to do it.

Time your surveys right. If you're interested in hearing sentiment about a particular touchpoint, ask your customers when that's fresh in their minds. 48 hours after the transaction is ideal.
Often, even with impeccable survey design, customers still won't respond. But you have other ways of tracking their sentiment. At CustomerGauge, we help you monitor every customer's engagement with your brand, with our 360 Customer Tracking widget.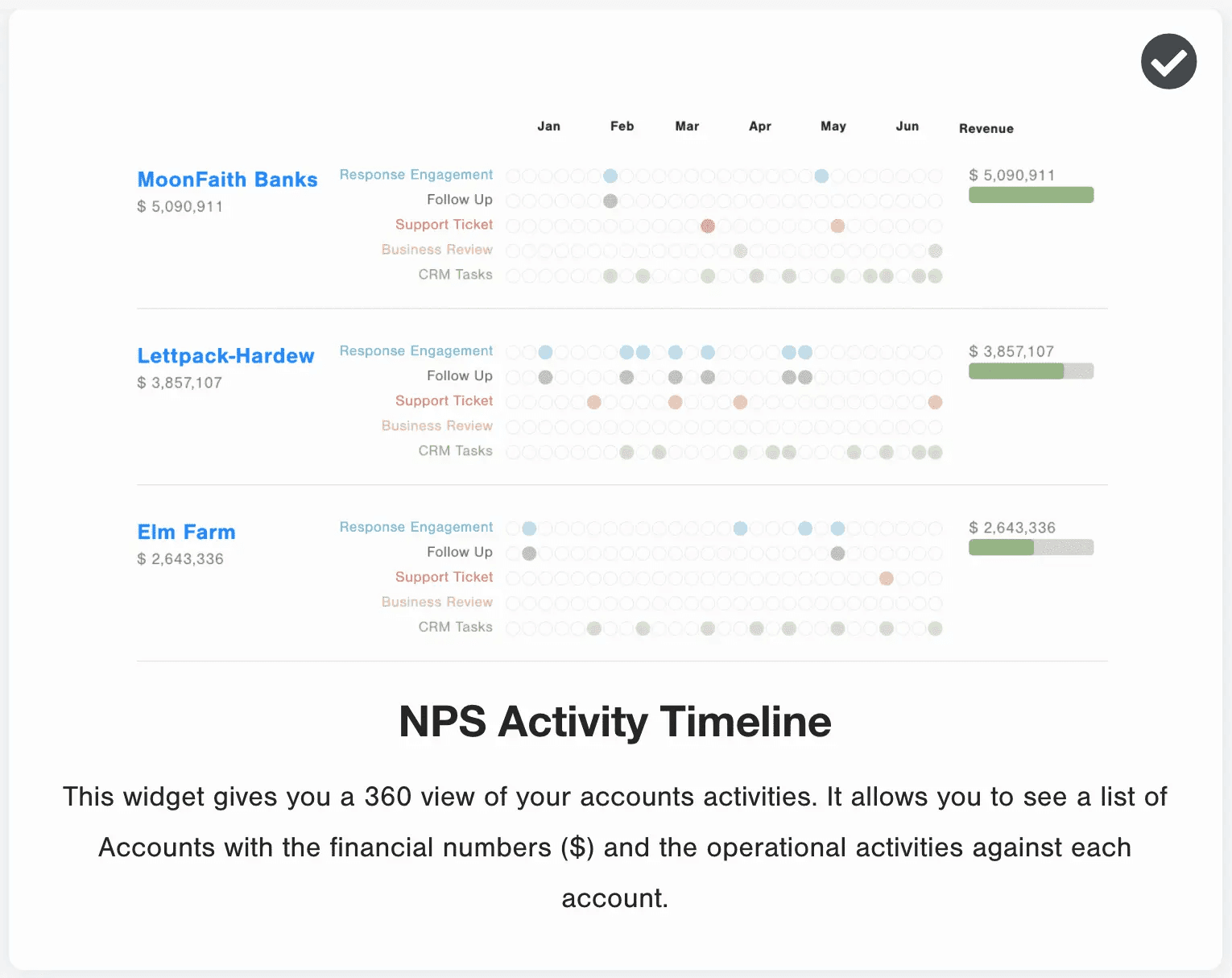 Top Tip
Make response rate a key metric of your account management. NPS isn't so much a research tool as an action tool. With every response, you'll have new data to make improvements to your customer lifecycle.
4. Close the loop on all customer feedback
You're helping to nurture your customers by asking them what they think about your business. The he key to retaining customers, and cultivating loyalty, is to do something about it.
This is the process we call closing the loop, i.e. responding to feedback to tell customers what you have done based on their sentiment. Although many companies don't do it all, it's actually one of the most powerful tools you have in your account management arsenal.
Why? Because it makes customers happier. Our data found that it improves the number of promoters by three times: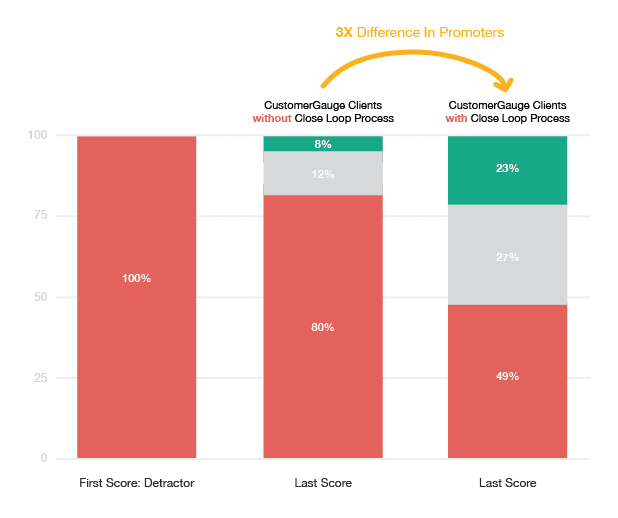 The quicker you do it the better. Close the loop quickly to improve retention and ensure higher NPS results next time. Do it in under 48 hours and you'll see an average of a six-point increase in your NPS score.
Top Tip
Use an automated system to stay on top of your closed-loop process. This can be simple. All you need is an alert that pings every time an NPS response is received. Then an account manager has a deadline by which to respond.
5. Keep an eye out for upsell opportunities
We began this article with data that shows that one in six companies are increasing their revenue by over 10% without even acquiring new customers. As we said before, if you're an account manager, this is precisely what you should be aiming for.
But how do you do it? Upsells. It's your job to cultivate customers so that they want to get more value from your business. This is where loyalty has a financial impact.
You should keep one eye open for upsell opportunities at all times when managing the account lifecycle. As we explain here, these opportunities can be fleeting, as they only arise at the moment when customers are at their happiest and when they have room to grow.
At CustomerGauge, we use a SWOT widget to help B2B brands identify the Strengths, Weaknesses, Opportunities, and Threats among their client accounts. The prime targets for upsells are those in the Opportunities quadrant, who have high NPS scores and low share of wallet.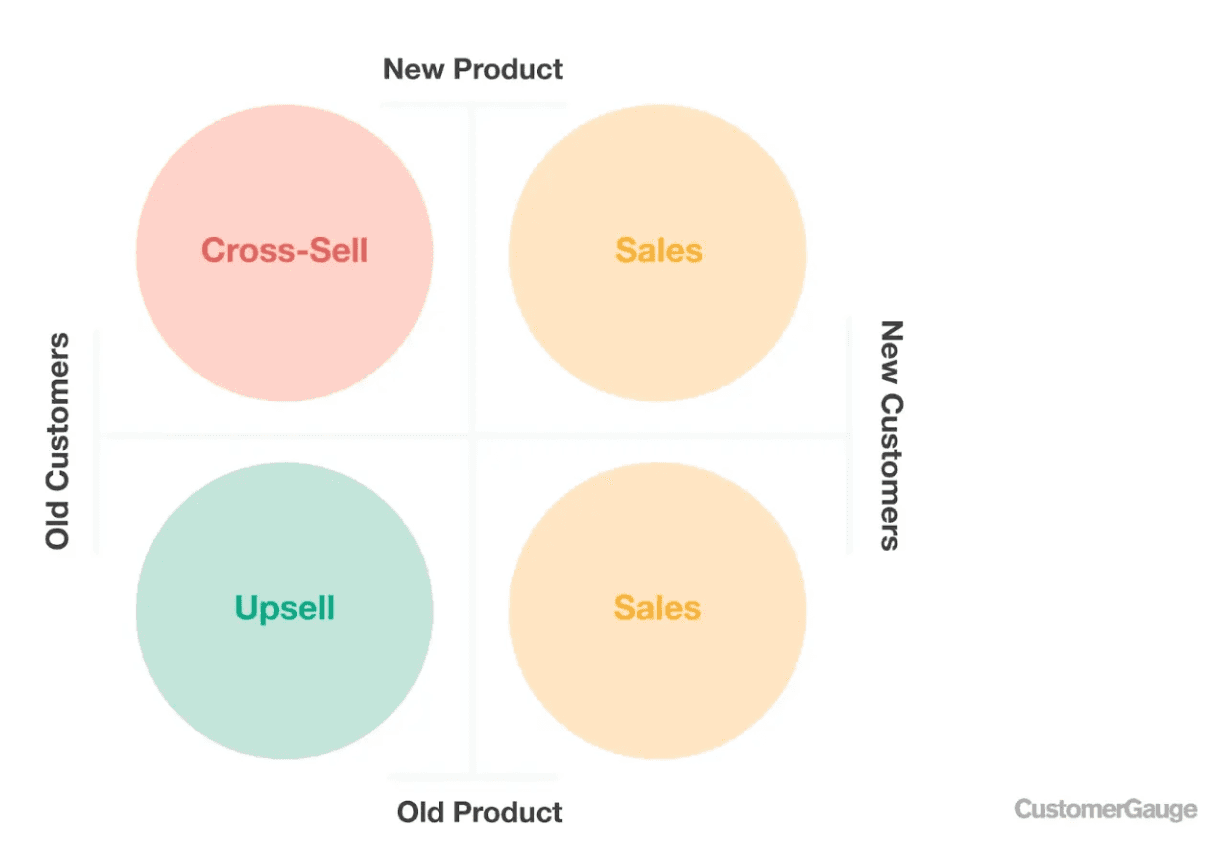 Top Tip
Leverage internal champions to secure upsells. There will be some customers in your client account that are your biggest promoters. Ask them if there's another unit, geography, or team that can use your product. It costs you nothing.
6. Leverage your promoters for referrals
This is the stage where the account lifecycle returns to the beginning.
With referrals, you're asking your existing customers to help you acquire new customers. It's the surest sign of customer loyalty.
However, too many businesses don't have a process in place to secure referrals. That's surprising because if you're running NPS surveys, you're literally asking your customers already whether they'd be willing to refer you.
All you have to do now is ask them to actually do it.
Activate your promoters. Who are the happiest customers in your account? They should be the individuals you ask for your referral.

Share happy customers with sales. Give your sales team a list of happy customers and they'll be thrilled. If as an account manager, you have too much on your plate, they can do the work of asking for a referral, case study, or review.

Act fast. At CustomerGauge, we ask for a referral within five days of receiving a high NPS score.
7. Combine revenue and sentiment data to identify your most valuable customers
Not all customers are of equal value to you. There are some that will inevitably be more likely to churn, be less engaged, and deliver less in customer lifetime value.
On the other hand, successful account lifecycle management will enable you to identify the other type of customer, the perfect fit: those who are easy to serve, loyal, and of high value.
As the famous Pareto Principle states, 80% of your profits can come from 20% of your customers, and it's these customers you should be spending most time on.
Find them by linking up your customer sentiment to your revenue data. Your SWOT analysis can be useful again here. Your strongest customers are those in the "Strength" quadrant.
But it's important not only to identify the best customers among your existing accounts. It's to identify the ideal prospects you should be acquiring too:
Which industry are these customers in?

How large are they?

What pain points do they have that you can solve?

How could you improve your offering to acquire these customers?
By asking yourself these questions, you'll find the customers that are most likely to be loyal.
How Account Experience Can Help
There's a lot to do to improve your account lifecycle management. But you don't have to do it all by yourself.
At CustomerGauge, we've been developing the Account Experience methodology for over 15 years, to support B2B brands in managing and optimizing their client accounts.
Our Account Experience software can help you to:
Link your account sentiment data to revenue. 70% of B2B brands don't have visibility on the financial impact of their customer experience. We change that, to give you all the information you need to earn growth.

Don't just collect survey data, do something about it. It's too common for businesses to run customer surveys and forget all about them. Account Experience gives you the tools to ensure you're acting on customer feedback all of the time.

Target revenue retention, not just customer acquisition. New customers are great, but it's a mistake to overlook those you have already. We can help you prevent churn and drive revenue retention by enabling you to deliver the best experience you can.

Don't just retain customers, grow accounts. Retention is not always enough. With Account Experience, you can go further: actively grow your accounts through upsells and referral revenue.
About the Author