Sweet Fish Media, a B2B podcasting agency, was suffering with problems of customer retention. Doing the math, the leadership saw they were losing 15% of their recurring revenue to churn every month.
They needed a different approach to account management.
The change Sweet Fish made was simple. Account managers began to proactively ask their customers what they thought about the company during quarterly reviews, and how Sweet Fish had helped them achieve their goals.
It may have been straightforward , but it was effective. In 6 months, the team reduced churn by more than 10%, and, in less than 12 months, had brought it to below 3%!
A resounding success. But there's a lesson here: effective account management is the difference between revenue lost and growth. That's not just in terms of retaining customers. Rather, the best account managers will earn more revenue through things like upsells and customer referrals.
So, what actually is account management and how do you get it right? In this article, we'll explain all, from why account management matters so much to some lessons from the experts.

What Is Account Management and Why Is It Important?
Account management is the practice of managing customer relationships to maximize retention, increase product usage, and expand revenue through upsells and referrals.
You could be forgiven for thinking that the way for company success is to increase sales to new customers. While attracting new customers is a crucial aspect of any business strategy, it's certainly not the whole story.
Once a customer has bought a product or service, it's essential for revenue growth that you nurture a positive relationship with them. To be retained, to buy more, and to recommend you to others, they'll need a positive customer experience and it'll be your job as an account manager to provide that.
Account managers (AMs) are responsible for creating and maintaining positive relationships with customers across the whole lifecycle of a service or product. And, since your customer will be using a product or service for some time, that relationship needs to be maintained in various ways: from onboarding and education, to technical support and renewal.
In this sense, AMs and customer success managers (CSMs) are two very similar roles with a lot of overlap — and they're often used interchangeably. But there's an important difference: while CSMs take care of everyday issues, AMs are a little more commercially focused.
Why does this matter so much? Because by offering an improved customer experience, you'll secure revenue growth and:
Increase customer loyalty and retention. Studies show that customer experience is the leading factor behind customer loyalty.

Identify opportunities for upsells. 65% of company revenue typically comes through repeat purchases. But if you want to grow revenue, you need to upsell your customers, and that's the job of the account manager.

Drive revenue through customer referrals. As an account manager, you'll know your customers and be best placed to secure referrals from them.

Improve earned growth through better customer lifetime value. Overall, the importance of account management is that you'll get more value from customers over their lifetime.
As an account manager, you'll be on the frontline for driving growth in your business.

The Account Management Process
While account retention and growth will be a key responsibility of any account manager, in reality, they're not just responsible for one aspect of the customer experience.

Rather, like their counterparts, CSMs, they oversee all stages of the customer journey after the product or service has been purchased. And that means account managers have a lot on their plates.
Every new CustomerGauge employee while onboarding through the Academy has to create what they think our customer journey map looks like.
This one is a great example of the tasks account managers are responsible for: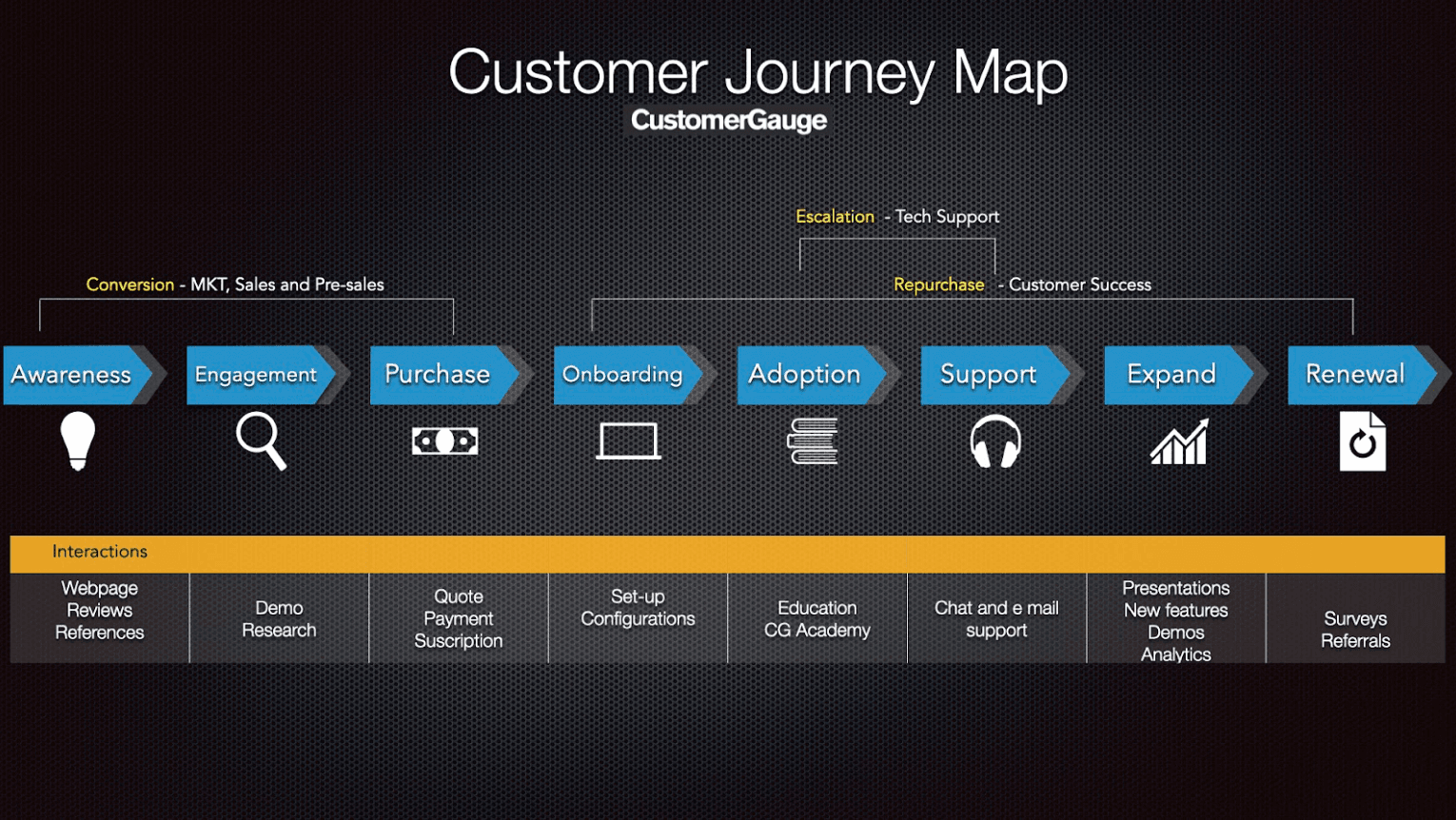 Onboarding. Ensuring new customers are set up with the new product or service and that everything's configured correctly.

Adoption. Making sure that once set up, customers are getting the most out of the product. This could be through courses and other learning materials, such as the CustomerGauge Academy.

Support. Troubleshoot any issues by communicating with customers over a range of channels, including via surveys, over the phone, and chat. This is one customer touchpoint that has a particularly high impact on churn.

Expand. Look for the right opportunities to upsellby presenting new features and offering demos and 'try-outs'. (Here's where revenue growth comes to the fore.)

Renewal. Foster brand loyalty by encouraging customers to buy the product or service again with a robust referral program.
So, account managers need a particularly broad set of account management skills to support customers at every stage of their journey, retain clients, and find the right opportunities to grow accounts with upsell and referral.
Account Management Skills You Need as an Effective AM
What skills are needed to manage accounts effectively? Given the complexity and variability of a typical customer journey, AMs need to be able to meet long-term financial objectives as well as managing the needs of their customers day-to-day.

And in the B2B setting, things are even more challenging: accounts tend to be much more complex in structure than in B2C, so account managers have to work to ensure they're reaching out to stakeholders at all levels across the hierarchy.
An effective account manager needs to be:
An active listener and effective communicator. To meet client needs, AMs need to understand where their clients are coming from. That means listening very carefully to what their customers are saying (or what they're not saying!)

Results and action orientated. Sure, AMs need to focus on day-to-day dealings with clients, but that can't come at the expense of the big picture. AMs are ultimately responsible for both the retention and growth of their accounts, which means they always need to have the long game in their sights.

Good at meeting multiple (often competing) deadlines quickly. Typically, AMs will be responsible for multiple accounts, often each with multiple stakeholders. Given the frequent demands on their time, AMs need to be able to resolve or escalate issues quickly and effectively and prioritize accounts when needed.
Show great leadership qualities. A lot of players are involved in successfully retaining and growing accounts and finding referral opportunities, and they all need to be singing from the same hymn sheet. Account managers need to lead this process from the front, to ensure every single person in their organization is on board.
Given the wealth of experience AMs have to offer, it's no surprise that they (and customer success managers) have replaced the more traditional customer support departments. — they just weren't cutting it when it came to CX in B2B.
But where should account managers start? In the next section, we'll explain how utilizing voice of the customer is crucial in helping AMs succeed in reaching their objectives.
How VoC Can Help Account Managers Achieve their Goals
Customer feedback about your product, service, and overall organization is known as 'Voice of the Customer' (VoC). But VoC is much more than customer reviews: it's about gaining a comprehensive picture of what your customers are saying, how they feel about your product or service, and what they might do in the future.
Account managers need to use VoC to get a real understanding of how customers feel about the experience, products, and services that their company is offering. To do this, you need to collect accurate, reliable VoC data using the right tools which can then be effectively utilized to avoid churn and grow accounts.
Using the right B2B VoC platform, such as Account ExperienceTM (AX),not only supports account managers in retaining accounts and building relationships but also helps them exploit opportunities for referral and upsell when they're likely to be most successful.
Here's how VoC can make your life easier as an account manager:
1. Retain Accounts
One of the main jobs of an account manager is to maximize customer retention and prevent churn, just like we saw at Sweet Fish. It's unsurprising that this is a priority, given that the cost of churn is estimated at nearly $2 trillion every year.
So, how can account managers (perhaps that's you) significantly improve company customer retention using VoC?
Ensure you're using the Net Promoter System (NPS) to measure which customers are happy or unhappy (and why). NPS is the most effective surveying tool out there, as it has higher response rates than competitors and it's the most accurate predictor of future growth.


By regularly surveying your customers with NPS, you'll build happier relationships and identify and prioritize at-risk accounts. This should be at the heart of your VoC program.
Increase the number of survey responses. A customer account that doesn't respond should be considered at high risk of customer churn. By identifying non-respondents and ensuring your surveys are reaching stakeholders at all levels of an account, you'll build a better picture of threats to retention.
Aim for a 100% response rate (Yep, it's possible, just take a look at how ICON Communications did it).
To be successful, closing the loop needs to be done promptly and effectively. Yet our research shows that it tends to be the aspect most businesses find hardest about NPS. So, make sure you have the right tools (such as Account Experience) at your disposal by making sure your VoC software has real-time alerting and tools for easy case management.
Prioritize customer accounts with the largest share of revenue. Just focusing on the accounts with high engagement is an easy trap to fall into. A wiser strategy is to focus on those accounts that bring in the most revenue.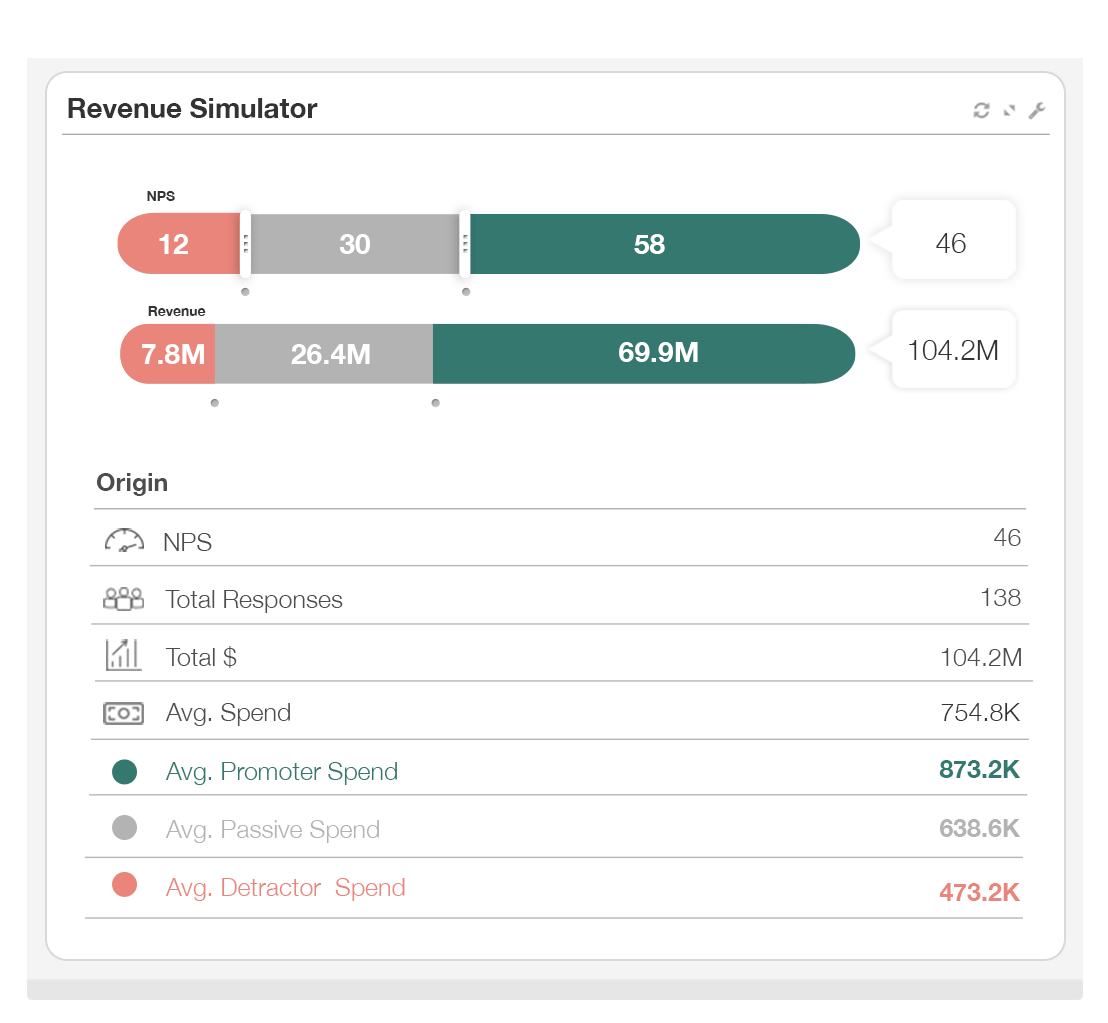 Account Experience from CustomerGauge streamlines the process of retaining accounts. Use its automated tools to identify gaps in respondents, ensure you're reaching stakeholders at all levels of an account, and close the loop with detractors before it's too late.
As our Global VP of Education and Services, Cary T. Self, said in a recent interview,
"It is much better to look at new business and growth as an organization. Everyone loves new! There's nothing wrong with that, but we challenge you to have that same excitement for your current business.
Think of this: every account manager you have dealing with a company relationship is going up against your competition's best team of sales professionals. If you do not treat each of your customers like a brand-new prospect by listening to feedback and acting quickly on it, someone else will!"
With AX, you can prioritize your highest value accounts and see which needs the most attention and when.
2. Identify Opportunities for Upsell
Excellent customer service is great for retention, but it's not always enough for revenue growth.
Take a look at this quote from Gartner:
"The account management paradigm at many sales organizations is oriented not toward encouraging growth, but rather toward discouraging the loss of business already won, which inadvertently allows account managers to prioritize the retention of existing customers over the expansion of account spend."
With Account Experience, account managers can easily prioritize growth as part of their wider CX strategy:
Identify accounts ripe for upsell (and make sure it's at the right time). Ideally, upselling is done when your NPS surveys show that your customer is a promoter, and they have communicated that they're really happy with your product or service.
For example, Account Experience from CustomerGauge uses SWOT analysis to help you accurately target 'opportunity' accounts: i.e. those that have the highest NPS scores, but the lowest current share of revenue.
Identify accounts that might need a different product (and do it before they leave). Although it's more common for upselling to be done when NPS scores are high, low NPS scores present opportunities too. For example, some of your detractors may be unhappy because they're not well-matched with one of your products or services.
As an account manager, identify these detractors and let them 'try out' another one of your products to see if it's a better fit. This is a great way to convert your detractors to promoters and effectively close the loop.
3. Drive revenue from referrals
Revenue from referrals is a hugely important source of revenue. Yet, most companies don't take full advantage of it. 63% of B2B companies do not track referrals gained as a result of their B2B experience program.
Your promoters are going to be the ones that are most likely to refer you (no surprises there). But word of mouth just isn't going to cut it: as an account manager, you need a specific referral program that means you can create and track referrals from your clients, and therefore, increase your chance of success.
How?

Make sure you're picking the right customers for referral by sending NPS surveys to stakeholders at every level of an account quarterly and ensuring high response rates.
Prompt and effective case management. Ask every customer who leaves a promoter score for a referral (or a case study or G2 review) within 5 days and assign a member of your account management team to follow up.
It's amazing what a simple change to your referral process can make: just using NPS feedback generates $100k+ in referral revenue or marketing collateral each year.

Expert Account Management Best Practices to Take Away
We've got plenty of advice when it comes to account management best practices, but Cary has cut it down to three key takeaways:

1. Make sure that you fully engage with, and understand the needs of, stakeholders at all levels of an account:
"No matter how great a solution or program you have, if you don't have the buy-in from a group of people that you work with or the organization, it's going to fail. So I'm a big believer that any program or program owner should make sure that they're meeting with these different departments. Instead of forcing my program on you, let me understand what you're trying to accomplish for the company, and then let me see how my program fits that."
2. Don't just focus on metrics like your NPS score or your customer retention rate. There are more important things, including your survey response rates and metrics related to your referral program:
"Truly understanding the total value of a customer is not easy. Just because they gave you a 9 or a 10 on a Net Promoter survey doesn't mean you can truly appreciate the value of that relationship. What CustomerGauge does is give companies a holistic view of every relationship they have with each of their accounts, allowing customer success teams to activate the most valuable customers that truly understand your value proposition… and at scale.
For example, as an account manager, think of and treat your referral network as an extension of your sales team. You should track how much they bring to you, measure their true earned growth, and make sure you reward them just like they are a member of your team that is responsible for bringing in the big sales."
3. Your detractors represent opportunities for growth, even upsell. Don't ignore them:
"When a customer has a pain point or thinks that something can be better and then they are brave enough to share that feedback, there's now this responsibility to take that feedback and turn it into a solution or an answer. And I think this is where most companies sway way off the road."

Hungry to learn more? Check out our library of expert resources, for competition-beating account management strategies and more!
About the Author