9 B2B Referral Program Best Practices
1. Use Net Promoter to Understand Who's Likely to Refer You

All B2B referral programs begin by identifying those who are most likely to make a referral.
Despite what you may have been told, this isn't achieved by targeting who you think might fall into this category, nor by blindly approaching your customer base. After all, just being a customer doesn't mean you're automatically likely to recommend.
Rather, you need a concrete, measurable process for identifying your customer advocates. Luckily for you, this already exists. It's called the Net Promoter Score (NPS).
NPS directly asks your customers about their willingness to refer you to others. It's based on a very simple question that you've probably come across before:
On a scale of 0-10, how likely are you to recommend our product, brand, or service to a friend, colleague, or family member?
By collecting responses to this question, you'll be able to categorize customers as to their likelihood of making a referral:
Promoters (giving you a score of 9 or 10). These are your happiest customers. They're loyal and enthusiastic about your brand and most likely to make a recommendation.

Passives (7 or 8). Not as enthusiastic, but they can be leveraged with referral incentives.

Detractors (0-6). These are the customers who are least happy and they're not great targets for your B2B referral marketing.
This information should be used to inform your referral program strategy and help you decide who to target.
Hint: It's your promoters (but it's a good idea to work on turning your detractors and passives into promoters where possible, too.)
2. Link NPS to Revenue Metrics to Understand Your Earned Growth
At CustomerGauge, we're big advocates of linking your CX metrics to your revenue.
We've found that it helps companies better understand the value of their accounts, identify the financial risks of churn, and get visibility into the costs of particular CX touchpoints.
When it comes to referrals, tying your NPS data to revenue metrics is crucial for a number of other reasons. It helps you create the conditions for sustainable revenue growth and it allows you to better identify opportunities for referrals and upsells through your customer experience.
Part of this is what Fred Reichheld (the founder of NPS) and Maureen Burns call "Earned Growth."
Imagine one company has an annual revenue growth rate of 20%, which they achieve through high spending on acquisition, discounts, and relentless marketing campaigns.
Then imagine another company. This time their 20% revenue growth rate comes from "earned new customers" (i.e. customer referrals) and account expansion from upsells. They're not buying their custom like the previous company — they're actually putting in the groundwork to earn valuable customers.
Measuring Earned Growth gives you a clearer image of the ROI of your CX, while putting your focus on referrals.
To calculate it, you need two metrics (alongside NPS):
Net revenue retention. The percentage of revenue you make from customers who were with you last year.

Earned new customers. How many "earned" customers you have, i.e. those who buy after hearing about your CX, rather than just because they had a discount.
With these metrics in mind, you'll have a much clearer idea of the value of your customers and may grow your revenue faster.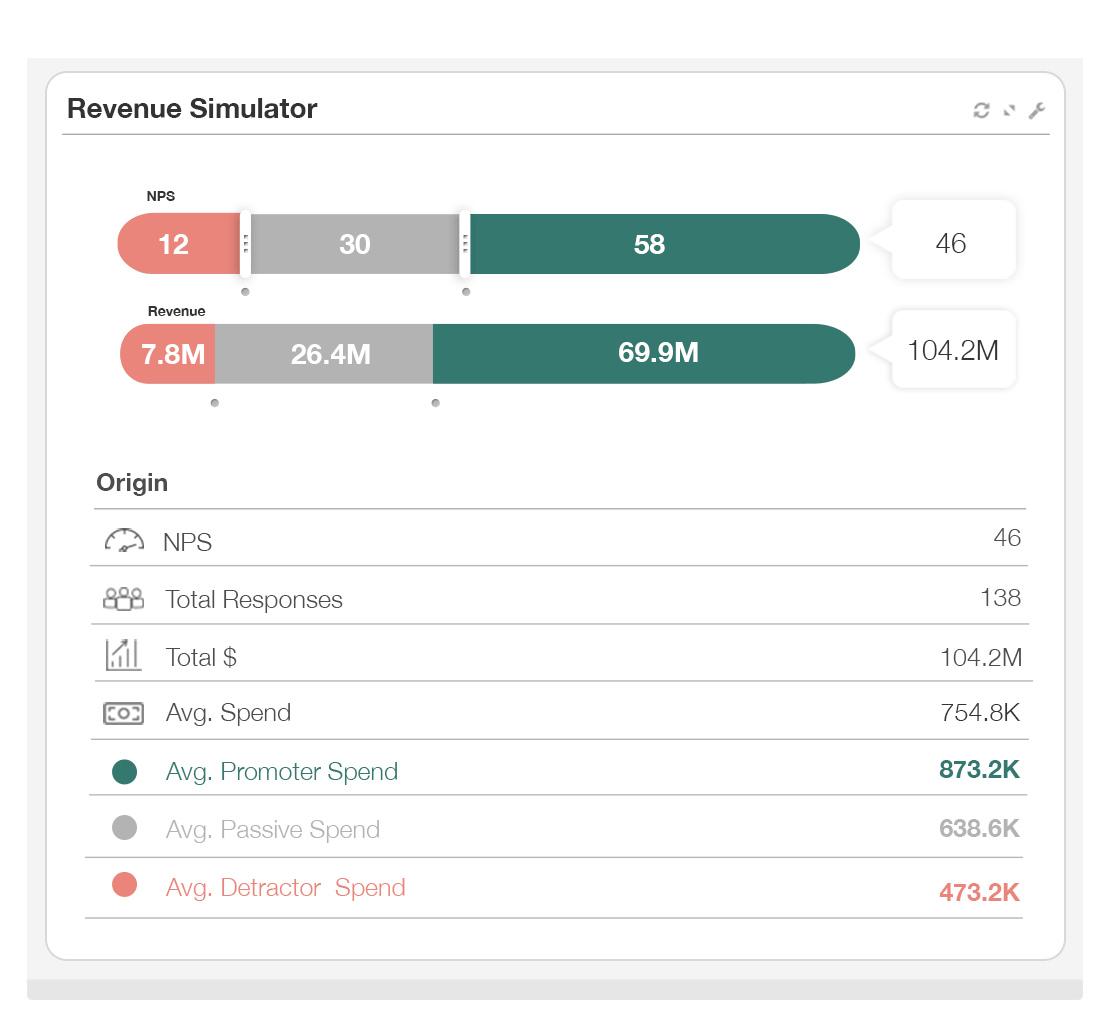 3. Cultivate Customer Loyalty Through Personal Relationships
B2B referrals are made a lot easier with referral rewards and perks.
However, B2B customers won't refer unless they're satisfied with your CX and know that they can trust you to deliver for others, too.
So, it's all good to measure your CX with NPS, but measuring alone is not enough. You need to be cultivating loyalty and turning NPS detractors and passives into promoters at all times.
Part of this will need to be through the personal relationship that your account managers have with your clients.
Every client has their own problems, pain points, and goals. By delivering a personal experience to each of them, you'll build trust and be able to leverage that personal relationship for referrals in the future.
Of course, that's not the only way to build trust.
Closing the loop on your customer feedback will build a deeper relationship, while having conversations can build loyalty, too!
4. Make Referring Worthwhile for Your Customers
One of the first rules of referrals is to recognize that your customers are doing you a favor.
Although your customers love your product or service (or trust you deeply) this alone isn't enough to get the majority to sing its praises. You need to incentivize them.
This incentive can take many forms.
For example, you can offer a percentage discount or a free month per successful referral. Alternatively, at CustomerGauge, we offer to make a donation to a charity of our customers' choice.
It's a win-win-win situation. Your existing customers and their referred customers benefit, while you increase customer loyalty at the same time.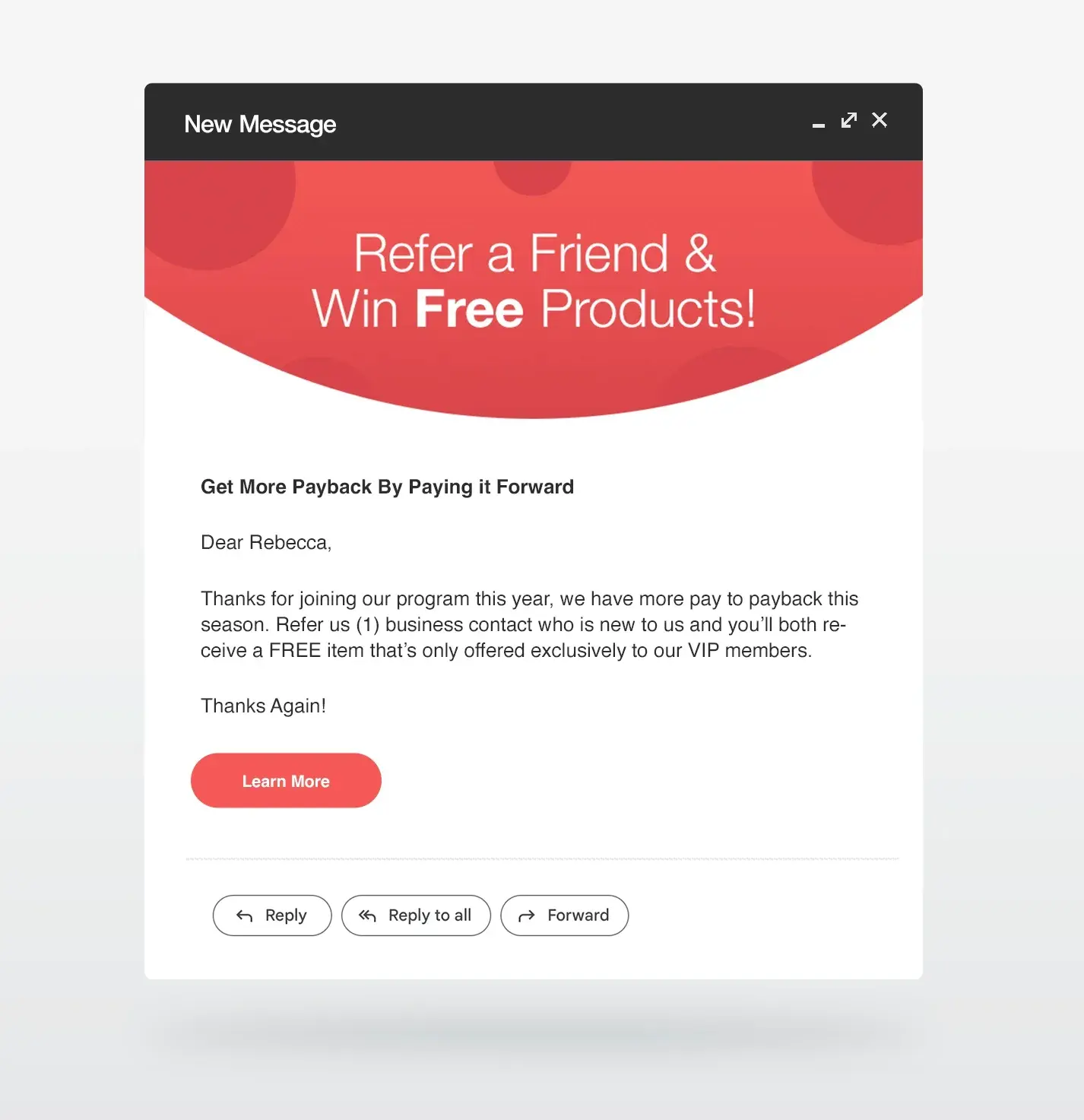 5. Keep It Simple and Easy for Customers
Remember, your referring customers are doing you a favor. No matter how enthusiastic they are about your brand, they're unlikely to recommend you to their peers if your referral program is just too complex.
Whether customers are sharing a referral link, agreeing to a case study, or appearing at your conference, you need to make their life as easy as possible.
Give them the content they need to make the case for you and show them that you're grateful.
6. Ensure Leads Are Handed to Sales Quickly
One of the biggest pitfalls with B2B referral programs is that qualified leads can sometimes get lost in the process. Not only is this an unnecessarily lost sales opportunity but it can also discourage customers from making referrals in the future.
There are many reasons why a lead might drop off the radar. Perhaps your sales team forgot to follow up with them or the lead didn't get back in touch after a free trial.
To prevent this from happening, you need to work with sales and other involved teams to devise a system for efficiently directing captured leads to the right person or team and have a process in place for following up at defined intervals.
Remember: your customers are taking a risk by making the referral in the first place and if your onboarding process isn't up to scratch, it reflects badly on them, too.
We often recommend a "golden ticket" strategy so that referred customers can bypass your normal onboarding process.
7. Track Referrals (And the Revenue They Bring In)
Referrals are of limited use if you can't extract any insights from them.
You need to know how your referrals are impacting your current sales pipeline and process, as well as which customers are generating the most valuable referrals.
With this data, you'll be able to identify trends and patterns that can be used for product optimization.
Some of the metrics you should be incorporating into your referral process include:
Participation rate. How many existing customers are included in your referral program? It's crucial to know as a benchmark for success.

Referral rate, or the percentage of participants who are actually making referrals. If it's low, it could mean that you need to improve your incentives or better target referrers.

Conversion rate. Referred prospects don't always become customers. You need to measure conversions to understand whether your referral program needs improvement — or your sales team.

Revenue growth through referrals. In B2B, it's not just the number of referred customers that matters, but their value, too. Measuring the amount of revenue gained through your referral program is a must.
This should be divided up by referring customers so that you can see which customers are bringing in the most value.
As Cary explains, measurement should be a crucial part of your referral program:
"Think of and treat your referral network as an extension of your sales team. You should track how much they bring to you, measure their true earned growth, and make sure you reward them just like they're a member of your team that's responsible for bringing in the big sales."
Understanding how these referrals have an impact on your revenue will be crucial, too. At CustomerGauge, our Account Experience (AX) platform makes this easy.
8. Modify Your Referral Program Based on Your Performance
You might not get your referral process right the first time. That's okay, most brands don't.
However, once you have a system up and running, there's no excuse to sit on your hands and not try to make it better.
Ultimately, that's what your data is for. Is your referral rate just too low? Then offer a different reward that delivers true value to your customers (or improve your NPS).
Is low participation limiting your potential? Open the program out to other customers, not just your most loyal.
Alternatively, is your referral rate high but conversions low? Maybe there's a problem with your sales strategy instead.
9. Leverage Account Experience to Streamline the Process
You don't have to set up your referral program all by yourself.
At CustomerGauge, our Account Experience methodology and software can support you through the whole process.
Our B2B referral software can help you automate the distribution of NPS surveys so you can effortlessly receive CX feedback and identify the best targets for referral opportunities. Then, it can tell you when to close the loop and deliver the information your account managers need to boost loyalty.
For example, the software brand SmartBear made use of Account Experience to build their referral process.
"Sales came to me and said, 'we just want you to give us a list of customers that I can call that I know love us and that I can sell to,'" Jennifer Lowenthal, SmartBear's Director of Product Marketing, told CustomerGauge.
"And I said, 'I can do that. I have a software program that can give you a list of just that.'"
That program was Account Experience. And thanks to the data it gave Jennifer, SmartBear was able to bring in $6 million in referral revenue in just 18 months.
Find out more about how SmartBear did it here: How SmartBear Brought in $6 million in Referrals

About the Author