Creating and implementing an effective customer loyalty program should be a deliberate and strategic process.
CustomerGauge research shows that while 60% of companies have some form of referral marketing in place, only 5% have a system that supports it.
This means that a large majority of companies run customer loyalty models without carefully assessing how well they work and whether they are in fact achieving their objectives of retaining customers and boosting revenue (many companies also neglect this second criteria — more on this in a minute).

First, let's look at a few examples of B2B loyalty programs that really work and why.
What Makes a Good Customer Loyalty Program?
Above all else, your customer loyalty program has to focus on understanding the why of customer retention.
Why do your customers stay? Why do they leave?
Uncovering the answers to these questions is best done through Net Promoter Score (NPS), one of the most widely used and effective tools in understanding the factors that drive customer retention. NPS is a simple survey that asks customers how likely they are to recommend your product or brand on a scale from 0 to 10.
The results of an NPS survey will help you to differentiate your detractors (red, who are likely to churn), from your passives (gray, who are less likely to churn) and your promoters (green, the loyal and enthusiastic customers you want to retain).
A good customer loyalty program uses this valuable data to inform its approach. A great customer loyalty program ties this information to your company's revenue.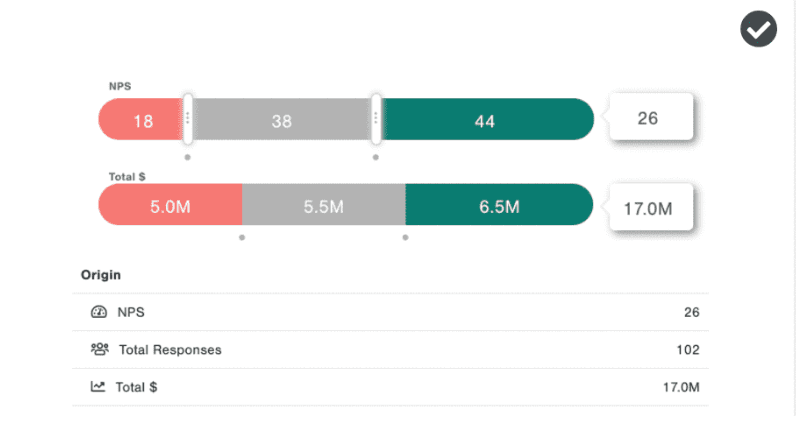 At CustomerGauge, our Account Experience program helps you gather NPS data and use it to see the value and cost of the drivers that affect your customer experience.
This enables you to understand the return you get on investing in your customer experience, allowing you to be more tactical in how you identify, predict, and prevent churn.
What Are Some Good Customer Loyalty Program Examples?
Remember: there's no one-size-fits-all approach to customer loyalty programs.
But with deep insights and a little creativity, the right program can make a meaningful difference to your business's bottom line and sustainability.
Here are a few case studies that might guide and inspire you:
1. H&R Block Canada
To help H&R Block Canada leverage its promoters, CustomerGauge supported the relaunch of its "Refer a Friend" campaign. This program involved rewarding loyal customers who refer friends through an automated email system.
What set this program apart was that it didn't just apply to new clients, as many referral programs do. Instead, it benefited all loyal clients equally, regardless of their NPS score.
Even customers who hadn't yet completed the survey that H&R Block Canada had sent out qualified.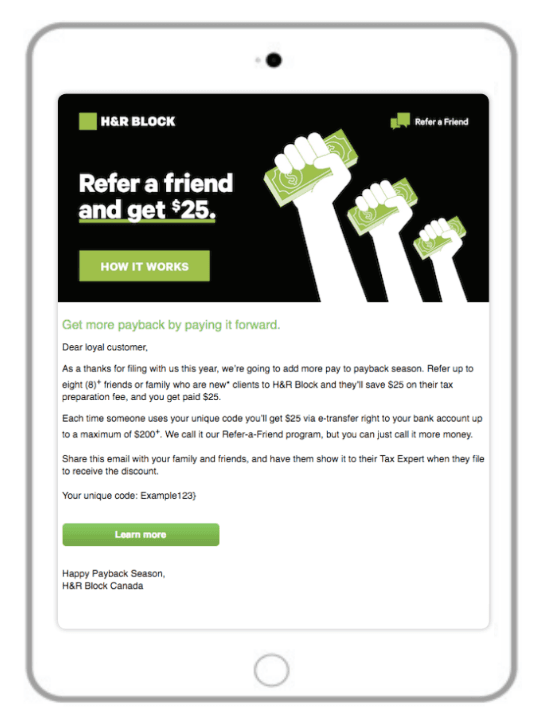 Within a four-month period, H&R Block Canada issued over half a million emails and received an open rate of 49% (according to Mailchimp, most marketing communication sees a 21% open rate, on average). And, the program grew by 13% year-on-year.
H&R Block Canada was also able to correlate its NPS data with the program. This helped the company learn more about its customer experiences and identify ways in which it could further secure its promoters, as well as limit the risk of churn among its detractors and passives!
2. Rehmann
When financial services provider Rehmann decided to implement CustomerGauge's Account Experience platform, the team was striving to automate, monitor, report on, and improve their customer experience.
They knew that they needed a tool to deal with the omnichannel nature of their business.
By implementing NPS, Rehmann developed a customer loyalty and retention program that used customer feedback to guide and enhance its customers' experience, shape services to retain customers and reduce churn, and offer ongoing support to customers through continued engagement.
Rehmann even managed to grow (and maintain) its NPS score to 79—well above the financial services industry average of 37.
In the words of Mitch Reno, Rehmann's Director of Customer Experience:
"CustomerGauge allows us to take client feedback and move swiftly to focus on targeted relationships… Once you get to a certain level of NPS achievement, it is important to continue to use software tools like CustomerGauge to monitor the drivers of satisfaction so you can continue to improve."
3. Lenovo
When Lenovo bought IBM's X86 server division, it was determined not to lose the business partners that had formerly supported IBM. So, it set about implementing a loyalty program, the Lenovo Expert Achievers' Program (LEAP).
LEAP gave business partners points for completing educational models. In this way, it supported its inherited partners to learn how to make more money.
And it worked: program participants sold seven times more products after the program than they had the year before.
An important part of this program's approach was its focus on existing customers. Lenovo knew that it's 5 to 25 times cheaper to sell to customers you already have on your books than to find new ones.
4. Seiko Vision
To try and address what had been a failed B2B loyalty program until then, on top of a poorly performing website (with a 90% bounce rate), Seiko Vision introduced something new.
The team decided to redirect visitors to a different domain for its B2B rewards program, as opposed to the B2C website, which wasn't really relevant. On this new domain, it specifically showcased the benefits of its rewards program rather than providing any product information.

By targeting the right audience, the site saw a more than a 20% reduction in its bounce rate in the first month alone.
And, together with a visual campaign, Seiko Vision saw a 943% increase in leads.
At CustomerGauge, we believe that a lot of the changes that needed to be implemented might have been revealed through a series of informative NPS surveys.

5. TRW Aftermarket
An auto parts company for the aftermarket, TRW, was battling to communicate with its market due to the high volume of competitors. To address this, the team developed a customer loyalty program that involved connecting workshops across Europe.
These workshops earned points for purchasing members' products, points that they were able to redeem for rewards. TRW went so far as customizing its loyalty program to suit the needs of its different customers.
This program not only improved communication between TRW and its customers, but also enabled it to stand out and establish long-lasting loyalty in a saturated market.
CustomerGauge Can Help You Build a Customer Loyalty Program That Works
Building an effective customer loyalty program starts with introducing the three steps of CustomerGauge's Account Experience program into your business:
Measure, Act, and Grow.

Measure. This step involves understanding your customers' current levels of satisfaction, and using this data to gauge whether they're happy with your products and services, or whether they're likely to churn. Relationship and transactional NPS surveys are a key part of this process.
Act. Step two, act, involves actively taking your customers' feedback on board and closing the loop. Doing this effectively can boost your retention by 8.5% and is a critical part of any customer loyalty program.

Grow. Finally, we'll show you the strategies to grow your business. Account Experience was built with revenue in mind, and by linking your customer experience data with revenue metrics, you can see which customers are at risk of churn and how much they're worth to you. Your highest-value clients should be your primary focus in your retention-building efforts.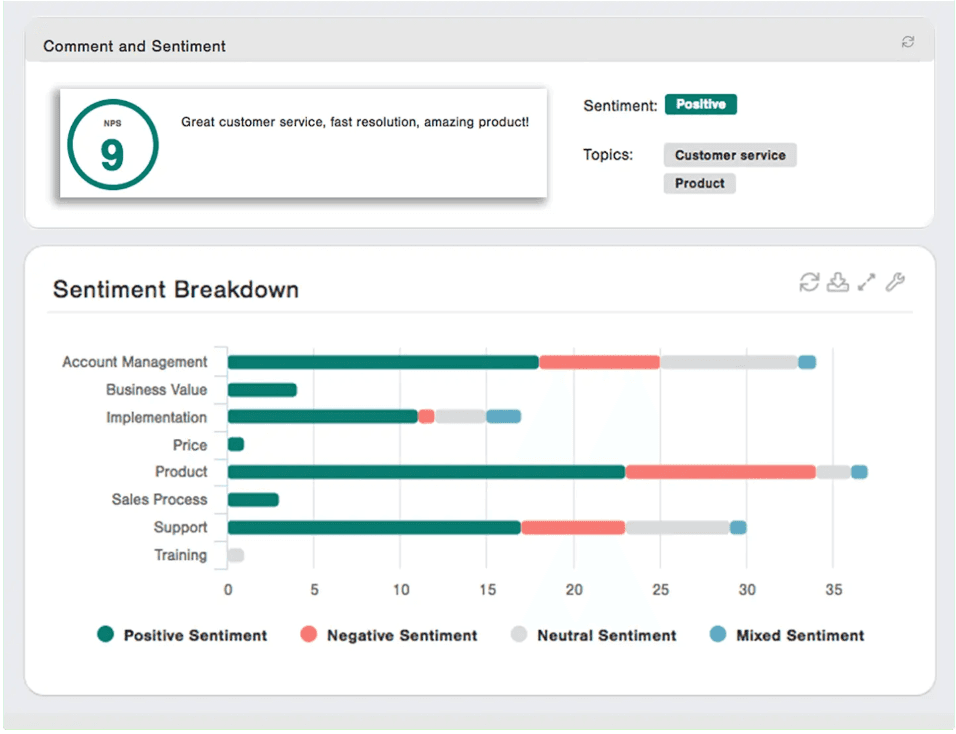 Want to find out more? Book a meeting with our experts today and we'll help create a solution that suits your needs.

Get The Most Comprehensive B2B NPS and CX Benchmarks Report on The Planet