There's more to customer retention than simply reacting to a poor customer experience (CX).
Your customer retention strategy needs to be an ongoing, proactive process where you research, listen, ask, and respond—sometimes before the customer even encounters a potential problem. And to do this effectively, you need the right tools for the job.
Enter customer retention software.
This type of software covers a mix of categories, ranging from all-in-one customer service suites (where you can track several key metrics and interactions in one place) to more focused solutions (like customer surveys or analytics software) used to zero in on specific challenges and outcomes.
Of course, the tricky part is knowing which ones actually work before you commit to using them. In this article, we share 5 platforms that will help you with customer retention management.
Each one software solution helps tackle retention in a different way, either managing the relationship, tracking engagement, or enabling visibility into customer health.
Ready? Let's dive in.

5 Customer Retention Tools with Proven Track Records
1. CustomerGauge for Voice of the Customer
Gartner Score: 4.6
Who it's for: Enterprises with >250 employees; with B2B and B2B2C accounts; Commercial leaders (sales, excellence, operations, customer)
Specialist Industries: Manufacturing, Consumer Packaged Goods (CPG), IT Services, and Technology
Improves: Retention, Account Expansion, Referral Revenue
Core Value Statement: CustomerGauge helps you leverage your customer experience data to build stronger account relationships and directly accelerate financial growth. Less listening, more marketshare growth.
Voice of the Customer (VoC) refers to the strategies, processes, and techniques that a company can use to understand customer perspectives. In short, it's a way to find out what customers are feeling about your brand, product, or service.
Account management is the process of nurturing customer relationships to retain and expand customer accounts.
CustomerGauge unites these methods and insights under one platform, Account Experience (AX).
AX automatically captures and distributes customer sentiment and feedback from multiple stakeholders in each of your customer accounts. Making sure that front-line teams have real-time visibility on their customer relationships—and are never blindsided by a churning account.
By bringing the research and analytics capabilities of a B2B experience management platform together with the techniques of customer account lifecycle management, organizations have clarity on which issues drive customer churn, when, and how to fix them.
Does it work? Yes! In fact, our Account Experience solution works so well that renowned technological research firm Gartner named CustomerGauge the highest performing VoC vendor in the world for the B2B VoC use case in its 2021 Critical Capabilities Report.
And if you want some hard numbers, check out the following case studies:

Read more: 5 Voice of Customer Benefits—The Important Ones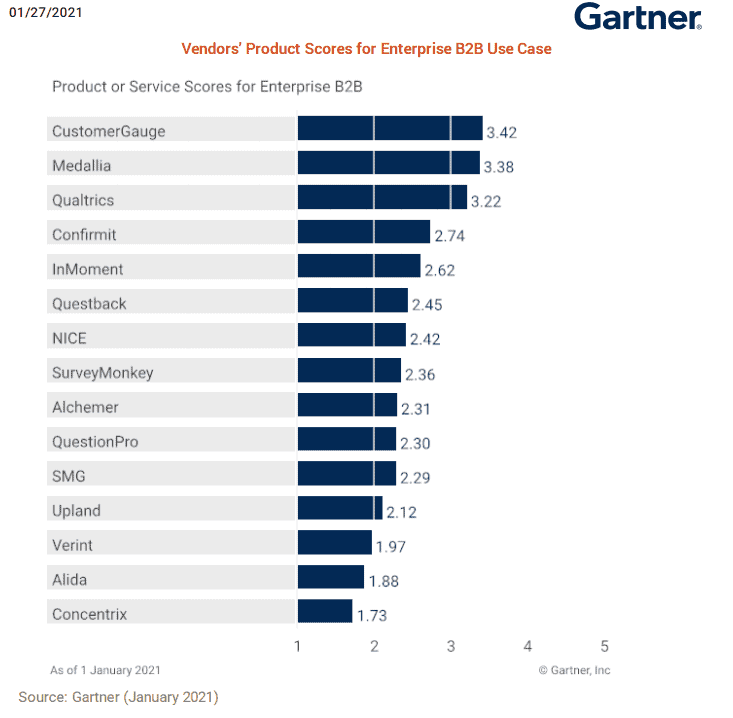 Gartner Score: 4.5
A good CRM brings together all of the most important sales, marketing, and customer service information for each client in one place. And with a deeper knowledge of your customers' history, interests, desires, frustrations, and challenges, you can start to build a customer experience tailored to their needs and wants, improving retention in the process.
Salesforce Customer 360 is more than a "good" CRM. With an app for every phase of the customer journey, teams are connected with a single view of client data, helping them grow and strengthen relationships between customers and each other.
Does it work? One glance at the Salesforce customer success stories would indicate that, yes, Customer 360 works very well. Industry leaders like IBM, BMW, NBC, and PayPal have used the platform to grow sales, empower decision-making, and enhance CX. What's more, 96% of Salesforce customers say that, when they've used more than one Customer 360 app, they've met or exceeded ROI expectations.
3. Zendesk for Customer Service, Support, and Helpdesk Queries
Gartner Score: 4.3
To increase retention rates, you need to equip your frontline support staff with the right tools to swiftly address customer issues. Meanwhile, customers need to know where to look for help when they encounter a problem. A modern helpdesk solution that helps on both sides of a support ticket is crucial.
Zendesk could be that helpdesk. A "customer service solution that hits the sweet spot," this customer retention software sets your team up for success while making it easy for customers to reach out in a way that suits them (for example, messaging, live chat, social media, email, or voice).
Furthermore, with AI-powered answer bots, you can automate and personalize your customer service experience, even as you scale.
Does it work? Like CustomerGauge, Zendesk also has the distinction of being named a top use case by Gartner (in this case, #1 for Digital Customer Service). Meanwhile, notable companies like Uber, Siemens, MailChimp, and Shopify rely on Zendesk to help them deliver exceptional customer support.
4. SentiSum for Support Ticket AI Analytics
In the past, customer support was dominated by time-consuming manual tasks (like reviewing support tickets and routing them to the correct person/department). Nowadays, thanks to the advances in Artificial Intelligence (AI), much of this work can be automated, helping your support team quickly identify and fix problems before they escalate.
SentiSum is an AI-powered analytics software that uses machine learning to tag and categorize customer contact channels. The platform picks up on common customer complaints (like "refund request" or "delivery issue") and routes them to the right people, all while prioritizing them based on topic and sentiment.
You can also use SentiSum to review customer satisfaction (CSAT) and Net Promoter Score (NPS) surveys and automatically turn reviews and social media comments into support queries.
Does it work? Trusted by the likes of Nestle and Accenture, SentiSum's customer stories are an impressive mix of results. Perhaps none more than when they helped British Airways make sense of 100k customer reviews in minutes.

Learn more in SentiSum's excellent guide to Customer Service Analytics.
5. MixPanel for Customer Engagement Tracking
Gartner Score: 4.3
If you're not tracking customer engagement (that is, how and why your customers are using your product or service), then you're going to have a hard time retaining them.
Put simply, you need to understand which features are popular (and which aren't), pinpoint who uses them the most, and tap into the behaviors tied to long-term retention. Without that information, you can't make the necessary changes to improve CX and prevent churn.
MixPanel offers powerful product analytics to help you do just that. With an at-a-glance dashboard and interactive reports, you can track the product features used most often and identify where and why users drop off.
And with retention reports, you can see which users stick around (and for how long) and spot points of friction before they cause real problems.
Does it work? Notable customers include GoDaddy, Uber, BuzzFeed, and Expedia. MixPanel was named the top analytics software in 2021 by tech marketplace G2.com.
Which Tool is the Best for Customer Retention Software?
While there are a ton of tools out there to help you improve customer retention, the five above don't just talk the talk — they walk the walk.
If you're looking to test the waters with some of the software providers above, please feel free to book a meeting with our sales team here.
Our software is the ultimate retention suite for B2B commercial operations teams who want to both drive account expansion and tackle unforeseen churn.
Frequently Asked Questions
Customer retention software is any software that reduces customer churn, helps improve the customer experience or provides predictive analytics to alert to churn risks. There are many possible ways to improve customer retention. But retention software is built with the purpose of improving retention.
Cary Self, our VP of Education, gave a great tip on this. "Get your team involved! Just like Account Experience, a retention strategy has to have everyone in the customer journey involved. Communication of the program, sharing of results, and education of why it is important is vital to the program's success. How many times has a department or person just gone extinct because no one knew what they were doing? Too often! Tom Studdert from Zoom Info has done such a great job of making this important from the very first day they bring a customer on." That being said, we typically see retention in B2B organizations owned by Commercial Excellence, VP of Sales, Directors of Success, and Chief Customer Officers.
About the Author