What You Need to Build an Effective Survey Sundae
The next best thing to a tasty treat? A well-executed survey sent from your business.
These days, people avoid long, poorly designed surveys just as much as they do melted ice cream.
So, to create a seriously effective NPS survey, here's where to start:
The Cone: Relationship vs. transactional surveys + the right template
Deciding on whether to utilize a relationship survey alone or incorporate transactional surveys into your approach depends on the nature of your business and its specific requirements.
However, it is crucial to understand the meaning of both survey types and when and how to use them effectively.
Relationship surveys dig into a customer's overall relationship with a company or brand. They prompt accounts to evaluate their satisfaction and overall experience with the company.
On the other hand, transactional surveys focus on a customer's experience (CX) at a particular interaction point within their journey. While relationship surveys gauge customer loyalty holistically, transactional surveys aim to assess satisfaction with a specific segment of the company in order to identify areas for improvement.
Below we created an example of what a Ben & Jerry's relationship survey template could look like.
In this case, they want to know if their customers would refer them to others using "The Ultimate Question" which we touch on below.
If you were to ask us, we'd recommend initiating your NPS program with a relationship survey to examine customer loyalty and brand perception.
This will enable you to uncover the touchpoints that significantly impact the customer experience. Transactional surveys should be conducted later to investigate the touchpoints highlighted by the relationship surveys that are crucial to the customer experience.
The Ice Cream Flavors: Structuring the NPS Survey

Improving customer retention can be a rocky road (ha) but it doesn't have to be.
The next step to building an effective survey sundae is structuring your survey accurately.
If you don't, there's a big chance your response rate will take a hit. And you don't want that — the lower the response rate, the less reliable your customer data will be.
Typically, every NPS survey has two core questions following this format:
The Ultimate Question. How likely are you to recommend us on a scale of 0 to 10? As seen in our example above, this question gives you the best insight into customer loyalty and is a great way to break the ice.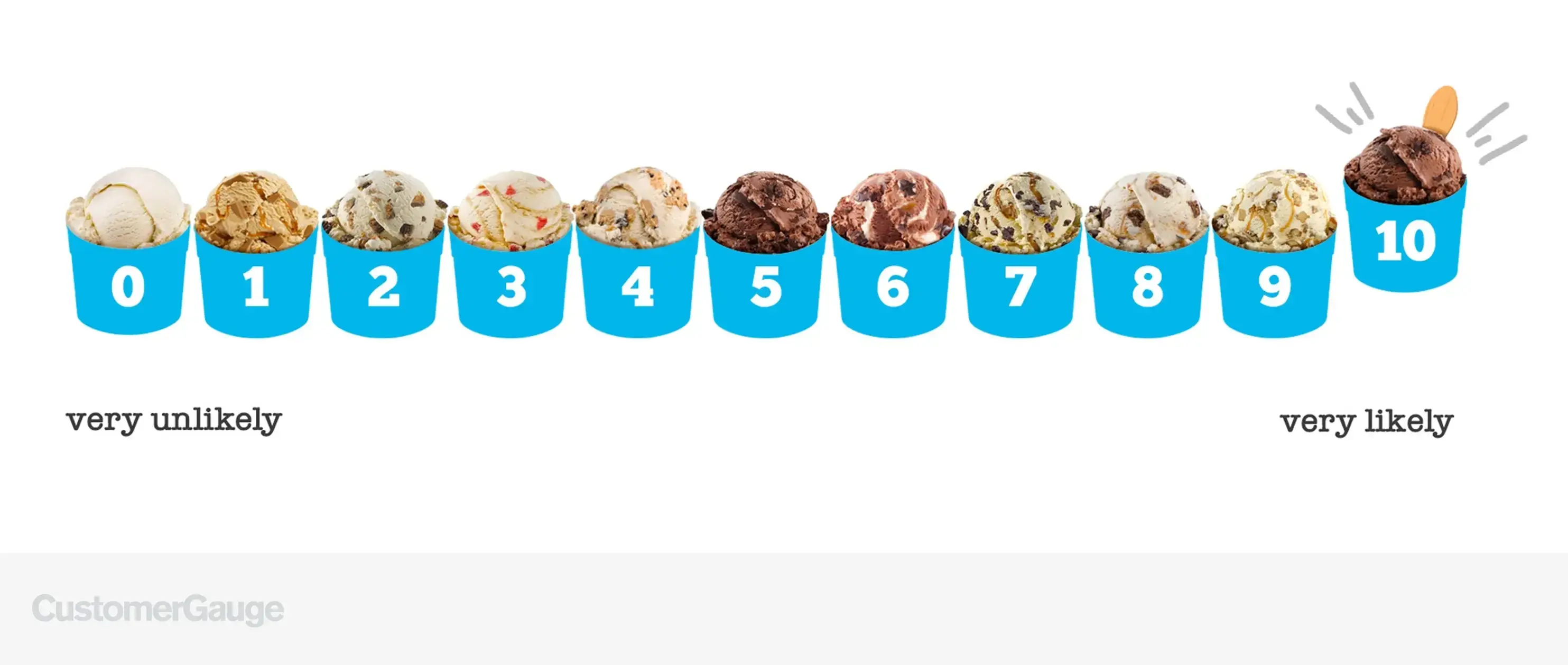 This is also the standard Net Promoter Score question developed in 2003 by Fred Reichheld, who spoke intensely on the topic at our VoC conference Monetize! last year.
The Driver Questions. This can be a series of questions plus an open-ended text box that requires you to ask why the customer gave that score. What do you love about our product? for example, could be a great driver question — more on this below.
Remember: the one aspect that should remain unchanged is the scale used in NPS surveys.
When posing the NPS question, it is important to maintain a scale ranging from 0 to 10.
Modifying the response options to a 1 to 5 scale or a 1 to 7 scale doesn't yield significant benefits. In fact, it hinders the comprehension of detractors, passives, and promoters, and makes it hard to benchmark against other companies.
Now, what about transactional survey questions? Do they operate the same way?
Since a person's likelihood to recommend a company is not directly linked to their satisfaction with a specific touchpoint, a transactional survey question should be formulated with some variations.
For example, if you are assessing a high-volume transactional touchpoint, inquiring about the likelihood to recommend may undermine the question's value.
Consider alternative question phrases such as How Satisfied… or Please Rate…
The Toppings: Adding drivers to find out the "why"

Toppings make any ice cream that much better, and the same goes for adding additional questions to your surveys.
Fred Reichheld's Ultimate Question does a fantastic job of uncovering how you're performing, but you need the why to know where to improve.
The best way to discover why a customer gave you the score they did is to:

Ask them to identify only the most important reasons for their score (driver questions)
Present them with a predefined selection of potential reasons, rather than have them submit their own
Driver questions are the most common type of NPS survey follow-up questions and are a great opportunity to truly understand your customer's reasoning.
Though keep in mind how you ask customers what affects their score should be different for promoters than detractors and passives — if someone loved your product or service you could prompt them to explain what it is that makes them so loyal.
For those who weren't satisfied, this is a great time to ask where exactly you could improve.
Take a look at this example we made of how Ben & Jerry's could potentially pose their primary and secondary driver questions.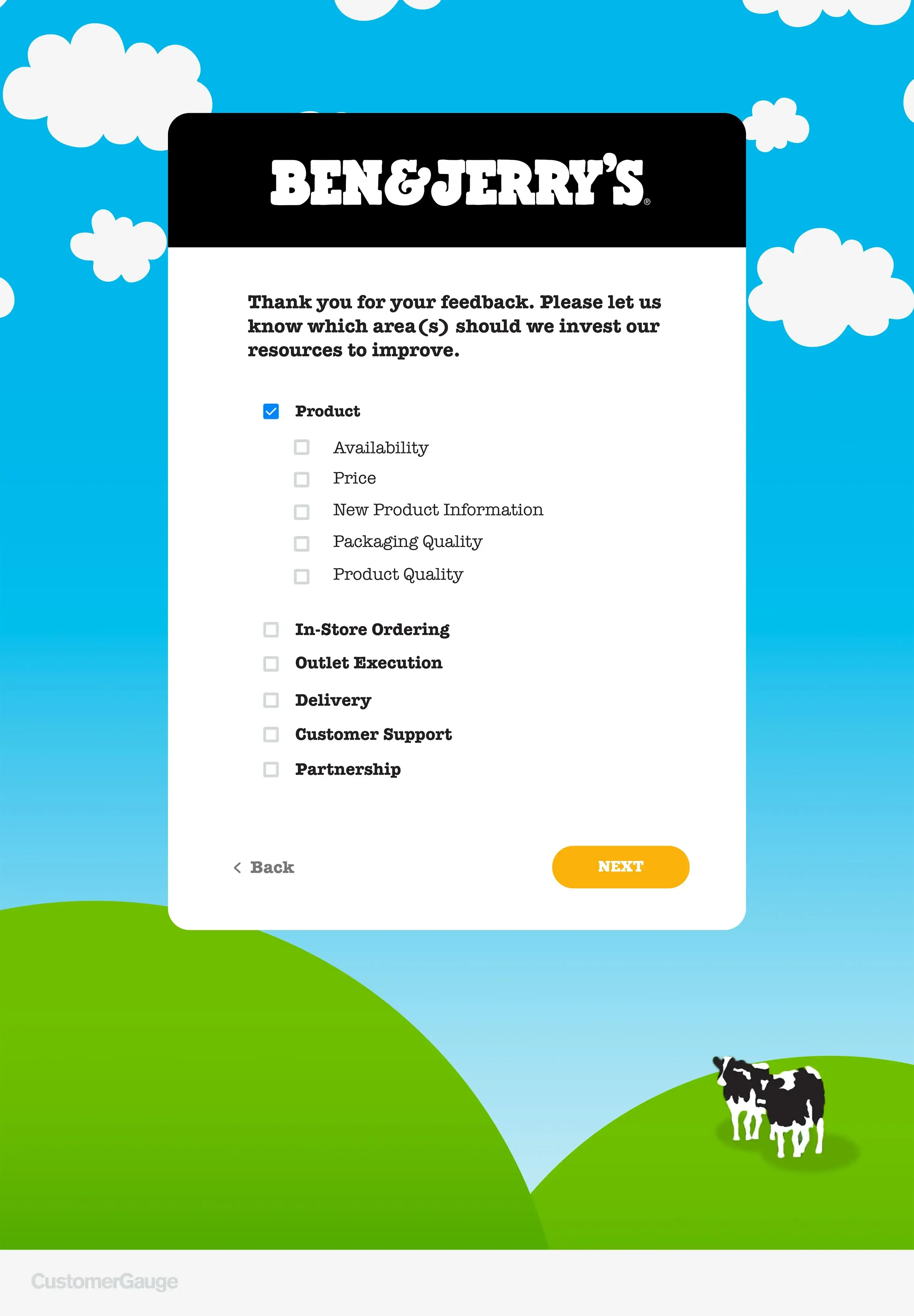 🔦 Learn more about driver questions in 16 NPS Survey Best Practices
The Cherry on Top: Choosing the right survey distribution channels
By this stage, you've put time and effort into crafting a survey that will prompt customers to provide valuable feedback. However, where you're sending your survey to customers can have a significant impact on NPS and our goal is for the outcome to be a positive one.
It's important to get survey distribution methods right because improving CX works two-fold. You're surveying customers because you want to receive valuable feedback to learn where you can improve, right?
Well, participants need to want to engage and respond to your questions. This is why if your survey is sent through a channel they don't use, you won't receive any feedback at all.
There are five different survey distribution channels and it's likely you'll find using a mix of two or three works best for your business:

Email. Email is still king, with 99% of CustomerGauge customers choosing to use it. That's because it's a trusted form of communication used primarily in B2B both internally and externally.
SMS. Short Message Services (SMS) or simply, text messaging, is a way of reaching customers directly to their phones. This method works best when participants know a survey is coming and they trust you since it can be a bit personal — no one wants to receive an unsolicited message!
WhatsApp. A mobile messaging platform such as WhatsApp is a great alternative to text messaging or email. However, this channel does have industry-specific regulations. Sectors including alcohol, tobacco, and others cannot send surveys through WhatsApp.
Pop-up. If you're a Technology company with a product application or B2B brand with a customer portal, pop-up surveys are a great way to survey users. This channel captures feedback in the moment whether they're first signing in or finishing up part of your application.
Phone via a live agent. Last but not least, here surveys are conducted through an agent calling customers and asking survey questions over the phone while filling out and submitting the survey on their behalf.
It's all about meeting customers where they are. After some trial and error, you'll quickly discover the channels your customers use most.
About the Author