You're a company that wants to boost and monetize your customer experience (CX) program by analyzing feedback, retaining accounts, and reducing churn. However, you need support, and customer experience management (CXM) software can help.
The trouble is that there are many highly rated platforms for you to choose from, including Medallia, NICE Satmetrix, and CustomerGauge. But how do they compare? What features do they offer? And which should you choose?
It's a crowded field, and picking the right provider is easier said than done.
So, we've done the hard work for you. Take a look at our detailed comparison to get a blow-by-blow account of how they compare.
Introducing Medallia, NICE Satmetrix, and CustomerGauge
Medallia

Medallia was founded in 2001 and provides CX management software to larger organizations, including those with large and complex multi-enterprise structures. Medallia tends to be used by those in the financial services, technology and telecommunications and retail industries.
In 2020, Medallia acquired Voci Technologies, a specialist in voice-to-text recognition. With this acquisition, Medallia now boasts an impressive ability to integrate CX data from many different formats, including speech.
NICE Satmetrix
A conglomerate of contact-center-as-a-service NICE and VoC software company Satmetrix, NICE Satmetrix was founded in 1997 and provides Voice of the Customer (VoC) services as part of their wider workforce management tools. NICE Satmetrix caters for both B2B and B2C large and mid-sized Enterprises and provides insight into specific pain points with a range of CX surveys that are mapped to customer journeys.
CustomerGauge
CustomerGauge is the newest kid on the block. It was co-founded in 2007 by Adam Dorrell and Camilla Scholten who wanted to find a better way to gauge customer feedback.
CustomerGauge is a complete CX platform built exclusively for B2B and B2B2C and includes tools for managing accounts throughout their whole lifecycle. Net Promoter Score (NPS) tools are at the heart of CustomerGauge's technology, but that's just one part of their revenue-focused solution.
CustomerGauge caters to directors and leaders of commercial excellence in midsize to Enterprise-level companies.

NICE Satmetrix vs Medallia vs CustomerGauge: Gartner's Perspective
In their 2021 report, Gartner considered product tools such as customer journey orchestration, advanced predictive and prescriptive analytics and advanced case management.
Gartner ranked CustomerGauge as the no.1 VoC vendor for B2B. Medallia was ranked in second place, and NICE Satmetrix came in seventh.
The 3 CX Tools According to G2
Aside from the experts at Gartner, what do real everyday users of these platforms think? We looked to G2, the largest aggregator for business software reviews for some answers.
In terms of overall star rating, CustomerGauge scores the highest of the three softwares at 4.6/5. NICE Satmetrix and Medallia also score relatively well, with 4.3 and 4.4 stars respectively.
CustomerGauge rates the best in most areas, scoring the highest for ease of use, ease of setup, ease of admin, quality of support and product direction. The majority of clients also find CustomerGauge a good partner in business, giving us a score of 9.6 out of 10.
It's worth noting that Medallia tends to attract larger companies, with their largest market segment being enterprise, which makes up 65.9% of their reviews.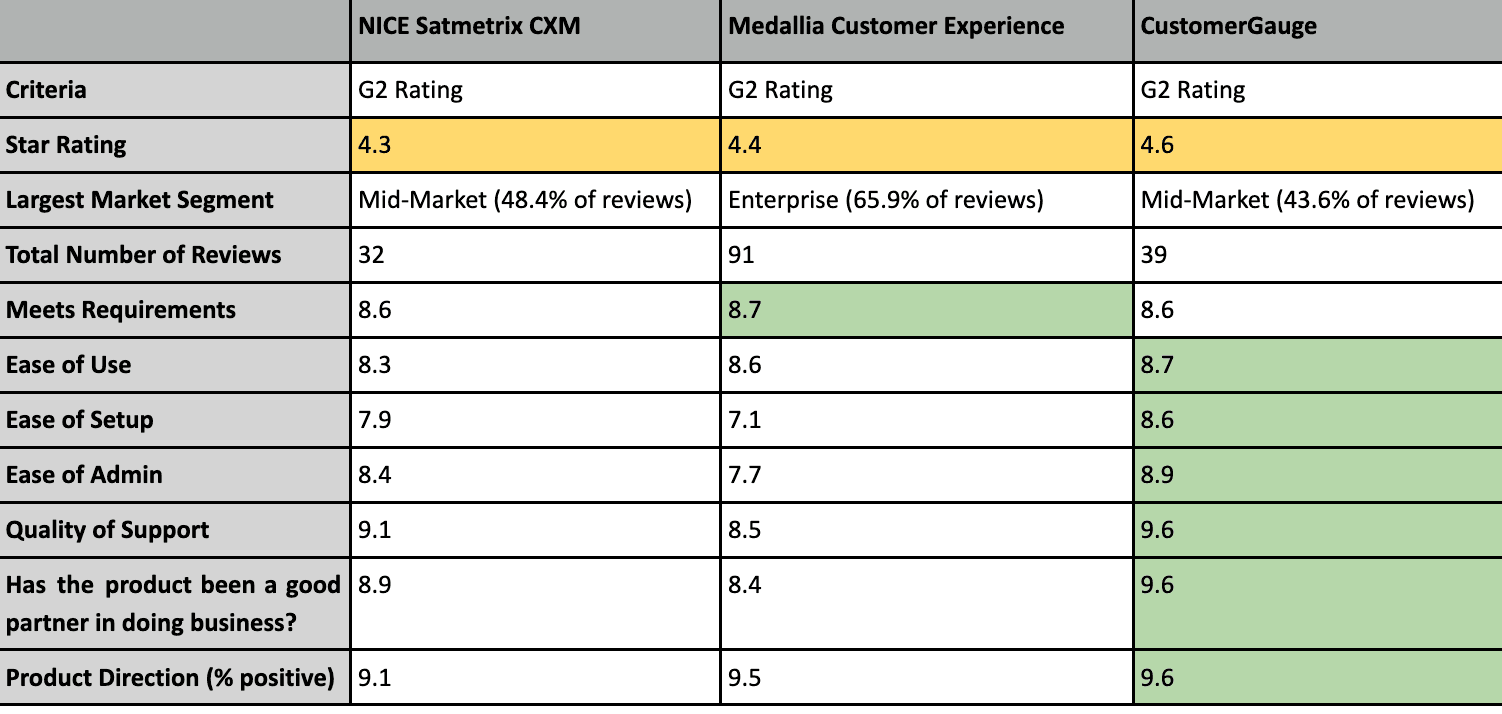 Overall, CustomerGauge receives the best scores for ease of use and installation, but also on customer support and product direction.
What Users Really Think of Medallia, NICE Satmetrix, and CustomerGauge
When deciding which CX management tool to use, it can be really helpful to hear the experiences of people who are using them day-in-day-out.
Let's take a look at how users are finding Medallia, NICE Satmetrix, and CustomerGauge:
NICE Satmetrix Customers Say…
Strengths
Jorge V., posting on G2, gave NICE Satmetrix 4 ½ stars. Jorge, a senior analyst for customer insights at a large computer software company, says that NICE Satmetrix is especially good for closing the loop and solving specific customer pain points:
" [...] Satmetrix offers the opportunity to "close the loop" with the customer. By setting up alerts for particular NPS (or other question) scores, Satmetrix allows users to then hone in on customers in peril of leaving so that those users can then take steps to solve their customers' pain points. This is the whole point of voice of customer data collection, and thus having this capability to "close the loop" is so important."
Shireen M. highlighted that NICE Satmetrix has particular strengths when it comes to customer support:
"We really appreciated the onboarding process and continued consulting to help us get up and running. Our team has been supportive and helpful answering all questions and working with us to improve the effectiveness of the survey tools."
Mark K. agrees, and is particularly pleased with the technical support and advice he has received:
"The customer support is excellent. Satmetrix takes a vested interest in helping their customers get an NPS program off the ground by offering advice on best practices, providing technical support, and always being there to answer questions. The did a fantastic job in allowing an easy transition from our previous software."
Cautions
However, Jorge also commented that the NICE Satmetrix interface was 'not the prettiest':
"[...] compared to Qualtrics Research Core, the interface seems somewhat convoluted and less intuitive. Satmetrix is almost a mix of Qualtrics and Power BI."
Frustrations with the interface are echoed by David M., a senior support manager for a large computer software company:
"Look and feel seems a bit outdated. Too black and white for my taste. Sometimes it is a bit slow to navigate. Particularly when trying to filter let's say for a specific case. Should be easier to re-send a survey invitation to a customer, or change the recipient of the survey. Not sure how much of this was actually configured by us this way, or it is simply the way the tool is built. [...]"
Medallia Customers Say…
Strengths
A user working at a large retail company commented on the high level of customizable detail they can glean using this program:
"It has a lot of customized filters and the ability to review granular feedback based on customer themes"
Overall, they scored Medallia 4 out of 5 stars.
Gayle R., an office manager for a mid-sized company, also found the level of detail provided by the analytics useful—and scored Medallia 4 ½ stars.
"Medallia makes it possible to collect input directly from the customer but also provides analytics so that we can get an overall picture of areas of success as well as areas that need improvement"
Cautions
Some reviewers have expressed their frustration with certain features not working as well as they should. For example, an administrator working for a mid-market construction company said:
"I dislike that it's not as "smart" as it should be. It's supposed to go through the review and look for keywords, and it does different things based on the keywords it finds—it does elaborate things like word clouds or simple things like identifying "good" and "bad" surveys based on the words the software sees within the reviews. The problem is that the software doesn't do a good job at that it often will flag a survey as "bad" because it can't determine the context in which the words are used—rendering that feature basically useless."
Christina G., who works as a small business customer services agent, awarded Medallia 5 stars but did admit that she finds some of Medallia's output perplexing:
"Sometimes I get complaints that don't belong to our business. Not sure how that happens, but it does. It would be better if it only tracked my business."
CustomerGauge Customers Say…
Strengths
Humphrey G., a customer services specialist for a mid-market Information technology and services company, scored Customer Gauge 4½ stars and found that the focus on practical action from real-time feedback made a huge difference in terms of NPS scores:
''In 2015, Colt Data Centre Services (DCS) established itself as a standalone business and having a highly differentiated CX became a top priority. We selected CustomerGauge to get real-time feedback that translates customer insights into practical actions for the business.
"Using CustomerGauge, we quickly rolled out their Net Promoter® program to start collecting customer feedback at many transactional touch points across the customer journey, as well as with periodic relationship and product surveys. We optimized our CX program adding multi-language NPS surveys, which allowed us to tap into a wider audience and increase the amount of valuable customer feedback. Thanks to real-time feedback and Digital Signage showing live customer comments and Net Promoter Scores, our team is more aligned in improving the customer experience.
We increased our NPS from +17 to +54 in four years across all customer segments"
An administrator for a large industrial automation company found CustomerGauge's technical support and wide variety of reporting tools integral for success:
"Implementing CustomerGauge has allowed us to develop a sophisticated customer feedback program that is easy to manage and report on. The best part of our experience with CustomerGauge has been the ongoing support and collaboration they have provided for helping us to continually improve our program. Easy integration with our CRM and a variety of reporting tools within the platform have also allowed us to customize our process and get important data to the right people within our organization."
The Pros and Cons of Using Medallia vs. NICE Satmetrix
Although overall rankings and reviews are useful, they don't tell the whole story. Here, we break down the pros and cons of using Medallia and NICE Satmetrix in detail.
Medallia
Advantages
Medallia is a robust, flexible VoC CX management platform with a focus on transformative and creative solutions. Medallia has real strengths when it comes to robust handling of complex company hierarchies and ease of use. Even if you're managing data from a large organization that changes structure frequently, Medallia strength/opportunity analysis is intuitive and easy to communicate.
The Gartner 2021 Critical Capabilities Report also highlighted the following strengths:

Highest relative score in terms of analytics and insight and automated action capabilities.

Second highest score for data collection.

Real strength in working with large enterprises.

Rated best for B2C.
Disadvantages
High price. The platform is relatively expensive and the software doesn't always function as expected, which means users are forced to reach out for additional support.

Stronger for B2C. Although Medallia scored highest in Gartner's ranking for B2C, it scored substantially lower for B2B, coming in third place.
NICE Satmetrix
Advantages
NICE Satmetrix certainly has its strengths when it comes to core VoC functionalities, and has invested in its speech and text analytics, which means its insight and analytics capabilities tend to be rated well.
The Gartner 2021 Critical Capabilities Report highlighted the following strengths:

Third highest score for insight and analytics.

Fourth highest for data collection.

Particularly impressive journey-based user experience.

Highest score for supporting different department types with recommended actions from agent to management levels.
Disadvantages
The product is not always easy to use—especially from the perspective of market research.

Gartner also ranked NICE Satmetrix in the lowest third of vendors for marketing, sales and on-site/frontline operations capabilities as it found tools for specific use-cases and referenceable customers lacking.
NICE Satmetrix was ranked mid-table for B2C, B2C and B2B2C by Gartner, and was thought to be too complex and expensive for midsized companies.
What's Different About CustomerGauge?
Let's look at that Gartner ranking for the B2B use case again: Exactly how did CustomerGauge secure the top position?
Both Medallia and NICE Satmetrix have their strengths and have invested heavily in really useful functionalities, such as handling complex company hierarchies and speech-to-text capabilities. But ultimately, neither Medallia nor NICE Satmetrix is a specialist when it comes to B2B.
Advantages
CustomerGauge is the only provider that allows you to see NPS through the lens of revenue and coverage. Sure, your NPS score could be solid, but in B2B, if you don't know how much those positive accounts contribute to your revenue, you could be in trouble.
B2B focus. All this all part of CustomerGauge's comprehensive CX management program, which uses proprietary Account ExperienceTM methodology, has been specifically designed to meet the needs of B2B.
Capture, distribute and visualize live feedback from multiple sources, including NPS, support contact, product usage and surveys for all your customer accounts including those with complex hierarchies.
Analyze account revenue. It's not just about customer sentiment—it's about how often they choose to engage with you and how much of your revenue is tied into their account. Using CustomerGauge to understand all of these factors helps you gain referrals, drive up-sells, and reduce customer churn.
Close the loop. CustomerGauge helps you set SMART targets for each member of your team so they know who to follow up with and when. And, if a customer is at risk of churn, your team will be immediately alerted.
Disadvantages
CustomerGauge focuses on the needs of B2B and B2B2C midsize to Enterprise-level companies, not B2C.
CustomerGauge is a full account lifecycle solution and includes tools to do everything from collecting VoC, distributing to the right sales and account management staff, providing alerts and actions to tackle churn, highlighting opportunities for upselling and winning referral businesses.
So, if you're just looking for a basic survey tool to collect VoC, CustomerGauge may not be the first choice.
CustomerGauge: A Dedicated Platform for B2B
If you're B2B, you need a dedicated CX management platform.
Whilst more generalist tools like Medallia and NICE Satmetrix have their strengths, and have done pretty well in reviews and Gartner rankings, they just can't meet all the specific needs of B2B.
For that, you need CustomerGauge.

Book a demo to get started!

About the Author