In a world of ever-growing competition, the best way to win is by creating exceptional customer experiences (CX). Today's customers expect your business to deliver an exceptional CX. And, if they don't get it, they'll go elsewhere.
What's more, the businesses that do deliver desirable CXs are rewarded with greater customer loyalty, more customers, and better profits.
There's a lot riding on getting CX right.
The problem is finding the right CX solution for your business is a little like wandering through a labyrinth. Every CX solution claims it will make CX management easier — but which one should you choose?
To help you decide between three of the leading CX solutions, Wootric, Delighted and Medallia, we've delved into the features, feedback, and performance of each.
In reality, no two solutions are the same. Wootric (now part of InMoment) is a cloud-based CX and feedback management software well-known for its strong surveying capabilities that help measure Net Promoter Scores (NPS).
Delighted (now a key Qualtrics product) is a turnkey CX solution that lets companies get to the heart of customers' responses fast. Meanwhile, Medallia is a comprehensive CX solution that works well for a wide range of use cases.
All are powerful tools with various strengths and weaknesses. Here, we'll look at each in more detail and introduce you to a fourth strong contender in the CX management space: CustomerGauge. We've been ranked by Gartner as the #1 voice of customer (VoC) platform for B2B.
Introducing Wootric, Delighted, Medallia and CustomerGauge CX Solutions
Wootric (Now Known as InMoment)

Founded in 2013, Wootric was acquired in 2021 and rebranded as InMoment.
InMoment takes a time-to-value approach with their implementations so they can reduce the lapse between starting CX programs and seeing a return on the investment.
The software has three subscription levels: Core CX for businesses starting out with their CX management; Enterprise for companies that want to scale CX through the business; and Customer, which is tailored to the business's specific needs. This makes InMoment a highly flexible tool that performs well for many types of business.
InMoment is a leader in G2s Feedback Analytics category of CX Solutions and is loved particularly by small businesses for its simple set-up, ease of use, and strong self-service capabilities.
Delighted (Now Known as Delighted by QualtricsXM)
Qualtrics acquired Delighted in 2018 and continue to offer the CX measurement platform as a turnkey solution. It's aimed at businesses interested in customizable surveys, surface insights, and integration with other systems such as CRMs and project management tools.
Best for small to mid-sized businesses, Delighted provides the early framework of a robust CX program. As businesses grow, they're encouraged to upgrade to the more comprehensive solution of Qualtrics CoreXM.
Medallia
Founded in 2002, Medallia is one of the better-known CX solutions available today.
The versatile platform has been recognized for its effectiveness in supporting many different businesses in the improvement of their CX. The full features of the platform allow CX data to be visualized and analyzed to understand trends, expose issues and opportunities, and predict customer behavior.
Suitable for Enterprise-level organizations interested in curating CX, Medallia is particularly suited to organizations with large or complex structures. Although it serves a wide range of businesses, there's a strong representation of the telecoms and hospitality industries among its customers.
CustomerGauge
CustomerGauge is designed specifically for the complexity of B2B relationships. Many other CX tools attempt to offer solutions for everyone or primarily focus on B2C relationships. However, CustomerGauge focuses solely on the B2B market.
To this end, CustomerGauge helps companies manage every part of their customer's account experience, from developing and sending Net Promoter Score (NPS) surveys to closing the loop on customer feedback and linking CX data and actions to revenue.
One of CustomerGauge's particular strengths is its emphasis on action. Rather than merely helping companies to understand their customer experience, CustomerGauge actively works to improve it and drive revenue with each action.

CX Solutions: Gartner's Assessment
So, how do InMoment, Delighted by Qualtrics, Medallia, and CustomerGauge stack up against each other for CX management? Let's take a look at what tech research giant and consultancy firm Gartner has to say before we dive into users reviews and feedback.
Gartner publishes their Critical Capabilities report annually. This is accompanied by their Magic Quadrant mapping of CX solutions. The report and quadrant compare the world's top CX vendors based on collection channels, data and analytics, insights, and other key criteria.
CustomerGauge was the highest-performing VoC vendor in the world for the B2B VoC use case according to Gartner's research in both 2020 and 2021.
You'll notice that Medallia is ranked second in this report, followed by Qualtrics and trailed by InMoment in 5th. While CustomerGauge is recognized as the leading niche player in the B2B space, Medallia is a leader in the broader market of CX solutions.
InMoment vs Delighted by Qualtrics vs Medallia vs CustomerGauge: A G2 Comparison
Gartner isn't the only reliable software review platform. G2, a peer-to-peer review site and marketplace also helps buyers understand software solutions through genuine, verified user feedback.

Software users grade solutions they have worked with and provide detailed, thoughtful reviews on G2. The purpose is to help other professionals make the best choices for their business needs. Reviewers' scores for software are aggregated to create an average star rating out of five.
Before we take a look at reviews from individual users, let's view these solutions side by side, with G2's analysis. As you'll see, InMoment leads for smaller businesses and CustomerGauge comes out on top for the quality of their support and product direction.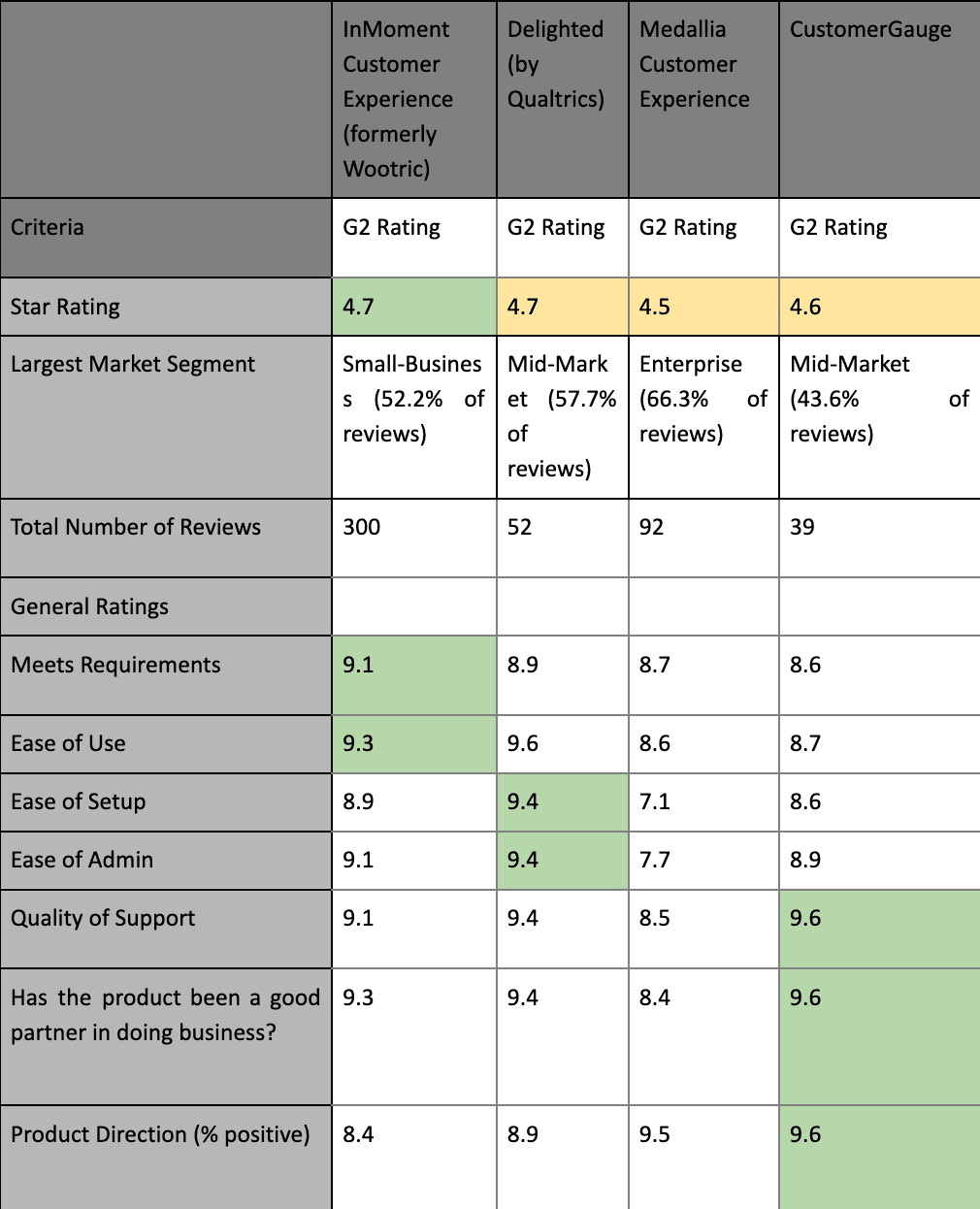 What Users Say About All Four CX Software
Want a little more detail on each of these solutions? Let's see what G2's verified users have to say about these CX solutions.

InMoment Users Say…
Strengths
Nearly all of InMoment's reviews are positive. Users particularly like the ease of the platform for understanding CSAT, NPS, and other CX metrics, plus the user-friendliness of the data visualizations.

Cautions
While InMoment is easy to use, customers note that the closed-loop functionality could be better, and survey customizations aren't as comprehensive as some companies need.

Delighted by Qualtrics Users Say…
Strengths
All of Delighted's reviews on G2 are positive. Users love the simplicity of collecting customer feedback and the intuitiveness of the platform.
Cautions
However, the very simplicity of Delighted may also work against it. For example, simplistic reporting features and the inability to respond directly to customer feedback are two of the irritants users note.

Medallia Users Say…
Strengths
Medallia has many positive reviews on G2, most of them complimenting the CX solution on its comprehensive functionality and ease of use.

Cautions
Although Medallia is a comprehensive CX solution, users note that the text analytics can be confusing and that it's not always able to manage the complexities of B2B CX management.

CustomerGauge Users Say…
Strengths
CustomerGauge users like the high level of customer support they receive and in-depth level of analytics.

Pros, Cons, and Key Features
InMoment

Pros
Consultative speed to ROI approach. Users work directly with the InMoment team to shorten the time between implementation and a return on their investment.

Wide range of integrations. InMoment works well with project management systems such as Slack and equally well with CRMs such as Salesforce and HubSpot.

Specific CX scoring. InMoment provides specific CSAT, NPS, and CES scores based on microsurvey response data. AI text and sentiment analytics provide further insight into customer feedback.
Cons
Clunky integrations. Although there's a wide range of integrations InMoment facilitates, users note that they can be cumbersome and difficult to manage.

Slow customer support response times. InMoment has strong self-service capabilities, but when users do need assistance, responses from the support team can be slow
Delighted by Qualtrics
Pros
Simple to use. Users comment time and again on the simplicity of Delighted for collecting customer feedback and simplicity of reporting and analytics features

Customer support. Users also note the high level of support they receive from the Delighted team.
Cons
Too simple. While the simplicity of Delighted as a CX solution is one of its strengths, users can also find it a little too simple, leaving them wishing for greater depth of insight into customer feedback.

Difficult to close the loop on CX. Although Delighted is great at collecting CX data, responding to it is not so simple. Users need a different solution to get to the heart of customer feedback and close the loop on comments, complaints, and compliments.

Low level of survey customization. Users point to the lack of customization for surveys as a key downside. Often the language used or branding doesn't quite fit with an individual company's needs.
Medallia
Pros
Great ratings from credible sources. Gartner, G2, and TrustPilot review platforms all give high praise for Medallia's CX solution.
Flexible and customizable. The way Medallia handles complex company hierarchies and its ease of use are its greatest strengths. Medallia's analysis is intuitive, making even large datasets easy to analyze and understand.
Enterprise focus. Large organizations that are handling vast amounts of data find Medallia both capable and easy to use. If you're a big organization looking for a B2C CX solution, Medallia is a good choice.
Cons
Price. Medallia comes with a plethora of functions and high-level CX management capabilities— with a price tag to match.
B2C focus. Medallia has the highest score for CX solutions handling B2C feedback and experience management awarded by Gartner. If this is your business model, Medallia is a strong contender.
CustomerGauge
Pros
Automated real-time surveying. CustomerGauge automates requests for customer feedback ensuring it is captured after every interaction and used for improving CX.
CX value. Unlike any other CX solution, CustomerGauge ties CX to your bottom line. This supports businesses in their understanding of the link between customer experience and profits. This approach is designed to reduce customer churn, encourage upsells and cross-sells, and support B2B referral marketing.
Closed loop actions. CustomerGauge prompts you to act on feedback with suggested actions that efficiently close the loop and improve revenue.
Cons
B2B focus. CustomerGauge has been designed specifically for managing and improving the complexities of B2B interactions. Because of this, their CX solution is a poor fit for B2C businesses.
Improving CX should be high on the list of any business's priorities and there is sure to be a solution that fits your business goals and needs. If you're looking to improve B2B customer relationships along with your revenue, CustomerGauge is the best solution available.
Book a demo today to find out how we can improve your company's CX.
About the Author