This eBook was created with one purpose in mind: enable executives to forge a clear path towards ROI and Revenue in any NPS program.
And what better way to do this than learning from 2 experienced executives that have been in your position before?
CustomerGauge's CEO and VP of Marketing have over 15 years of NPS implementation experience at large corporations and have spent long hours writing, editing, and producing this new eBook based on their direct experience in the field.
So often these days eBooks are written by interns or entry-level marketing managers trying to hit an inbound quota... we promise you, this is not one of those books.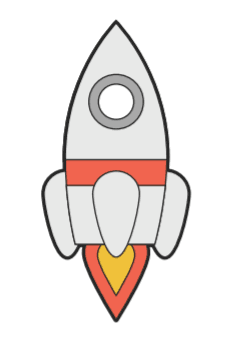 Loyal customers typically stay longer, buy more, are cheaper to serve, refer your brand to others, speak positively about you on social media and perhaps even help you produce and launch new products. We have a lot of background material on this - if you need more proof start here.
You may know that the Net Promoter System® (NPS) is based on a simple survey-based method that investigates which of your customers are loyal, just satisfied or disloyal - and the reasons why. Following the Net Promoter System gives a highly actionable method to improve customer loyalty. If you need a quick primer on NPS, read this link.
In any game it helps if you know the rules and how to succeed. In this ebook we aim to walk you - the Executive Manager - through the steps to get your Net Promoter System up and running in as little time, with as little effort, and as little risk of failure as possible.
On your journey towards success you may meet some objections to the Net Promoter System. We have included the most common with tips how to overcome them. Good luck with your Net Promoter journey!
The Executive's Guide to a Net Promoter System®
As you set out to establish your Net Promoter System, you will have a number of tasks to focus on. Note: some organizations often complete level 1 and level 2 at the same time! When you pull an Objection Card, roll a dice. If you get a 1, 2 or 3, YOU FAIL. If you get a 4, 5 or 6, YOU SUCCEED.
Level 1: Know your health
First 30 days: In this period, you should have started to survey your customers. You'll get your first feedback and a sense of the issues. The survey is usually referred to as a Relationship Survey and gives you the 'real' Net Promoter Score.
Step 1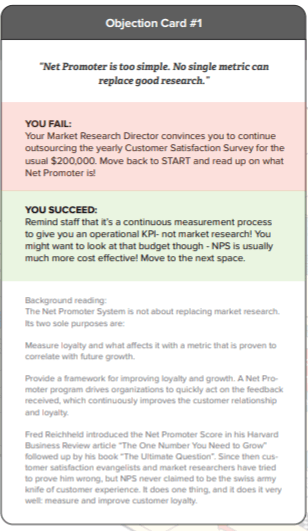 Know your health
Assign your program manager

Every successful program needs a good manager. Best practice is to identify a respected senior employee or a manager with a good internal network and change management skills. Those skills will come in handy later. If your company already has a customer experience manager, that could be your program manager.
However, in organizations of more than a 1,000 employees, you may need more than one person but not until Level 2.
Step 2

Know your health
Empower the program manager
Empower your Program Manager with training and a Net Promoter tool. Both come at very reasonable prices when you start with just a single survey.
Give the program manager access to customer data and the permission to send surveys. This seems like an easy step, but make it clear within the organization that the company will begin sending surveys. Some employees and departments feel ownership towards their customers and want to know everything that the company communicates to them. Lack of information creates resistance meaning you will be off to a bad start.
If you already do a yearly customer satisfaction survey – 94% of companies do according to Forrester – then just let the organization know that you will do a similar survey but with fewer questions.
Step 3

Know your health
Approve the survey

Before your program manager sends the first survey, you should approve it. If constructed correctly, it should provide you with a Net Promoter Score question and information about the touchpoints in your customer journey and how they contribute to the score. If you dislike the survey, you will probably not use the data to make the
necessary decisions at the next level.
Level 1 Bonus
Many companies choose to keep Net Promoter data strictly confidential, often because their negative scores surprise them. But leading Net Promoter companies share results widely and give insights back to their customers, which helps build trust.

If you run a B2B company ask Account Management to select some pilot customers and share their Net Promoter data with decision makers in a business review meeting. If scores are great, you can most likely conclude that you bring value to the customer's organization and that their investment in you is paying off. Promotion is a good foundation for up-selling and getting referrals. If scores are poor, though, form an alliance with decision makers to improve their return on investment through better scores.
With the right tools, you force account management to talk about the customer's business, their issues and how you can help them. Giving a customer insights they may not have while at the same time showing them that you want to improve creates a lot of trust; especially when you follow up on the actions, you agree to in the meeting.
If you run a B2C company ask Marketing to consider sharing customer comments on social media or as customer reviews. Again, with the right tools you can quickly alter the survey. Ask for permission to publish comments and your responses to them. 90% of consumers look for reviews before buying anything on the Internet, but most review sites have few reviews that reflect the health of your customer base. Instead, use current and future data to gain control of your product and service reviews.
Step 4

Know your health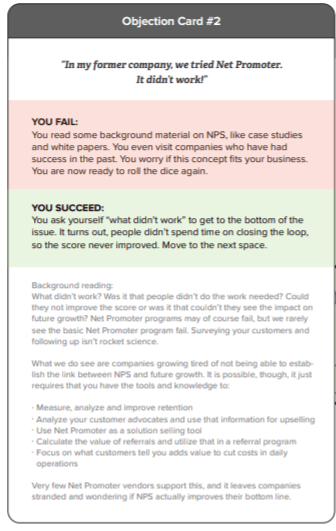 Check your health
Once your program manager has set up and executed your first survey, discuss the results! What is your Net Promoter Score, what comments did you get, and what are the reasons for detraction, passiveness, and promotion? You will most likely learn things about your company you didn't know.
And should you be so lucky to only have promoters, you have our eternal admiration and should consider spending your money elsewhere. If not, it is time to upgrade to level 2.
Level 2: Manage your health
Getting the Net Promoter System up and running is roughly a month per additional touchpoint that you wish to monitor. Usually, the whole system is operational in 3-4 months. However, since the last part of an operational system is setting and tracking targets, this level usually takes 6-12 months.
Step 5
Manage your health
Approve the roadmap
The survey from Level 1 tells you which touchpoints in the customer journey you also need to survey. For instance, if a high-volume transaction like support creates detraction, the support organization may benefit from surveying each support incident. Asking how satisfied the customer is with the support they receive will help the support organization learn what they do right and wrong.
Get your program manager (and solution provider) to plan for additional touch points, including a rollout of tools and processes, and training of relevant employees. Approve the plan and communicate it to the organization.
Step 6
Manage your health
Get senior management on board
Use the results from your first survey to establish buy-in with your senior management. Their support is crucial to roll out the Net Promoter system.
In our annual NPS industry survey, we asked over 600 companies using NPS "what was the top contributor of success?" You guessed it, "good executive buy-in" topped the list!
Step 7
Manage Your Health
Identify Net Promoter Champions
A Net Promoter program is a change exercise. People will carry out new activities and later change their way of working to better deliver value to customers. Irrespective of how much sense customer centricity and NPS makes, change fosters resistance. To mitigate, ask senior management to help the program manager find Net Promoter Champions - typically senior employees from every relevant unit. The task of the Net Promoter Champions is to help the project manager and "own" the Net Promoter activities in the unit.
Your program manager should train the Net Promoter Champions if needed with external assistance.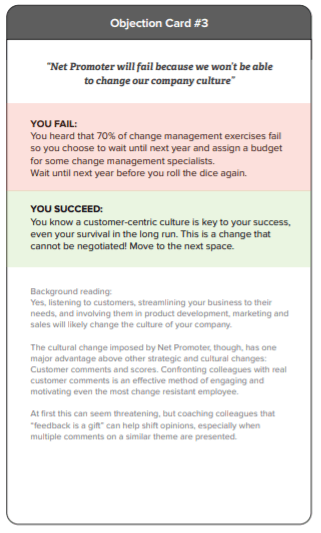 Step 8
Manage your health
Establish a Net Promoter board
Your front line will run into structural issues they cannot solve themselves. For instance, if many customers complain about poor manuals, front line staff can compensate with good service but not solve the root cause. Instead, your product organization will have to fix it, though this may contradict their strategy and resource situation.
To ensure that structural issues are handled the Net Promoter board should contain people with sufficient decision-making power, usually senior managers from relevant units. A board typically meets every month or quarter to discuss new issues and how they impact your Net Promoter Score as well as progress with undertaken initiatives. The board also makes sure to communicate initiatives back to the customers.
Step 9
Manage your health
Overlook progress and communicate your support
Monitoring progress and communicating interest in the program is key.
We've seen the most successful programs having Net Promoter on the first slide of the monthly executive reports. Each division head is strongly involved and discusses comments/ scores each month.
Step 10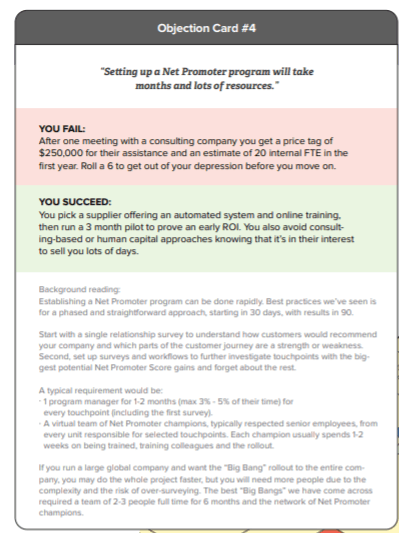 Manage your health
Set targets
When your Net Promoter System is operational, your recurring task is to establish new targets typically once a year and track progress throughout the year. Many companies choose to set reasonable incremental targets, but some Net Promoter solutions also
come with tools that help you calculate realistic targets.
Add the NPS targets to your scorecard and communicate progress and consider incentivizing employees on their targets.
Level 3: Learn to grow



You may want to start this level before Level 2 finishes, as your NPS team will need more than just NPS data to carry out the required analysis. In particular, you may need data that you don't register today in your CRM, marketing and accounting systems, for which reason you may want to start step 11 as early as possible.
Once you have completed this level, you will know how NPS correlates with churn, up/cross-sales, referrals and other growth parameters. With a full overview, you will know the financial value of a 1-point increase of your Net Promoter Score.

Understanding if and how various growth parameters correlate with NPS in your company typically takes 2 weeks to 2 months per parameter
Step 11
Learn to grow
Create the data
We often see that companies don't possess the data they need to analyze how NPS
impacts growth. Your job is to ensure that your NPS team have that data when it is
needed.
According to our studies more than 33% of business do not actively track churn or
retention.
To analyze churn, your company should register when customers leave the company or have been inactive for a period of time. Also, consider running churn surveys, that is ask the customer why they leave when they leave.
Step 12

Learn to grow
Analyze
If you wish to analyze the value of referrals or social media influence, run win/loss reviews to understand why you win or lose new business. With simple models, you can calculate how much referrals impact wins and the financial value of them.
You'll be surprised - it takes just a few percent of promoters to refer you to
make a substantial impact on new business.
Additionally, the NPS team may need help from people with analytical and statistical competencies, e.g. a market research team.
Step 13
Learn to grow
Check your growth

Discuss and understand how NPS correlates with the various parameters and how they affect your bottom line. Mark parameters with little correlation (or do further analysis) and prioritize the rest.
Establishing this step will monetize your Net Promoter system and make it a "hard" metric. You'll also see the ROI from your NPS investment.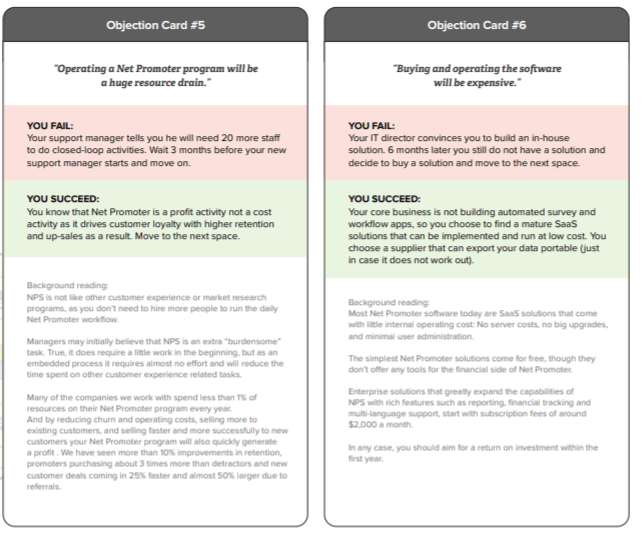 Level 4: Grow

This level is usually straight-forward… follow the money! If your churn is very low or you see little correlation with NPS, then don't focus on churn. If you have very a small number of up or cross-sales and don't plan to expand your product range, then don't concentrate on this. Referrals or social media influence is however relevant to all businesses … unless you're a monopoly or from another planet.
Step 14
Manage your health
Launch growth programs
Whatever your conclusion in step 13 was, you will now decide which growth programs to start.
With the proper NPS solution in place you already have the needed solution, so the exercise is like any other project. Your role is to communicate why you do the project, establish buy-in in the relevant management team and track project progress.
Step 15
Manage your health
Set targets
Once you know your current churn, up- and cross sale potential, the referral value, etc. and have launched the programs, you set targets for each of these. How much do you want to reduce churn? How much more do you want to sell to existing customers?
How will you utilize your promoters for referrals?
Setting and tracking targets is about managing your future growth.
Step 16
Manage your health
Grow
Congratulations! You've reached the finish line! You now have a Net Promoter program that allows you to not only measure and manage your company health, but identify drivers of growth and create programs to reach targets.
Of course, your game is not over. You need to keep repeating and improving. But now, you have the strategies needed to win.
Best of luck!
About Customer Gauge
CustomerGauge is a SaaS based Customer Retention platform built on a world-class technology infrastructure offering an industry-leading integrations suite.

We help companies ranging from mom and pops to the largest enterprises in the world capture voice of customer feedback and translate this feedback seamlessly into actionable insights to drive top and bottom line growth.
Through automated technologies like firefighting, text-analytics, and account success, we provide organizations with the tools to retain more customers in real-time and take total control over their customer experience.
Want to see this platform in action?
Request a CustomerGauge demontration
Get The Most Comprehensive B2B NPS and CX Benchmarks Report on The Planet