Sprinklr and Qualtrics are two industry-leading customer experience management (CXM) vendors that are relied on by brands globally.
Yet, no two tools are the same. Each comes with its own distinct advantages and in this case, a different suite of tools to help you manage your customer experience. For example, Qualtrics has solutions for employee, product, customer, and brand experiences, while Sprinklr offers a range of solutions for social media listening.
We'll focus on Sprinklr's Modern Care solution and Qualtrics's CustomerXM, the brands' respective tools for managing customer experiences. We'll explore how users feel about each, the strengths and drawbacks, and which platform is best for your use case.
We're also going to take a look at CustomerGauge as an alternative for brands looking for a CX solution that's specifically built for B2B business needs.
Let's get to it!
Introducing Sprinklr, Qualtrics, and CustomerGauge
Sprinklr
Sprinklr describes itself as a "unified customer experience management platform," and the vendor definitely meets their claim.
Sprinklr has four core product suites: Modern Care, Modern Research, Social Engagement & Sales, and Modern Marketing & Advertising.
Sprinklr's Modern Research solution is used to capture and analyze customer sentiments across different channels with the help of omnichannel social listening. This makes it a reliable tool for capturing the voice of customer (VoC) and understanding their sentiments.
However, we've prioritized Modern Care over Modern Research because the latter helps brands monitor customer feedback and take action to improve customer experiences — core functions in fighting customer churn and improving CX.
Price: Contact Sprinklr for a custom quote.

Best for: Medium-to-large B2C Enterprise businesses.

Top 3 industries: Telecommunications, Marketing and Advertising, Consumer Services.

Customer service G2 rating: 8.7 for Quality of Support.

G2 score: 4.5
Qualtrics
Qualtrics is one of the most established providers of experience software, with solutions to conduct foundational research and manage the lifecycle of brand, product, customer, and employee experiences.
Qualtrics's dedicated customer experience management software, Qualtrics CustomerXM, is a powerful software that lets CX teams collect feedback, perform detailed analysis, and take action based on CX data and insights.
CustomerXM is primed for both B2B and B2C needs, but the software is primarily for the enterprise market. It's a bit too expensive for smaller businesses, especially ones that don't have mature CX programs yet.
Price: Qualtrics CustomerXM's pricing starts at $1500/year/user.

Best for: Medium-to-large-sized Enterprises.

Top 3 industries: Research, Education Management, Higher Education.

Customer service G2 rating: 8.7 for Quality of Support.

G2 score: 4.3
CustomerGauge
CustomerGauge is a leading CX software designed specifically for B2B needs. The software primarily relies on Net Promoter Score (NPS) surveys to capture customer sentiments, and boost survey response rates.
Unlike many CX providers that focus on data collection, CustomerGauge also prioritizes taking action. Namely, it provides alerts to close the loop, monitors for absence of signal, and helps B2B brands grow account sizes through targeted upsells, cross-sells, and referral marketing campaigns.
Price: Contact our team for details.

Best for: Mid-market and Enterprise B2B and B2B2C companies looking to increase revenue and reduce churn.

Top 3 industries: Business Services, Manufacturing, Consumer Packaged Goods (CPG)

Customer service G2 rating: 9.6 for Quality of Support.

G2 score: 4.6
Gartner's Verdict: Qualtrics vs CustomerGauge
Gartner's Critical Capabilities report assessed the top 14 CX vendors for their B2B enterprise capabilities. CustomerGauge came in 1st and Qualtrics in 3rd, however, Sprinklr was not included in the report, indicating that the platform did not meet Gartner's criteria.

CustomerGauge was ranked as the #1 VoC platform for B2B and B2B2C Enterprise needs, and Gartner recognized the platform's excellent sales-enablement features.
Sprinklr vs Qualtrics vs CustomerGauge: According to G2
G2 reviewers have expressed their sentiments toward Sprinklr Modern Care, Qualtrics, and CustomerGauge. CustomerGauge scored the highest overall with a 4.6 star rating, and the platform topped most fields except for "Meets Requirements," in which Sprinklr Modern Care and Qualtrics are tied.
CustomerGauge and Sprinklr Modern Care are tied for "Ease of Use."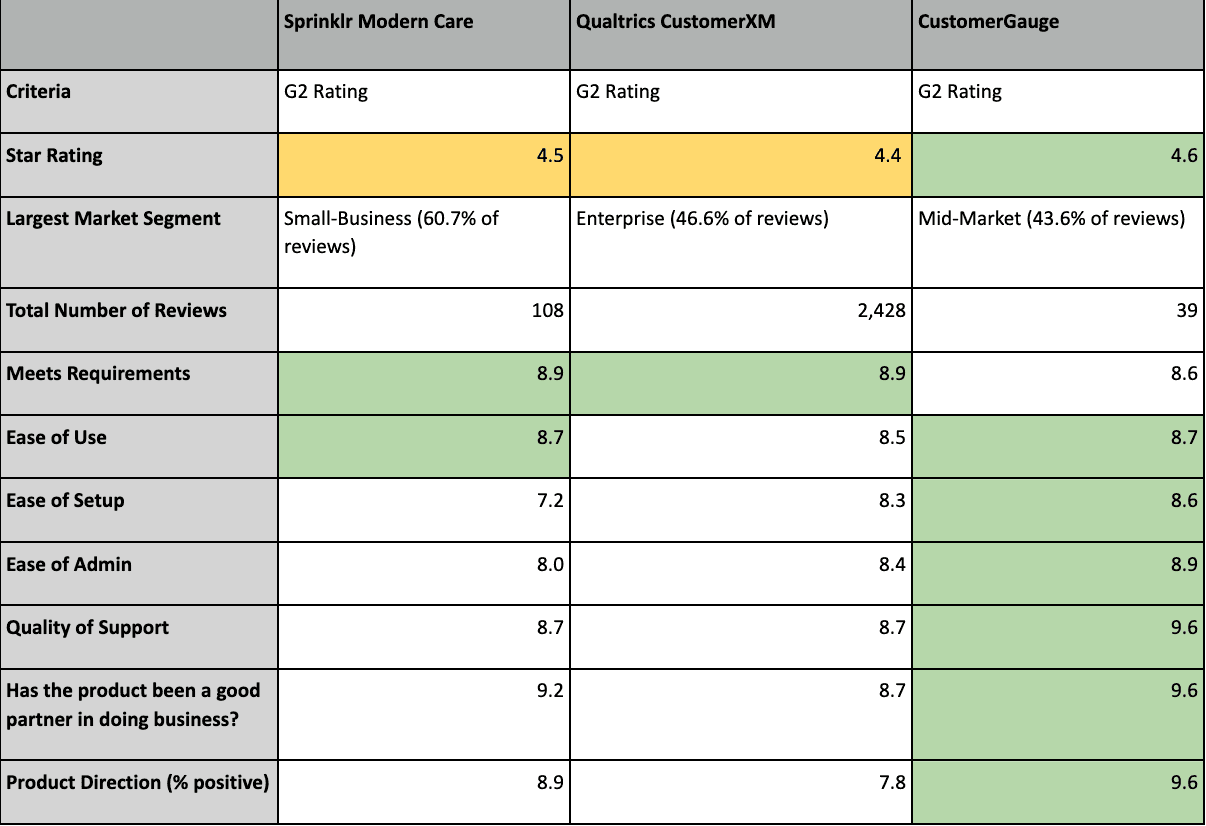 Sprinklr vs Qualtrics vs CustomerGauge: How Customers Feel
How do users feel about Sprinklr vs Qualtrics? Let's take a look.
Sprinklr Customers Say…
Strengths
Sprinklr is praised for its ability to track and analyze customer sentiments:
"Sprinklr's modern care solution is the ultimate solution to keeping track of all the customer insights. At my organization, we have been using Sprinklr for almost three to four years now and we have truly come to realize what listening to your customers means. We have not missed out on a single case where we found out the customer was unhappy or happy or if they had any other feedback, no customer has gone unheard. Sprinklr's modern care is one of the highest customizable platforms in the entire industry I believe." (CMO, Mid-Market)

"Helps to respond quickly to customer requests in many channels, automated conditions and triggers to send surveys, automated, easy-to-use reporting dashboards with the most important metrics, great insights on customer satisfaction." (Lead Workforce Specialist, Enterprise)
Cautions
Some customers find Sprinklr Modern Care difficult to setup and use:
"Configurability and flexibility come with complexity in the setup phase. You'll probably need to engage Sprinklr's help if you have complicated workflows. Realistically, you'll need to purchase Managed Services hours with your subscription unless your workflows are not complicated and you do not foresee changes post go-live. The per-seat licensing is also something that limits the growth. I would probably try to negotiate for an unlimited seat subscription if possible in our next review for renewal." (Digital Product Manager, Enterprise)

"UI could be a bit more logical, would appreciate more detailed/customized analytics, and better feed filtering, additional filters for dashboards would be helpful." (Lead Workforce Specialist, Enterprise)
Qualtrics Customers Say…
Strengths
Customers praise the platform's exceptional data collection and analysis features.
"Qualtrics is a useful tool for those looking to efficiently distribute and analyze the data that they need to collect. Qualtrics is one of the easiest system to set up and to create questions/polls/anything of that nature for and—especially when presentation of these surveys is important—Qualtrics gives you the tools that you need to know what your survey will look like before you send it out (instead of simply putting in all of the questions and then hoping that the system will format it in a way that you like)." (Volunteer Coordinator, Small Business)
"A great overall experience of collecting data (surveys and interviews) and then the number of options it gives to the user to analyze the data it has collected from the clients or employees or stakeholders. The level of automation that you get in terms of scheduling the surveys or interviews. The types of questions you can ask or record in the system also give a lot of power to the users to extract meaningful insights."
(Assistant Manager, Client Growth and Development, Mid-Market)
Cautions
Some customers find Qualtrics to be too expensive and feel some of its advanced feature can be improved:
"Running complex surveys requires a lot of post-processing before we can produce insights (eg: merging loop columns). In addition, a lack of Javascript linting or debug tools can make troubleshooting frustrating." (Survey and Data Officer, Enterprise)

"Qualtrics is very expensive and also some of the different services are not well integrated. I wish the reporting tools were a little more advanced." (User in Building Material, Enterprise)
CustomerGauge Customers Say…
Strengths
Customers appreciate CustomerGauge's account support and sophisticated CXM capabilities.

"The account support is astounding. The customer success manager is a pro and makes sure we are taken care of. I like the ability for everyone to have a personalized look, and to share reporting inside the platform. We are able to reach out to customers near instantly so long as our employees are monitoring. That's been proven to us to impact CX as we have conducted follow-up interviews where a customer indicated this as their major point for higher satisfaction." (Marketing Research Analytics and Specialist, Telecommunications, Mid-Market)

"Implementing CustomerGauge has allowed us to develop a sophisticated customer feedback program that is easy to manage and report on. The best part of our experience with CustomerGauge has been the ongoing support and collaboration they have provided for helping us to continually improve our program.

Easy integration with our CRM and a variety of reporting tools within the platform have also allowed us to customize our process and get important data to the right people within our organization." (Administrator in Industrial Automation, Enterprise)
Cautions
One customer would like CustomerGauge to enhance its reporting features.
"I wish they had out of the box reports that I could use as a starting point. It would be nice if they had a preview of report widgets/tiles or a description of what they are used for. I don't like having to add the tile to the report just to see if it's what I want." (Administrator in Financial Services, Mid-Market)
The Pros and Cons of the 3 CX Platforms
Sprinklr and Qualtrics are mature customer experience platforms with extensive features to help you collect customer feedback and take action based on it. However, both platforms have different strengths and weaknesses, and CustomerGauge outclasses both in some domains.

So, let's take a closer look at each CX platform's pros and cons.
Sprinklr
Pros
Automations. Sprinklr Modern Care lets you set up automated surveys with triggers, including ones that activate based on specific user behavior. Sprinklr's automations help you speed up feedback collection across different channels, and the platform automatically pulls the data to a centralized dashboard.

End-to-end, integrated CXM. While most customer experience management tools focus on collecting and analyzing customer feedback, Sprinklr Modern Care also includes products like live chat, conversational AI and chatbots, contact center automation, and more. This means teams can collect CX insights from the same platform they use to deliver these experiences.

AI-driven insights. Sprinklr Modern Care leverages AI to help agents improve customer experiences and customer service.
For example, the AI monitors various factors (sentiment, emotion, intensity, etc.) from interactions to predict which considerations affect CSAT scores. The platform automatically notifies agents if a predicted score falls below the threshold, helping agents get ahead of churn and improve CX.
Cons
Unintuitive UI. As some reviewers have pointed out, Sprinklr Modern Care's UI isn't intuitive and it can be difficult to get used to. The dashboard also has limited filtering features.

Difficult setup. Sprinklr Modern Care can be difficult to set up, especially if you have complex workflows. You might need to engage their team to set the platform up properly.
Qualtrics
Pros
Suitable for all business models. Qualtrics ranked highly in Gartner's Critical Capabilities report for B2C, B2B, and B2C2B business needs, making it a great choice for any business model.

End-to-end customer experience management. Qualtrics CustomerXM helps businesses collect feedback across different channels, analyze sentiments, and take action based on the insights.

Multilingual support. Qualtrics supports over 50 languages.

Multi-departmental capabilities. Qualtrics was recognized by Gartner for its impressive multi-departmental capabilities. As a vendor, the platform is experienced in driving CX initiatives across departments like Sales, Customer Success, Marketing, etc.
Cons
Cost. Qualtrics's products are expensive in general, and CustomerXM is no different. Many reviewers shared that it's quite expensive.

Customer service. Qualtrics's support team has been known for making customers jump through hoops for tickets to be resolved.
CustomerGauge
Pros
Increase revenue. Gartner's Critical Capabilities recognized CustomerGauge's excellent sales-enablement features. The platform goes beyond traditional CXM and helps B2B and B2B2C businesses grow account sizes through upsells, cross-sells, and referral marketing.

Primed for B2B needs. Ranked as #1 for B2B and B2B2C CX needs, CustomerGauge uses the Account Experience methodology which is specifically designed for the complexity of B2B customer journeys and business needs.

Set goals to close the loop. Close the loop is a vital part of reducing churn, and CustomerGauge helps CX teams formalize their closed-loop feedback processes. The software lets teams set SMART goals and time targets to closing the loop at every level — including the frontline, management, and executive levels.
Cons
Too complex for B2C needs. As CustomerGauge is designed for B2B and B2B2C businesses, its capabilities are too advanced for simpler B2C customer journeys.
Not ideal for academic research. While Qualtrics is used for academic research, CustomerGauge is more suitable for commercial needs.
About the Author