You already know the importance of a successful customer experience (CX) program — that's why you're spending precious time and energy finding one that's going to help you act on feedback, improve customer loyalty, and reduce customer churn.
But depending on exactly what your business does, and whether it's B2B, B2C or B2B2C, your needs are going to differ.
The fact that there are so many CX platforms out there means you have plenty of options, but it can also be overwhelming.
Three providers, Verint, Qualtrics, and CustomerGauge, all provide different offerings and all feature on Gartner's top rankings. Which one should you choose?
In this article, we've broken it all down for you to see exactly how each of these CX platforms compares and choose the one that works best for you.
Verint, Qualtrics, and CustomerGauge: A Quick Introduction
Verint
Verint Digital Experience (formerly known as Verint OpinionLab) specializes in providing B2C businesses with a holistic view of their customers by collecting insights across multiple channels.
These include contact centers, chat sessions, customer-initiated web feedback, flexible surveys and digital behavior on web sessions. Verint's focus is on customer insight and breaking boundaries so their clients can focus on making improvements across their whole business, such as improving cross-departmental inefficiencies.
Qualtrics
Launched in 2017, Qualtrics Customer Experience self-service subscription software is a big player when it comes to customer experience management (CXM). Unsurprisingly, it's very popular and is used by many insights departments and even university MBA courses.
Although it's mainly known for its survey capabilities, the platform also provides powerful tools for data management, analytics, and workflows that deliver solutions designed to help improve customer experience. The platform has been designed to be highly flexible, giving organizations free rein when it comes to managing their CX strategy.
CustomerGauge
CustomerGauge was co-founded in 2007 by Adam Dorrell and Camilla Scholten who wanted to build a platform specially designed to meet the needs of B2B.
A full account lifecycle solution, CustomerGauge uses Net Promoter Score (NPS) as its central tool. However, to give a comprehensive understanding of the voice of the customer (VoC), it also uses other signals of customer engagement, such as product usage and support contact.
Rather than simply collecting feedback, CustomerGauge is focused on driving real change by providing insights on customer revenue, highlighting opportunities for referral and upsell, and helping reduce churn by flagging at-risk accounts.
Gartner's Perspective on Verint vs Qualtrics vs CustomerGauge
In 2021, Gartner published their 'Critical Capabilities' report for VoC. Gartner compared product tools in detail, including customer journey orchestration, advanced predictive and prescriptive analytics and advanced case management.

For B2B, Gartner ranked CustomerGauge as the no.1 VoC vendor. Qualtrics came in 3rd place, and Verint came in 13th.

G2's Comparison: Verint, Qualtrics and CustomerGauge
Gartner's perspective is not the only important one out there. G2 is an online aggregator of customer software reviews, collecting authentic reviews from real users.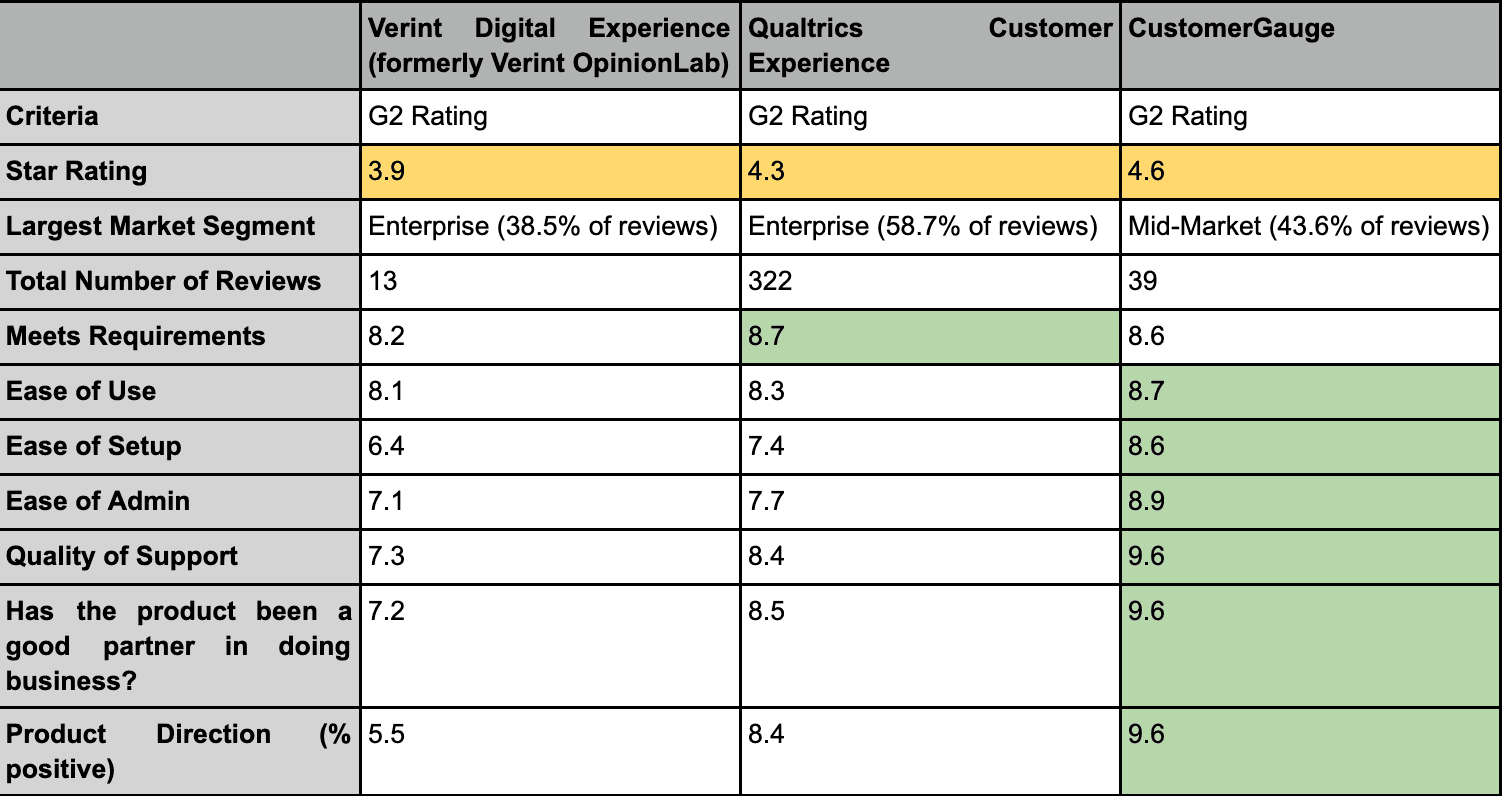 According to G2's overall star rating, CustomerGauge performs best, scoring 4.6 out of 5. Qualtrics follows close behind, scoring 4.3, and Verint comes in third, scoring 3.9.
Qualtrics obtained the best score for meeting requirements, but CustomerGauge came top when it came to ease of use, ease of setup, ease of admin and quality of support. CustomerGauge also obtained the highest score for product direction and being a good partner in business.
Some differences in scores are quite substantial: CustomerGauge showed particular strength in ease of admin, ease of setup, quality of support and product direction, especially when compared to Verint.
Verint, Qualtrics and CustomerGauge: What Do Users Really Think?
Star ratings can give you a good idea of a CX management software's overall strengths, but they don't tell you what the platform is like to use, day-to-day.

So, we dug deeper to find out exactly how users are getting on with Verint, Qualtrics, and CustomerGauge.
Verint Digital Experience Customers Say…
Strengths
Andre G., a web administrator for a large freight delivery company, found Verint's customer support particularly helpful:
"OpinionLab's customer support has been instrumental when applying their Event driven comment card solution to our companies customer facing and internal sites."
An administrator for a mid-market oil & energy company gave Verint 5 stars. They praised its easy implementation and various methods for collecting VoC:
"OpinionLab is a very valuable way to collect passive feedback from a digital product user in a simple unobtrusive manner. It can be easily implemented by most areas of the organization and can help direct new product development. Opinionlab also offers various methods for extracting real-time voice of the customer feedback during product launches, releases or other critical time-frames to assist with product review."
Cautions
But the administrator also found Verint's initial setup tricky. They also noted that some of the reports seemed outdated and there weren't enough opportunities for customizing surveys:
"The only downfall I found is that the initial on-boarding process is a bit clunky. The configuration required additional assistance from their technical team. Standard deployment survey templates are a bit limited for customization and some of the reports are a bit outdated."
A consultant for a small writing and editing company scored Verint 4 stars overall but agreed that the initial experience could be more user-friendly:
"All of the options can be a little overwhelming! It's hard to know where to start when you first sign up."
Qualtrics CX Customers say…
Strengths
An administrator for a medium-sized NPO awarded Qualtrics 5 stars, and particularly likes the way results across different channels are displayed:
"Qualtrics is easy to configure for surveys, feedback, and polls. We can see results real-time. We can create reports and dashboards to see the results, which is easy to review and analyze data."
Mark S., a business intelligence manager administrator for a mid-market financial services company, also loved the dashboards, and found the tool for text analytics particularly insightful for his business:
"The thing we like the best about Qualtrics CX is the functionality, once connected and running the dashboards are amazing. We have found the text analytics incredibly insightful, to the point that we put more emphasis on that than the NPS or CES scores."
Cautions
However, the administrator thought Qualtrics might be a little expensive, depending on the particular needs of your business.
"It is a little expensive, but based on what functionalities Qualtrics provides [it] looks like it is worth it for the organization, which needs frequent surveys and polls."
A user in Higher Education gave Qualtrics 5 stars, but admitted getting to grips with all the features is a steep learning curve:
"It took me some time to learn all the features and settings. But once you master it, you will be able to take full advantage of all its functions. The software requires some training."
CustomerGauge Customers Say…
Strengths
An administrator for an industrial automation company awarded CustomerGauge 4.5 stars.
They highlighted the high level of support, easy integration with their existing customer relations management and range of reporting tools:
"Implementing CustomerGauge has allowed us to develop a sophisticated customer feedback program that is easy to manage and report on. The best part of our experience with CustomerGauge has been the ongoing support and collaboration they have provided for helping us to continually improve our program. Easy integration with our CRM and a variety of reporting tools within the platform have also allowed us to customize our process and get important data to the right people within our organization."

Hans Chr. G., Director of Digital Customer Experience agreed that CustomerGauge's expertise and resources were integral to improving their CX program. Hans also approves of Customer Gauge's unique approach to NPS (CustomerGauge is the only CX provider that lets you see NPS through the lens of customer revenue).
"Great people with the right skill set and attitude to help us improve our business. Tapping into their domain knowledge is important. I also like their approach to challenging the NPS industry with new concepts."
Cautions:
As proud as we are of the positive feedback for CustomerGauge, we know there's always room to improve. That's why CustomerGauge puts customer requests front and center when it comes to product development:
Cary S., Director of Training and Guest Services for an enterprise-level company said:
"There is very little to almost nothing that we dislike. Every time we have a need or the product does not deliver a solution to one of our needs, the CustomerGauge team is quick to make our request important."
And Hans Chr. G. said:
"I have a couple of important things on my wishlist. Happy to see some of these things now entering their backlog for product development."
CustomerGauge is specifically designed for the needs of B2B and B2B2C.
If you're a B2C business that just wants basic VoC survey functionality, then CustomerGauge might be a little too much.
That's because CustomerGauge is a full account lifecycle solution.
As well as having tools to collect VoC, CustomerGauge helps businesses distribute the feedback to appropriate account and sales management staff, has alerts and actions to prevent customer churn, and provides insights on upselling and winning referral businesses.

Verint vs. Qualtrics: The Pros and Cons
Here, we'll describe the advantages and disadvantages of using Verint vs. Qualtrics in detail, so you can see whether they'd be a good fit for your business.
Verint
Verint is well suited to customer service and digital business departments, where it has a particularly good track record. In general, Verint's strengths lie in data collection and analytics, thanks to its ability to harvest data and its expertise in speech and text analytics.
This makes Verint a particularly strong contender when it comes to B2C customer research, especially in harvesting data across multiple channels.
Advantages
The Gartner 2020 Critical Capabilities Report also highlighted the following strengths:

Scored third highest for data collection.

Fourth highest for analytics and insight.

Ranked in the top third of vendors for automated action capabilities.

Second highest score for customer service and digital business capabilities.

Mid-table for large enterprises.

Supports all business models: ranks mid table for B2B, B2C and B2B2C.
Target customers: CX teams, B2C, retailers.
Disadvantages
Mid-table for marketing departments.

Lacks specialist functions such as customer success management and native support for off-site reviews, QR codes and kiosks, so ranks in the bottom third of vendors for sales and on-site/frontline operations.

Verint is relatively expensive and users have reported that it can be difficult to use, which means it ranks low for mid-sized businesses.
Qualtrics
Advantages
With its large range of functions and implementations, Qualtrics is particularly well suited to multi-departmental programs that can also take advantage of its complementary employee, partner, and brand experience products.
With its focus on survey tools, Qualtrics is well-known and respected for conducting research and has strengths when it comes to collecting customer feedback data, both structured and unstructured, and for its analytics and insights.
Top three industries: Financial Services/Insurance, Retail, B2B.
The Gartner 2021 Critical Capabilities Report highlighted the following strengths:

Highest score for data collection.

Second highest score for analytics and insight.

Second highest score for automated action capabilities.

Placed in top three for nearly all different department-specific capabilities

Good support for all business models: ranks second highest for B2B, B2C and B2B2C.
Disadvantages
Ranks fifth for customer-service department capabilities, although, as pointed out by the Gartner Critical Capabilities Report, this is likely to improve in the future with Qualtrics' acquisition of text analytics vendor Clarabridge—which has a good record in this respect.
Qualtrics is suited for larger enterprises and scores lower for mid-sized businesses (although still coming in at a respectable fourth place). Smaller businesses also may struggle with its relatively high price and its complex user interface.
Despite its strong set of core VoC functionalities, Qualtrics is still developing tools for specific use-cases, which other platforms already provide, so it's worth checking exactly what's on offer before investing.
How Does CustomerGauge Stack Up?
Advantages

According to Gartner, CustomerGauge ranks the highest for B2B use cases, and also scores the highest of all the platforms for enabling sales.
CustomerGauge is primarily focused on helping B2B organizations monetize their CX program, with specialist tools for engaging with accounts with complex structures, win/loss root cause analysis, predictions for sales conversion and AI tools for account retention, including alerts for loss of signal.
Businesses have reported that implementing CustomerGauge's 'close the loop' best practices have boosted their response rates by 7-15%, which is substantially higher than those secured by users of Qualtrics.
CustomerGauge's comprehensive CX management program, which uses its proprietary Account ExperienceTM methodology, is the only provider that allows you to view NPS through the lens of revenue and coverage-which is perfect if you're B2B.
The Gartner 2021 Critical Capabilities Report highlighted the following strengths:

Highest score for enabling B2B.

Highest score for enabling sales.

Good support for both large and midsize businesses.

Supports B2B2C.
Top industries: High-tech, Business Services, Manufacturing, Consumer Packaged Goods (CPG), Telecom, Logistics.
Disadvantages
CustomerGauge focuses on NPS—as opposed to other platforms which might focus on insights from multiple channels and are better suited for macro-level research.
CustomerGauge was ranked lowest for B2C by Gartner, which is unsurprising. CustomerGauge is typically chosen by commercial leaders of B2B organizations with P&L responsibility. It's more focused on turning feedback into action—helping B2B sales, success and support teams tackle churn and drive upsells and referrals.
CustomerGauge's action-focused strategy differentiates them from Qualtrics, which provides tools for both B2B and B2C and is better suited for general research.
CustomerGauge: A Specialist Solution for B2B
If you're a B2B company looking for a comprehensive CX management solution to drive revenue, reduce churn and drive upsells, then you've come to the right place.
CustomerGauge is the specialist solution when it comes to B2B.

Book a demo to get started.
About the Author