The days of B2B companies trying to differentiate themselves through services and products alone are gone. Today, B2B companies need to focus on creating customer experiences that deliver—at scale.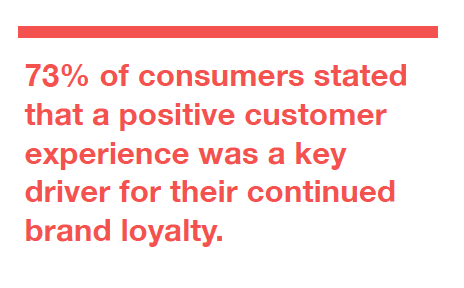 After all, 73% of consumers stated that a positive customer experience was a key driver for their continued brand loyalty—and growth. Within the B2C world, a focus on CX and user experiences has revolutionized our at-home relationships with companies and the very technologies we use in our every day. On the B2B side of the coin, progress has been slow to match the expectations and personalization delivered by their B2C counterparts. And customers, well, they're starting to take notice.

The State of B2B Customer Experience
Retention rates for B2B businesses surveyed in our 2018 NPS® & CX Benchmarks report were 80%. On the surface, this is a solid average (especially considering the breadth of industries that fall under B2B businesses). However, looking under the hood, not all is as it seems. With a CX program lifespan of around 3 years, many B2B companies in the same survey stated that their retention only grew, on average, by 3% since the inception of their program. In other words, progress and improvements have been unusually slow in the B2B space.
So, the question becomes: Why are B2B CX programs struggling to make an impact?
In a study conducted by Accenture, 90% of B2B business leaders stated that they "already believe that customer experience is crucial to their companies' business priorities." However, a whopping 72% of them also stated that they have no control over the direction of their organization's customer experience program(a discrepancy we call "the B2B CX Gap").

Some B2B businesses are not innovating their CX at the pace of customer expectations, which spells danger for highly competitive industries such as high tech, logistics, finance and more.

The purpose of any customer experience program is to deliver exceptional experiences—at scale—and generate growth. In B2B models this couldn't be more important: According to Harvard Business Review, 84% of B2B sales begin with a referral. Therefore, the health of customer relationships hold high stakes within B2B settings, which makes the stagnant retention growth of B2B CX programs that much more troubling.
Looking at the problem with a magnifying glass, the issues facing B2B customer experience programs can generally be summed up into three categories: internal misalignment (i.e., differing organizational expectations), a lack of technical support (i.e., B2C CX tools aren't built for B2B) and a lack of operational support (i.e., operational inefficiencies in program execution).
Internal Misalignment
When a company doesn't have a clear mission or goal when it comes to their CX program, or when a company's mission or goal isn't communicated to all of its employees clearly, internal misalignment can occur. If not everyone is aware of or on board with a major shift in company aims, CX programs can fail to function optimally.
A good example of this is when a company is shifting its business model from product- or service-centric to a customer-centric view. According to Gartner, in 2012, only 36% of companies expected to compete mostly on the basis of customer experience, but these days that number has increased to 89% of companies. This shift in thinking is therefore necessary, as companies that stay focused on making new products to stay in the marketplace get left behind their customer-oriented competition.
However, commission models for companies in the B2B realm will often remain service-focused, undermining a key area where customer experience should be the focus. Luckily, some businesses have seen the light.
The B2B technology company Culture Amp operates on a no-commission sales model, and the company has seen its revenue increase 15 times what it was four years ago. This revenue came as a result of the company's renewed focus on customers rather than quotas. When the sales division didn't have to solely focus on commission, it could instead collaborate with the marketing staff and other departments to figure out what clients were looking for, creating better deals that sparked referrals from happy customers, expanding their market.
This system works for Culture Amp because it keeps the entire company on the same page. Everyone has the same goal: improving relationships with customers and improving retention.
We're not saying that Culture Amp found the universal secret sauce of aligning their company around the customer, but they certainly found a secret sauce that works for them.
A similar internal misalignment can occur when executives have different goals for a CX program than the CX professionals running the show. We've seen time and time again that this misalignment stems from executives more focused on CX as a competitive advantage (economic drivers), and CX professionals more interested in the operational aspects of action, culture, and CX best practices (operational drivers).
The result? A C-Suite loss in faith around the validity of the program, and CX professionals forced to focus on research to prove the ROI of a CX investment rather than internal CX improvements.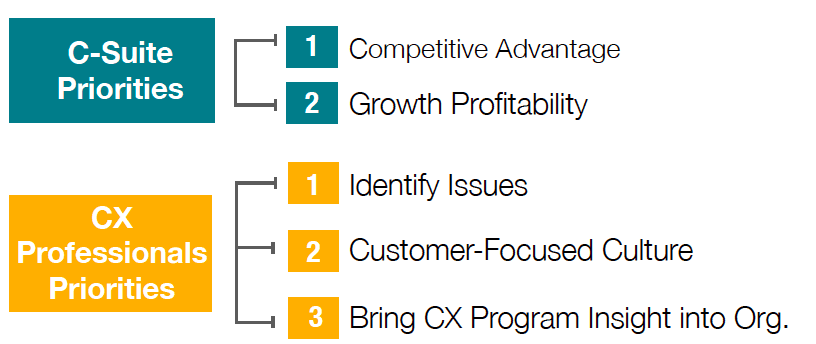 Lack of Technical Support
Technology has changed how companies, both B2C and B2B, interact with customers. However, while B2C companies can focus on single contacts, B2B companies must have technology that can keep up with multiple contacts per client, with complex journeys for each of them and a multitude of partner ecosystems to keep into account. Many B2C-oriented CX tools focus on single contact experiences, and so can't really work for a B2B company.
Currently, most B2B companies find a solution in combining multiple software and data collection programs, Frankensteining a system together. This rarely works out well.
Most often, this often leads to siloed CX data, where companies are unable to build an accurate picture of their customer experience and the impact that improving those experiences will have on their bottomline.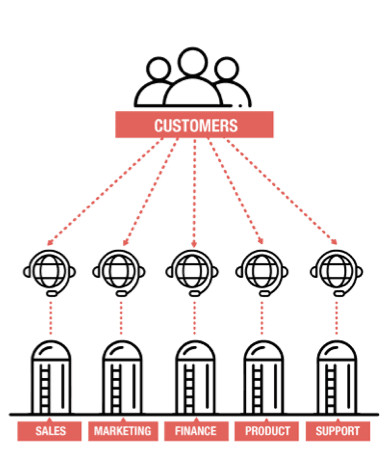 Data siloes can dramatically impact not just a companies' efforts to mitigate churn, but stagnate growth as well. B2B CX programs can use this data to:
Improve retention and predict churn
Better understand satisfaction at every level of an organization
Identify opportunities for growth
Improve Retention & Predict Churn
Companies need data like customer data, satisfaction data, revenue data, CRM data, support data, marketing data, etc. to reap the full benefits of a B2B CX program. By aggregating important customer data with information like support tickets, survey sends, email campaigns, and more, companies can identify behavior patterns that indicate possible churn—before it happens.
The illustration below is an example of CustomerGauge's activity timeline, which uses aggregated data to indicate possible churn and then recommend actions to mitigation. Learn more about how it works by clicking the button below.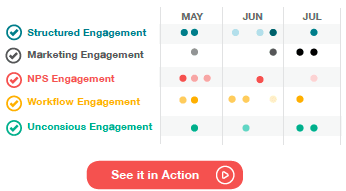 Understand Satisfaction in Multi-Contact Accounts
As many as 40% of B2B leaders are missing a clear view of their customers and their communication points, and this lack of understanding impacts decision-making around key customer experience goals and priorities.
Technological difficulties can also result in a lack of speedy or informed follow-up—for example, responding to customer complaints and questions being delayed due to insufficient tools of communication, or passing a customer along to the wrong department when closing the loop.
Payments can also be delayed by lack of communication or technological issues, severely impacting a B2B's bottom line. Sure, B2C CX technologies might be ok for transactional surveys, but multi-layered stakeholder models common in B2B environments call for more.
B2B companies must ensure they are connecting with key stakeholders at companies based on the revenue of clients. A good B2B CX platform should keep track of the number of engaged contacts in each account. Juxtaposing this kind of information next to revenue can also be useful for tackling revenue churn, as companies can prioritize survey campaigns around high-value accounts.
Coverage indicates how large a portion of your customer base your collected feedback covers. When coverage grows, so do the sales of existing customers and the share of sales generated by referrals. The following graph from CustomerGauge's NPS® & CX Benchmarks Report shows this direct correlation.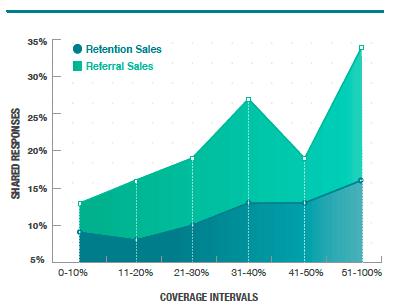 Identify Opportunities for Growth
Good B2B CX technologies focus on monetization as a core success criteria. After all, as retention grows, so too does the lifetime value of a customer. Monetization involves activities that improve and expand CLV both to the benefit of the customer and the B2B enterprise.
However, according to Gartner, despite a 2.3x increase in the size of the average sales teams' B2B portfolios, "only 28% of sales leaders believe existing account management channels meet cross-selling account growth targets."
Many B2B companies need more tools for identifying these types of opportunities and to encourage their relationship managers to remember that good customer service includes providing greater value to accounts through products and services.
Below, we have an illustration of a SWOT analysis report. CustomerGauge clients use this tool to identify opportunities within their customer base for up- and cross-sell. B2B tech like this is vital for positioning a CX program around growth and for providing value to customers based on data.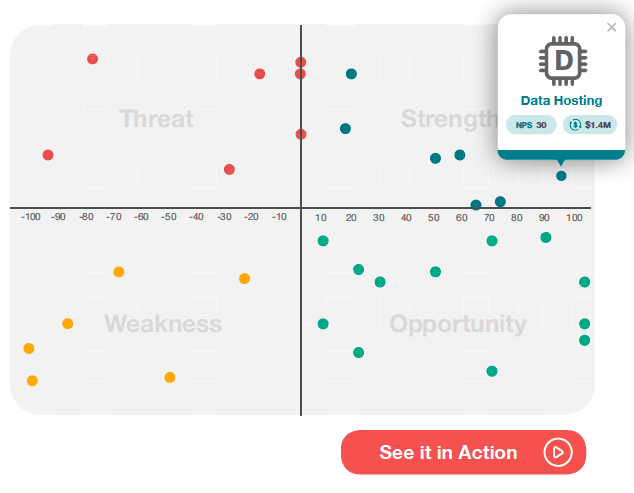 Lack of Operational Support
To support the technical side of B2B CX programs, companies must consider the human element. Over the last few years, B2B companies have been hiring for positions like Customer Success Managers (CSMs) and Account Managers, who take on larger roles than a typical customer service department in a B2B organization. Without people directly managing data and technology issues, CX programs fall apart, or aren't used to their full potential as valuable information doesn't make it to everyone who needs to see it. If technology can't meet a company's needs, that's also a major problem, and another reason CX programs fail in B2B contexts.
CSMs and relationship managers also help add a human element to an increasingly tech-driven world. Technology has innovated industries and business practices, but it can be over-used, particularly if it limits contact between customers and employees who can answer their questions and concerns. It's perfectly fine to have a chatbot function as a B2C or B2B company.
However, human touches in B2B are incredibly necessary to personalize contact between a company and its customers. Automatic responses can help close the loop quickly, but B2B companies need to find a balance between self-service interactions and human interventions. After all, 95% of UK B2B companies preferred a real-human relationship manager. Without the human element, their CX plans may come apart at the seams.
Account ExperienceTM for B2B CX
Some of this article touched on how B2B organizations can use more specialized customer experience technology to enhance their programs. At CustomerGauge, we've put a unique focus on B2B CX with our Account ExperienceTMplatform. Like our clients, we know the shock of losing a big account because of a lack of insight into a complex B2B relationship. Therefore, we set out to build something that addressed what we saw as a major gap in the CX marketplace.
As part of this endeavor we also wanted to document the customer experience best practices that can drive success at B2B businesses. Our free guide, The Definitive Guide to B2B CX goes into even more detail on the concepts discussed here.
Turn Your B2B CX Program into a Well-Oiled Machine