As we look forward to an amazing holiday season, it's always a good idea to take a step back and admire our major accomplishments for the year. Personally, I'm not a fan of New Year's resolutions. Unlike SMART goals, resolutions combine impossible expectations with unreasonable timelines. It's rare to see someone check every item off their list of do's.
And so, in the spirit of giving something useful, I'm presenting you 19 tips aimed to enhance your B2B company's customer experience. Why the focus on CX? According to a report conducted by Accenture Interactive, digital customer experience will be the main differentiator for B2B companies by 2020, taking place above price and product. This colossal shift in customer priority certainly explains why 90 percent of B2B sales executives already view CX as "crucial to their companies' strategic priorities."
If you're already integrating some of these actions into your business practice, you're well on your way to a fantastic, churn-proof 2019! If not, try a few of these out—just be sure to stick the SMART goal approach.
1. Establish Customer-Centric Goals
The surest way to kick-start your journey towards effective customer experience is to plan for it. Ask yourself, why is customer-centricity important? What kind of challenges will greater CX solve for the business? Few companies, especially larger enterprises, prioritize CX 'just because'. Businesses must make a commitment to CX, but only if they add financial KPIs to their CX programs.
An effective customer experience strategy will establish actionable, measurable, and relevant goals to increase customer satisfaction, repeat business, loyalty, and ultimately retention. Customers appreciate companies that listen to their feedback, so making your intentions transparent will boost satisfaction rates and even nurture a new cultural attitude in your workforce.
2. Train Your Workforce
Speaking of employees… it won't matter how solid your CX strategy is if you don't have the right people executing it. Ensuring that your workforce—both account-level and middle management—are able to deliver will depend on the training they receive. In 2017, MIT conducted a study where they found that companies with great employee experience (i.e., empowerment, collaboration, low work-complexity) were more innovative, profitable, and likely to achieve customer satisfaction.
If your CX strategy involves tactics like closing the loop with accounts, predicting churn or correlating your revenue with CX and NPS performance, you should consider CustomerGauge's NPS Certification and training. For enterprises, we advise having a central CX team working alongside appointed CX champions throughout the organization. The central team will be responsible for the strategy while your champions will help spread buy-in across different divisions and keep their teams focused on goals.
3. Don't Game the System
Unfortunately, it may be tempting for employees to inflate customer experience metrics in an effort to show progress that isn't there. At CustomerGauge, we call this "gaming the system" and discuss strategies to prevent this from happening in our eBook, Measuring NPS. There are four ways this happens—asking only satisfied accounts for feedback, bribery, guilt, and introducing bias by signaling outcomes. Gaming the system may occur for a number of reasons. Perhaps you company offers financial incentives for meeting KPIs, or maybe the goals established seem unrealistic to employees. Whatever the reason, this habit only ends up hurting your CX program in the long run.
4. Remember to Build Loyalty, Not Just Satisfaction
In his LinkedIn article, Mark Horwood makes an astute assessment on the difference between customer service and experience.
"You may be thinking that CX is simply delivering a better customer service to your customer. But this isn't the case; customer service is merely a block that builds the foundation to delivering exceptional CX! The overarching aim of improving Customer Experience entails a business evoking emotion within customers at every touch point with the company." - Mark Horwood
Just as customer service is one building block of experience, satisfaction is just one fragment of loyalty. In fact, it is not unusual to find that more than 60 percent of defecting customers are in fact completely satisfied. To earn loyalty, a company needs to solve for the customer—anticipate needs, improve products and services, and eliminate pain points.
5. Track Your Customer Retention Rate
Loyalty is the backbone of retention. In order to understand how successful a company is with its customers, it is crucial to track their rate of retention. Furthermore, focusing on retention helps predict future revenue flows, address weaknesses that could lead to attrition, and stimulate growth. According to Fred Reichheld and Phil Schefter, as little as a 5 percent increase in retention rate will raise profits by 25-95 percent.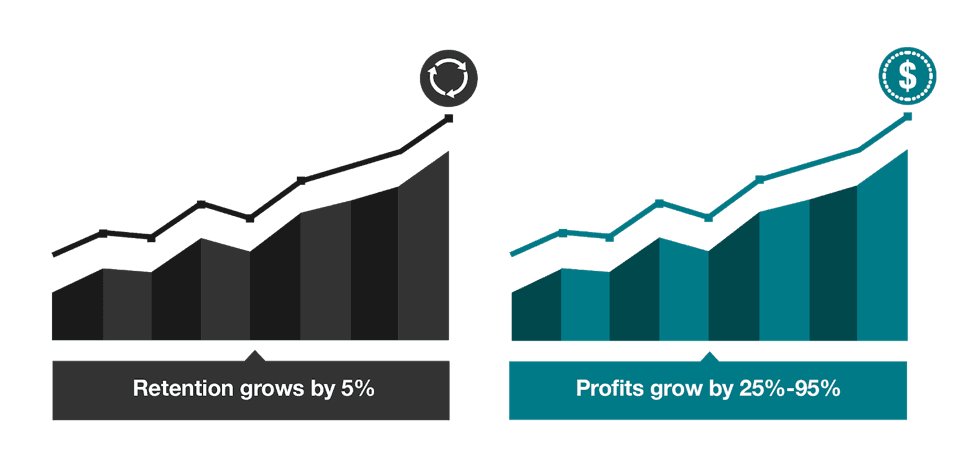 There are other great KPIs to consider as well. In their article, The Customer Retention Metrics That Actually Matter, Hubspot recommends also measuring churn, existing customer revenue growth rates, repeat purchase rates, and more. CustomerGauge advises correlating retention rate with revenue and NPS for a holistic overview of account health.

6. Conduct Time- and Channel-Appropriate Surveys
Now that you're tracking retention, it's important to understand why various accounts are happy (or unhappy) with the product or service they're paying for. Surveys are the optimal way to do this, and for B2B companies, the process of gathering information is far more complex. It is imperative that the surveys are conducted at the right time, through the right channels, and with the right personas within the account.
Surveys that consistently get high response rates are just 2-6 questions long. For a simple relationship survey, start with the Net Promoter question to gauge loyalty, and follow-up with a few more questions to determine the reasons impacting the score.
CustomerGauge has been invested in perfecting survey practices to maximize response rates and derive the most useful information. Our eBook, The Fine Art of Surveying, is a culmination of collected insight that will shed light on the do's and don'ts of measuring performance with customers.
7. Recognize Essential Drivers
Now that you've sent your surveys and gathered your feedback, it's time to start analyzing data. There are three sets of important data you should analyze—your NPS score (or CSAT, if the survey was transactional), drivers and comments.
A root cause analysis based on drivers enables companies to easily drill down on the root cause of their churn and NPS score to enhance customer experience and business processes. Based on our research, companies that do implement driver analysis increase their retention by 4.9 percent or more. Make sure you don't disregard the comment section, as this is where you can get the bigger picture on why a certain driver is leading to dissatisfaction. Here, you can manually tag comments, look for keywords and use other techniques to understand sentiment.
8. Understand the Customer Journey
The customer journey is the complete sum of experiences that customers go through when interacting with the business. To understand it—and attribute the pain points you found from your driver analysis—you can construct a customer journey map for a visual interpretation of each interaction. In our article, OmniChannel Customer Experience Guide for B2B, we discuss how to establish a seamless customer journey across multiple channels.

Successful journey maps have the following elements in common—they list personas, all of their major touch-points, and the common emotions associated with each one. B2B companies must create a journey map for all personas in their accounts to understand the pain and satisfaction points of different types of people using their service.
9. Prioritize Improvements
In an ideal world, companies would have the means to implement every single improvement suggested by customers. In reality, your business will need to prioritize. To do so, revisit your NPS surveys to identify your main customer groups within the promoter, detractor, and passive categories. Determine their value in revenue, and the key drivers that impact their satisfaction with your business. When you understand the financial impact and return on investment that various drivers contribute, you're on your way to monetizing your CX and NPS program. Our eBook, Monetizing NPS to Grow Your Bottom Line gives a clear overview of driver prioritization.
10. Close the Loop...
One of the most important elements of customer experience is being able to close the loop with your accounts when you receive comments or survey responses. This shows customers that you hear their feedback and makes them more likely to respond to surveys in the future. At the same time, closing the loop is an effective way to optimize business processes by setting realistic targets for future growth. In practice, CustomerGauge found that companies that close the loop between 48 hours to 2 weeks increase retention up to 5.5 percent.
B2B companies typically have more than one respondent per account. This gives an additional or alternative closed-loop process to only closing the loop with individual respondents. We suggest incorporating the process into business review meetings that your account managers are likely to already have in place.
11. ...At Every Level
Timing and coverage aren't the only guidelines that come with a successful closed-loop process. In order to truly enhance customer experience, ensure that your company closes the loop at every level of the organization. At the very basic level, account representatives should be closing the loop at the frontline. This process can cover reviewing scores, drivers and comments in a client meeting. It allows the account representative to prioritize actions with the client, add them to the account plan and follow-up in later meetings.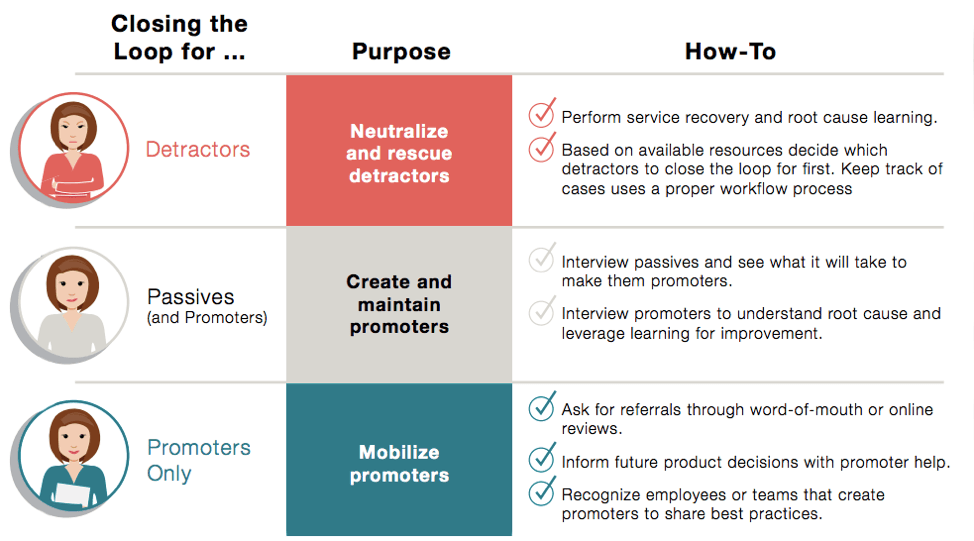 Taking feedback to the next level will require help from management and the c-suite. Managers should identify how NPS drivers correlate to business functions and how their improvement will help meet CX goals. Meanwhile, closing the loop at the executive level entails looking at strategy, financial implications, and organizational changes. Closing the loop at the executive level happens after the frontline or management identify issues. The executives then process these issues and determine further action.

12. Personalize Touch-Points
Personalization has resurged in popularity in the age of mass marketing. While your client is another business, consider that the people working in it live in a world of continuously inspiring B2C experiences. This means that failure to provide personal, optimized touch-points in a B2B setting will ultimately result in a less than enthusiastic attitude toward your business, thus increasing the likelihood of churn.
For marketing efforts, a great way to personalize experience is to segment your content. Meanwhile, experience for present customers could also greatly benefit from personalization. This can range from digital experience tailored to user personas, to giving customer service representatives access to the customer's full corporate and personal transaction history for faster troubleshooting.
13. Make Interactions Seamless
Delivering experience through channels that customers engage in is a key component of competitive CX. According to Forrester, 64 percent of B2B buyers research more than half of their work purchases online. In order to deliver the right information, be sure to curate your content and send a unified message across all of the channels you're using. The point of seamless engagement is to evoke trust in your business and use content to move from awareness to desire, interest, and ultimately, action.
14. Invest in a Digital Transformation
According to Michael Fauscette at G2 Crowd, at least 5 key business areas can be significantly impacted by a digital transformation, or lack thereof—business models, strategy, workforce, customer interactions, and business operations. And yet, just last year Salesforce reported that only 27 percent of B2B companies support integration between CRM and commerce. Meanwhile, 65 percent of B2B companies use software that is over 2 years of age. Of course, investing in upgraded, more powerful software for any business segment is a financially strenuous undertaking and the ROI will vary by business and industry. This is a great example of a moment when it's useful to know the cost and contributing drivers of churn. If an outdated CX platform is causing accounts to drop the relationship, then an upgrade may be a necessary investment.
15. Make Data Accessible
With a robust digital platform comes the ability to share data across departments. Among many other benefits, this practice helps optimize customer experience and acquisition. The Boston Consulting Group (BCG) determined that B2B companies that successfully integrate data between their sales and marketing initiatives see a 15 to 30 percent improvement in marketing efficiencies, along with a 20 to 50 percent increase in digital ROI. BCG also witnessed up to 3 times the growth in lead conversions. Internally, making customer experience data accessible to all levels of the organization unites employees and drives the company towards a common goal.
16. Build Employee Experience
It's been statistically proven that happy employees are more likely to go the extra mile to deliver happy customers. One great way to gauge employee loyalty is to introduce the Employee Net Promoter System®, or eNPS. Similar to the traditional Net Promoter System, eNPS measures loyalty while indicating drivers that influence employee satisfaction.
Why is this important? In short, employee loyalty is a good predictor of future employee attrition. For B2C companies, this will mostly mean losing money on turnover and training costs. B2B companies however, vastly rely on long-term relationships between account managers and clients. Here, the loss of a great employee may stress the relationship your company has with leftover accounts.

17. Be transparent with Employees...
Transparency is vital both externally and internally, and starts with honest communication between executives and employees. Of course, there's more to it than sincere messaging. Promoting a transparent company culture involves establishing traditions and systems that decrease employee isolation and provide empowerment and belonging in the workplace.
18. ...And Customers
Being transparent with customers is just another component of closing the loop. Customers welcome updates, especially when the business is honest about its recent improvements and challenges. According to global advisory firm Willis Towers Watson, businesses that embrace transparency and open communication are 3.5 times more likely to outperform their competitors.
19. Embrace continuous improvement
Customer experience is an ongoing practice. In order to stay ahead, it is up to the business to consistently survey, close the loop, and optimize CX based on findings, analytics, feedback, and trends. Adopting CX exercises into annual, quarterly, and daily workflows will ensure that your business will always place customers first.
Here's to a great 2019!
No matter where you are in your CX journey, the New Year is a great time to set targets and look ahead. Take advantage of this time and take a few more steps towards making your business a customer-centric enterprise. And if you'd like to start 2019 ahead of the game, join us on the journey to to retention at Destination: Monetize.