The stats we share in this article shed light on the value of customer loyalty for your business—use them to win internal buy-in for your experience improvement program.
Introduction
All too often, company owners think that growth and success depend on customer acquisition.
They latch onto the idea that you can't succeed if you're not adding new customers to your invoices every month. Not so. Your existing customers matter just as much, if not more.
Our VP of Education, Cary T. Self, put this concept well in a recent interview:
"It's easier to look at new business and growth as an organization. Everyone loves new! There's nothing wrong with that, but we challenge you to have that same excitement for your current business. If you do not treat each of your customers like a brand-new prospect by listening to feedback and acting on it, someone else will. You have to bring the same level of excitement to retention that you bring to new sales!"
At CustomerGauge, we focus all of our attention on B2B. We know the ins and outs of this sector, and why customer loyalty in this space is so important.
We also have always preached that if you're going to retain your B2B customers, you need to be developing and implementing strategies specifically designed for the ways in which your industry, business, and customers operate.
And if they're successful in keeping your customers loyal to your business, they're more likely to:

Spend more with your business

Refer you to other customers

Give you the insights you need to improve

Drive innovation

Increase revenue
All good things, right? Let's dive into these advantages (and how you can achieve them) one at a time.

5 Advantages of Customer Loyalty in B2B
1. Loyal Customers Spend More With Your Business

There are some really impressive financial statistics out there when it comes to brand loyalty.
Here are some of our favorites:

New customers are time-consuming and expensive to acquire. Now, that's not to suggest that you shouldn't focus your efforts on getting them on board of course.
However, this shouldn't be your sole focus.
As these figures show, there's a tangible dollars-and-cents value to investing in and nurturing your existing customer base. Take the time to make sure they're happy and resolve their issues quickly and effectively so that they don't churn.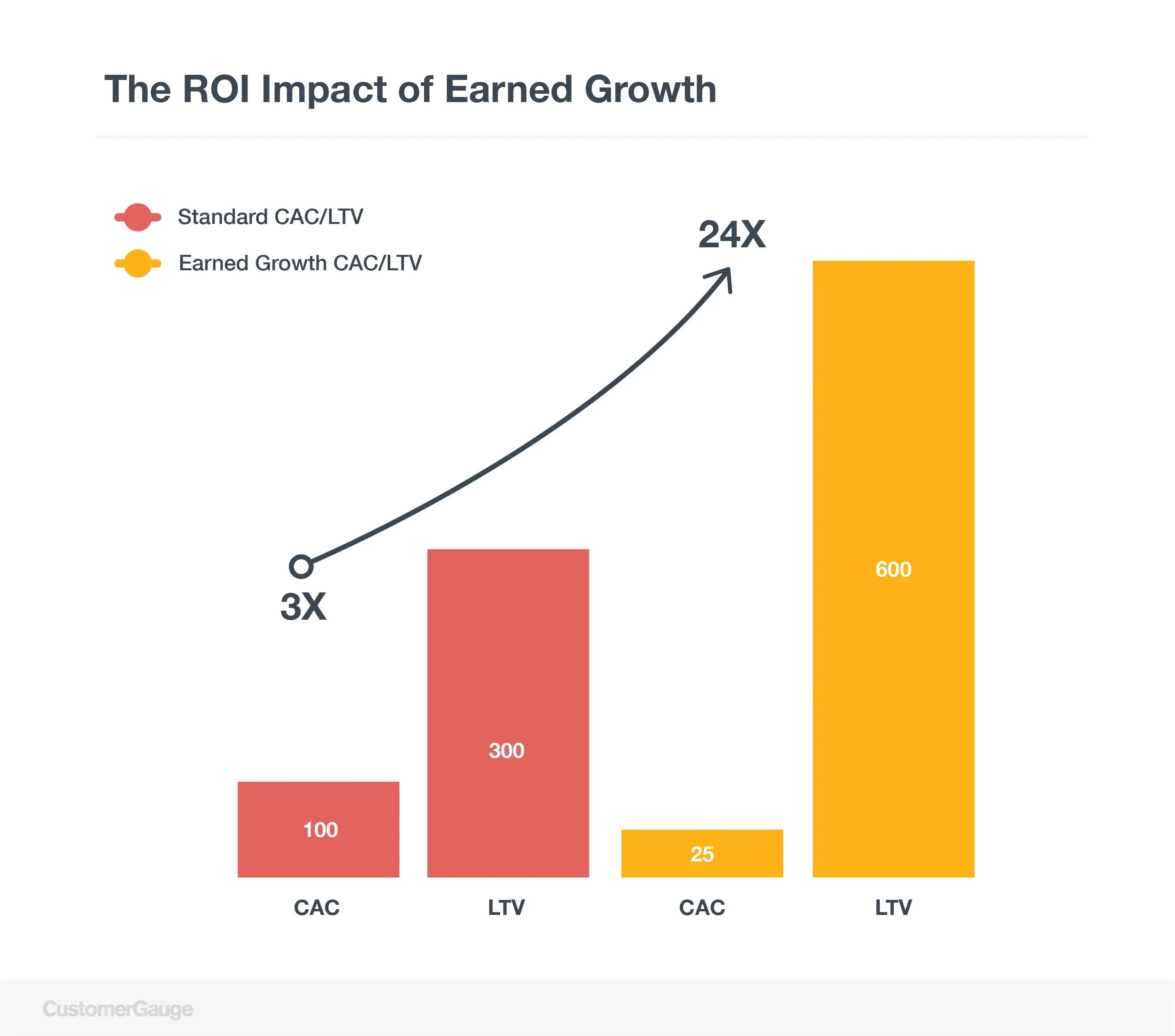 2. Loyal Customers Refer You to Other Customers
Loyal customers are more likely to refer your business to their friends and colleagues. But to secure the benefits of customer loyalty, such as referrals and resales, you need to know which customers are most likely.
That's the information that the Net Promoter Score (NPS) provides. Asking customers directly how likely they are to recommend you gives clarity to your most loyal customers.
The customers who answer "9" or "10" to this question are your promoters. They're not only likely to remain customers themselves, but they're also likely to refer other businesses to you.
Studies show that 72% of customers who have a positive experience with a brand are likely to share this experience with six or more people.
If they take the trouble to write a review online or to post something positive on social media, this number grows exponentially.
This is particularly valuable when you consider that customers increasingly trust and act on word-of-mouth reviews — much more than on traditional marketing. An estimated 90% of people are more likely to trust a brand recommended through word of mouth, even from strangers.
Your loyal customers are your brand ambassadors! They have the potential to raise awareness about your business and bring in new customers with every positive experience.
3. Loyal Customers Give You the Insights Needed to Improve
Retaining customers doesn't happen by accident.
You've got to know exactly who they are, what they're enjoying most about your products, services, or customer experience, and, especially, what their pain points are.
This information is best gathered through NPS surveys.
And one of the best parts about loyal customers? They're more likely to answer your surveys and tell you about both your hits and misses. With this valuable information, your business has a higher chance of becoming the best that it can be.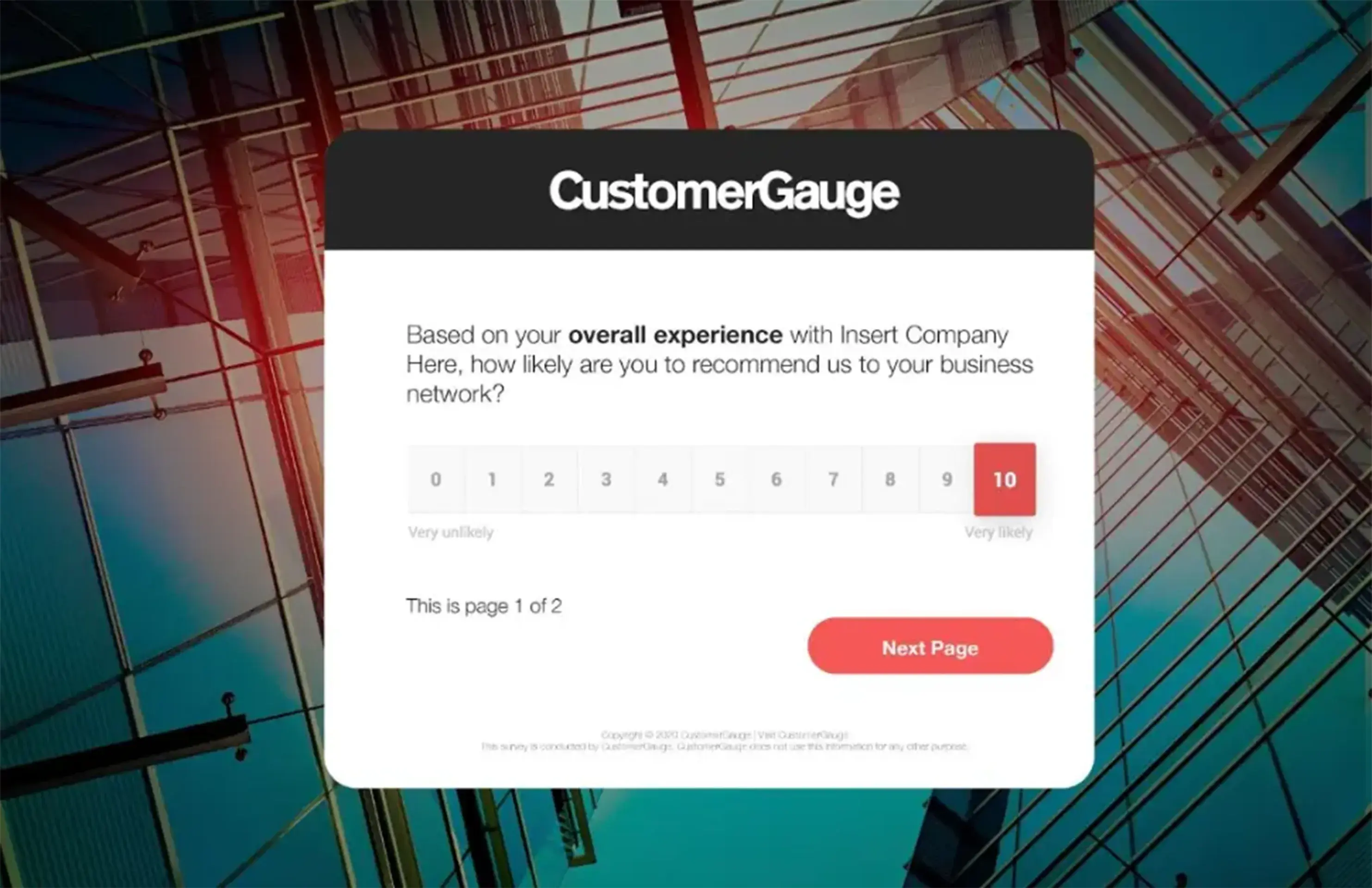 ICON, for example, an outsourcing solutions provider, has put customer experience at the heart of its growth strategy. Over 80% of its business comes from referrals, cross-sells, or upsells.
This is the result of a carefully designed process that ICON has in place to act on feedback, drive new referrals, provide a great experience, and make the customer part of the process.
The company's twice-yearly relationship surveys are short and quick, and have an incredible 100% response rate. The trick, ICON says, is in its customer-centric action plans.
ICON invites its customers to join its 90-day action plans. This way, they close the loop and include the customer in the plan to correct it. Customers not only provide valuable input, but participate in the solution in real-time, and therefore become more loyal.
This circle of loyalty has seen ICON achieve an astonishing 98.8% customer retention rate.
4. Loyal Customers Drive Innovation
There's a unique driver in the relationship between loyal customers and a given company: innovation.
If customers are going to choose to stay with your brand over any other, they have to see real value in your products and services. Over time, that means that you've got to stay on top of industry trends and constantly innovate.
Let's look at a practical example.
ZoomInfo, a publicly traded SaaS company, has a customer retention rate of 98.5%. How have they done it? By building relationships with their existing customer base through innovation—in particular, through education and training.
Research into their customer base taught the ZoomInfo team that, at the 90-day point, customers weren't particularly excited about ZoomInfo anymore. It was no longer the "shiny new piece of tech" it was at the beginning.
Rather than panic and try to acquire new customers, the team realized that this was the perfect chance to introduce the second round of training. When they did, they saw an immediate increase in usage among their customers.
Now, ZoomInfo customers are offered training at every stage in their journey. Live webinars, on-demand and private training, and the ZoomInfo certification program have also been introduced to keep ZoomInfo fresh and top of mind in the eyes of its customers.
The bottom line is this: if you're paying attention to your customer's needs, they can push you to be better.
Listen to our podcast: Training to Retaining with Tom Studdert of ZoomInfo
5. Loyal Customers Increase Revenue
Over their lifetime with your brand, loyal customers could spend over 300% more with you than customers who aren't loyal.
This means that prioritizing customer retention has the potential to have a massive impact on your bottom line.
You'll only have a real sense of how this is working, however, if you're tying your customer retention to your revenue. And that's exactly what our Account Experience program does.
Account Experience is designed to help you see the value of churn risks and the cost of particular drivers that have the biggest impact on your customer experience and, as a result, your customer retention.
With this knowledge, you can see exactly where you're losing customers, what you could be doing to boost loyalty, and which customers you should be focusing on.
In B2B especially, not all customers are created equal. And if you're going to be upping your customer retention game (and we strongly recommend you do), you need to be focusing to some extent on the high-value customers.
Get More Customer Loyalty Advantages with CustomerGauge
Wondering how to go about implementing NPS as a way of improving your customer retention?

CustomerGauge is here to help.
We can help you to:

Contact us today to book a demo with one of our experts and reap the advantages of customer loyalty!

About the Author