When we were researching our report The State of Account Experience, we discovered something quite surprising. Referrals are the lifeblood of any sales machine, but 63% of B2B brands don't track their referrals at all.
How come, when most businesses would recognize the power of referrals?
Well, we reckon that it's the same factors that are holding back B2B brands in their efforts to improve customer experience: poor alignment and, most importantly, inadequate technological support.
In this article, we want to help you tackle that final problem, by showing you some of the best B2B referral software tools out there.
You'll discover exactly what you should be looking for in your software to supercharge your referral program. And we'll share some of our favorite tools, too.

What to Look For in B2B Referral Software
Most B2B companies that want to run a referral program use different software with a wide variety of different features and capabilities to create and manage it.
Typical features of referral tools include referral tracking, reward distribution, and testimonial management
However, before you invest in any old referral software, stop. First, ask yourself the question: what do I actually need my software to do for me?
We think you need it to have at least three things:
Survey capabilities. When designing a referral program, you need full control over building and sharing your own surveys. For example, are you going to use Net Promoter Score (NPS) to identify your referral targets? Or do you want to reinforce your NPS data with other CX metrics, such as CES and CSAT?
If so, you want a software tool that can handle them all. You want to be sure that you're asking all the important questions in the right way, that you can automate and deploy across different platforms, and that you can extract powerful insights from the collected data.
Revenue data & analysis. The best B2B referral tools provide all of the data you need to really understand how your referral program is performing and why. But not all of them are able to link up your CX data with revenue metrics.
Though, this is key. Which customers are bringing in the most referrals? How much are these referred accounts worth? What would make existing customers more likely to recommend you?
Unless your referral data is tied to revenue, you'll have an incomplete picture of your successes and future opportunities.
Integration with other tools. No single tool does everything that you need it to do. Most B2B businesses operate with a large software stack, from CRM tools to customer service software, and it's important that their most critical applications play well with each other.
Having a software that can integrate easily with others can help to avoid potential conflicts, add additional features, and unlock more value.
What Are the Best B2B Referral Tools?
Today, there's no shortage of B2B referral tools available on the market and they all come with their own unique functionality, pros, cons, features, price points, and more.
This can make choosing the right one for your business difficult.
To help, we've put together our list of 4 B2B referral software tools we think are best, including why we think our own tool, CustomerGauge, is number one.
1. CustomerGauge's Account Experience
G2 Score: 4.6
Although the tools we mention below are great at what they do, they don't provide a complete 360-degree solution for generating, monitoring, and managing B2B referral campaigns alongside customer experience in general.
That's where our own tool, Account Experience (AX), comes in.
We're proud to say AX has been ranked by Gartner as the number one voice of customer tool for B2B brands — and for good reason.
Account Experience automatically captures and distributes B2B customer feedback from your customer accounts to front-line managers in real-time to help them reduce churn, drive up-sells, and, crucially, close new business with referred leads (while leaving spreadsheets, data silos, and long, boring surveys in the past).
CustomerGauge includes a wide range of features that give teams a full overview of their accounts. These include a state-of-the-art survey builder, a reporting suite, text & sentiment analysis, and driver & revenue analysis.
What's more, customers can use the "NPS SWOT" feature to identify which clients are high-revenue accounts and juxtapose that information next to satisfaction metrics like Net Promoter Score to better view referral candidates.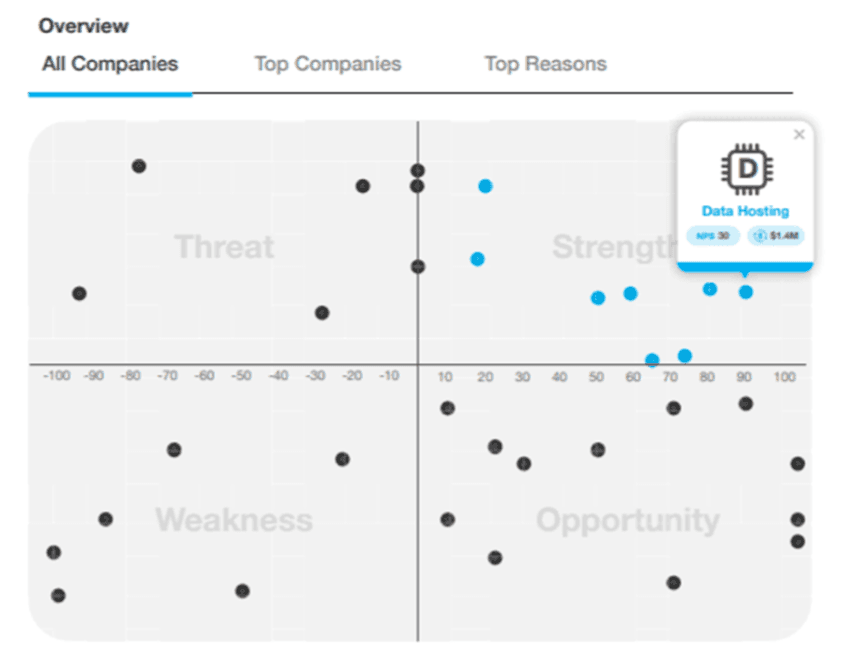 In short, we believe Account Experience is a brilliant tool for powering B2B referrals. But don't just take our word for it.
Here's a look at how some of our customers have used CustomerGauge to drive up response rates, generate referral revenues, and increase their close rates.
ICON Communications, a Prague-based contact center specializing in inside sales and account management for B2B brands now gets 80% of its revenue through referrals, thanks to CustomerGauge.
How? By first securing a 100% response rate to their NPS surveys with Account Experience.

"One of our core pillars is that we want feedback," says Helen Hickin, CEO of ICON.
"Sometimes that feedback hurts and sometimes we're super proud of it, but in any case, we need that feedback. That's why the business has grown and not just from clients and colleagues, but from our workforce as well."
The Account Experience program has helped ICON build a powerful feedback loop that has helped ICON measure NPS and build customer referrals. Read the full case study.
SmartBear managed to bring in $6 million in new business in just over a year using CustomerGauge's Account Experience. At the same time, the company boosted its close rate from 30% to 47%.
How? Thanks to CustomerGauge, the SmartBear team was able to easily map out the customer journey and implement transactional surveys to get direct feedback from customers.
And, using the SWOT feature, they were able to identify the customers that were the best opportunities for referrals and upsells. Read the full case study.
2. Referral Factory
G2 Score: 4.2
Referral Factory enables teams to build their own referral programs in a matter of minutes by providing access to over 1000 pre-built referral program templates. Although the platform is designed to be an easy-to-use solution, more advanced users can build their own referral marketing campaigns from scratch if they wish.
Referral Factory includes everything that's needed to automate a referral program from end to end. From prompting users to make a referral to issuing rewards for a successful one, this plug-and-play tool provides what most teams will need to get a basic referral program off the ground.
One of Referral Factory's unique features is that it doesn't require the use of tracking scripts, which enables marketing teams to get to grips with the tool without having to involve developers or technical experts. It also comes with a built-in page builder so that marketing teams can put together referral pages using drag-and-drop functionality.
What users like about Referral Factory:
"Super easy to use and great customer support: The ease of use is definitely my favorite aspect, but I was also so pleasantly surprised by the level of support offered in the early stages of setting up my campaign." (Consultant, small business — G2)

"We got a 30% increase in sign-ups: It is so user-friendly and easy to use. I also loved that we could have referral programs in different languages as we are an international platform with athletes all over the world. We also didn't need to interrupt our developers to help us set this up." (Growth marketer — G2)
What users dislike about Referral Factory:
3. Friendbuy
G2 Score: 3.6
Friendbuy makes it incredibly easy to launch referral programs quickly with lightweight code snippets. The tool automates the fulfillment of any reward type: coupon code, account credit, loyalty points, gift cards, and more.
Friendbuy also includes robust algorithms for fraud detection and flexible reward criteria, meaning every purchase is evaluated to ensure customers aren't cheating the system. Set event-based triggers, access granular reports, and track real-time performance all from within the Friendbuy ecosystem to supercharge your B2B referral program.
What users like about Friendbuy:
"A few things missing but covers your basis for referrals: FriendBuy integrates into Recharge's coupon codes for subscription referral incentives. The signup flows and custom flows are also great for referral onboarding." (Administrator in Consumer Goods — G2)

"Good platform and partner for referrals: Once set up, Friendbuy doesn't really require much maintenance to run your referral program, and making tweaks or updates is pretty easy." (User in internet industry, small business — G2)
What users dislike about Friendbuy:
4. ReferralCandy
G2 Score: 4.4
ReferralCandy is a popular referral software for eCommerce stores that enables them to automate their referral programs, track results, and reduce fraud.
ReferralCandy plugs directly into many popular eCommerce platforms including WooCommerce, Shopify, and Magento, and it includes a custom API and advanced integrations for businesses that require more control and oversight.
Where ReferralCandy truly shines is in the number of integrations that are available with third-party marketing tools. AdRoll, Klaviyo, Mailchimp, Google Analytics, ReCharge, Fomo, and many others are all supported.
What users like about ReferralCandy:
"Affordable referral solution with great customer service: Doing a full API integration of ReferralCandy on our domain was a challenge, but their customer support team did a great job and helped us with customizing the workflow." (Administrator in music — G2)

"Friendly support with a fast response: I appreciate how informative and helpful the support team is. … Very friendly, patient, and quick to respond. I left the conversation with all of my questions answered and I appreciate the time that the team took to ensure this." (User in food and beverages — G2)
What users dislike about ReferralCandy:
"Some features like API, integrations, and the ability for multiple coupon codes are limited compared to other solutions." (Small business COO — G2)

"If I wanted to set up multiple tiers or rewards based on different products, I would need to set up additional accounts." (Administrator in consumer goods — G2)
Want to Generate More Referrals?
At CustomerGauge, we're experts in customer experience. We can help you listen to the voice of your customers, identify their pain points, and generate more referrals from genuinely happy customers.
Although generating referrals can involve a lot of hard work, our platform means that you don't have to go it alone.
About the Author