The legal industry has become a saturated market. With so many law firms now out there, consumers and businesses have more choices than ever. And, for law firms, that's making customer experience (CX) and client retention more important than ever, too.
To ensure that you're ahead of the competition, you need a law firm client retention tool, one that can give you insight into the key drivers behind your customer retention and help you act to prevent churn.
The reality is that 44% of businesses aren't tracking their customer retention data at all, losing sight of what their customers think about their brand and why. However, with a client retention tool you'll be guided by hard customer experience data so you can intervene to prevent customer churn and improve your financial performance.
But what exactly does a law firm client retention tool do? In this article, we have all the answers.
What Is a Law Firm Retention Tool?
A law firm retention tool is a software or platform that law firms can use to monitor and optimize their customer retention.
Most standard retention tools can help you in two ways:

They help you measure retention and show who is at risk of churn. With so much competition between firms, knowing which clients are at risk of attrition is a must. This can help you get an overall picture of the quality of your CX.
It helps you act to prevent churn and boost retention. Measurement is not enough to make an impact on your business performance. A retention tool should help you close the loop, improve engagement, and boost CX to make customers stay.
These are the basics of a law firm retention tool, but some software can do more. For example, don't be satisfied with simply retaining customers when you can put steps in place to expand revenue through upsells and referrals, too.
The top client retention tools will do exactly that.
What Is a Good Retention Rate for Law Firms?
According to research carried out for our B2B NPS® & CX Benchmarks Report, the median retention rate for professional services, including law firms, is comparatively high at 73%.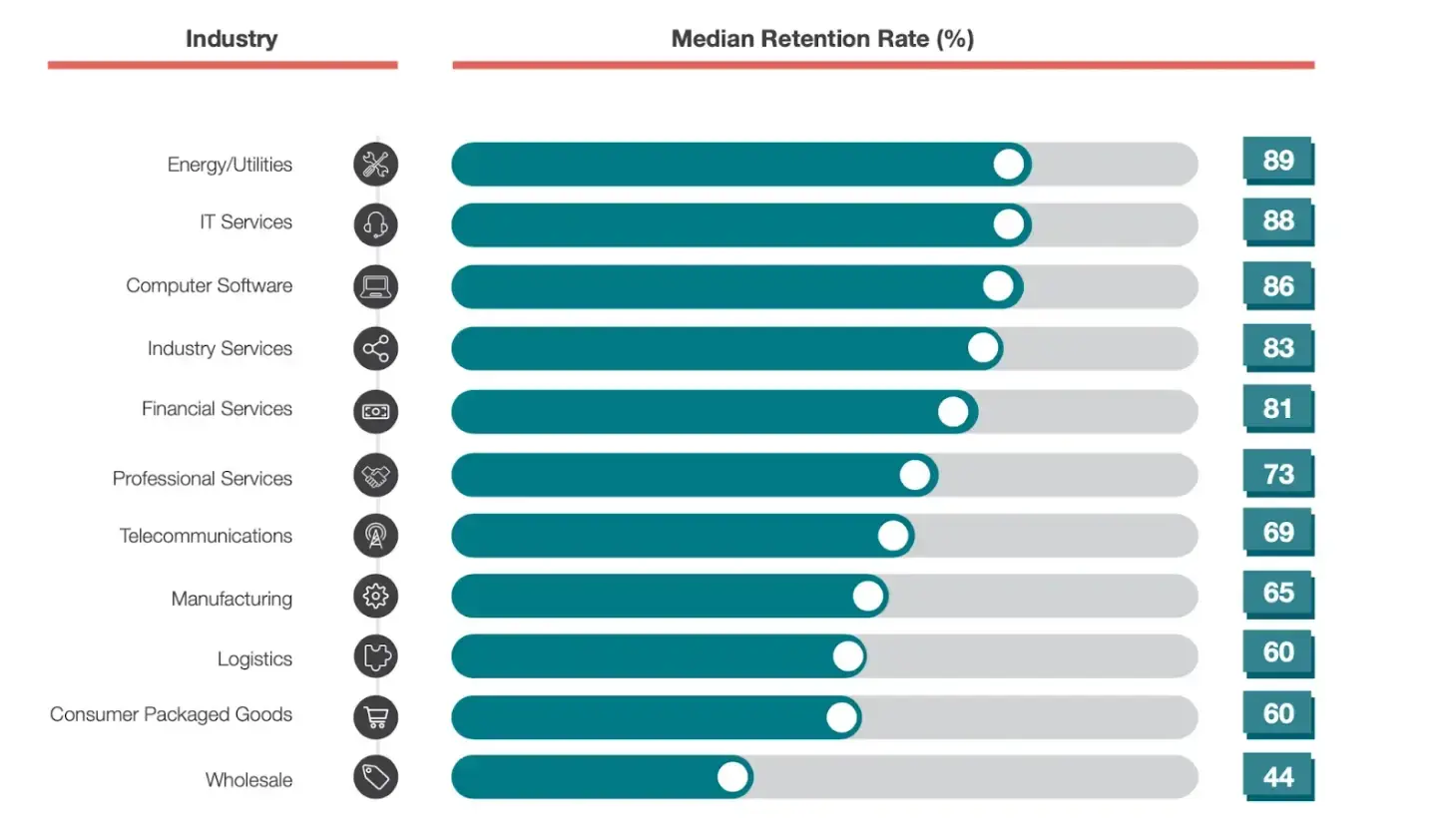 This is substantially higher than wholesale, logistics, and telecommunications, which is unsurprising, given the relative importance of loyalty, transparency, and trust in the legal services industry.
The median NPS for professional services is in the top half of industries surveyed, at 44%.
So, what do these statistics mean for your law firm's CX program? Statistically, the bar for client retention for B2B professional services is quite high — which means many of your competitors are already prioritizing client retention and staying competitive in a market that's constantly in flux.
That means you need to ensure you're staying at the top of your game, and that starts with understanding why customers churn in the first place.
What Is Behind Customer Churn in Law Firms?
The legal service industry tends to be less about loyalty to a brand and more about loyalty to a particular attorney in that organization.
The nature of work in this industry means that a client's relationship with a particular employee can be lifelong and tremendously fruitful.
Or, if a legal case does not conclude in the client's favor, things can turn sour rapidly. In a sector where a consumer is spoilt for choice in terms of providers, and where reputation means everything, clients turning to a competitor is a particularly challenging issue.
What are the reasons for this?
In general, all industries have had to adjust to the acceleration of automation and AI being used in customer experience management (CXM), and in the rise of remote interactions as more employees and customers work from home.
Brand loyalty doesn't hold the same prominence as before (77% of consumers are no longer as loyal to brands as they were just a few years ago). And younger generations are more willing to switch providers, as they have higher expectations and no problem providing feedback, especially in our social media-dominated age.
However, businesses are getting things wrong, too.
Research carried out for our B2B NPS® & CX Benchmarks Report found that:

61% of B2B experience programs are isolated to one division or department.

80% of companies are not sure their entire organization understands how the experience program supports their strategy.

63% of companies do not track referrals as a result of their B2B experience program.

70% of companies do not have their experience program linked to financial data.

62% of companies assessed say they do not calculate the ROI of their experience program.
In short: the majority of B2B companies do not take a whole-company approach to customer experience, they don't know how often and to whom they are being referred, and they do not understand how the experience of individual clients relates to revenue.
These are serious shortcomings for those businesses in the legal industry, where referrals win clients, every interaction plays a crucial part in the customer journey, and the loss of just one client can have huge consequences financially.
There's a lot you can do to help tackle client turnover in the legal industry, you just need to make sure you're using the right tool for the job.
What Should a Retention Tool Do for Law Firms?
A retention tool should create an automated, efficient, and insightful platform that allows law firms to and make the most out of their CX program.
Here's what a retention tool should do:

Automate survey distribution. Conduct and analyze relationship surveys and transactional surveys at key touch points in customer journeys. You should also make sure your tool allows you to get feedback from stakeholders at different levels of an organization to receive a true picture of your score and know exactly where your CX program can improve.

Help you close the loop. If you're working in professional services, just researching your clients' experience isn't enough — you've got to take action. Closing the loop means acting on customer feedback fast, ideally within 48 hours. A good client retention tool should help your team set targets and track feedback to close the loop quickly and effectively.

Direct feedback to those who are responsible.Customer retention needs to be on the agenda for everyone in the organization. Make sure your client retention tool funnels feedback to everyone responsible, so vital data doesn't stay siloed in one department.

Support referrals. Pick a tool that uses sentiment data to identify the best opportunities for referrals and upsells and help prevent your most valuable clients from churning.
And what can you expect from a great client retention tool? Higher NPS scores, response rates, retention rates, and, hopefully, faster growth rates.
Here are five additional ways to keep improving your client experience:
1. Get to know the tools that can help you cut churn. Use CXM tools to help you communicate more effectively with your clients and at the right time. Remember, especially in professional services, you want your clients to see you as a trusted partner in business, not just a vendor.
2. Stay nimble. A client retention tool isn't just about collecting feedback, it's about acting on it. And, if things change, that tool should help you pivot — the legal services industry is too competitive to get left behind.
3. Reward loyalty. The field is crowded and clients have a lot of choices. So, reward them for staying loyal in real, tangible ways, such as with high-value content, exclusive offers, and referral incentives.
4. Increase survey response rates. Getting a good response rate to your surveys is somewhat of a subtle art. But, once mastered, it can pay off big time. Check out how ICON Communication managed to get their survey response rate to 100%.
5. Measure your progress to inform your future. 62% of companies don't calculate the ROI of their experience programs, but, in reality, this information is gold. Understanding your CXM program's past performance informs future strategy and helps gain buy-in from stakeholders and investors.

Which Are the Best Client Retention Tools for Law Firms?
CustomerGauge, Qualtrics and Medallia are all comprehensive, well-respected CX management platforms with high ratings on G2.
Depending on the size of your law firm, and the nature of your clients, your needs are going to differ.
For example, Qualtrics is used by many insights and university MBA courses, thanks to its strength when it comes to surveys and data analytics. Medallia, which also rates highly for data analytics, tends to be used by larger companies and is particularly well suited for B2C.

Medallia and Qualtrics both use a range of metrics to measure CX, which is perfect if your focus is on research, but less helpful if your main priority is translating survey results into real action.
Although Medallia and Qualtrics come with an impressive array of tools, they might be overkill for many law firms, as they both come with fairly steep learning curves and high price tags.
CustomerGauge: The Top Law Firm Retention Tool
If you use transactional NPS surveys you'll get to the bottom of a client issue 98% of the time.
As a busy law firm, that's exactly what you need so your employees can easily get to the root of the problem and fix it fast.
Thanks to Monetized Net Promoter®, CustomerGauge is also the only CXM vendor to provide NPS analysis through the lens of revenue. With financially valuable clients on their books, most law firms can't afford to not take revenue into account when it comes to customer retention.
CustomerGauge is built for the needs of B2B (it was voted #1 by Gartner), and with its the Account Experience™ methodology, you'll have all the right tools to manage clients with complex account structures.
Book a demo to get started!
About the Author