Referrals are a crucial part of any B2B sales pipeline.
B2B referral programs enable you to build a more rigorous referral system by streamlining the sharing process, providing tracking and data insights, and automatically rewarding your customers for a successful referral.
And when implemented well, they can bring in literally millions of dollars in revenue, while providing a sustainable source of new customers.
We should know. At CustomerGauge, we've helped thousands of B2B brands get started with their referral programs. And, here, we want to share some of these stories and successes with you, so you can also benefit.
Recently, though, we were very surprised to learn through our own research that more than half of B2B professionals said that they didn't use a referral program.
However, our research showed us that the 9% of respondents that link their referral marketing to their customer experience (CX) program experienced 20% revenue growth and 82% return on retention.
As you can see, it's well worth building your own B2B referral program!
But how? Here, we show you some B2B referral program examples that really work.
What Makes a Successful B2B Referral Program?
Statistics compiled by the Harvard Business Review show 84% of all B2B sales begin with a referral. And prospects who come to you through referrals are 4x more likely to convert than prospects who come through other marketing channels.
That's why we want to lead you through the steps to build your own B2B referral system. Let's start with what all successful B2B referral marketing programs have in common.
To start, it should:
Be linked to your CX data. We shared above how referral programs that use CX data can boost your revenue by 20%. However, it's not just valuable, but simply practical, to make this link, too. It's good practice to use your CX data to identify which happy customers are most likely to make a referral.

Be simple for customers. Perhaps the most common obstacle between a happy customer and a referral is friction. Unwieldy or cluttered processes, requests for unnecessary information, or other complex actions are all going to reduce the number of referrals you receive.

Track your referral successes. You should be able to measure your referral program with the same level of detail as you would a sales campaign. Which referrers are bringing in most leads? How many revenue opportunities are you gaining through referrals? This will help you make improvements in future.
4 B2B Referral Program Examples
There are lots of different ways you can go about launching your own B2B referral program. For inspiration, we've brought together some of the most powerful examples of B2B programs.
It doesn't take much. In fact, simplicity is sometimes key, as our VP for Education and Program, Cary T. Self, explains:
"It doesn't have to be fancy and it doesn't have to be automated, just get started. It's a staggeringly low percentage of B2B companies that actually have a referral program. So you're already going to be ahead of most of the competition.
Whenever we talk with customers, one of the largest misconceptions we hear is that it takes a lot of time and money to develop and maintain a referral program. The reality is that a referral program is very low cost, because you're actually activating your most loyal customers."
Here are 4 B2B referral programs that make it look easy:
1. SmartBear
SmartBear is an American IT company that delivers tools for application performance monitoring, software development and testing, and API management.
The company began working with CustomerGauge at a time when they had just put together their first customer success team.
18 months later, SmartBear had some incredible results, including $6 million in new business through referrals — and a close rate of 47%.
How did they do it?
SmartBear built a referral program around its CX. The team used CustomerGauge to design and deploy simple transactional surveys to get direct feedback from their customers. SmartBear's customer service managers (CSMs) were able to identify the customers at risk of churning and the happy customers who were ready to refer.
SmartBear built trust by closing the loop. The CSMs became the main point of contact between the company and customers. And, in response to direct feedback, they were able to close the loop quickly.

SmartBear really understood its customers. From the survey data, they built a database of the most enthusiastic customers.
"Sales came to me and said, 'we just want you to give us a list of customers that I can call that I know love us and that I can sell to,'" Jennifer Lowenthal, SmartBear's Director of Product Marketing, told CustomerGauge.
"And I said, 'I can do that. I have a software program that can give you a list of just that.'"
Of course, that software was CustomerGauge's Account Experience. Learn more about how we helped SmartBear generate $6 million in new business.
2. ICON Communication
ICON is an award-winning multilingual call center and BPO specializing in B2B and B2C inside sales, lead generation, and CX interactions, headquartered in Prague, Czech.
At ICON, the focus is on delivering a stellar customer experience, and they're securing phenomenal results. Referrals are now the most powerful source of ICON's customer growth with 80% of revenue coming from customer referrals.
What's the secret? The brand credits customer feedback for this exceptional rate.
"One of our core pillars is that we want feedback," said CEO Helen Hickin during an interview on the CustomerGauge Account Experience podcast.
"Sometimes that feedback hurts and sometimes we're super proud of it, but in any case, we need that feedback. That's why the business has grown and not just from clients and colleagues, but from our workforce as well."
How does ICON do it? By ensuring an incredible response rate to their Net Promoter Score surveys. And when we say incredible, we mean a 100% response rate.
"
It is about soliciting honest feedback, and understanding, which all goes back to NPS. NPS is at the heart of our business
Hickin
NPS is crucial to any referral program because it directly asks customers how likely they are to refer you to their peers.
CustomerGauge's Account Experience program can help you build a powerful feedback loop that helps you measure NPS and build customer referrals.
It's also a great way to build customer relationships and to get a gauge on what's going well and what could be improved.
Read the full ICON case study.
3. HP TRONIC
Czech electronics giant and leading multi-channel retailer HP TRONIC, the parent company of brands like Datart and Euronics, also leveraged the power of CustomerGauge to build its referral program from the ground up.
By focusing on creating an exceptional customer experience using CustomerGauge, HP Tronic was able to recoup the entire cost of their CustomerGauge deployment with direct referral revenue in just a few short months.
In fact, in a recent talk with CustomerGauge, HP TRONIC's CRM retention specialist, Václav Vajgl, talked about the true value of the CustomerGage Account Experience tool — revenue.
"CustomerGauge paid for itself in the direct referral sales it creates," he said.
HP TRONIC is a fantastic example of a company using our powerful Account Experience software to leverage the raw power of B2B referrals and add revenue back to its bottom line.
4. H&R Block
In 2013, H&R Block Canada launched their "Refer a Friend" campaign to reward their most loyal customers, while also generating new business. But first, they wanted to ensure they had a 360-degree view of their customer experience
So, they implemented CustomerGauge's Net Promoter system. And, since then, H&R Block has experienced a 17-point increase in their NPS.
The business's referral system passed through a few stages. In the 2016 fiscal year, the program focused on customers who gave them an NPS score of 7 or higher, to refer new clients.
Then, H&R Block Canada improved and streamlined their referral marketing program. During 2017, they invited all customers, regardless of the NPS score, to join the program. This way, the brand was determined to keep things simple, for both them and their customers.
"As part of the 2017 process, the client receives a thank-you email (separate from the NPS email), which thanks them for filing their taxes with H&R Block," said Hilary Zaharko, VP of Marketing at H&R Block Canada, at the time.
"This email includes the Refer a Friend information in it, as well as a unique code they can simply forward to their friends and family."
Ultimately, betting on customer loyalty in their referral program paid off.
In total, H&R Block Canada sent out over 500,000 Refer a Friend emails in four months of 2017, with an open rate of 49%.
As a result, the program grew by 13% from the previous year.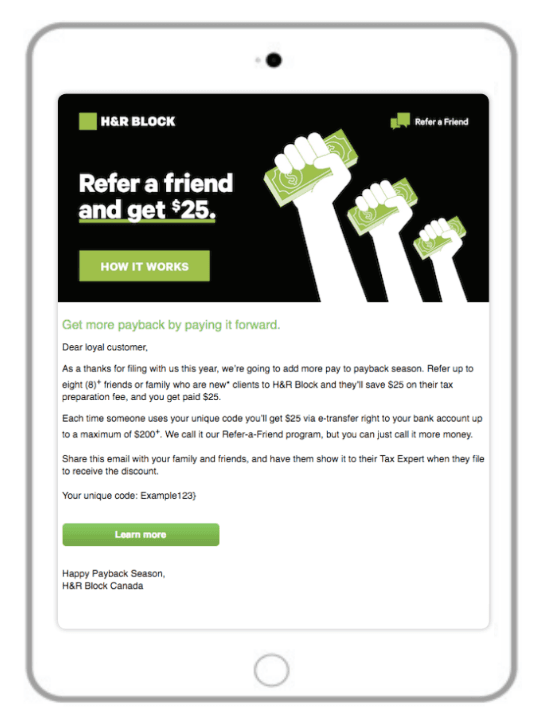 Begin Building Your Own B2B Referral Program
At CustomerGauge, we're experts in customer experience.
Although building your own referral program might seem daunting, you don't have to go it alone.
Our experts can help you listen to the voice of your customers, reduce churn by improving their experience, and generate more referrals from genuinely happy customers.
Book a demo with our B2B referral software to see for yourself!
About the Author