What Are the Best Sources of B2B Voice of Customer Data?
Before we delve into the pros and cons of delayed vs. real-time voice of the customer, it's essential to understand the types of B2B customer feedback methodologies available to you.
To start, VoC can be broadly split into two categories: active and passive feedback.
1. Active VoC
Active VoC methodologies are those in which you ask your customers directly for their feedback.
They require you to go out and talk to your customers about their experience. Typically, this is done after specific touchpoints, like a purchase, or at a particular point in time (such as every month or once a quarter).

Active VoC feedback methods include:

Customer surveys. One of the most common ways to gather valuable feedback, sending out a survey after an interaction lets you capture insights quickly while the experience is still fresh in the customer's mind. Net Promoter Score (NPS) is the most widely used survey system for B2B brands.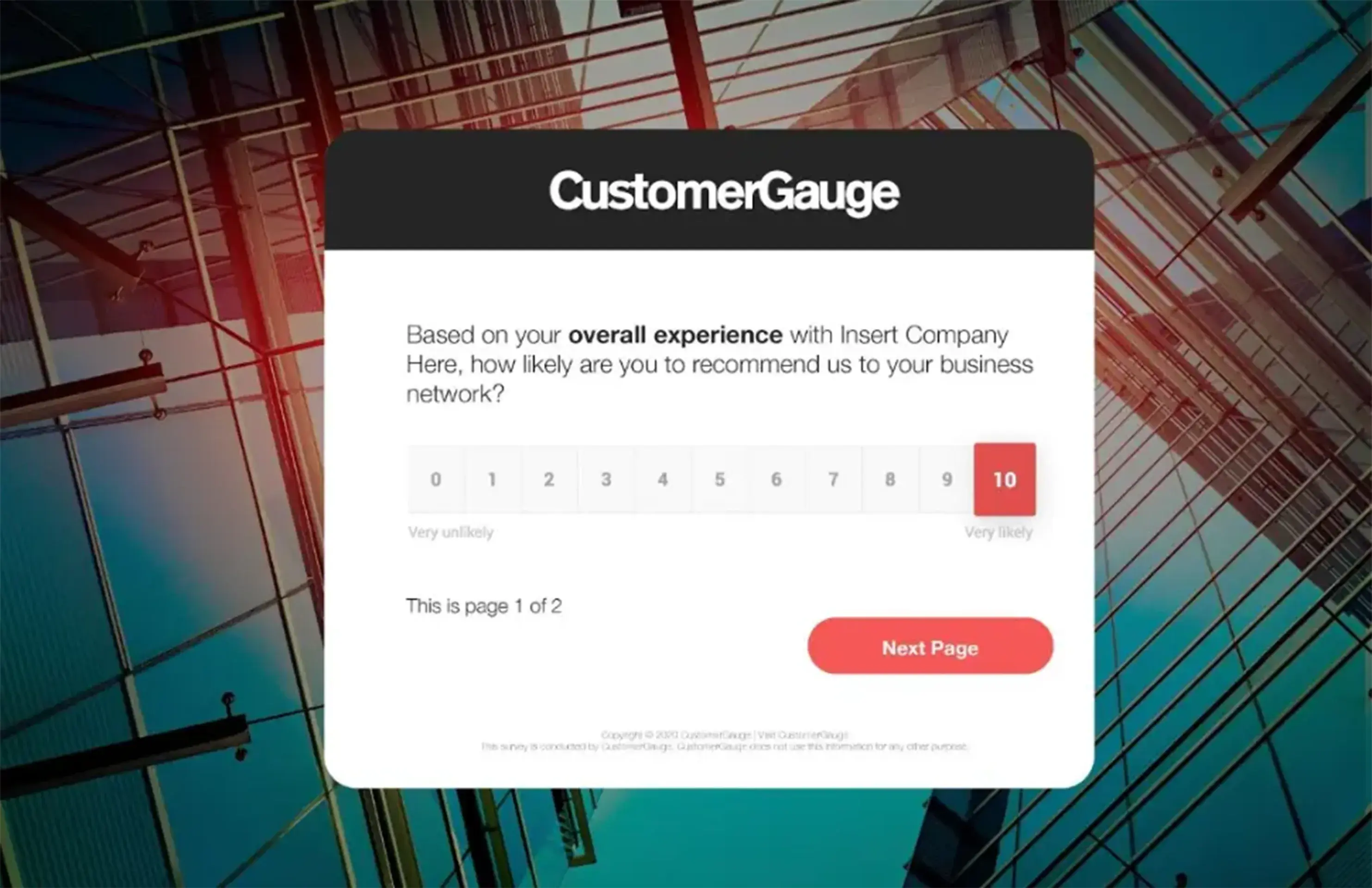 Customer interviews. Conducting interviews can be a great way to quickly get to the root of a customer's feelings regarding specific product or service issues or their customer experience overall.


Focus groups. An extension of the customer interview approach, focus groups bring together a small band of customers into the same room, or online space, to share their views about your company and brand.
Check out our Voice of Customer Benchmarks to see how your company ranks here.
2. Passive VoC
The opposite of active, passive feedback involves your customer offering up insights without being prompted. This requires your company to monitor key channels and mine data for more information.
However, utilizing a tool like CustomerGauge that gives you access to 'always on' channel feedback makes listening to what customers have to say easy.

Passive VoC feedback methods include monitoring:
Live chat. A growing trend among B2B businesses, a live chat widget allows your customer support staff to field queries and resolve complaints from your website.

Other website behaviors (and SaaS usage). Whether on your website or your SaaS platform, understanding how your customers interact with your brand, service, or product can provide a treasure trove of learnings.
With CustomerGauge's Account Experience platform, you can get a 360-degree view of your customers' behavior, including how they are engaging with your site and software.

Social media. Popular with B2C brands, social media is a rich source of VoC data for B2Bs, too. Many professionals use Twitter or LinkedIn to ask for recommendations, leave reviews, or vent about a B2B product or service.
Customer review sites. Third-party review sites like Yelp or Trustpilot can be a goldmine for VoC data, helping you passively gather insights from both positive and negative reviews before following up and resolving any issues.

Historical support call data. Using recorded support call data, you can pick up on trends and gain a broader understanding of how your customers perceive your brand.
Some of these approaches can happen in real-time (interviews, focus groups, live chat, social media), while others are delayed.
As we'll discover in the next section, there are pros and cons to both.
About the Author