If you've ever wondered what your customers are saying about your B2B product or service behind your back, you don't always have to ask. You just need to listen.
Customers are out there providing valuable feedback across a variety of channels, often without being prompted (although surveys and interviews still have their place!)
By adopting a strategic Voice of Customer (VoC) methodology, your business can set out to capture that all-important information in a structured and systematic way.
Once you've gathered those insights, you'll have a better understanding of their habits, behaviors, satisfaction levels, and loyalty — all of which you can use to enhance customer experience and retention.
In B2B, voice of customer programs must be built differently.

They should focus on revenue coverage. What percentage of your revenue base are you collecting feedback from? (Learn more on this in our newsletter here)

They should collect feedback from multiple stakeholders in each account. Unlike in B2C, B2B purchasing relies on multiple people to be satisfied with your experience.

They should be tied to revenue outcomes. Not all accounts are equal, in B2B some might be 100 times more valuable than others. If you're not aware of how much revenue is put at risk of churn thanks to each issue, you'll miss out on prioritizing major problems.
At CustomerGauge, this is what we specialize in—building methodology, best practices, and software for the future of the B2B voice of customer. Read our one pager here to learn more.
In this article, we look at eight active and passive voice of the customer methodologies perfect for B2B companies.
How Does a Voice of Customer Approach Affect Your Business?
A survey of 10,000 US consumers found that 94% were more likely to purchase additional products or services from a business if their experience with the company ranked as "very good". And the same research found that a "very good" customer experience meant 94% were more likely to recommend the company, while 77% were more likely to forgive a bad experience.
That, in a nutshell, sums up the importance of VoC: if you don't know how your customers feel, you can't take the necessary steps to improve customer experience and enjoy the types of benefits described above (more sales, more referrals, more retention).
Beyond that, gathering and analyzing VoC insights allows you to pinpoint any gaps between your customers' expectations and reality, helping you:

Spot the early signs of friction before customers churn

Customize products, services, or features to better meet your customers' needs

Gauge the demand for new products, services, or features
So, what's the best way to go about capturing these insights? Let's take a look at eight VoC methods you can use for your B2B business.
8 B2B Voice of the Customer Techniques & Methodologies
Voice of the Customer methodologies can be split into two categories: active and passive feedback methods.

Active: This type of feedback requires you to go out and ask your customers about their experience. You can do this after purchase or at a particular point in time (such as every month or once a quarter).

Active VoC feedback methods include:


Customer surveys

Customer interviews

Focus groups
Passive: The opposite of active, passive feedback involves your customer offering up insights without being prompted. This requires your company to monitor key channels and mine data for more information.

Passive VoC feedback methods include monitoring:


Live chat

Social media

Customer review sites

Website behaviors

Historic support call data.
1. Customer Surveys (Net Promoter Score)

Customer surveys are perhaps the most common way to gather valuable customer feedback. Sending out a survey after an interaction lets you capture insights quickly while the experience is still fresh in the customer's mind.
Voice of customer surveys come in all shapes and sizes and can be sent after a customer makes a purchase, uses a service, navigates your website, or interacts with sales or support staff.
Or you can send them quarterly to keep your finger on the pulse of customer sentiment.
You can choose to keep them short and sweet or opt for longer, open-ended questionnaires, depending on the type of information you require. For example, you can use Customer Satisfaction (CSAT) surveys to measure customer satisfaction, or Net Promoter Score (NPS) surveys to measure customer loyalty.
Using CustomerGauge's Account Experience software, you can automatically capture and distribute customer survey feedback from your accounts in real-time using B2B CX best practices that help your teams reduce churn, drive up-sells, and win upsell revenue.
Note: The response rates for your customer surveys can also be useful VoC data. If engagement is low, you may want to try a different type of survey or one of the other methods below. Response rates are critical because low responses are a clear signal of disengaged customers who don't feel their feedback will be heard.
2. Customer Interviews
A classic Voice of the Customer approach, conducting interviews can be a great way to quickly get to the root of a customer's feelings regarding specific product or service issues or their wider customer experience.
These interviews are typically carried out via email or telephone. However, in-person, one-to-one interviews can provide a more personalized interaction, allowing you to dig a little deeper with follow-up questions while forming a stronger customer relationship.
We recommend you run regular NPS surveys, follow up with them, and do a deeper dive to find out what detractors are really thinking.
Discover why we say conversations improve customer retention here.
3. Focus Groups
An extension of the customer interview approach, focus groups bring together a small band of customers into the same room (or online space) to share their views about your company and brand.
The participants are invited to speak freely and openly about your product or service, often prompting one another to expand on issues you may not be aware of.
This can be a great opportunity for root cause analysis, for example, in which you dig deep into customer problems to find out the fundamental cause.
4. Live Chat
Live chat is a growing trend among B2B businesses, with 61% now using it to field customer queries and resolve complaints from their website. However, its usefulness extends beyond helping customers in real time.
Live chat logs are a rich source of valuable data, allowing you to dig deeper into certain trends and topics.
For instance, you could analyze the sentiment of your most recent interactions to see if it's overwhelmingly positive or negative. Once you understand how your customers are feeling, you can look for the common thread tying it all together.
If several customers complain about late deliveries close together, this could point to a broader issue with your fulfillment process, allowing you to step in and fix it before it leads to customer churn.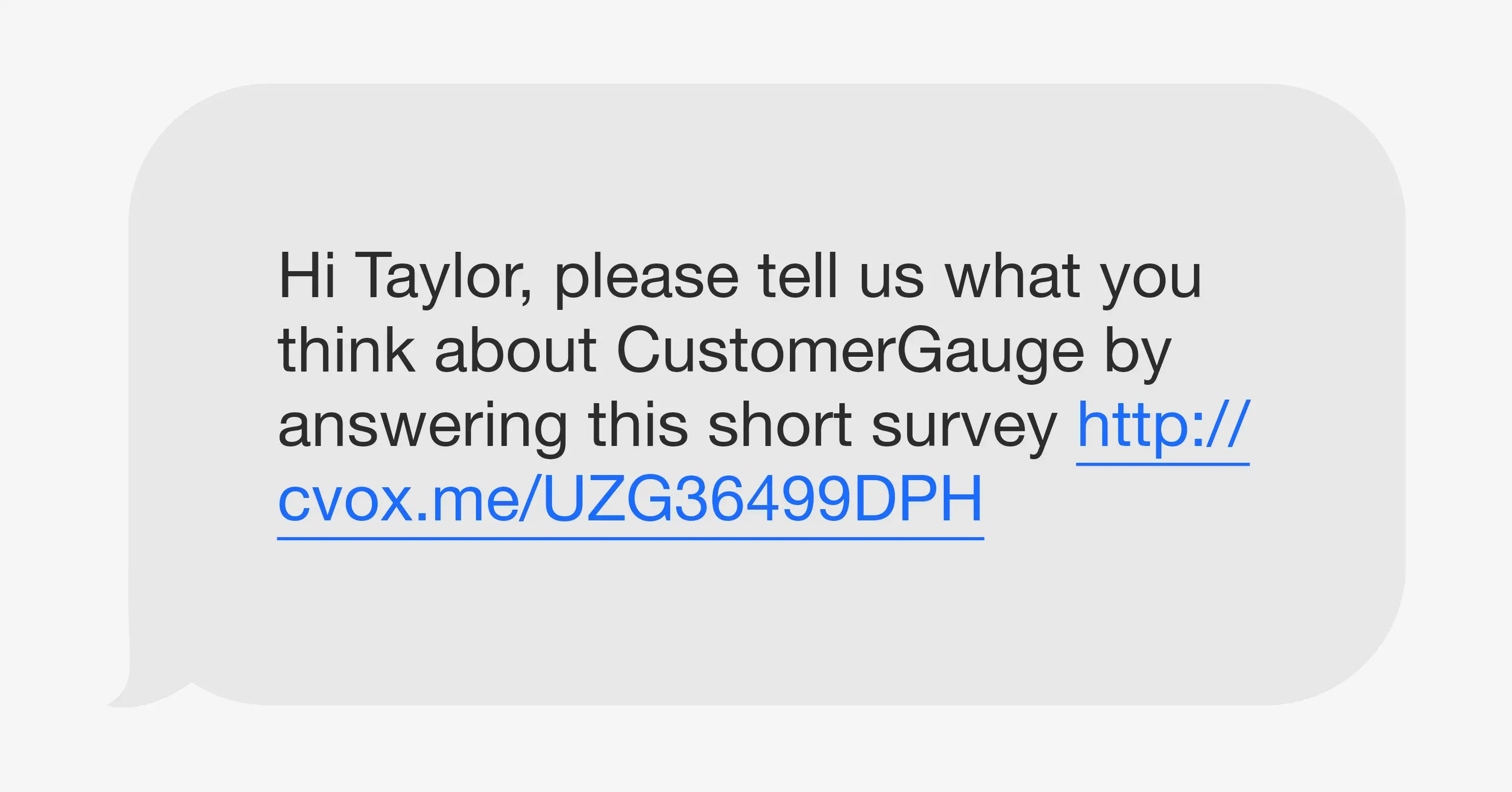 5. Social Media (Social Listening)
Monitoring social media for brand mentions might be more common among B2C businesses, but it's not entirely off the table for B2Bs.
Many professionals will take to Twitter or LinkedIn to ask for recommendations, leave reviews, or blow off some steam regarding a B2B product or service. And if they're recommending, reviewing, or complaining about your product or service, you really want to be part of that conversation. Or at least quietly listening in and taking notes.
6. Online Customer Reviews
Similar to the social media method above, if your brand is being mentioned somewhere online, you really ought to be within earshot.
Third-party online review sites like Yelp or Trustpilot can be a goldmine for VoC data — and they can be especially powerful if they give you the right to reply.
That way, you can passively gather insights from both positive and negative reviews to see what's working (and what's not) before closing the loop to regain trust and retain customers.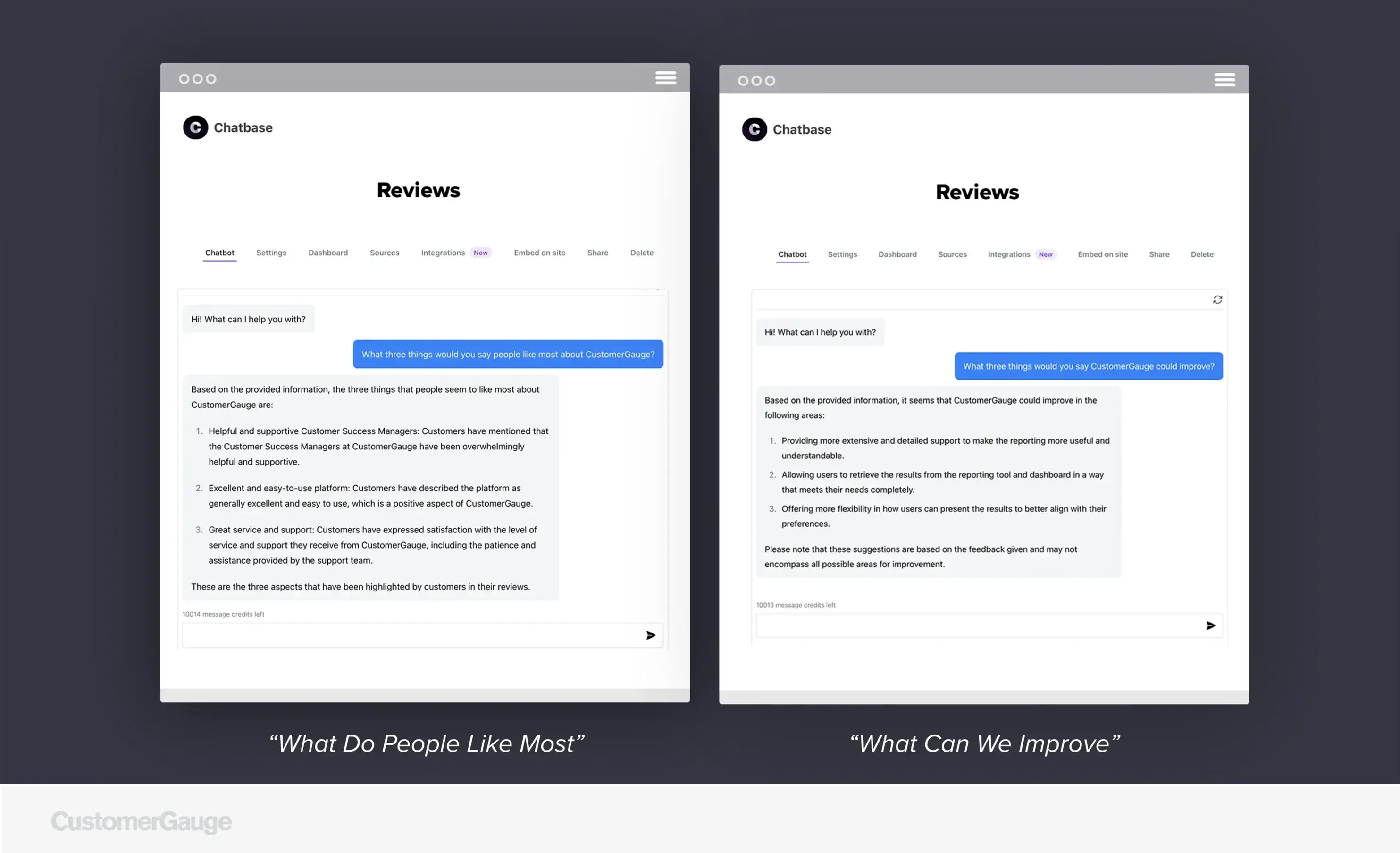 7. Website Behaviors + SaaS Usage
A little closer to home, your own website can offer a treasure trove of VoC insight. Using web analytics tools like Google Analytics, you can segment your visitors by key demographics like age and location and track vital customer behaviors, like which pages they visit the most.
And with heat mapping software like Hotjar, you can determine which products or services are the most popular, where they dwell when they land on a particular page, and where they leave without completing an action.
Meanwhile, if you offer a B2B SaaS platform, you can dig into usage stats to see how often your customers are logging on, which features they're using, and where they may be struggling, before using this information to re-engage them.
8. Recorded Support Call Data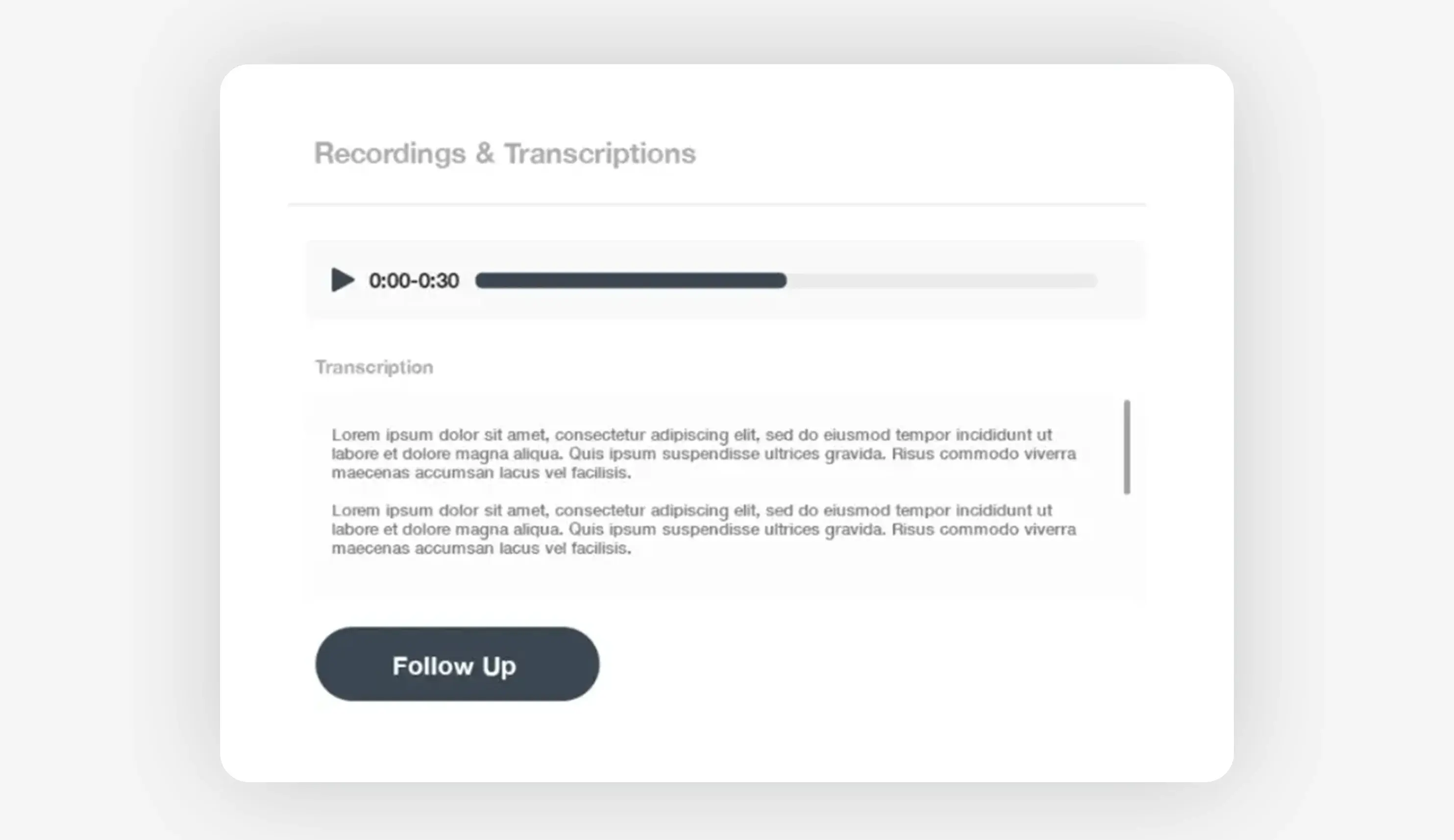 If your customer support calls are recorded (for training purposes), you can use that historical data to pick up on trends and gain a broader understanding of how your customers perceive your brand.
For instance, if several customers are repeatedly contacting customer support for the same reason, this would point to a particular issue that requires your attention.
Although time-consuming, this could help you tweak your approach to support and objection handling, ultimately improving customer experience and retention in the long run.
Listening is Only One Part of Your Voice of Customer Methodology, You Also Need to Act
No Voice of the Customer methodology is complete without an effective way to take action on the feedback you've gathered.
You must be able to turn any data you've collected into actionable insights, using them to positively affect the overall customer experience. Ultimately, this helps your business rescue, retain, and grow its customer base.
Two Things to Build into Your Voice of Customer Methodology
These two things? Critical to your VoC program's success.
1. Closing the Loop
Closing the loop on customer feedback is a critical stage if you want to improve loyalty, and customer retention, and identify other revenue growth opportunities.
Research from the CustomerGauge intelligence team in 2022 discovered that businesses who closed the loop after running an NPS survey had three times the number of promoters the next time they ran the survey (compared to those who didn't have a closed loop process).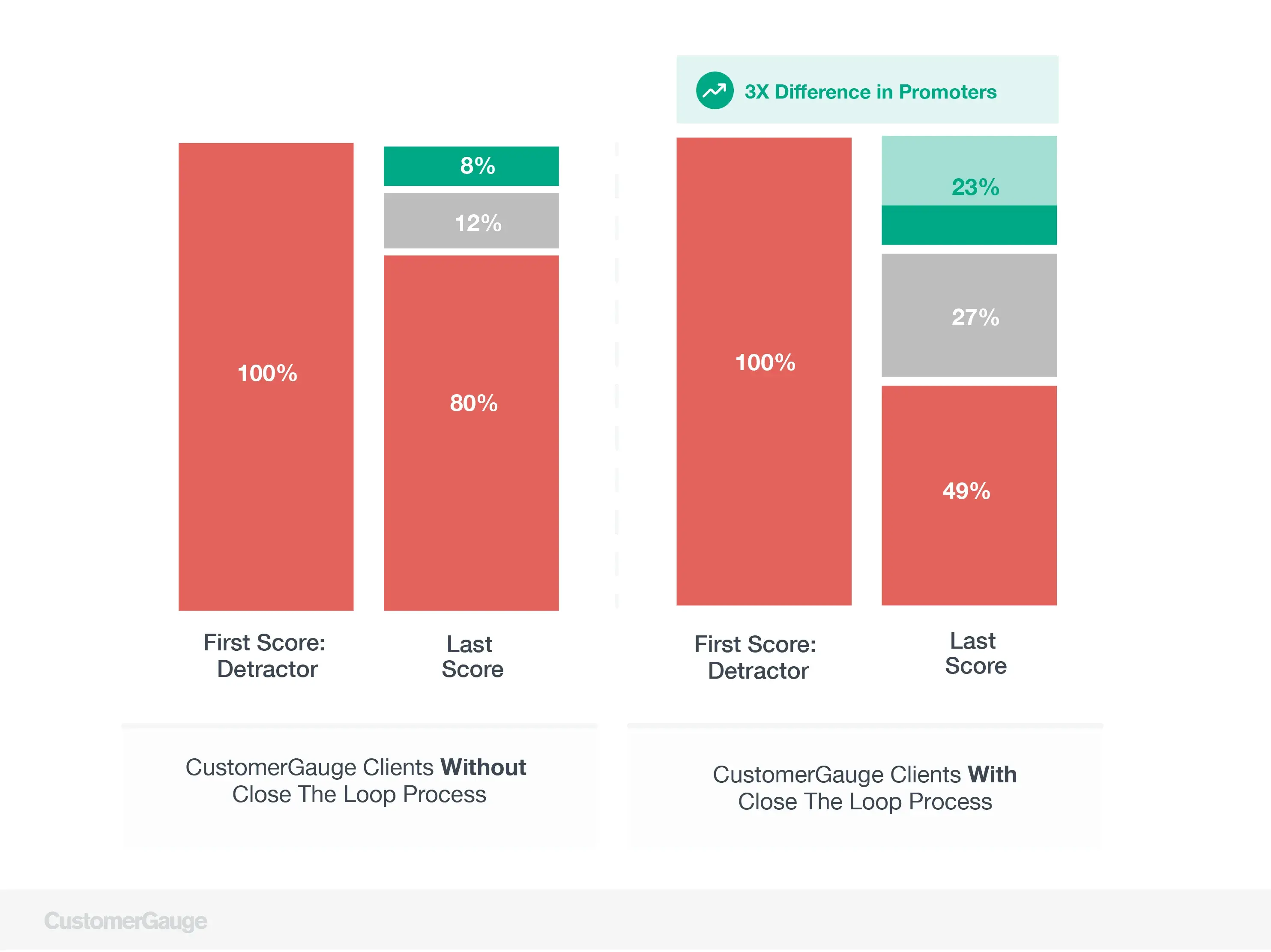 Closing the loop involves letting your customer know you received their feedback and how you're going to act on it. This shows customers it's worthwhile filling out your surveys, and often retention goes up just because they know you're listening.
2. Connecting Revenue to Experience Data to Identify Opportunities for Growth
ROI and operational data like revenue is frequently disconnected from B2B experience programs—and that's a big mistake.
In our B2B CX platform, users integrate revenue and we connect it to voice of customer feedback data. The platform then presents a library of visualizations that helps identify opportunities for churn reduction, upsell, and referral.
For example, take our Net Promoter SWOT widget: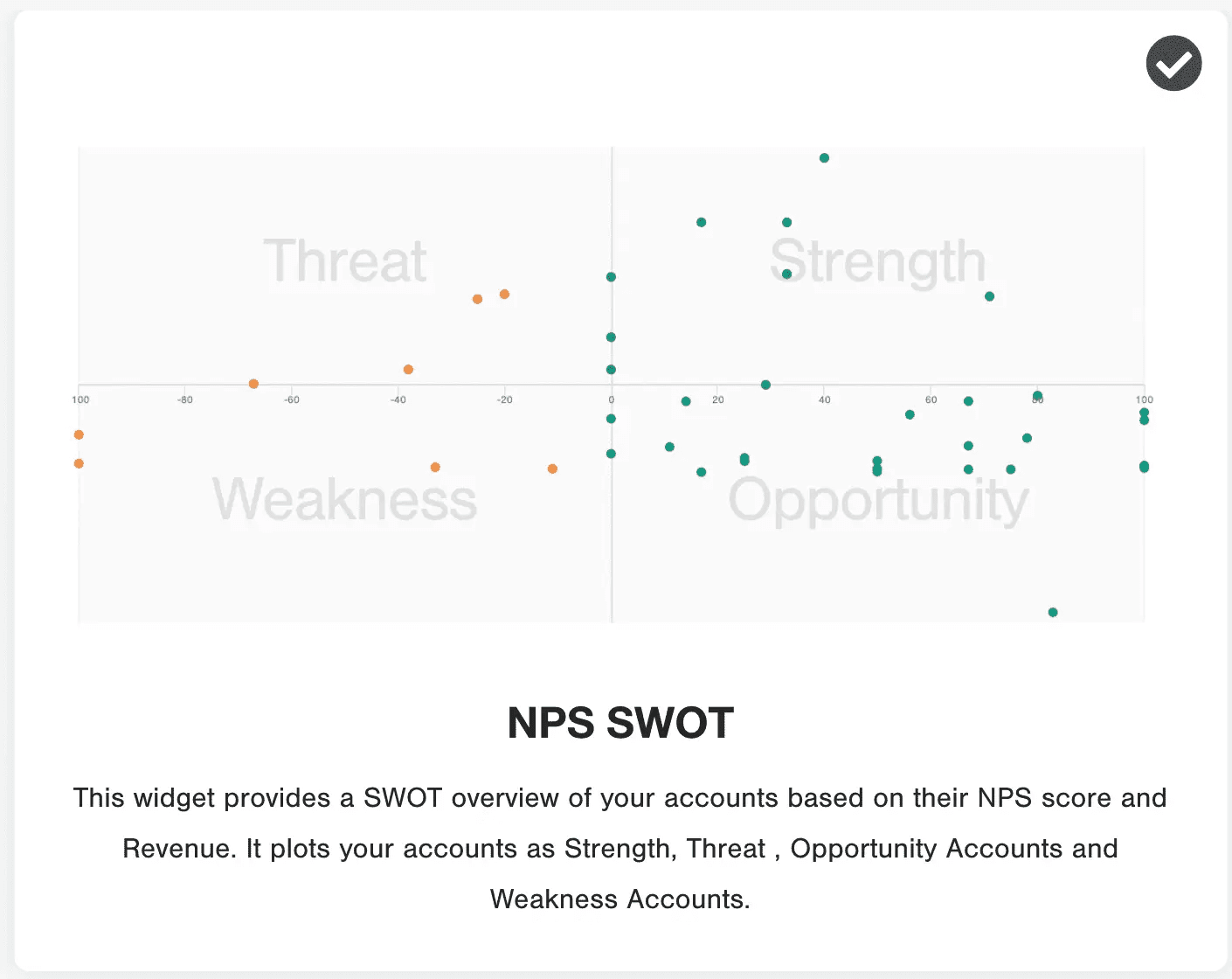 Each customer account is mapped out on the SWOT chart here.

Threats: High-value accounts who have left negative feedback recently. You should focus on tackling these churn risks.

Opportunities: Low-value accounts who have left highly positive feedback recently. Your sales team can focus on upselling into these accounts.

Strengths: High-value accounts who have left positive feedback. You can ask these accounts for referrals.
By building a voice of customer methodology and strategy around pillars like these, you can start driving real results for your company using customer experience management.
That's what SmartBear did ($6 million in referrals in one year!). That's also what Coca-Cola and other CPG leaders are now doing.
You can learn more about acting on customer insights in a Voice of Customer program in the second eBook of our Monetized Net Promoter series.

CustomerGauge: The Voice of the Customer Methodology & Software Built for B2B Enterprises
CustomerGauge can deliver accessible, actionable customer experience insights for your company through our B2B Voice of the Customer offerings.
We've built an entire methodology and approach especially for you, and it's extremely effective (read our one-pager here). Using our real-time dashboards, alerts, and customer journey maps, your company can close the loop with your customer base and identify areas for improvement.
About the Author