Voice of Customer (VoC) programs are designed to improve your customer experience.
But they don't always hit the mark.
Usually, that's because something's missing—the program hasn't been tied to your company's revenue, for example, or you haven't achieved an adequate customer survey response rate.
Alternatively, maybe you've collected your Net Promoter Score (NPS) surveys but you've failed to act on them to reduce churn, increase referrals, or upsell to customers.
Because VoC isn't just the process of gathering customer feedback, from all accounts and at every touchpoint, and then analyzing that data. The insights into customer satisfaction and experience need to drive action too.
Otherwise, what's the point of collecting it in the first place?
The following voice of the customer examples shows exactly how some companies are driving revenue from the actions they took to address the insights gained from collecting and measuring customer feedback.
Voice of Customer Examples in Healthcare
Our own data shows the median NPS Scores for healthcare sits at just 58.
However, according to a third-party survey of N. Texas Free-Freestanding ERs and Hospital EDs, the industry benchmark is even lower for emergency care.
The healthcare sector has been slow to adopt NPS or other types of customer feedback tools.
The result has been low levels of customer satisfaction and poor patient loyalty levels. A lack of access to healthcare information, issues with privacy, and dismissive patient-doctor interactions are some of the root causes of these low patient loyalty levels.
But it doesn't have to be that way. Our first example of VoC success comes from the healthcare industry.
That's Intuitive Health:
1. Intuitive Health
In 2016, Intuitive Health began partnering with CustomerGauge to put their customer feedback to work. Their aim was to provide a clear route for their care and administrative staff to hone in on poor customer experiences and celebrate their wins.
The first step was to establish buy-in from their employees, building out the Net Promoter system across their six locations in Texas.
"
We streamlined the process by empowering our leaders, on both the care and administrative side, to lead the NPS program and really hone in on not just the bad experiences (we have a workflow process for that), but also to celebrate the wins. It was spreading the word about our promoters that got everybody excited
David Apple
Chief Marketing Officer
With everyone onboard, Intuitive Health began implementing consistent survey best practices. Surveys were emailed to patients within 24 hours of their visit. Non-responders received a reminder within 36 hours.
This led to an impressive 24% response rate and higher retention within their patient base.
Notifications of detractors or passives are sent in real-time via email to leaders at each of the locations. This is when the clock starts ticking. First responders reach out to these patients to clarify the issues and provide solutions.
The case remains open until a satisfactory resolution has been reached. Typically, this takes 36 to 48 hours.
The process noticeably improved patient experience and has helped recurring issues to be solved with procedural changes. This proactive approach has resulted in an NPS score of 81 —a significant achievement on par with top retailers and customer service-oriented brands.
Since implementing CustomerGauge, Intuitive Health has taken a completely new approach to patient care. Their NPS score and patient experience take in every touch point. Before patients finish checking in, someone is greeting them and helps to put them at ease.
Not only are patients asked about their experience, but the feedback is also acted upon.
In an interview, CustomerGauge's Global VP of Education and Services, Cary Self, described what makes Intuitive Health's VoC program so powerful:
"Overall patient experience is made as important as the amount of revenue that is driven. Every single person that's involved with the patient experience at Intuitive Health understands what the mission is and why it's important—from the person who smiles and greets you at the front door and gets you set up, to the nurses that draw blood and do tests, to the doctors that see you and provide care, all the way through to billing and the team that follows up with you on your visit.
"In addition, every level of leadership talks about the patient experience and backs it up by providing education around how to do it better."
Here is Jay Woody, Founder, and Chief Medical Officer at Intuitive Health, backstage at Monetize! our leading VoC conference in Amsterdam.
He spoke on stage sharing how he uses CustomerGauge to deliver the same level of service patients have come to expect from the top medical care providers.

Voice of the Customer Examples in the Food Industry
The food industry has resisted the adoption of technologies for a long time. However, COVID saw the necessary rise in the use of technologies to reduce human contact points and keep businesses running.
Thanks to this, as well as additional funding to digitize elements of the food and beverage industry in the US, technology is becoming an essential element for the smooth and safe running of restaurants, hotels, and other food and beverage businesses in the Consumer Packaged Goods (CPG) industry.
2. Just Eat
You can be forgiven for thinking Just Eat is essentially a B2C business.
That's the side of their operations that they're best known for. But the other side involves the restaurants they partner with — and that's the B2B element that Just Eat approached CustomerGauge about.
Their approach to the B2B Account Experience (AX) program is unique in that much of it's driven by the B2C experience.
Just Eat uses a dedicated Account Management team to work directly with restaurants through the onboarding experience to deliver the best B2C experience possible. Everything from menu item selection to logistics options and even packaging is taken care of.
The business closes the loop on 97% of all detractors within 48 hours with the help of an "Improvement Special Project Manager."
This person is dedicated to following up with Account Managers to make sure they're closing the loop quickly with all accounts.
Their training of account managers is equally robust.
They teach managers how to handle NPS detractors, deal with bad feedback, and have open conversations about how negative feedback is OK. This makes closing the loop far more straightforward for team members.
3. Heineken
Like Just Eat, Heineken has both B2C and B2B sides to their business. They sell through a distribution model with two main channels: bars and restaurants, and supermarkets.
Heineken uses Account Experience to ensure they're selected by customers using each of these channels and continuously measure and act on feedback from critical B2B relationships.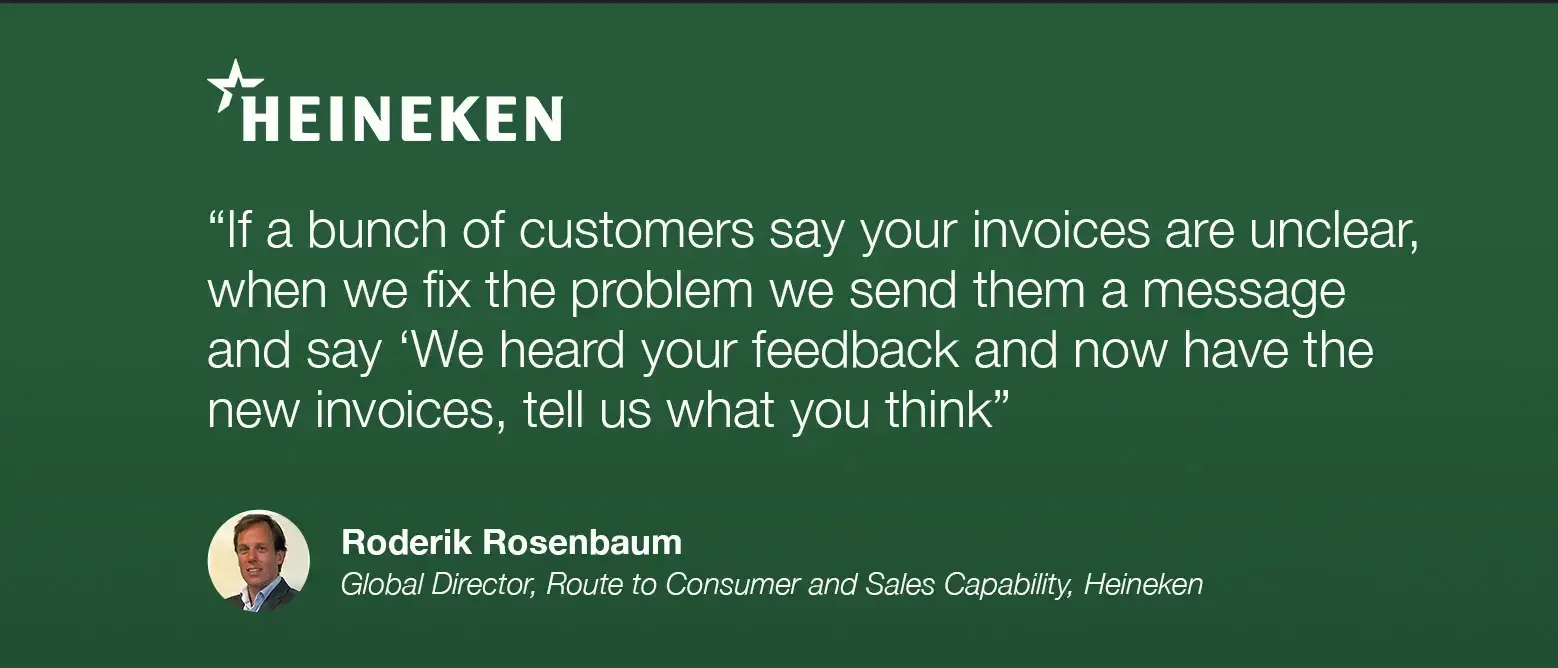 In 2020 they began to strengthen their relationship with bar owners via the AX program. 600 relational surveys were sent out and the power of collecting feedback fueled conversations with unhappy customers.
"It's quite scary at first to start calling back a client who gave you a 'zero' or a '1' just 48 hours ago," explained Stephan Visser from Heineken in this interview. But conversations with their detractors soon turned into positive actions for uncovering the root cause of discontent and implementing processes at scale to turn detractors into promoters.
Here's Cary Self on Heineken's VoC strategy:
"
To hear their leadership speak about their program not as a way to put out fires, but to begin relationships, tells you all you need to know. It's not about a quick sale for them, it's about establishing a healthy relationship that can be measured in comments, metrics, and revenue. Even if you think that their customers have no other choice but to buy from Heineken, it's so important to constantly ask what you can do better to hold on to our customers.
Watch Heineken's full Monetize! presentation here.
4. Coca Cola HBC (CCH)
Winning our Most Engauged Award this year, our Coca-Cola examples of the voice of the customers show how the Account Experience can drive higher NPS scores and create value for customers while empowering employees.
CCH spread the account experience to staff across the organization, ensuring the entire company followed best practices and used technology to become truly customer-focused.
Teams were engaged in Account Experience by ensuring customer feedback was not only gathered but also acted upon to make their experience better.
The AX was deployed across all sales teams and markets over eight months to empower them to put the customer first in all transactions.
Let's hear from Cary once more on Coca-Cola's VoC strategy:

"We're talking about a global organization that operates in multiple countries with multiple languages and cultures. But with all the differences they've still established a single baseline of what is important: how you treat the customer.
"They see everyone in the process as being important to the overall success and growth of the organization. CCH leaves nobody out when it comes to creating great experiences and truly understanding where they can improve by making sure they're constantly asking, listening, and acting on feedback."
Below is Natasa Prodanovic, Head of Lean and Agile Center of Excellence at Coca-Cola HBC, who spoke at Monetize! about their CX journey.
With an internal NPS system in place, Natasa and her team were able to quickly learn where the pain points lie to break down silos within every function.
Today, cross-functional collaboration is quicker, simpler, and more frequent than ever.
Voice of the Customer in Auto: Examples of Success
Automotive and transportation companies tend to have higher NPS scores than other traditional retailers.
What's more, average customer satisfaction levels have risen by 16 points in the past three years. It's an impressive achievement when the industry is experiencing such high levels of disruption, with electric vehicles, autonomous driving, and greater connectivity.
These vehicle manufacturers have some of the best NPS scores in the auto industry.
5. Honda
With an NPS of 82, well above the industry standard, Honda is doing well at reaching their goal of having the most satisfied customers in the industry.
Great quality vehicles are just part of their high rank in customer satisfaction scoring.
Honda leverages technology to strategize its customer outreach and customized messaging is at the heart of this strategy. The company also analyzes customer journeys in order to create meaningful interactions at each of the touchpoints along the way to becoming a customer—and beyond.
Honda closes the loop by using its customer feedback to influence how operations are run. Single repair programs, preemptive prevention, and enhancing staff training programs that make the most of human skill levels are some of the innovations that have been initiated from the process.
By anticipating customer needs and customizing their communication, they're building a strong and loyal customer base.
6. Tesla
Tesla has one of the highest NPS ratings across all industries. Their score of 97 comes from delivering a truly great product, but also through honest communication and their use of customer insights to improve their product.
Tesla continually monitors its customer's driving experiences. These data insights are used to inform engineering changes and tweak vehicles to deliver exactly what customers want. 80% of Tesla repairs can be done outside of service centers and mobile repairs are complimentary.
Although Tesla's prices are non-negotiable, the level of customization isn't, and the bar for customer care is set high from the first step of the customer's journey. After making a purchase, dynamic personalization enables drivers to change their vehicle's settings. But it also delivers the metrics needed for Tesla to develop customer experiences that are engaging, responsive, and authentic.
The CEO, Elon Musk, also works to close the loop on customer feedback, frequently taking to Twitter to respond to customer complaints and take action on them too.
Using Your Customer Voices to Improve Business
Regardless of the industry in which you do business, the voice of your customer is an incredibly valuable resource. Tapping into this helps companies improve their products, services, and of course customer loyalty too. As the above voice of customer examples show, reducing customer churn by listening and acting upon customer feedback is simply good business.
When VoC is tied to company action and revenue, customer satisfaction soars along with the value of the business. With most businesses now competing largely on customer experience, it's not enough to simply collect data or customer feedback. Customers should be actively engaged to build loyalty and turn them into promoters who bring even more business to your door.
At CustomerGauge, we can help you put your voice of customer to good use and improve customer sentiment at every stage of the customer journey with our Account Experience tools.
Interested in seeing how it works live? Contact our team for a demo today!
About the Author