At CustomerGauge, we know that many B2B businesses aren't achieving their full potential when it comes to account management. While account managers are doing an awesome job at firefighting customer issues, they're often not expected to do any heavy-lifting when it comes to revenue.
For example, at the B2B software company SmartBear, account managers didn't have anything to do with the sales team before 2017. Inevitably, that meant that the whole business was missing opportunities for revenue growth.
But when the brand started using CustomerGauge that same year, and account managers were incentivized to seize upsell opportunities, things changed.
In a matter of 18 months, SmartBear secured $6 million in revenue from upsells alone.
That's the power of effective account management. But to get that right, you need an account management plan.
An account management plan is a document that gives you clarity on the details of each of your accounts. The more you know about your customers, their needs, and their opportunities for growth, the more valuable your relationship will be — and the more revenue you'll be able to secure from them.
In this article, we want to show you how to put account management plans to best use and share what to include in your very own account management plan template.

What Is an Account Management Plan?
An account management plan is the document you'll use to get the most out of your customers. Account planning helps you increase the revenue you gain from existing customers by helping you build a deeper, more mutually valuable relationship with them.
As such, an account plan outlines all relevant details about your client account. It should include their business goals and priorities, challenges and competitors, and products and internal processes.
But, crucially, it should provide details on how you can help them and how your partnership can develop in the future.
That means that it should include how you plan to retain and upsell them, alongside the key strategic moments in your partnership. For example, when will you try to upsell them, or what is your process for asking for a referral?
These details are just as important as the client data itself. Remember, account management plans aren't just for you to better serve your customers, they should help you bring more value to the business, too.
Why Use an Account Management Plan (And Why You Need a Template)
It's great practice to use an account management plan.
Why? Greater clarity on who your customers are makes you better suited to serve them and better placed to get value from those relationships.
Better meet your customers' individual needs and improve their experience. The better you understand your customers, the more you can offer them to improve their customer experience (CX). The more satisfied your customers are, the longer they'll stay and the more they'll spend.
You can get insight into your customers' satisfaction with Net Promoter Score (NPS), a key metric that should be included in your plan.
Increase customer lifetime value by retaining accounts. At CustomerGauge, we teach all our clients that customer experience is at the core of earned growth, i.e. sustainable, long-term growth through retention and referral, rather than just bought growth through customer acquisition.
Earned growth has the potential to supercharge your customer lifetime value while reducing customer acquisition costs. For example, we've seen CLTV double, while acquisition costs have shrunk to just a quarter of what they were.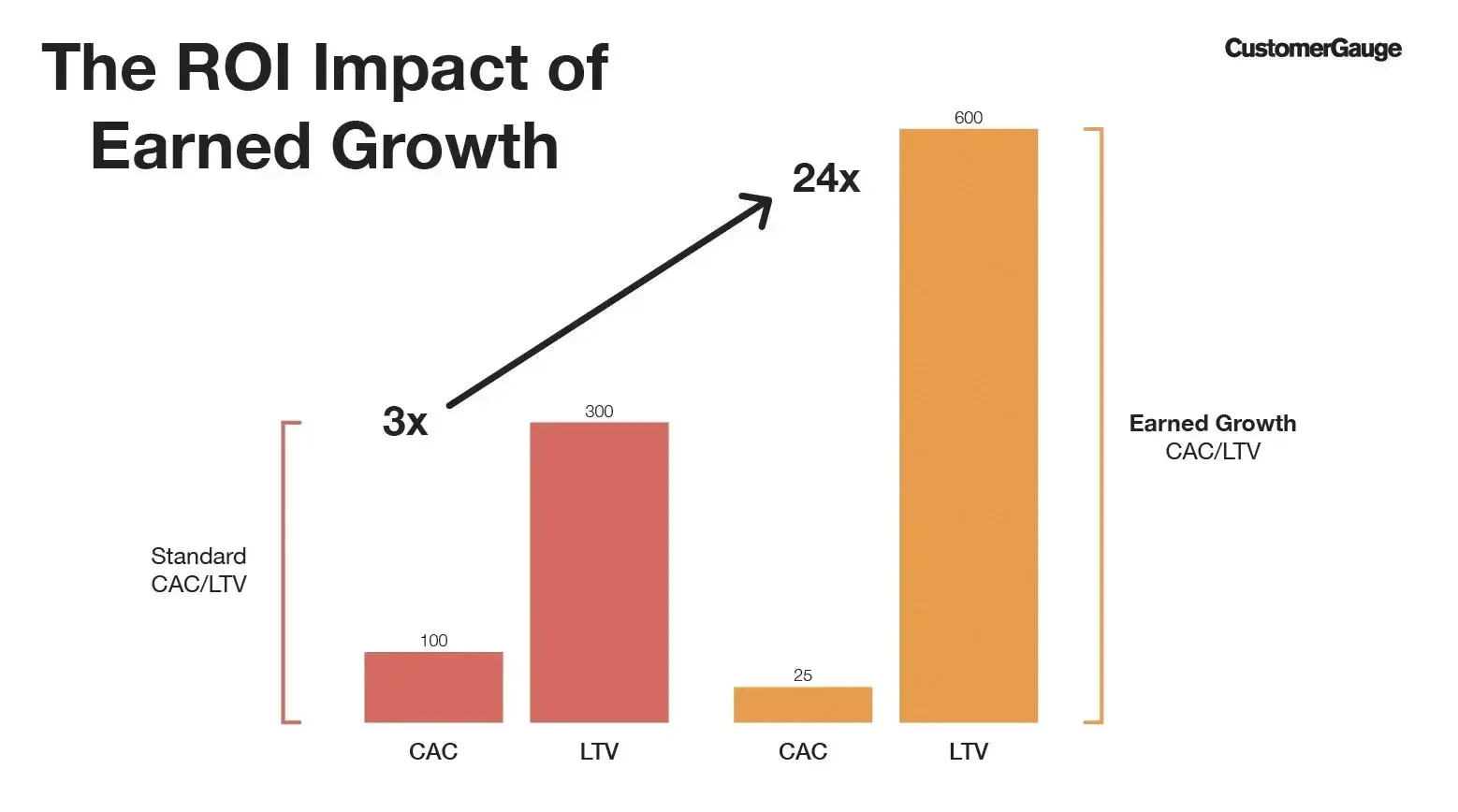 Upsell to expand revenue. With the detailed client knowledge collected in an account management plan, you'll be able to know exactly when to upsell your clients as well as the products that would be right for them.

Identify product champions among stakeholders in each account. In every client account there are individuals who are most enthusiastic about your product or best positioned to help you build a deeper relationship with the whole account. This is information that your account plan should highlight, to better target opportunities for upsell.

Understand which customers are most likely to refer. Alongside the likelihood of upsell, account management plans should include the chance of customer referral too. If you're monitoring NPS scores, you're on top of this already.

Get clarity on your most valuable customers overall. As an account manager, you'll know that customers aren't all worth the same to your business. But an account management plan tells you who is the most valuable, who has space to grow, and where you should dedicate most of your time.
To ensure you're achieving all of this, an account management plan template is indispensable.
Account management plan templates save you time
We know that as an account manager, you have enough on your plate already. To add an extra task, alongside customer support and promoting growth, is a big ask.
That's why account management plan templates are so valuable — in the longer term, they'll save you time. Create one and all you need to do is fill out the data for each of your accounts.
The benefit is that you'll have all of the key account information you need all in one place.

What Your Account Management Plan Template Should Include
Who is your customer?
First up, you need to know who your customers are right now. Forget their goals or concerns for the future for a moment and start by analyzing their current situation and performance.
What's their product, service, and unique selling proposition (USP)?

What's their annual revenue?

What are their most important metrics?

How many teams and employees do they have?

What are their most successful markets?

What's their vision, and what are their strategies and values?
These are the basics of account management. Simply, it's making sure you have the fundamental details of what you should know about your client accounts.
This data isn't just "nice to have'.
It could be crucial for customer support or account growth in the future. For example, are they active across the world but only one geography or team uses your product? This is an opportunity for upsell, and shouldn't be missed.
Who are the key contacts and decision-makers in this account?
B2B accounts aren't B2C customers. You're not engaging just a single individual who chooses, pays for and uses the product.
All of these roles are fulfilled by different people in B2B and you need to know exactly who you are dealing with.
As such, your account management plan template should answer the following:
How many employees are there and how many use your product?

Who is the leadership and who has an influence over decision-making?

Who has engaged your services? i.e. who is the champion that's making the case for your product?

How many stakeholders do you regularly communicate with?
All of these players will have different opinions about your product. That's inevitable. However, it's your job to make sure you know what those feelings are.
Ultimately, this is where NPS will come in handy. But for now, all you need to do is ensure you know exactly who works at your client account and how they interact with you.
What are their goals, needs, and motivations?
Every business has goals and, as a service provider, it's your responsibility to help your clients meet those goals. Having clarity on what they are from the beginning will enable you to do just that.
Include the following in your plan template:
What do they want to achieve and by when?

What are their plans to achieve those goals?

What metrics and KPIs are they using to know when they get there?

How are their competitors performing?

What could get in the way of achieving these goals?
Now, it's obviously not down to you to ensure they achieve these goals. But it will enable you to position your product better if you're clear on your client's vision.
What's more, keeping an eye on market dynamics and possible obstacles to growth can help you predict potential churn, too.

How are you meeting your customers' needs?
Once you're clear on who your customer is, it's time to bring your offering into the picture. How can you ensure you're delivering on what they want?
This is not a question to ask once, for example, at the beginning of the engagement.
Rather, you want to keep updating your account management plan with a stream of customer feedback throughout your relationship.
What specific problem does your product solve for your customer?

How frequently are they using your product?

What extra needs are they reporting?

Are they seeking customer support?

Is the product having results?

What is their NPS score?

Do they have any concerns about your product?
Of course, you won't know the answers to these questions in advance. But ensuring that you ask the questions (and receive answers) can be the difference between successful account management and client churn.
Ultimately, this information will be the basis for action. If customers are reporting concerns about your service, close the loop on that feedback.
What's their potential value to you?
We know that not all client accounts are worth the same. And just as importantly, the value of an account today is not the value of an account forever.
To fine-tune your account management plan, you'll need to analyze the potential value of accounts and target those with the highest potential value.
Ask yourself the following:
What is the account worth today?

What is the wallet share being spent on your product?

How many potential users are there in the account?

What's the likelihood of receiving a referral from this account?
Not only will these details help you understand your highest-value clients, but they'll also enable you to identify opportunities for upsell and referral, i.e. account growth.
Use CustomerGauge to Track Account Sentiment and Drive Growth
Account management planning templates enable you to get visibility on the value and sentiment of your accounts, so you're better equipped to help them grow.
But you don't need to do that all by yourself.
At CustomerGauge, we give account managers the tools they need to use customer experience to build valuable relationships with their clients:
Track customer sentiment effortlessly with NPS surveys and engagement monitoring.

Target your most valuable customers by linking CX data to revenue.

Leverage your analysis to reduce churn, expand accounts, and secure referrals.
At CustomerGauge, we designed Account Experience to help you build better B2B relationships.
Book a demo to find out how it works!
About the Author