On the hunt for a customer experience (CX) solution that helps you meet your customers' needs, grow your customer base, and boost your bottom line?
If you've narrowed down your choice to Medallia, Salesforce, and CustomerGauge but don't know which one to pick, we're here to help.
Let's look closer at these three CX management tools and find important differences that will help you whittle down your options, ultimately leaving you with the one that suits your business best.
Introducing Medallia, Salesforce, and CustomerGauge
Medallia
As one of the biggest brands in the market, Medallia is undoubtedly a heavyweight. It's known for being both robust and flexible and boasts the highest number of functions when compared to its competitors.
Medallia's ability to navigate and serve complex multi-divisional and multi-enterprise structures have led to its popularity among large enterprises. It mostly serves businesses working in the Financial Services, Technology, Telecommunications, and Retail Sectors.

Salesforce
As the name might suggest, Salesforce is both a sales analytics and customer relationship management (CRM) tool. Many users attribute an increase in sales to working with this platform.
Salesforce is known for how comprehensive it is and its versatility and extensive customization options (customers in smaller market segments can find this aspect of it overwhelming and confusing, however). Its tracking and dashboard functionality is highly regarded.
Salesforce primarily serves Mid-Market customers, though it does have a portion of Small Business and Enterprise customers, too. It typically works with companies operating in the Computer Software, Information Technology and Services, and Marketing/Advertising sectors.

CustomerGauge
It's CustomerGauge's impressive B2B features that really set it apart. So much so that it has been ranked by Gartner as the #1 voice of customer (VoC) platform for B2B.
CustomerGauge offers a complete end-to-end solution, helping companies to manage every part of their customer experience management (CXM) program, from surveying to closing the loop on customer feedback, and (most importantly of all) linking their CX data to revenue.
In connecting customer insights with revenue, and so helping businesses make meaningful decisions that affect their bottom line, CustomerGauge is one of a kind.
No other CX solution does this and it's what makes the platform so valuable.
CustomerGauge focuses on Net Promoter Score (NPS) surveys, but complements these with other customer satisfaction and engagement metrics to provide a complete picture of customer activity and sentiment.
Medallia vs Salesforce vs CustomerGauge: What Gartner Says
In Gartner's Critical Capabilities Report, the major tech research and consulting firm provide a detailed account of how vendors perform against real-world use cases.
The report details product capabilities like advanced case management, customer journey orchestration, and advanced predictive and prescriptive analytics from the world's top B2B vendors and ranks them by use case.
In the report, Gartner ranks CustomerGauge with a score of 3.42, the highest performing product for a tool with a B2B use case, and Medallia second with a score of 3.38.
While Salesforce isn't ranked in the top 15 for enterprise B2B, it is a leader in sales automation and CRM customer engagement according to Gartner's Magic Quadrant research reports.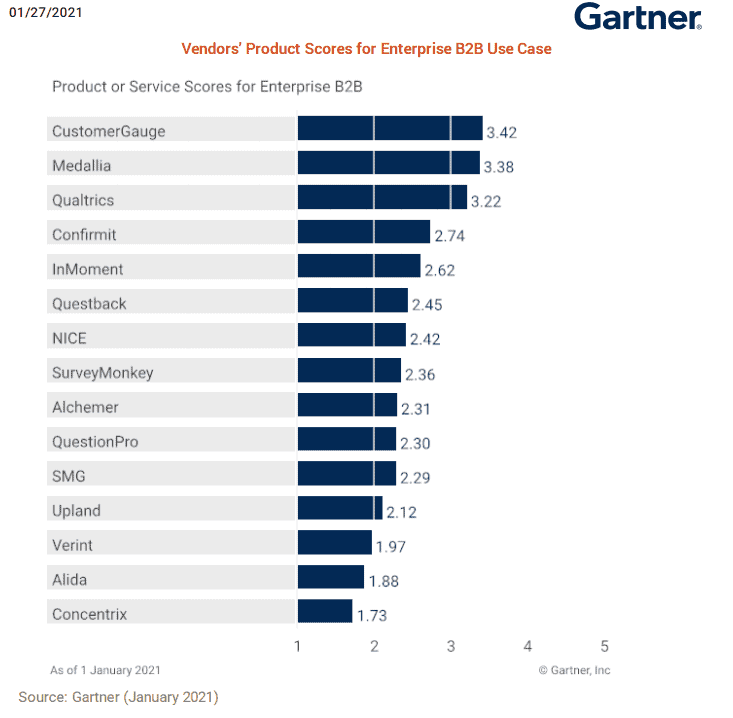 Medallia vs Salesforce vs CustomerGauge: G2's Verdict
G2, one of the most widely used online customer survey aggregators, provides a useful comparison tool between different providers.
Here's how Medallia, Salesforce, and CustomerGauge stack up against each other:

| | | | |
| --- | --- | --- | --- |
| | Medallia | Salesforce | CustomerGauge |
| Criteria | G2 Rating | G2 Rating | G2 Rating |
| Star Rating | 4.5 | 4.2 | 4.6 |
| Largest Market Segment | Enterprise (66.3% of reviews) | Mid-market (46.2% of reviews) | Mid-Market (43.6% of reviews) |
| Total Number of Reviews | 95 | 12,934 | 43 |
| Meets Requirements | 8.7 | 8.7 | 8.6 |
| Ease of Use | 8.6 | 7.9 | 8.7 |
| Ease of Setup | 7.1 | 7.2 | 8.6 |
| Ease of Admin | 7.7 | 7.7 | 8.9 |
| Quality of Support | 8.5 | 7.9 | 9.6 |
| Has the product been a good partner in doing business? | 8.4 | 8.1 | 9.6 |
| Product Direction (% positive) | 9.5 | 8.0 | 9.6 |


What Users Have to Say
Looking for real-life feedback on these platforms? Let's see what users say in their reviews on G2.

Medallia Customers Say…
Strengths
The majority of Medallia's reviews are positive, with many praising how simple the platform is to navigate. Reviewers have also commented how well it integrates with Salesforce.

Cautions
Critics, however, feel that Medallia doesn't offer a positive experience to their end users, and that it fails to deliver on its promises.

Salesforce Customers Say…
Strengths
Salesforce has more mixed reviews than either Medallia or CustomerGauge on G2, though it also has more reviews overall.
While most are positive, there are several hundred one and two-star reviews. Fans love how easy it is to use and how well it integrates with other platforms.

Cautions
Critics of Salesforce often come from smaller businesses who find the platform complicated and difficult to use.

CustomerGauge Customers Say…
Strengths
CustomerGauge users highlight its impressive NPS capabilities and the customer service support they receive.

CustomerGauge has never received a one or two-star review on G2.
The Pros and Cons of All 3 CX Solutions
In any decision, good old-fashioned pros and cons list are essential. We've drawn one up for you on Medallia, Salesforce, and CustomerGauge.

Medallia
Pros
Robust and flexible. Medallia's primary strengths shine through when it comes to how it handles complex company hierarchies. Even in large organizations where things change frequently, Medallia's strength and opportunity analysis is intuitive and easy to understand.

Impressive features. Gartner scores Medallia highly in terms of its analytics and insight, automated action, and data collection capabilities.
Enterprise focus. Medallia is specifically tailored for large businesses.
Cons
Expensive. Medallia is among the more expensive CX solutions out there.

Stronger for B2C. Medallia scored highest in Gartner's ranking for B2C enterprises, making it a worthy contender if this is your business model.
Salesforce
Pros
Flexible, customizable, and scalable. Salesforce is an incredibly flexible tool and can be customized to meet the workflows of almost any organization. It also scales easily, and can grow as your business grows.

Integrates well. Salesforce is widely regarded for integrating well with other tools that businesses might already be using.

Good support. Users enjoy the support that Salesforce offers, as well as its educational platform.
Cons
Expensive. Some users find Salesforce a bit too expensive.

Not tailored to small businesses. Small businesses find the platform cumbersome and overly complicated.
CustomerGauge
Pros
Customer revenue analysis. CustomerGauge helps you to understand how your customers feel about your business, demonstrates how often they engage with you, and shows how much value they bring to your business. This link, between CX and revenue, is unique to CustomerGauge and is designed to reduce customer churn, encourage upsells and cross-sells, and promote new business.

Live automated surveying. CustomerGauge offers a comprehensive solution that involves automatically capturing and distributing customer feedback in real time.

Closing the loop alerts. CustomerGauge helps you act on the feedback you receive by helping you to set targets and alerts for closing the loop.
Cons
B2B focus. CustomerGauge is specifically designed for B2B brands, rather than for those operating in the B2C space.
If you'd like to find out more about CustomerGauge's novel approach to B2B CX management, we'd love to hear from you.
Request a demo today!
About the Author