B2B customer experience (CX) looks much different than it did five years ago.
Then, we discussed how B2B companies must break out of traditional CX molds and make their way into the 21st century.
Of course, this still stands true to some stubborn businesses (you know who you are!)
But now, it appears B2B brands understand that they must evolve, which starts with adopting advanced strategies to compete beyond just price and product.
Because let's be honest — B2C customers aren't the only ones that want streamlined, personalized experiences from the companies they buy from.
Whether you're with a business that hasn't had its modern-CX epiphany or are ready to level up your program, let's get into it, shall we?

The Importance of Improving B2B CX
When working with a B2B organization, you're not engaging with one "customer," but multiple stakeholders that make up an "account."
Additionally, the range of ideal customers is much smaller, taking into consideration important elements such as company size, industry, and more.
Although the customer here isn't just one person, relationships tend to be more personal as businesses work with one another for long periods of time. In B2B, you're not working with as many "customers" as you would be in business-to-consumer (B2C).
When it comes to B2C, businesses tailor their customer experience to single personas across a broad target market. Touchpoints in B2C CX are often much shorter, leading to quicker interactions and short-term relationships.
That's why it's important to provide a quality customer experience in B2B to every account you're working with — if an account churns, you're going to feel a much bigger loss in revenue than you would if a B2C customer stopped shopping with a brand.
Based on McKinsey research, B2B companies that transformed their customer experience processes saw 10 to 15% revenue growth, higher client satisfaction scores, improved employee satisfaction, and a 10 to 20% reduction in operational costs.
From the moment a business learns about you all the way to an upsell, each touchpoint must be personalized to grow and retain customers.
👉 Learn 3 strategies to improve your B2B customer experience 👈
Reasons Why B2B CX Programs Fail
B2B customer experience programs fail for a few reasons, including:

Internal misalignment. When a company doesn't have a clear mission or goal when it comes to its CX program, or when a mission or goal isn't communicated to all employees clearly, internal misalignment can occur.
Lack of technical support. B2B companies must have technology that can keep up with multiple contacts per client, with complex journeys for each of them and partner ecosystems to keep into account.
Siloed data. Data siloes can dramatically impact not just a company's efforts to mitigate churn but stagnate growth as well. When you can't build an accurate picture of their CX, it will ultimately affect your bottom line.
Delay in digital transformation. Companies should be looking into customer data, satisfaction data, and revenue data and aggregate it with items like support tickets or survey sends to identify behavior patterns.
Below is a visualization of what we call the "CX Gap," where every poor action has a negative reaction. And as you can see, the last thing you want to do is fall through.
Because even with the slightest disconnect at any point, it's likely that progress will come to a halt fairly quickly.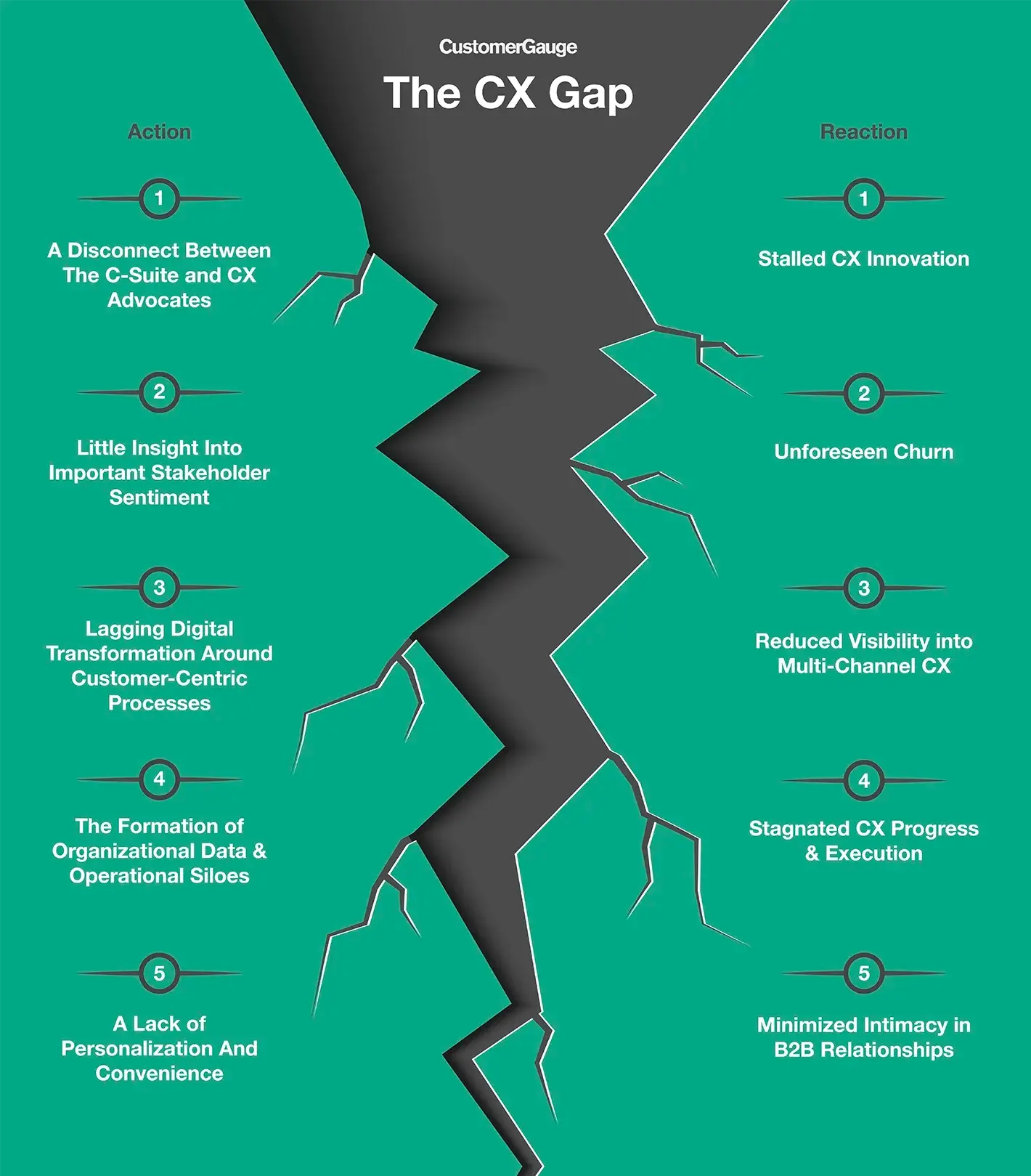 Five Advanced B2B CX Strategies
If you want an advanced customer experience, it only makes sense to dive head-first into advanced strategies.
Here are our top five:
1. Make Revenue a Top KPI
Tying revenue to your customer experience program is a strategy CustomerGauge preaches often. The reason for this?
Just as we spoke about during our Weathering the CX Storm webinar series, to save your program from cuts, you MUST show a direct correlation between CX efforts and net new revenue.
By making revenue a key performance indicator (KPI), you can see how much of your revenue lies within each account and ensure you're covering 100% of accounts to protect that revenue.
It also takes the spotlight off Net Promoter Score (NPS) for a moment.
This encourages frontline teams to set additional targets, such as response rate or closing the loop, and collect critical data points
Plus when you talk revenue, you're talking a language your C-Suite and investors can understand — it provides value when deciding which programs should be preserved during budget cuts.

If we were to ask you what your revenue coverage rate is, would you know the answer? To find it, you calculate using the formula above.
2. Track Response Rate
When it comes to your response rate, it's simple: the higher it is, the more accurate your NPS.
That's why it's incredibly important to not only track this metric but never settle for a low rate.

Seriously, ICON Communications has a 100% response rate with their NPS surveys — what's your excuse?!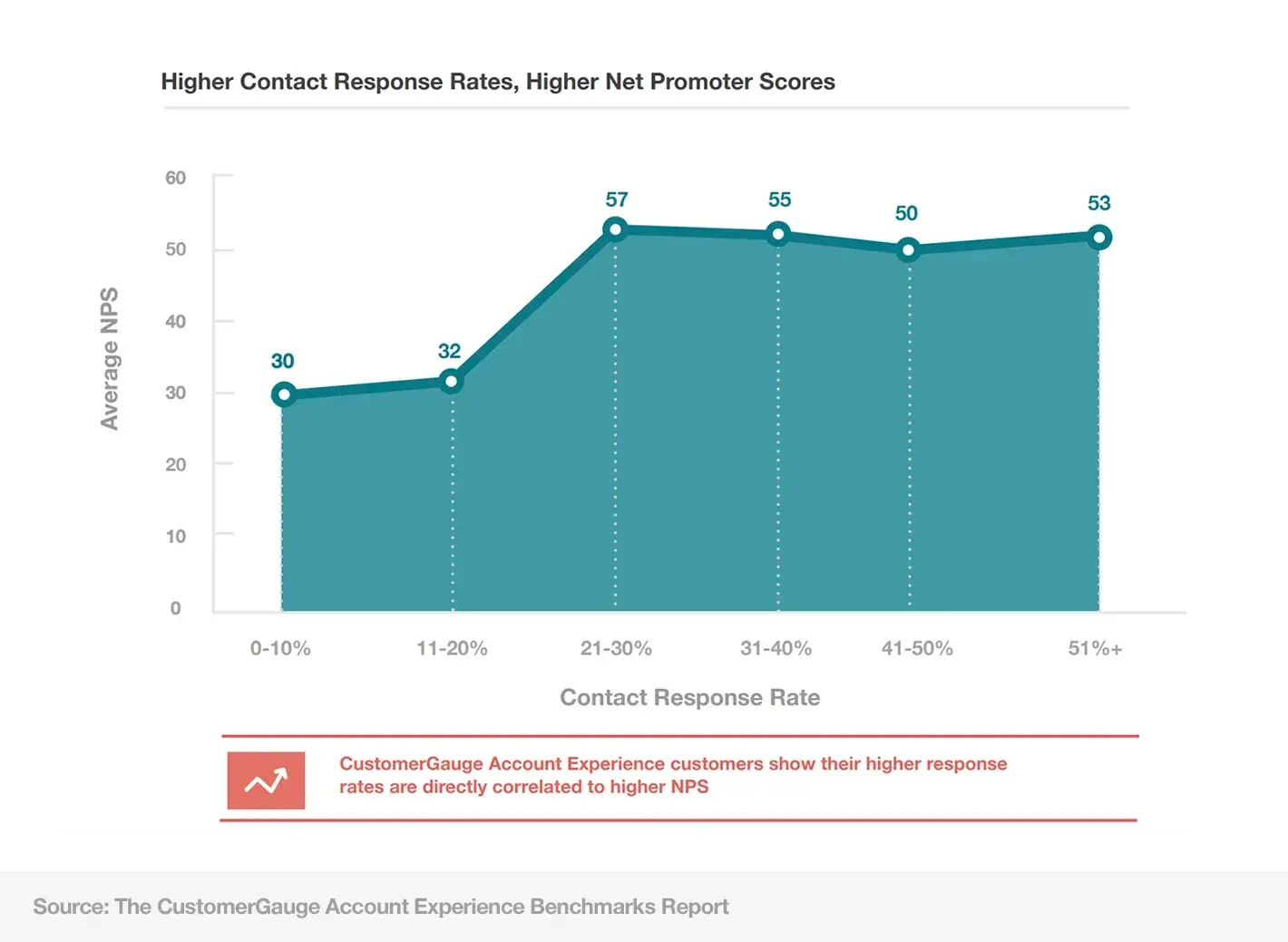 At a fundamental level, the response rate shows which customers are most engaged with you.
If accounts are unresponsive to your surveys, they're likely a high churn risk.
Our Global VP of Education and Services Cary T. Self has an analogy for this he uses during training:
"It's like a real relationship. Imagine you say, 'Hi Honey, I'm home!' and you don't hear that 'Hello!' or at least someone yelling at you because they're upset. If all you hear is silence and no response, you're in trouble."
💡 Read up on 10 Ways to Improve NPS Response Rates [With Benchmarks]
3. Cover All Accounts
Most companies don't track account coverage, which they should since our research shows that doing so can increase NPS by 8 points!
With account coverage, rather than focusing on individual contacts, it measures the total number of accounts you hear back from.
So, why is this important?
Well, you could be hearing back from the same 10% of your account base and think you're succeeding — when in reality there are 90% of accounts that are being ignored.

4. Leverage Upsells and Referrals
Taking advantage of upsells and referrals is your golden ticket to driving earned growth, or revenue growth you generate through returning customers and customer referrals.
The ROI impact of earned growth is impressive, and this is because rather than bought growth (revenue growth generated by new sales and marketing campaigns) your…
Cost of acquisition will be lower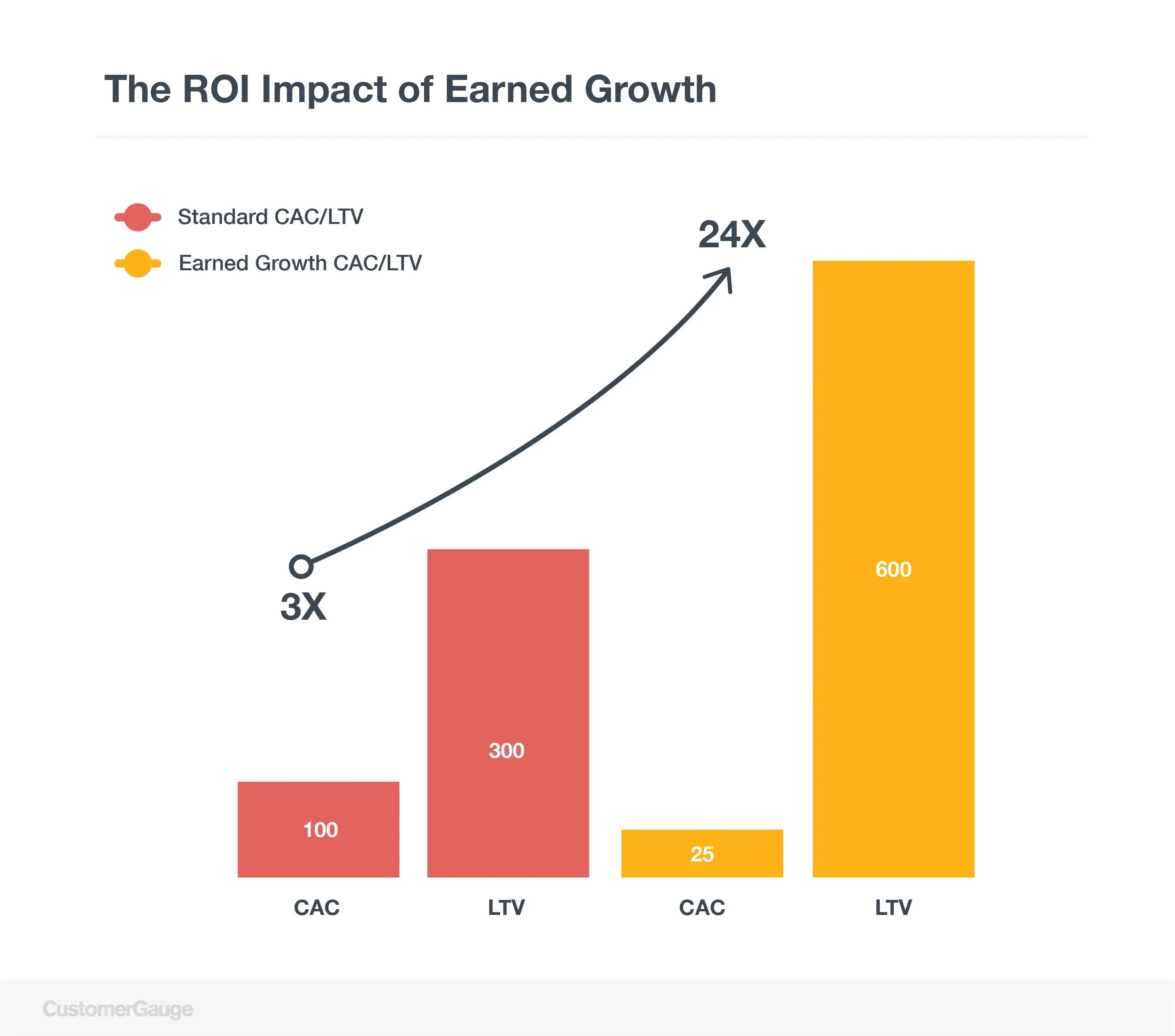 There are key moments when an upsell makes sense for both your company and your customer. To put it simply, an upsell opportunity is the time when a customer is primed to get more value from your company.
And the absolute best upsells happen when your existing customers are ready to receive more value from you through a mutually-profitable partnership.
It's typically a brief window, so you just need to keep an eye out for when it makes sense for you both.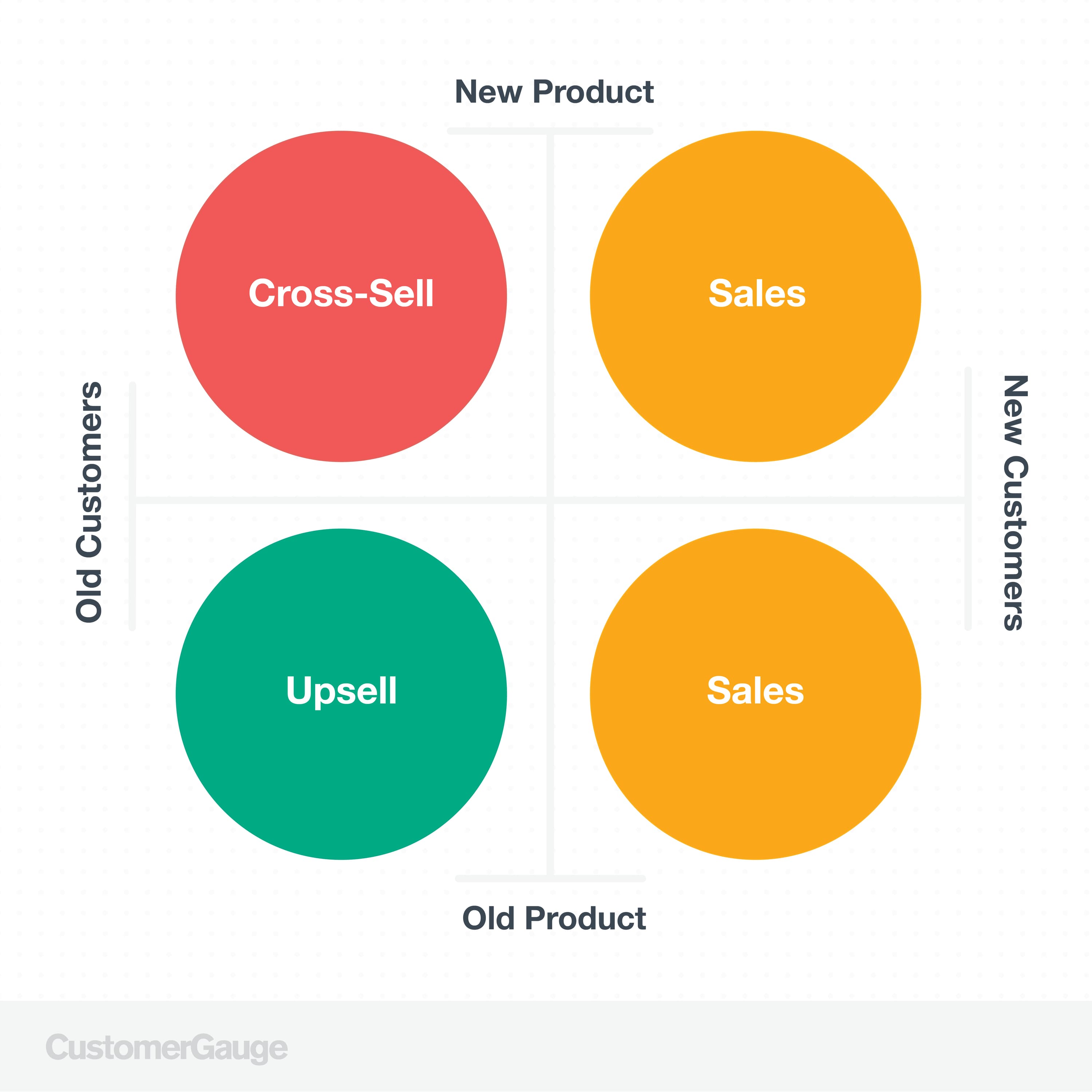 On the other hand, referrals begin when your customer loves your business and wants to spread the word with their friends.
This an incredible way to reach new business (and one of the main ideas NPS was founded on) yet 63% of B2B CX practitioners don't track referrals at all!
Don't become a part of that statistic.
5. Form a CX Committee of Culture Gurus
When it comes to building your experience program, we often see companies make the mistake of putting one person in charge.
If you only have a single individual running your program, you also only have one perspective and one voice.
That's why bringing together multiple people from the organization can be so valuable — you have more people involved to create incredible initiatives.
*Note: Your committee shouldn't be built up of the leader from every department! It should include different people from all levels of your business.
As Cary T. Self will explain,
"It's not the loudest person. You have leaders that live within every department that are more lead by example or have a lot of influence, and they're not always the ones out front leading the program.
"You find these "culture gurus" that have been in your organization for years and they're dormant because you haven't activated them yet."
To get started, just begin with ideas and questions:
"How do we get more people involved in our program?"

"What do you all think of this survey question?"

"Should anything else be added or removed from this email we're about to send?"
What you'll start to see when a strong committee is formed?
Better insights, clearer ideas, and more people standing behind your program as each committee member shares their learnings with their team.
Start Advancing Your Customer Experience With CustomerGauge
After reading our advanced B2B CX strategies, are you ready to evolve your customer experience program?
Stale, siloed data and teams left in the dark are a thing of the past.
Ready to get started? Contact our team to see a demo!
About the Author